Research
Phorid Fly Success in Alabama
Since the first release of phorid flies into Alabama in 1998, the flies have spread over 2/3 of the state, and are continuing to spread outward by 10-20 miles each year. The expansion of the phorid flies continues to be monitored each summer.
This past summer, Wilcox County became the first site in the United States to have three species of phorid fly established in one place, and also the only place in the country where the Pseudacteon litoralis species has ever been recovered in the field. Pseudacteon tricuspis, Pseudacteon curvatus, and now Pseudacteon litoralis are all combating fire ants together at this site.
There are more than 20 different species of phorid fly present in South America, which is the fire ant and phorid fly's natural home. The Alabama Fire Ant Management Program plans to release a fourth of these species into Alabama this summer, Pseudacteon obtusus. This phorid species attacks smaller fire ant workers and prefers trailing or solitary ants; whereas the other three species are attracted to mound disturbances.
For more information on the biological control of fire ants, visit www.eXtension.org or browse through our Fire Ant Report Archive.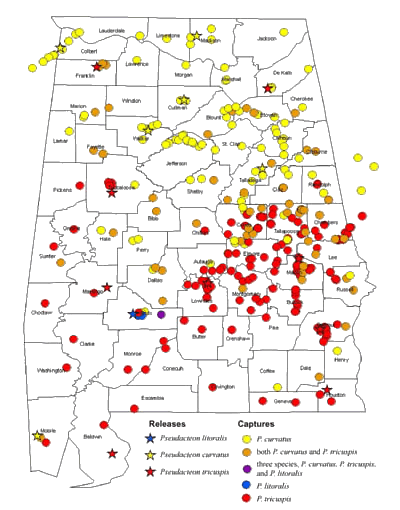 Figure 1 Locations of phorid flies in Alabama.
Location:
Years:
Species:
Released by:
Cooperators:
Macon
1999
P. tricuspis
Graham
Michael Williams, landowner
Franklin
2000
P. tricuspis
Graham
Tim Reed, ACES
Talladega
2000
P. curvatus
Graham
Bertagnolli
Henry Dorough, ACES
Lowndes
2001
P. tricuspis
Graham
David Oglesby, ACES
David Daniel, ACES
Madison
2002
P. curvatus
Ken & Rufina Ward
Alabama A&M
Colbert
2002
P. curvatus
Ken & Rufina Ward
Natchez Trace
Walker
2002
P. curvatus
Graham
Danny Cain, ACES
Baldwin
2002
P. tricuspis
Graham

Marla Faver. ACES
Barbour
2003
P. tricuspis
Graham

Charlie Mason, ACES
Cullman
2003
P. curvatus
Graham
Charles Pinkston, ACES
Marengo
2003
P. tricuspis
Graham
Kevan Tucker, ACES
Tuscaloosa
2004
P. tricuspis
Graham
Michelle Mobley, ACES
Dekalb
2005
P. tricuspis
Graham
Tony Dawkins, AAES
Wilcox
2005
P. litoralis
Graham
Jack Biddle, landowner
Mobile
2006
P. curvatus
Graham
Bruce Porter, Fish and Wildlife Services
Lee
2008
P. obtusus
Graham
Phil and Daria Story, landowners
Table 1 Locations of phorid fly releases in the state of Alabama.
Extension Resources
Phorid Flys in the News
Article Name: >Fear of predators may be a bigger killer than the predators themselves
Media Contact: Todd McLeish
"When biologists consider the effects that predators have on their prey, they shouldn't just count the number of individuals consumed. According to a University of Rhode Island ecologist, they must also examine the effects of fear."
Fire Ant Management
For a variety of management tactics, visit our , and more information on fire ant management can be found at .
Extension Resources

Last Updated: March 28, 2013