Education and Outreach
The education and outreach of the Fire Ant Management Program is directed towards increasing the public's general knowledge of fire ant biology and management in the form of an exhibits and demonstrations.
The fire ant exhibit has drawn crowds at the Alabama National Fair, the National Peanut Festival, Ag Roundup, the Southeastern Agricultural Exposition, the Louise Kreher Forest Ecology Preserve, the Oxbow Meadows Insect Festival, Callaway Gardens' Insect Encounters Weekend, Montgomery Zoo's Earth Day Safari, School Day at the Baldwin County Fair, and in 2002 made its way to the Fifth Annual Food and Agricultural Science Exhibition and Reception at Washington, D. C.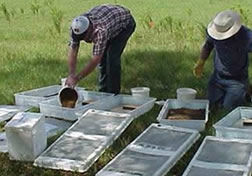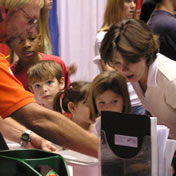 Alabama Cooperative Extension agents performing a phorid fly release
Adults and children alike look on in awe at the phorid flys in action.
This exhibit has also been used in workshops that train middle school science teachers. These workshops train teachers how to conduct simple fire ant projects and then incorporate these projects into their classroom. Projects like these increase student's knowledge of science, math, and fire ants.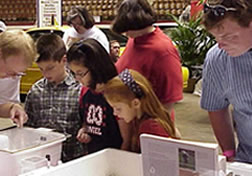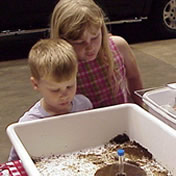 Learning in action at an Alabama Fire Ant Management Program booth.
Children learning about fire ants at the Alabama National Fair, Montgomery Alabama
Fire Ant Bait Demonstrations
Demonstrations have been a tool in the right hand of extension agents throughout the history of the extension service. In the case of the Alabama Fire Ant Management Program, fire ant bait demonstrations show people how following the lable, applying the right bait, at the correct rate, at the right time of year can achieve very realistic satisfactory fire ant control.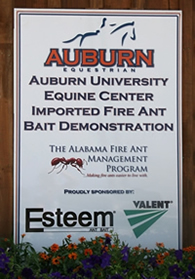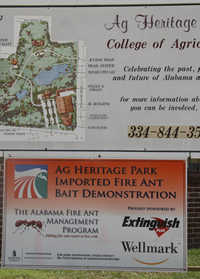 Demonstration and sponsorship sign at the Auburn University Equestrian Center, Auburn Alabama.
Demonstration and sponsorship sign at Ag Heritage Park, Auburn Alabama.
Educational Fire Ant Posters Available for Download
Presented at the Alabama National Fair
Sustainable Agriculture Research and Education Posters
Entomological Society of America Posters

Last Updated: March 28, 2013