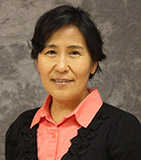 Xing Ping Hu
Professor,
Extension Specialist
203 Extension Hall
+1 334-844-6392 (office)
+1 334-844-5002 (fax)
Email
---
---
Areas of Interest:
Fundamental Research: arthropods' biology, behavior, physiological / chemical ecology, toxicology, molecular immunology and disease transmission.
Applied Research: developing and advancing Integrated Pest Management (IPM); exploring and evaluating efficacy of new chemicals, formulations, and application methods and alternative IPM tactics.
Pest groups: social insects (termites, ants, cockroaches, wasps, etc.); invasive insects (kudzu bugs, etc.), health pests, veterinary pests.
| | |
| --- | --- |
| 1998 | Ph.D., University of Massachusetts (Integrated Pest Management) |
| 1985 | M.S., Shandong Agricultural University, China (Entomology) |
Professional Experience:
| | |
| --- | --- |
| 2011-Present | Professor & Extension Specialist |
| 2005-2011 | Associate Professor & Extension Specialist |
| 2000-2005 | Assistant Professor & Extension Specialist |
| 1999-2000 | Assistant Specialist, Louisiana State University |
| 1998-1999 | Extension Associate, Louisiana State University |
| 1993-1998 | Visiting Scientist & Research Assistant, University of Massachusetts |
| 1985-1993 | Professor, Associate Professor, Instructor, Shandong Agricultural University |
Honors & Awards (selected):
2011 - The Guthrie's Award for Achievement in International Agriculture Service
2011-Present - Honorary Professor, Qingdao Agricultural University, China
2009-Present - Honorary Professor, Southwest University, China
2009-Present - Visiting Professor, Yangzi University, China
2007-Present - Adjunct Professor, South China Agricultural University
Delegate of Auburn University to "Auburn Garden" ceremony in Wuhan, China
2009 - Visiting Professor, Universiti of Sains Malaysia
2009 - Distinguished Speaker of the year, Entomology, Louisiana State University
2005-2008 - Appointed Graduate Advisor, China Agricultural University
2002-2006 - Honorary Professor, Shandong Agricultural University
2003 - Commending School's Pilot Program of IPM, Senate of AL
2003 - Recognition of Pilot Program of School IPM, EPA
Professional Responsibilities (selected):
2014-present - Board of Advisory Editors, SpringerPlus
2014-present - Alabama IPM Advisory Board
2013-present - Pesticide Safety Advisory Board of Alabama
2010-present - 8th International IPM Symposium Steering Committee
2010-Present - SEB-ESA Student Awards Committee
2010-Present - Reward Committee, 7th and 8th International IPM Symposium
2009-Present - Subject Editor, Journal of Agricultural and Urban Entomology
2009-Present - Editorial Board, Bulletin of Insectology
2009-Present - Editorial Board, International Journal of Insect Science
2010-2012 - Teaching and Education Technologies Committee, AACAAS
2002-2005 - Correspondence for Pesticide Environmental Stewardship Program in Alabama, EPA
Services:
2014-Present - Academic Standard Committee, Senate
2010-Present - Graduate Program Officer
2010-Present - Administrator Evaluation Committee, University Senate
2009-2012 - University Academic Senator, Auburn University
2008-Present - Agricultural College Diversity Committee
2002-2010 - Committee of Departmental Graduate Admissions, Auburn University
2007-2009 - Department Executive Committee, Auburn University
2002-2003 - Faculty Mentoring Selection, Auburn University
2000-2003 - Alabama Association County Agricultural Agent Communication Committee
Current Graduate Students and Scientist:
Yang Liu (visiting scientist / Ph.D. student from South China University)
Julian Golec, M.S. (Graduate Research Assistant, Graduate Student Council Senator, 2014 Outstanding M.S. Student)
Yuan Zeng, Ph.D. (Graduate Research Assistant, Recipient of the Compatative Alabama EPSCoR Graduate Research Scholars Program Awards, 2014)
Marta Barba Recreo, M.S. (Resident, Equien Internal Medicine) - committee member
"Device for Pest Control" US Patent No. 5720968. Baruch S. Shasha (USDa), Michael R. McGuire (BRDC), Xing Ping Hu (UMass) and Ronald J. Prokopy (UMass)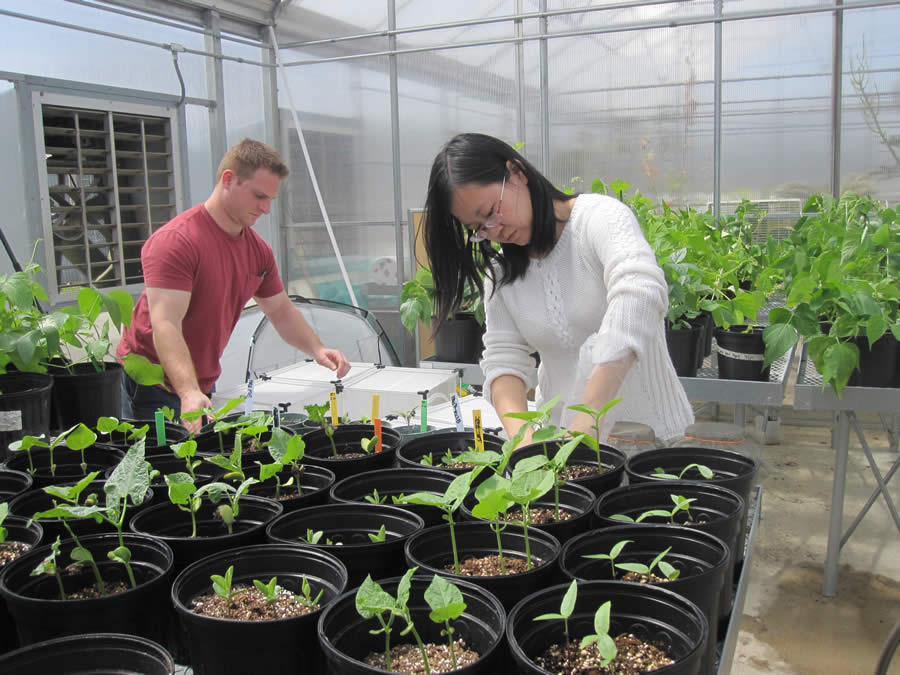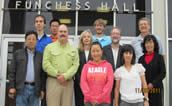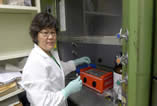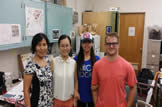 Last Updated: October 20, 2014