Inhibitory properties of new polymers against animal and plant bacterial pathogens
Biofilms are structured communities of bacteria that form inside host organisms or inert devices. One of the main threats posed by biofilms to animal and plant health is that pathogenic bacteria inside the biofilm matrix are protected against anti-microbial agents, and therefore are difficult to control. The overall objective of this inter-disciplinary project is to screen a series of newly-fabricated polymers for their potential to prevent biofilm formation of bacterial pathogens. In particular, bacterial attachment to surfaces and subsequent growth/proliferation are the key steps towards formation of biofilms and will be the focus of the specific aims of this research. To test the activity of the polymers against bacterial growth, we are using model animal and plant pathogens. One of our goals is to obtain fundamental information on the activity of different polyurethane polymers with quaternary ammonium compounds against animal and plant pathogenic bacteria. The long-term goal of our research is to use the identified anti-biofilm materials in the manufacturing of devices for health and agricultural industries.
Project Funded By:
Auburn University Intramural Grants Program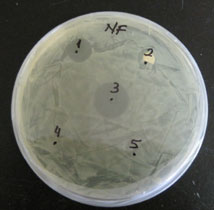 Antibacterial activity of different types of quaternary ammonium compounds (QUATs) against Escherichia coli. Note zones of growth inhibition surrounding QUATS #1 and 3.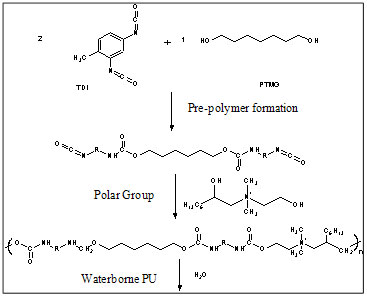 Chemical structure of waterborne polyurethane
Last Updated: February 10, 2012