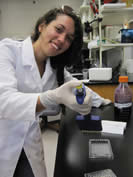 Samantha M. Lopez
Undergraduate Intern
217 Rouse Life Sciences Building
Auburn University, AL 36849
Office: (334) 844-5015
Fax: (334) 844-1947
sml0011@auburn.edu
---
---
Education:
2013
B.Sc. Microbiology, summa cum laude. College of Sciences and Mathematics, Auburn University, Auburn, AL. Honors Thesis: Natural competency of the bacterial plant pathogen Xylella fastidiosa.
B.A. French. College of Liberal Arts, Auburn Univerisity, Auburn, AL
Current Research:
Recombination and the role of pili in competence of the plant pathogen, Xylella fastidiosa
Awards and Fellowships:
Selected Abstracts:
2013 - S.M. Lopez and L. De La Fuente. Conditions promoting natural competency in Xylella fastidiosa. Talk: Auburn University Research Week 2013, Auburn, AL, April 1-4.
Last Updated: June 05, 2013