The Practically Perfect Life
Equine Science Major Lives Life on the Sunny Side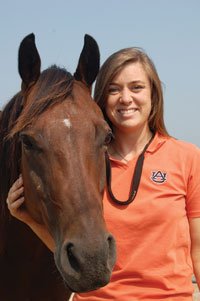 Jerri Caldwell poses with Dolby Surround Sound, one of the 60-plus horses at the AU Horse Unit. Caldwell, assistant operations manager at the facility, says Dolby is an AU equestrian team "pro", used in Western riding competition.
Jerri Caldwell desperately needed a job. A good job. A job where she could make enough to cover tuition, books, the $75-a-month rent she pays for her two-room cabin in the woods in Loachapoka and, of course, grub–for herself and for her horses.
Meanwhile, just a few miles to the east as the crow flies, Auburn University equestrian head coach Greg Williams was in a serious bind of his own. It was spring 2006, his Auburn equestrian team was in hot pursuit of the national championship and he was extremely short-handed at the AU Horse Unit, which he manages.
But when Caldwell, an equine science major in the Department of Animal Sciences and an equine enthusiast to the nth degree, phoned Williams to make a case for why she would be an ideal employee at the unit, he was, at first, a bit hesitant.
"I was really looking for more than a student worker," Williams says. "I needed somebody I could trust who could handle taking care of this whole place, somebody who could make decisions, who I could feel comfortable going off and leaving in charge."
Is he ever glad now that he overcame that brief moment of doubt and hired Caldwell, for in just more than a year, she has become his indispensable right-hand woman and has earned the title of assistant operations manager, AU Horse Unit.
Williams sings her praises, saying she is knowledgeable about horses, reliable, great with people and has an outstanding work ethic.
"And she keeps a positive outlook on everything," he says. "She's always very upbeat."
Indeed, she is one happy camper.
And why shouldn't she be?
"I have a perfect life right now," the 23-year-old AU senior says. "There are two things I love in life–people and horses–and now, I'm blessed to be working with great people and a bunch of beautiful horses."
The affection she has for others apparently is a trait of the Caldwell clan, evidenced, for instance, by the family's decision in 2000 to provide a loving home for foster children and, a couple of years later, to focus specifically on taking in children with emotional or behavioral disorders.
"There's nothing like it, watching these kids change," Caldwell says. "I think a lot of it is just getting them out in the country."
That, and experiencing the love and respect that permeates the Caldwell home.
Passionate about Horses
As for Caldwell's passion for horses, that dates back a couple of decades.
"I stole my first horse when I was 3," Caldwell says. "He was a quarter horse named Joe that my mom had gotten for herself, but from the first time I got on him, he took care of me. He was mine. Mom had to get another horse."
Joe, who's 28 now, was her pride and joy for four years or so, but when she was 7, she began training a frisky young gelding, so Joe went to her younger sister, Jessie.
"I still consider that one of the hardest things I've ever had to do–letting her have faithful ol' Joe," says Caldwell.
Today, she owns six horses. A couple of them are leased out, but the others live in the backyard of her Loachopoka bungalow–which is adjacent to her family's place.
"Right now, I'm running this place (the Horse Unit) and my home farm," she says. "And my landlord is getting ready to put horses out on the 25 acres around my cabin, and he's asked me to take care of them, too. It's all great."
Growing up, Caldwell and her two younger siblings–brother Chris and sister Jessie–were home-schooled by their mom, Nina.
"I loved that, because it gave me a lot of time with my horses," Caldwell says. "As soon as I'd finish my work, I was out the door."
When she completed her high-school graduation requirements in 2002, she wasn't sold on the idea of going to college. But the encouragement and support from the owner of an import car dealership where she was working as an information technologist motivated her to enroll in a couple of courses at Southern Union State Community College in Opelika.
"That was enough to show me that college was something I really wanted to do," she says.
She remained at Southern Union through spring semester 2004, paying her way initially with earnings from her car dealership job, from sideline work she did building Web sites for clients ("I'm a computer geek at heart," she admits) and from breaking and training horses.
Going Door to Door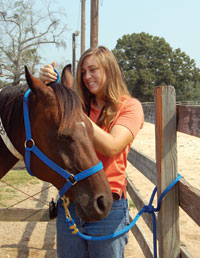 "There are two things I love in life–people and horses."
- Jerri Caldwell
The stress of juggling all those jobs took a toll on Caldwell, so in the summer of 2003, she ventured into a new realm of employment: selling educational books door to door.
"I spent that first summer selling in Ohio, and it was fantastic," the natural-born salesperson says. "In three months, I netted about $12,000–enough to not really have to work once school started back."
When the summer of '04 rolled around, Caldwell hit the road again, this time peddling books in Nebraska. But in July, just weeks into that sales gig, Caldwell's whole world changed. Her dad, 49-year-old James, died unexpectedly.
Caldwell caught the first flight home, praying from takeoff to landing that God would give her the strength to see her family through its grief and the drastic adjustments that the loss would demand all of them make.
"And He did," Caldwell says. Through that stormy period, she was the family's anchor.
Several months before her father's death, Caldwell had decided to transfer to Auburn in fall 2004. She had figured that the money she earned from her summer book sales would more than cover two semesters' worth of tuition, room and board.
"But when Dad died, everything changed," Caldwell says. "I guess I could've gone back to Nebraska and gotten in another few weeks of selling. But when it came down to it, I couldn't leave my family. They were depending on me."
Coming to Auburn
She did start at Auburn that fall, her love for horses leading her to major in animal sciences' pre-vet track. (The equine science program didn't exist yet.) From the fall of 2004 through fall semester 2005, the energetic, self-motivated Caldwell divvied up her time among her family, her horses, school, various jobs and leadership roles in the AU Horseman's Club and a group known as the Auburn Trail Riders.
She took spring semester 2006 off from school for what was supposed to be full-time work with a nearby plant farm, but the job didn't pan out.
Which led to the phone call to Williams, whom she had met while taking equine science classes at the horse unit.
Though she first entered AU as a pre-vet major, Caldwell wasted no time in switching to the equine science track last year, when the Department of Animal Sciences instituted that program. If all goes as planned, she will graduate in May 2008 with her equine science degree and a minor in agriculture leadership.
"I've realized, working here at the Horse Unit, that what I really love is working with live and healthy animals," she says. "So for now, vet school isn't even on my radar screen."
She does enjoy working with children a great deal, so perhaps one day, she'll consider returning to school to earn a master's degree in education.
"But, you know, I can also see myself working here, at the unit," she says. "It's a dream job for me."
Whatever life may bring her, you can bet she'll greet it with a positive attitude.
"Hey, you've just got to have one, if you're going to get through this life," she says.