Roosevelt Street Diary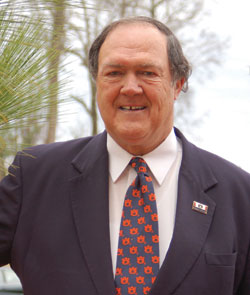 Fall is always an exciting season here at Auburn, from the change of leaf color and weather to the sound of football cheers. It is an especially exciting fall season here on Ag Hill for those reasons and several others.
One reason for the excitement is the presence of many new faces in our classrooms and halls. Some of those faces belong to new students–218 of them to be exact. That's the number of incoming freshmen enrolled in the College of Agriculture this fall and represents an increase of about 30 students from last year. We welcome all our new students to campus and welcome back our returning students, too.
Several of the fresh faces in our halls belong to new faculty members–a total of six new assistant professors who started this fall. They include Julie Howe in the Department of Agronomy and Soils; Auburn alum and former USDA research horticulturist Glenn Fain in the Department of Horticulture; Jim Stoeckel and Alan Wilson in the Department of Fisheries and Allied Aquacultures; and Yewande Fasina and Manpreet Singh in the Department of Poultry Science. Welcome to each of them, as well.
Another source of great excitement for Ag Hill and Auburn University is that funding has come together to build a new Center for Equine Education, Research and Performance here on the AU campus. The center will include facilities that promote equine science and equestrian competition. Construction on the facility, estimated to cost some $9 million, will begin in 2008. The center means that Auburn–already home to the 2006 NCAA champion Equestrian Team and one of the leading equine veterinary programs in the world–will be positioned to lead the nation in equine sciences and medicine and in equestrian athletics. More information on the center will be featured in the next issue of Ag Illustrated, but if you are interested in learning more about this project and ways to donate to the effort, contact Chris Gary at 334-844-1136 or garychr@auburn.edu.
In the meantime, enjoy this exciting time of year wherever you are, and make it an extra special fall celebration by joining us at our annual Ag Roundup and Taste of Alabama Agriculture festival to be held Nov. 3 (AU's homecoming weekend) beginning at 9 a.m. (see article)!