Turfgrass Alums Go Pro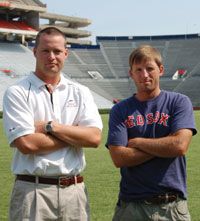 DEFINING THEIR TURF—AU turfgrass majors Richard Wilt, left, and Bradley Kirland pose for the camera on the turf at Jordan-Hare Stadium before heading off to new jobs with the groundskeeping crews of pro sports teams.
Jobs with the grounds crews of professional sports teams are hard to come by, but two recent graduates of the Department of Agronomy and Soils' turfgrass management program have nabbed prime NFL posts right off the bat.
December 2006 graduate Bradley Kirkland of Mobile is now part of a three-person crew that is keeping INVESCO Field at the Denver Broncos' Mile-High Stadium green, safe and playable. Meanwhile, Richard Wilt of Montgomery, who graduated in August 2007, has joined an 18-person groundskeeping team at Miami's Dolphin Stadium, home of both the National Football League's Miami Dolphins and the Florida Marlins National League Baseball team.
For both young men, it's a dream realized.
"Your top goal (in sports turf management) is to get to the NFL," Wilt says.
Like most turfgrass management majors, Kirkland and Wilt both envisioned someday managing a lush green golf course when they enrolled in AU's turfgrass program.
But as students, each got a part-time job with the athletic field management team at Auburn-Kirkland working mainly on the diamond at Plainsman Park and Wilt on the grounds crew at Jordan-Hare-and their career goals quickly changed. When it came time for internships in the summer of 2006, both went the sports turf route.
Big Time Internships
Wilt went to Jupiter, Fla., to work as grounds operations intern at Roger Dean Stadium, the spring-training home for the Florida Marlins and the St. Louis Cardinals and the only stadium in the country to host two minor league baseball teams. Kirkland went to Boston to intern at Fenway Park (see "Aiming for the Big Leagues," Ag Illustrated, vol. 3, no. 4).
Both describe those experiences as "incredible." And the internships solidified their determination to make it to the pros.
"Things are a lot different at the professional sports level than they are at the collegiate," Kirkland says. "You've got a much higher budget and a lot more freedom to do anything that needs to be done."
But as resolved as they were to get to the professional level, Wilt and Kirkland were realistic.
"There are only 30 Major League Baseball teams and 32 NFL teams, so you're limiting yourself when you say getting to the pro level is your goal," Kirkland says.
"Especially coming right out of school," Wilt adds.
Kirkland worked full time with AU's sports turf crew, with responsibility for Samford Stadium-Hitchcock Field at Plainsman Park, before he went to Denver.
"Then I saw where the Broncos had an opening, so I sent them my resume and they called me for an interview," Kirkland says. His internship with the Red Sox helped land him the Denver job, not only because of the experience he gained but also because of the contacts he developed.
"My boss in Denver had worked for my boss in Boston a while back when they were both in Milwaukee, and he recommended me for the job," Kirkland says.
Wilt enjoyed a similar situation.
"The guy I interned with is friends with my boss in Miami," he says. "It definitely helps to know somebody."
Earning Their Places
But good contacts play a minor role in landing a great job, the two agree.
"It's mostly what you know and what kind of work you do," Kirkland says.
"It's not like we were long-time family friends with the guys we interned for," adds Wilt, who graduated from Auburn Aug. 4 and reported for work in Miami Aug. 6. "They only knew us by the kind of work we did when we were there."
"They're not going to put in a good word for just anybody," he says. "Their reputations are on the line any time they make a recommendation."
AU turfgrass professor Beth Guertal agrees.
"These two guys knew what they wanted as students, and both aggressively pursued the internships they got."
- Beth Guertal
"These two guys knew what they wanted as students and both aggressively pursued the internships they got," Guertal says. "Then they worked really hard and did fantastic. They've earned these jobs."
Kirkland and Wilt are the first two AU turfgrass management graduates to make it to the world of professional sports, but Guertal is convinced they won't be the last.
"Bradley and Richard have opened the door for our students to land internships with the Red Sox and at the minor league complex in Florida because the folks they interned under will remember, 'Hey, we had these great interns and they were from the turfgrass program at Auburn University.'
"Plus, now I've got contacts with the Dolphins and the Broncos, and that opens up more places to send interns," she says. "Our network is growing."
For information about the turfgrass management program at Auburn, contact Guertal at 334-844-3999 or guertea@auburn.edu.