Love Story
Ag Alum/donor Finally Gets His Girl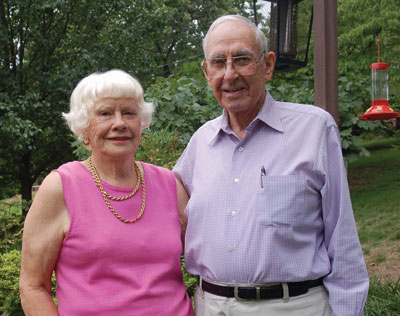 Mildred and Attie Fleming
The first time Attie Fleming laid eyes on Mildred Ray was in 1930-something, when she was playing on the Hackleburg High School girls' basketball team against his school's team in Marion County's Bear Creek community.
He didn't actually meet her until 1942, when he was a senior at Auburn and she was at Birmingham Business College, and unbeknownst to her, she swept him off his feet.
But he didn't ask her to marry him until later. Much later. Sixty years later, to be exact.
"And through all those years, I loved Mildred," Fleming says.
They met, really, by chance.
"I was home from Auburn for the weekend and happened to be in the drugstore in Haleyville when she came in with two other girls I knew," Fleming recalls.
The other two girls were cute, but Fleming only had eyes for Miss Ray.
They started courting and were an item for a couple of years, until after Fleming had graduated in ag education from Auburn and moved to Calhoun County to work as an assistant Extension agent, in charge of 1,100 4-H boys.
Fleming loved the young Miss Ray deeply—wanted to spend his life with her, in fact—but the military draft was looming, and he couldn't bring himself to tie her down.
"I didn't ask her to marry me or wait for me, because I didn't think it was fair to put a young lady through that," Fleming recalls.
The next thing Fleming knew, though, the love of his life had up and married someone else.
"I think she just concluded that I was never going to ask her," Fleming says.
So as she settled into a life in Birmingham as Mrs. James Massey Hire Jr. and a long career—both she and her husband—with the Southern Company, Fleming answered the draft's call, served with the U.S. Army in Korea, then came back and, with nothing but his career to focus on, returned to Auburn for a master's in agronomy.
It was while he was a graduate student at what was then Alabama Polytechnic Institute that he got his first taste of teaching on the collegiate level.
"Two agronomy professors took off north to get their Ph.D.—you couldn't get one at many schools in the South back then—and I took over a forage crops class for one of them," Fleming says.
That showed him that his future lay in teaching. When he graduated with his master's in 1949, he headed for the University of Minnesota where, in 1951, he earned his Ph.D. in plant genetics and plant pathology. Then, anxious to get back to the South, he accepted a position as a genetics and plant breeding researcher and professor at the University of Georgia.
There he had a stellar 36-year career. He retired in 1987—with the title of professor emeritus—to care for his aged mother. In 1997, as a testament to the impression he made on those he taught, one of his former students named a new Georgia wheat variety "Fleming," in his honor.
(Two current AU agronomy professors, David Weaver and department head Joe Touchton, were students of Fleming's at Georgia and both remember him as a superb teacher with a tendency to do some unusual things—like wearing a pith helmet any time he was indoors. Says Weaver, "He said he wore it because he was allergic to fluorescent lights.")
Life in Athens
Fleming's life in Athens, Ga., was full and active. He was especially involved as a long-time leader in the Athens Toastmasters Club, even serving a term as state governor of Toastmasters International.
"I was known as 'Mr. Toastmaster' in the state of Georgia," he proudly notes.
But through it all, he never married.
"I had the chance a time or two," Fleming recalls. "But I still loved Mildred."
As for her, she found out Fleming was in Athens and a couple of times over the years, when she and her husband were passing through north Georgia, she called him to say hello.
"But I never called her," Fleming says. "She was married. I wasn't going to interfere with her life."
In 2001, Hire passed away, and his widow slid into a deep depression. To help her break out of that, a neighbor who had heard her mention Fleming a time or two encouraged her to touch base with her former beau.
When she finally got up the nerve to call, they talked for four hours, promising each other they'd be back in touch.
"But I waited 10 days before I called her—I didn't want to appear too eager—and then I came over, and we started dating," he says.
On Valentine's Day 2002, the couple drove up Birmingham's Red Mountain to Vulcan Park—"back where we used to go when we were courting," Fleming says—and finally, at long last, he proposed.
The 80-year-old lovebirds married that May 18 in a church wedding, with a reception that drew friends and former colleagues of Fleming's from across the country. They honeymooned for two weeks, then returned to their homes—in Birmingham and in Athens.
"The agreement before we married was that we'd split our time half and half, in Birmingham and Athens," Fleming notes, adding out of his wife's earshot "but we spend a lot bigger half of that in Birmingham."
Mrs. Fleming and her late husband were financial supporters of the University of Alabama, their donations funding the operation and upgrading of a mechanical engineering design laboratory and a scholarship endowment for mechanical engineering majors.
AU Through and Through
This past July, Fleming remembered his own alma mater by establishing the Dr. Attie A. Fleming Endowed Scholarship in the Auburn University College of Agriculture. The endowment will award an annual scholarship to a deserving ag major who is from either Winston, Marion or Franklin counties.
"Too many students from that part of the state go to that 'other' university," Fleming says. "I want to encourage them to go to Auburn."
Fleming didn't need any encouragement back in the late 1930s to choose Auburn.
"I wanted to major in agriculture, and I was determined to go to Auburn," he says.
He was still a student at Phillips High School in Bear Creek when he visited Aabama Polytechnic with his ag teacher. Knowing he'd have to have a job to be able to afford a college education, the only child of the Jesse Flemings decided to go straight to the top to ask for one.
"I told the ag teacher and my two classmates that I'd see them later; I was going to see the president of Auburn, to ask him for a job."
Those three scoffed, but Fleming marched right up the steps of Samford Hall and quite easily talked his way into the office of then-President L.N. Duncan.
"I told him I wanted more than anything to come to Auburn, but that I had to have a job," Fleming recalls. He left from that meeting with Duncan's personal guarantee that a job would be waiting for him. He spent his four years at Auburn working in the agricultural economics department.
For a fellow who lived the single life for 80 years, Fleming certainly has adjusted well to married life. He and the Mrs. have their differences—she's Baptist, he's Methodist, and they've got their radios set on different stations in different parts of both houses during football season—but from all appearances, they are happy in love.
"Sure, it would've been nice to have married Mildred earlier in life," says Fleming, who'll turn 86 in December, 10 days after Mrs. Fleming does. "But we're having a good time."