New Look for Comer Landscape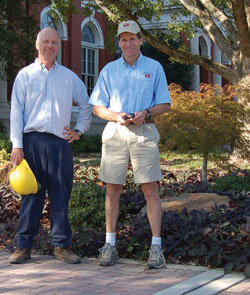 LANDSCAPE LEADERS—Charlie Crawford, left, superintendent of Landscape Services at Auburn University, and Gary Keever, professor of horticulture, have led an effort to beautify the landscape around Comer Hall. Crawford and his dedicated grounds crew are helping keep up appearances on a daily basis and Keever, along with several other horticulture faculty members and students, are providing input and assistance.
If you've visited Ag Hill lately, you may have noticed a change around Comer Hall. That's because the landscape around the building was recently revamped under the direction of Charlie Crawford, superintendent of Landscape Services at Auburn University.
Before the change, Comer's landscape had not undergone any major alterations since 1985. In fact, the irrigation system at Comer was the second system installed at Auburn–the first being at Corley Hall in February 1985.
"Comer needs to be one of the nicest landscape buildings on campus," says Crawford, who notes that Comer is home to the College of Agriculture–a landmark to many–and, because the Department of Horticulture is under the College of Agriculture umbrella, it should have an "exemplary landscape."
To ensure that Comer's landscape is top-notch, landscape services took on the relandscaping project, working with faculty and students in the Department of Horticulture.
Among the improvements is the addition of a garden that connects with Funchess Hall's garden. In the process of that renovation, the workers uncovered the Alpha Zeta plaque, which has now been placed in a more prominent location on the front of Comer Hall.
Pavers were added to the garden area to create a modular effect with concrete and brick. Three areas were left unfinished for Department of Horticulture professor Joe Eakes' landscape construction students to install and gain hands-on experience laying pavers.
Several faculty members assisted with plant selection, including horticulture professor Gary Keever and associate professor Raymond Kessler. Ken Tilt, also a professor in horticulture, donated several Japanese maples.
Now that the initial landscaping is complete, however, the work has not stopped. "All the landscapes, including this one, are works in progress," says Crawford, noting that Landscape Services will continue to maintain the area to ensure that students, guests and the community get a great view each time they visit Ag Hill.