Stopping the Invaders
Invasive Plant Council Helping Educate Public About Problem Plants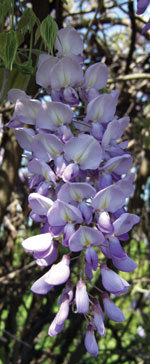 PURPLE HAZE—Wisteria is just one of sevelal invasive species targeted by the Alabama Invasive Plant Council.
They move quietly, invading rivers, forests, pastures and your backyard. This quiet invasion may now be slowed because "wanted" notices have been posted.
"They" are invasive non-native plants, which are increasingly becoming a threat to Alabama's environment.
Many of Alabama's crops are non-native. However, only plants that escape cultivation, spreading aggressively to hinder or stop native species from growing, are considered invasive and a danger to the environment.
The entity behind the "wanted" posters is the Alabama Invasive Plant Council, a nonprofit organization dedicated to educating and advising the public about invasive plant issues as well as providing technical support. ALIPC, a chapter of the Southeast Exotic Pest Plant Council, is a council made up of individuals with diverse backgrounds who can collectively present unbiased information to the public.
Nancy Loewenstein, president-elect for the ALIPC, says the main objective of the council is to educate. Many people are unaware of the threat of invasive plants.
One of the greatest accomplishments of the ALIPC so far was the formation of a list of all invasive plants in Alabama that will be updated every year.
"Kudzu is kind of like the poster child, but it's really not the worst one out there," says Loewenstein.
The list includes a variety of invasive trees, shrubs, vines, grasses, canes, forbs (broadleaf plants) and aquatic and wetland plants. There are also two "watch" lists of invasive plants that are possible threats to Alabama.
One of the biggest problems ALIPC faces is that many people do not realize they are planting invasive species. Non-native ornamentals and exotic plants look and smell wonderful, but many pose a serious threat to native plants and the environment. Approximately two-thirds of invasive plants are escaped ornamentals.
For instance, Chinese privet (Ligustrum sinense) is still planted as shrubbery; however, it is listed as one of Alabama's 10 worst invasive plants. Thorny olive (Elaeagnus pungens) is another popular shrub listed as an invasive species.
Educating the public about these problem plants is one of the highest priorities of the ALIPC. Another one of ALIPC's current projects is creating a list of native alternatives to invasive plants.
For example, approximately 180 species of honeysuckle have been discovered in the world, four of which (Bell's honeysuckle [Lonicera X bella], Amur honeysuckle [Lonicera maackii], Japanese honeysuckle [Lonicera japonica] and Morrow's honeysuckle [Lonicera morrowii]) are on Alabama's invasive list.
However, not all species of honeysuckle in Alabama are threats. Native yellow honeysuckle (Lonicera flava) and Coral honeysuckle (Lonicera sempervirens), also called Trumpet honeysuckle, are indigenous to Alabama.
Chinese wisteria (Wisteria sinensis) is another example of a plant that originated as an ornamental and has now become a menace to trees. Much like kudzu (Pueraria montana var. lobata), Chinese wisteria climbs trees, smothering them by twisting around the trunks and over the canopy. Yet American wisteria (Wisteria frutescens) can be safely planted as an alternative to aggressive Chinese wisteria.
While ALIPC is working on the Alabama list, it is encouraging Alabamians to use the Tennessee Exotic Pest Plant Council list of alternatives as they make their landscape plant choices. This list is available at www.nps.gov/plants/alien/fact.htm.
David Teem, an emeritus professor in agronomy and soils at Auburn University and the founding father of the ALIPC, said the council is trying to inform children, too.
With the help of the Alabama Public Television show Discovering Alabama and Doug Phillips, the council filmed an episode titled "Alien Invaders: Invasive Plants of Alabama," which aired on APT. Videos and DVDs have been distributed to teachers across the state.
The film addresses the current invasion and what the state will face if Alabamians allow this issue to go unchecked.
Teem compares the seriousness of invasive plants to the threat boll weevils once posed to Alabama farmers. He believes that legislative action, much like the Boll Weevil Eradication Program, will be required to fully gain control of invasive plants. However, the citizens of Alabama must first be informed.
The Southeast Exotic Pest Plant Council is working to develop and implement an interactive data mapping project, the Early Detection and Distribution Mapping System, which will allow citizens across the Southeast to see what invasive plants are located close to their homes.
Invasive plants have been doing more than harm the environment. Each year, the control of invasive plants costs billions of dollars.
To eradicate infestations, years of herbicide applications or cutting down and uprooting plants may be required.
"Prevention is the best policy, but if they (invasive plants) are out there, the earlier you catch them, the better," says Loewenstein.