Globe-trotting Guru
Would-be Geologist Boyd Travels World as Aquaculture Expert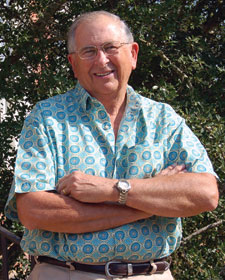 AU's Claude Boyd, just back home from yet another overseas trip, says he's traveled to more than 40 countries since the mid-1980s as a consultant/researcher/instructor in water quality and aquaculture.
Around the globe today, Auburn University's Claude Boyd is considered one of the foremost authorities on water quality, particularly in aquaculture.
But guess what.
If Boyd had his 'druthers-indeed, if he could go back and start over and do it all again-instead of traveling the world as an aquaculture expert, he'd have spent his career out mining rocks and stones, exploring the earth's deep secrets, searching for oil.
He'd have been a petroleum geologist.
That's what he wanted to be as far back as high school.
But in 1957, during his senior year at Vardaman High in the small central Mississippi town by that name, an enthusiastic Boyd traveled over to Starkville to talk with geology professors at Mississippi State College about his chosen field of study. His plans were quickly quashed.
"They wouldn't even let me in the program, because they were getting rid of it," Boyd recalls. "They told me there was no way I would get a job as a petroleum geologist, that there wasn't any demand out there any more, that all the oil that was going to be found had been found."
So when he entered Mississippi State in the fall of 1958 (after turning down an appointment to West Point because he "didn't want to be a career soldier"), Boyd followed the path his family was steering him toward and enrolled in the pre-med curriculum. He wasn't exactly thrilled.
"I didn't want to be a doctor, either, really," Boyd says in his thick, sho'nuff-rural-Mississippi accent. "I figured people who are well are hard enough to get along with; sick ones would probably be even worse."
Luckily, it was not an issue. When Boyd was a senior at Starkville, an entomology professor persuaded him to abandon his M.D. plans and opt for a career in research.
That was much more to Boyd's liking. He wound up double-majoring in entomology and chemistry, earning his bachelor's in 1962 and then turning right around and getting his master's a year later in environmental toxicology.
Next up was a Ph.D., which Boyd decided to pursue in insect toxicology. For that, his major professor at State recommended that he go to Auburn to study under noted entomologist Wayne Arthur.
Before Boyd arrived at AU, Arthur left for a job in the private sector. He referred Boyd on to John Lawrence, an AU fisheries professor whose research focused on aquatic herbicides.
"He put me in charge of setting up a lab for all of his water-quality studies," Boyd says. "I really liked chemistry, so that was right up my alley."
Entering the World of Work
Boyd had found his niche.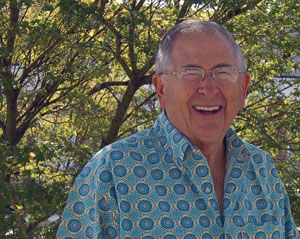 "I didn't feel like I knew enough to be going all over the place giving advice."
- Claude Boyd
In '66, he received his doctorate from AU in water and aquatic soil chemistry and quickly landed a job in Athens, Ga., as an aquatic biologist at a federal water pollution control laboratory. But he wasn't there for long-and we mean that literally.
"I'd been at work two hours when I decided I was not going to work for the federal government," Boyd says. "I hadn't even walked in the door good and these two fellows started arguing over where my office was gonna be and who I was gonna be reporting to, and I figured that was the way it would always be working for the government."
He returned to Auburn briefly to fill a temporary water-quality research position, then left for a full-time job as an ecologist with the University of Georgia's Savannah River Ecology Lab.
"I liked that pretty good, but then the radiation safety officer there left, and they decided they wanted me to be that, too," he says. "It was just a part-time thing, but I really disliked it. And I wasn't gonna sit around and do something I didn't like."
About that time-it was 1971-Auburn was awarded a substantial Rockefeller Foundation grant to work on water quality in aquaculture ponds, so Boyd headed back to AU and joined the fisheries department.
Initially, his was a 100-percent-research position, but along the way, he picked up teaching responsibilities for a basic water science class and a class in pond water quality and bottom soil management that he developed-the first class of its kind in the world.
Boyd, AU's Butler/Cunningham Eminent Scholar in Agriculture and the Environment since 2001, still teaches both. (And, by the way, while we're on the subject of teaching, he has been the major professor for more than 100 graduate students at Auburn.)
His role as a globe-trotting guru of the aquaculture world had its beginnings in the early 1980s.
"I had places asking me to come before that, but I didn't feel like I knew enough to be going all over the place giving advice," Boyd says.
His first venture abroad as an aquaculture consultant was to Suriname, a small country in northern South America, to help officials there select a site for a proposed fisheries research facility.
And thus the floodgates were opened. In the two-plus decades since Suriname, he has traveled to offer his expert advice in 40-something countries, always with the goal of helping ensure that aquaculture worldwide operates in an environmentally sound way.
But don't go getting the notion that Boyd has channeled all his energy and expertise abroad. His impact on the aquaculture industry here in his own country has been phenomenal.
Take, for instance, his development in the mid-1980s of the aerator to help catfish producers maintain adequate dissolved oxygen levels in their ponds. The U.S. Department of Agriculture estimates that by 2010, that creation alone will have benefited the aquaculture industry to the tune of $1.5 billion.
More recently, in 2003, Boyd led the way in formulating a set of catfish production best management practices that the Environmental Protection Agency has cited as a model for all other catfish-producing states to follow.
Writing Books—Literally
And then there are his publications. Boyd has written more than 300 articles published in refereed journals, has co-authored four books and is the sole author of four aquaculture and water-management books. And get this: He's written every word of it by hand, leaving it to his long-time write-hand woman June Burns to transcribe.
"I can write with a pencil a lot faster than I can type," Boyd explains.
In fact, he doesn't really even have use for a computer.
"I didn't have a watch till a few years ago, and I could tell you what time it was within 10 minutes," he says. "Then I got a watch, and now I have to have it. Same thing with computers. I figure that if I started relying on a computer, I'd forget how to think."
The father of three grown Auburn grads says that, because he travels so extensively with work, he and his wife, Dtom-a Thailand native whom he met while working there and married in 1990-seldom take a vacation, per se.
"But when we do, we go to Death Valley-the driest place on earth," he says. "I want to get as far away from water as I can."
Boyd, who turns 68 in mid-November, says he hasn't really given much thought to retiring.
"I reckon I'll retire sometime," he says. "I guess if I run up on something that frustrates me too much, I'll just pick up and go."