Ag Classic Deadline Set
May 19 is the deadline to register for the College of Agriculture's Ninth Annual Ag Classic, to be held May 24-25 in Auburn.
Ag Classic offers golf, fishing and clay shooting competitions and provides an informal setting for fellowship among CoAg friends, faculty and administrators. The event's mission is to strengthen support for the college, build relationships and raise money for various college activities.
More information is available at www.ag.auburn.edu/agclassic or by contacting Katie Hardy at 334-844-1475 or katie@auburn.edu .
---
Ag Heritage Park Update
By: Robert Hensarling
As cool weather gives way to warm, Ag Heritage Park is moving into a widely anticipated stage of development. The Pavilion at Ag Heritage Park is complete and ready for use by campus patrons and the general public. The Pavilion accommodates gatherings of up to 167 people seated banquet-style or 250 people seated classroom-style. The structure is equipped with restroom facilities and a preparation kitchen. Rental information and policies are available for anyone interested in using the facility.
Additionally, we are in the initial phases of landscaping the Pavilion grounds. Our AAES Land and Facilities personnel labored for more than two days prepping and watering the soil and installing more than 10,000 square feet of turf around the building.
We are one step closer to seeing completion of the Red Barn, the replica of the famous landmark barn that has graced Ag Heritage Park's grounds for generations. Both side structures are now framed and awaiting installation of the decking and metal roof material. In fact, at least one side of the barn has already received the first coat of red paint. This project should be completed in May and ready to accommodate the collection of old farm tools and equipment that we have received over the past few years.
The pond is scheduled for completion by August, providing we have good weather and the right mix of equipment and manpower. The dam for the pond will serve as a vital link that connects both sides of the park by way of a trail system, which will eventually run throughout the park and will highlight the many different aspects of agriculture here at Auburn University.
As if this weren't enough to keep us busy, we are already hosting The Market at Ag Heritage Park, a growers-only farmers' market that will be held weekly beginning in late June. The Market held an early-season kickoff event on April 20 and a strawberry market day on May 4. The weekly season will begin on June 29 and run throughout the summer on Thursday afternoons.
If you are interested in keeping up with the rapid development of Ag Heritage Park, please stop by our location at the corner of Samford Avenue and Donahue Drive. You can also view recent construction photos on the Web at www.ag.auburn.edu/adm/heritagepark/. For more information on the park, renting the Pavilion or on The Market, call 334-844-3596 or 334-844-3204.
---
"It Begins at Auburn" Capital Campaign Under Way
Auburn University publicly launched the largest fundraising effort in school history in February with the announcement of the $500 million, "It Begins at Auburn" campaign and with the news that Auburn had already raised $332.4 million, or 66 percent, of its campaign goal.
"Tonight's celebration was a great beginning of the public phase of our campaign," said AU interim President Ed Richardson during a special kickoff celebration that drew 500 prominent alumni and friends for the announcement. "With the momentum we have from last year's record fundraising year and the enthusiasm evident tonight, I expect our campaign to be a tremendous success."
The campaign encompasses all colleges and schools on campus as well as the library, athletics, Auburn University Montgomery and the museum. Endowments for students, faculty, programs and unrestricted dollars make up 58 percent of the campaign's goal.
Endowed funds differ from others in that they are truly the gift that keeps giving. Instead of the entire amount of the gift being spent outright, the gift is invested. Each year, a portion of the invested income earned is spent while the remainder is added to the original principal. Always equated with excellence and long-term strength, endowments are absolutely essential if AU is to remain a leader in education, research and outreach.
In addition to endowments, the campaign will raise $124 million for facilities, equipment and campus beautification. The remainder will benefit research and current operations.
The College of Agriculture also hopes to benefit significantly from the university's comprehensive campaign. The goal for the College of Agriculture is to raise $27.7 million. It had already raised more than $24.3 million as of April 1. More than 63 percent ($17.4 million) of the total goal is for endowments for students, faculty and programs. Additional funds will support facilities, research and current operations.
"As demand for our college's expertise grows, we must strengthen our programs to keep up with that demand," says CoAg Dean Richard Guthrie. "Our funding comes from multiple sources, including the state Legislature, tuition, grants, partners, friends and alumni. It is the generosity of you-our friends and alumni-that enables us to reach new levels of excellence and accomplishment.
"As we look ahead to the future and all its possibilities, I invite you to join in our efforts. Your contributions to the Campaign for Auburn will make a world of difference to our students and faculty and to the entire state," he adds.
For more information on how to give to the College of Agriculture or the college's campaign goals, call 334-844-1475 or visit the campaign Web site at https://develop.auburn.edu/campaign/ag.html.
---
Six Recognized During Hall of Honor Banquet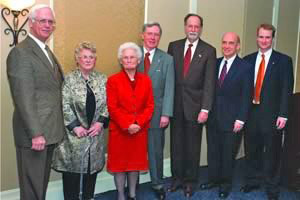 Those honored included, from left: Bill Alverson,
assistant dean of the Auburn College of Agriculture;
Martha Green, who represented her late husband
O.L. Green; Willodene Mathews, representing her late
husband John Mathews; former State Veterinarian
Dr. J Lee Alley; former Alabama Farmers Federation
Executive Director John H. Dorrill; and Ben Spratling
who accepted on behalf of his late father B.B. Spratling.
The recipients are shown with Ag Alumni Association
President Jeff Helms (far right).
Six outstanding Alabama agriculturalists were honored for their contributions to the state's farming industry recently when the Auburn University Agricultural Alumni Association held its 2006 Alabama Agricultural Hall of Honor Banquet in Auburn.
Three of the honorees were inducted into the association's Hall of Honor, which pays tribute to living Alabamians for their contributions to Alabama agriculture. They included John Dorrill of Pike County, retired executive director of the Alabama Farmers Federation; J Lee Alley of Montgomery, retired state veterinarian and past president of the Alabama Cattlemen's Association; and the late B.B. Spratling, Jr. , a Macon County soybean producer and past president of the American Soybean Association. Spratling was selected for induction into the Hall of Honor in the fall of 2005. He passed away Jan. 9.
Also honored with a special Founders Award was Bill Alverson , assistant dean for the College of Agriculture who was instrumental in establishing the Ag Alumni Association and who will be retiring this summer. The one-time award was given by the Ag Alumni Association board to honor Alverson for his many contributions to the organization.
Two other Alabamians were given Pioneer Awards, which posthumously honor the state's agricultural leaders. They were the late O.L. Green of Dothan, for his impact on the catfish industry as a fish culturist with the U.S. Fish and Wildlife Service, and the late John H. Mathews of Decatur, long-time general manager of the Alabama Farmers Cooperative.
The inductions and award presentations were made in February during the Ag Alumni Association's annual meeting and awards banquet, which drew some 160 people to honor the 2006 winners.
---
Ways to Give
Gifts to the College of Agriculture fall into two broad categories: outright gifts, which are available to the College for immediate use to support current programs, add to endowments and scholarships and improve facilities; and deferred or planned gifts, in which donors include the College in their total financial and estate plans and use by the College is deferred to some future time.
OUTRIGHT GIFTS
Cash
Pledges
Securities
Real Estate, Personal Property and Equipment
Corporate Matching Gifts
Electronic Funds Transfers
DEFFERED GIFTS
Bequests in Wills
Charitable Remainder Annuity Trusts
Charitable Remainder Unitrusts
Charitable Lead Trusts
Charitable Gift Annuities
Deferred Gift Annuities
Life Insurance
Retirement Plan Assets
Retained Life Estates
For information on ways to give, contact Mark Wilton at 334-844-1198 or wiltomt@auburn.edu or Chris Gary at 334-844-1136 or garychr@auburn.edu.