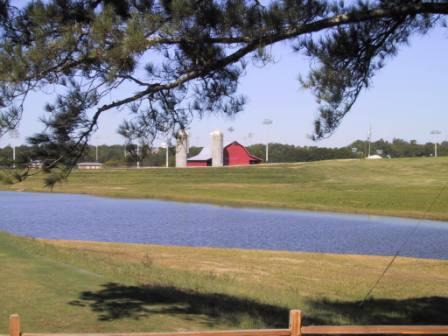 Ag Heritage Park (AHP), a joint venture of the Auburn University College of Agriculture and the Agricultural Alumni Association, is located on approximately 30 acres at the southwest corner of Samford Avenue and Donahue Drive. The Park pays tribute to Alabama's farmers and agricultural sector while also serving as a gathering place for students, faculty, alumni and friends throughout the year.
Though AHP has already become a destination of choice for many College of Agriculture alumni, friends, faculty and staff during tailgate parties and other events, its grand design is an on-going project that will take several years to complete. We are pleased that a great deal of progress has been made in recent months. Click on the buttons at the side to view an update of each component.
The overall purpose of Heritage Park is to:
improve and maintain the green space on this primary corridor to the campus;
promote interaction between Auburn University, the State's agricultural community and the citizens at large;
provide facilities and opportunities for bringing statewide youth programs to campus;
foster Auburn University and the College of Agriculture as a creative nucleus and intellectual center for research, teaching and outreach information and activities by providing a site and facilities appropriate for and conducive to a wide range of activities; and
recognize and build on Alabama's heritage as an agrarian state and highlight agricultural success stories.
Last Reviewed: May 15, 2013