In Our Opinion. Extension System specialists have been voicing their opinions in the state's newspapers during recent months, which is helping increase awareness of issues and also Extension programs and projects. The following is an opinion piece that ran recently in several Alabama papers.
More Statewide Vigilance Needed to Contain Formosan Termite Infestation
By: Xing Ping Hu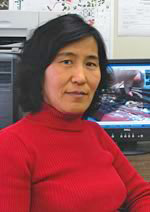 A year ago, with a cracking and splintering of wood heard blocks away, one of east Alabama's oldest and most revered landmarks, the Renfro Opera House in Opelika, fell to the ground. It was a crash that should have been heard across the state, all the way to the corridors of power in Montgomery. City officials concluded the cause was moisture stemming from blocked drainage pipes on the roof.
Yet, according to one downtown merchant's account published recently in the Opelika-Auburn News, thousands of termites took flight around the structure seconds after the collapse—a telltale sign that they, as much or more than moisture damage, were the cause of the collapse.
Subsequent investigation revealed they were Formosan termites, not just any old termite but one of the most pernicious invasive species in the United States—a hundred times more destructive than native termites.
Formosan termites have been characterized as a hurricane that never dissipates—an apt description considering the billions of dollars worth of damage they have caused throughout the South within the past decade.
The situation in east Alabama is a bellwether of the serious threat these pests represent, not just in east and south Alabama but across the state. Long considered a tropical and subtropical pest, the termites have established themselves as far north as Cullman, enduring temperatures lower than they have ever been known to survive. They already have been spotted in 15 counties, mostly along the state's interstate highway system.
To date, the highest concentrations of Formosan termite damage have been in urban dwellings and have not been detected to any appreciable degree within the state's woodlands. Even so, the pests are damaging thousands of trees, most notably backyard ornamental trees and many of the state's urban forestry stands. Trees in areas of the state hit hardest last year by Hurricane Ivan are particularly vulnerable targets, especially historical trees standing guard along many of the state's town squares and streets.
The effects of Hurricane Katrina are likely to make things even worse. Houses in southwest Alabama may be especially vulnerable to the termites due to higher moisture content in the wood resulting from the heavy rainfall.
People deserve the bulk of the blame for this mounting problem. Virtually all of the long-distance movement of Formosan termites is associated with human activity, particularly through the transport of contaminated landscaping timber, such as railroad ties, and occasionally lumber, nursery stock and even soil.
Education—showing people how easily they can contribute to the spread of these pests—remains the biggest challenge, even among some of the state's most reputable pest control operators.
Roughly four years ago, I asked Extension agents throughout Alabama to report any cases of Formosan termites whether these were from damage to houses, backyard tree stands or ornamental plants. Every year, the numbers of reports grow larger and larger.
With urban dwellings and tree stands now providing a reservoir, the termites are primed to spread to other vulnerable targets, possibly even commercial forests—small wonder why the problem will likely grow much worse.
Containing the spread of this voracious pest will require a statewide education and research effort, supported through every level of government—federal, state and local. Virtually all of the South's worst-hit states receive federal and/or state funds to support these control efforts. It's time to undertake similar efforts in Alabama.
A good place to start is a Formosan termite program patterned closely after the highly successful Alabama Fire Ant Management Program—one that is supported by federal and state funds and that effectively combines education and research aimed at containing the spread of this ravenous pest.
Xing Ping Hu is an Extension System entomologist and CoAg associate professor of entomology.
---
Coffee County Listed as One of Nation's Best Farming Counties
Coffee County has been listed by the Census of Agriculture as one of the top 100 most successful counties in the nation for farming.
The census data, reported in Farm Futures Magazine, ranks Coffee County 90th among 3,000 counties nationally. Coffee County was the only Alabama county listed in the census.
Stan Windham, coordinator of the Extension System's Coffee County office, attributes his county's standing to the astonishing level of farm diversification.
"It's pretty rare in Coffee County to find a farm doing only one thing," says Windham, a Coffee County native who returned to the southeast Alabama county after spending his formative years in Huntsville and, later, Colorado.
"It's hard to name a farming enterprise that's not diversified," he says. "We even have some catfish, although this is not a big enterprise in this region of the state."
Other factors, Windham believes, are the adaptive mindset of Coffee County farmers and the county's strong tradition of farm leadership, reflected by the large number of producers who have served as presidents of statewide organizations such as the Alabama Cattlemen's Association and the Alabama Peanut Producers Association.
---
The Great Wrapper Debate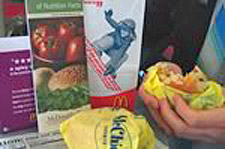 Some of the nation's newspaper pundits, bloggers and nutrition experts are expressing mixed views of McDonald's recent decision to include nutritional labeling on its food packaging.
While some say the policy of putting nutritional information on the wrappers of burgers and other food items is not likely to get the attention of most consumers, others say the labels may prompt some people who take the time to read them.
Robert Keith, an Extension System nutritionist and professor of nutrition and food science, agrees that the labels are no panacea, but they may drive home a stark nutritional reality to many consumers—a welcome first step.
"We're talking about a cumulative effect here," Keith says.
Most people aren't dumb, Keith says: They know they are not getting a low-calorie, low-fat product when they buy a Big Mac. Among a few consumers, the labels may put this fact into sharper perspective.
"If you're a little savvy, you buy the Big Mac, see the calories and fat listed on the wrapper, realize they really are high, and switch to something else—something different and maybe even a little bit healthier," Keith says.
One other cumulative effect may follow from the labels, Keith says.
"Everyone follows McDonald's," he says. "So if this turns out well, other fast-food restaurants will follow."
---
Economist: Farm Supports Not Threatened, Despite WTO Negotiations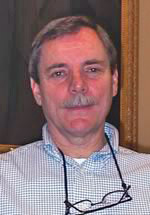 Paraphrasing the late Mark Twain, an Alabama Cooperative Extension System economist believes reports of the demise of subsidies have been greatly exaggerated.
Whileit'strue World Trade Organ-ization negotiations likely will lead to the reduction of some types of subsidies, "there is still a long way to go before subsidies are eliminated," says James Novak, an Extension eco-nomist and CoAg professor of agricultural economics and rural sociology.
"I'm not saying this is necessarily a good or a bad thing, just that it's the way things stand for now," he says. "I've heard discussions by two Bush administration officials on this same issue, and that is basically what both of them have concluded."
On the other hand, he believes "U.S. cotton export subsidies are probably done for."
Likewise, so-called amber-box payments, which are designed to support prices or are directly related to production levels, will probably be slated for reductions. Based on current international agreements, U.S. spending for amber-box subsidies is capped at $19.1 billion.
Even if amber-box subsidies underwent significant reductions or were eliminated entirely within the next few years, Novak believes the federal government would offset these income losses with other programs designed to support farm income without having trade-distorting effects.
These could include ad hoc disaster payments; crop insurance, with a greater emphasis on insuring farm income; so-called green-box supports, payments that would reward farmers for adopting sound conservation practices; and direct payments,based on the decoupling approach enacted with the 1996 Farm Bill.