Ag Heritage Park Update
By: Robert Hensarling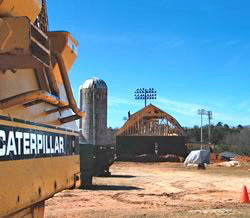 Red Barn construction is in progress.
This summer and fall brought a lot of activity and changes to Ag Heritage Park.
We hosted seven tailgate events on home football weekends, drawing an estimated 3,700 visitors to the park for those events. Additionally, Ag Heritage Park became the home to the first-ever farmers' market to be held on the Auburn University campus—The Market at Ag Heritage Park.
Customers were greeted by as many as 20 vendors each week during The Market's immensely successful first season. Fresh produce, freshly baked foods, cut flowers and educational opportunities were only a sampling of attractions for the more than1,500 patrons who came to The Market, and the same items, plus much more, will be available again this year when The Market reopens in April.
With the start of this new year, we are seeing the beginning of a new era for Ag Heritage Park. As we move from winter into spring here in Auburn, we are greeted with the many possibilities of the park as the construction projects continue to move forward. The Pavilion is almost completed and we have hosted several inaugural events at the site. While the grounds around the Pavilion are still under construction, the building shows tremendous promise for many future events. The Pavilion can seat 170 people banquet-style and will be a great venue for our visitors and friends.
At this time, construction on the Red Barn is making significant strides toward a projected March 1 completion date. The main floor area has been assembled and the trusses are up and ready to receive the roof material.
pon completion, the Red Barn will serve as home to the Johnson family tool collection and several other donated pieces of equipment. Initially, we anticipate that visitors will be able to tour the facility during scheduled visits and upon special request.
The Catfish Demonstration Pond is still scheduled to be completed this spring. We have been delayed by weather and a shortage of funding for this project. However, the project will continue to move forward with the assistance of an outside contractor and direct support from our Alabama Agricultural Experiment Station Land and Facilities Management staff.
Even though we have completed the major portion of the Pavilion and Red Barn projects, we still lack sufficient funding for completing the landscape design and installation for these sites. If you would like to make a donation in support of these specific elements or other projects within the park, please contact either Chris Gary or Mark Wilton at 844-1475.
---
Five Honored By Ag Alumni Association
Five outstanding Alabama agricultur-alists were honored for their contributions to the state's farming industry by the AU Agricultural Alumni Association this year.
The five were honored during the 2006 Hall of Honor Banquet held in Auburn in February. It included inductees into the Hall of Honor, which pays tribute to living Alabamians for their contributions to Alabama agriculture, and winners of the Pioneer Award, which is a posthumous honor for former leaders in the industry.
Hall of Honor inductees included John Dorrill of Pike County, retired executive director of the Alabama Farmers Federation; J Lee Alley of Montgomery, retired state veterinarian and past president of the Alabama Cattlemen's Association; and Macon County soybean producer B.B. Spratling Jr., who passed away in January just before the banquet.
Pioneer Award winners were the late O.L. Green of Dothan, for his impact on the catfish industry as a fish culturist with the U.S. Fish and Wildlife Service, and the late John H. Mathews of Decatur, long-time general manager of the Alabama Farmers Cooperative.
---
Scholarship Endowment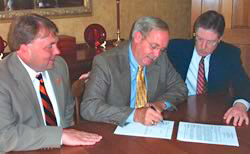 Larry Lovvorn, son of the late Roy Lee Lovvorn, signs an agreement establishing the Dr. Roy Lee Lovvorn Endowment for Scholarships in the College of Agriculture as his brother Lee, right, and CoAG Development officer Mark Wilton look on.
The endowment was created through a gift of $30,000 from the Lovvorn estate. The late Dr. Lovvorn was a 1931 graduate of Auburn University in agriculture science who went on to have a highly successful career that included serving as director of Weed Investigations with the U. S. Department of Agriculture in Beltsville, Md.; as director of instruction in North Carolina State University's College of Agriculture and Life Sciences; as director of the North Carolina Agricultural Experiment Station from 1955 to 1969; and, finally, as administrator of the Cooperative Research Service, USDA, Washington from 1969 until his retirement in 1976.
---
Ag Classic Dates Set
Mark your calendar and plan to participate in the College of Agriculture's Ninth Annual Ag Classic, May 24-25.
Ag Classic provides an informal setting for friends of the College of Agriculture to return to Auburn for fun and fellowship with one another, faculty and administrators. Its central mission is to strengthen support for the College and continue to build relationships while having fun and raising funds.
This year's golf tournament will once again feature "Food and Fun on Every Hole." Sponsorship and registration information will be mailed at the beginning of March.
Visit our Web site at www.ag.auburn.edu or contact Katie Hardy at 334-844-1475 or by email at katie@auburn.edu for more information.
---
We Couldn't Do It without Our Donors
The following is a list of donors who gave $200 or more to the AU College of Agriculture from June through December 2005. Many thanks to those who have contributed to the College and its affiliated projects. To learn more about how to give, contact the College's Development Office at 334-844-1475. (When applicable, the donor's class year is listed beside the name.)
William S. Abrams
Advanced Microbial Solutions UC
Agco Corporation
AgraQuest, Inc.
Ajinomoto Heartland, LLC
Alabama Catfish Producers
Alabama Cattlemen's Association
Alabama Cattlemen's Foundation
Alabama Council of Cooperatives
Alabama Crop Management Association
Alabama Electric Cooperative, Inc.
Alabama Farmers Cooperative
Alabama Master Gardeners Association
Alabama Nursery and Landscape Association
Alabama Poultry and Egg Association
Alabama Power Company
Alabama Seedsmen's Association
Alabama State Florist Association, Inc.
Alabama Turfgrass Association
Alabama Turfgrass Research Foundation, Inc.
Alabama Wheat and Feed Grain Producers
Alabamians for Luther Strange, Inc.
Edgar G. Aldridge '56
ALFA Corporation
ALFA Foundation
Alltech Biotechnology Centre
American Coolair Corporation
American Proteins, Inc.
Arvesta Corporation
ASAE
Athens Garden Club
AU Agricultural Alumni Association
Auburn Urgent Care, Inc.
Dr. James S. Bannon '69
Barbour County Farmers Federation
Barton's Greenhouse and Nursery
BASF Agricultural Products
BASF Corporation
Dr. Charles C. Baskin '54
Bayer Cropscience LP
Terry Paul Beasley '71
Becker Underwood
Beckum Opticians
Dr. Zenon Bednarski
Harold Frank Benford '67
John Glasgow Blackwell '64
Dr. Dwight S. Bond '56
Bonnie Plant Farm
Dr. George Edward Boyhan Jr. '84
Dr. John Patrick Bryant '56
M. David Byers Jr. '59
Andrew P. Campbell
Centurion Poultry, Inc.
CEREXAGRI, Inc.
Fred Cespedes
Jimmy B. Chaffin
Elizabeth S. Clement
Cole Properties, LLC
Dr. Eldridge Collins Jr. '62
Comer Foundation
Dr. Joseph Edgar Conn '91
Dr. Donald E. Conner
Dr. Arthur Wiggins Cooper '39
Covington County Farmers Federation
Dr. Jerry R. Crews '87
Crompton Crop Protection
Curtis John Cundith '97
Larry M. Curtis '65
Danisco Animal Nutrition
Drew Lane Davis '81
Mac S. Davis Jr. '74
James O. Donald Jr.
Dow Agro Sciences
Dr. Kevin Michael Downs '00
E I DuPont De Nemours and Company
Dr. Donald M. Elkins '64
Ellison & Ellison Company, Inc.
Ernst Benary of America, Inc.
Mark C. Espy Sr. '65
Robert Ezell
Dr. Donna Crabtree Fare '81
Steven R. Farrington '89
Federal Land Bank Association of North Alabama
Federal Land Bank Association of South Alabama
James Lee Fenn III '95
First South Farm Credit
Richard F. Fullerton Jr. '84
Garden Club of Alabama, Inc.
Geneva County Farmers Federation
Gold Kist Foundation, Inc.
Dr. William Avery Goodwin '77
Grimes LLC
Dr. Richard L. Guthrie '62
H & M Drug
Dr. Michael R. Hajek '78
C. Dean Hansen '49
Katharine Hardy '99
Harold E. Ford Foundation, Inc.
Dr. Ralph Rogers Harris '51
Robert Alexander Harris '61
Hayes Investments, LLC
John B. Hembree Jr. '50
Henry Farm Center, Inc.
Dr. Joseph T. Hood
John K. Hood Jr. '00
Dana Sturkie Hudson '63
Dr. Delos D. Hughes
Hunter Trees LLC
G. Wade Hurt
Ingram Farms, Inc.
Dr. John Blakely Isbell '75
Val Trawick Ivey '71
Dr. Bryson L. James '51
JD Specialties
Jones Hamilton Co.
Glenn V. Jones '53
K. E. Buck
KMG Bernuth, Inc.
Lake Mitchell H.O.B.O. Association
Lake Wedowee Property Owners Association, Inc.
Landscape Services, Inc.
Latco, Inc.
Lawrence County Farmers Federation
Dr. Mack Naugher Leath '63
Lewis Brothers Manufacturing, LLC
Carolyn Ellis Lipscomb '49
Dr. Roy L. Lovvorn Estate '31
Catherine K. Lowder
Madison County Farmers Federation
Pearson C. Matthews '73
John Bryan McBride '83
Ira D. McClurkin Jr. '51
Charles J. McDonald
R. Wayne McElrath '52
Lloyd Allen McKelvey '58
Alice McKenzie
Metabolix, Inc.
Micrology Laboratories, LLC
Dr. Charles C. Mitchell Jr. '73
Steve F. Mitchell Jr. '49
Monsanto Chemical Company
Victoria Martin Myers '94
National Christian Charitable Foundation
National Foundation for Philanthropy
National Poultry and Food
Naturize BioSciences, Inc.
Joseph C. Newton Sr. '51
NFT Industries, LLC
Nitragin
Novus International, Inc.
David Yow Pearce '70
Pennington Seed, Inc.
Perrico, Inc.
Plantation Tree Company, Inc.
Daniel E. Ponder Jr. '76
Elizabeth H. Puckett '81
James T. Pursell Sr. '52
R. W. Donaldson Endowed Scholarship Fund
Radlo Foods, LLC
Rennier Associates
Ben Mack Richardson '02
Ernest Douglas Rigney '58
Russell Leo Roberson '81
Robert and Charlotte Lowder Foundation
Edmund Sallee
Scotts Company
SIPCAM Agro USA, Inc.
Skinner Nurseries, Inc.
Janine M. Slick
Lyle H. Smith Jr. '47
John R. Southall III '69
Southeast Greenhouse Conference
Southern Living, Inc.
Eugene Steele '80
Dr. Alan H. Stephenson '81
Stoller USA, Inc.
Syngenta Crop Protection, Inc.
T. K. Farms
Matthew Taylor '99
Thaddeus Ray Temple
Terry Pickle Farms
Dr. Walker S. Thompson '52
H. Leroy Thompson '41
Teresa Lynn Tice
Paul Benton Turner '58
William T. Turner '70
Tyson
United Agri Products
Valent USA Corporation
ValleyCrest Companies
W. S. Pharr and Company
Luther Waters Jr.
Wayne Farms, LLC
Dr. Michael J. Weiss
Whitmire Micro-Gen Research Lab, Inc.
Dr. Elizabeth S. Williams '51
Dr. Michael L. Williams
Michael Greg Williams '87
Dr. Stanley P. Wilson '53
Mark Terrance Wilton '93
Wynco Distributor
Dr. John Manuel Zamora '84