In Our Opinion. Extension System specialists have been voicing their opinions in the state's newspapers during recent months. The following is an opinion piece that ran recently in the Birmingham News.
Childhood Obesity Will Require Multifaceted Effort
By: Robert Keith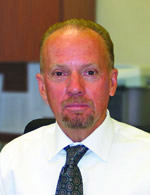 The results of a recent National Academy of Sciences study have revealed what most of us already know.
Researchers involved in the study concluded that spiking levels of childhood obesity can be blamed in part on the way food and beverage makers market products to children and offered 10 recommendations for addressing the problem.
The NAS report and its recommendations are long overdue, but will they be enough to address the increasing problem of childhood obesity? Not by a long shot.
It underscores why there is so much irony associated with childhood obesity, a problem simple to understand though not easily solved. Basically, the problem can be attributed to an increasingly sedentary generation of children exposed to a food supply that is cheap, convenient and chock-full of calories from fats and sugars.
It's a problem initially simple to understand until we account for the other factors that have come into play within the last couple of decades-the explosion of electronic media starting with cable television and closely followed by personal computers, DVDs and, more recently, a generation of larger-than-life video and computer games. Further complicating the picture is a decreasing emphasis on mandatory physical education as schoolchildren are under increasing pressure to excel academically. Aside from that, many neighborhoods-where happy, playful children were once a common sight-are no longer safe for outdoor recreation.
The result is a rising generation of largely physically inactive young people not only prone to obesity but to chronic, obesity-related diseases, such as hypertension, cardiovascular disease and, particularly, type II diabetes-diseases that will leave many of them with serious health problems by the time they reach their early 30s.
The U.S. Centers for Disease Control and Prevention, for example, has projected that one out of three children born in the United States five years ago will develop diabetes within their lifetimes. Among Hispanic children, the figure is even higher-one out of every two.
As virtually every nutrition and health expert will attest, weight loss and exercise, even at moderate levels, can reduce the chances of developing diabetes perhaps by as much as 58 percent compared with people who do not follow through with lifestyle changes.
The problem is that most obese kids and their parents aren't listening-a tragedy considering that lifestyle patterns generally are set by age 9 or 10. In many cases, even a diagnosis of type II diabetes isn't incentive enough for many children to change their bad habits, even though the disease could rob as much as 10 years from their lives.
The NAS researchers are right to stress the role food and beverage manufacturers can play simply by changing the way they market products to children. However, real change will occur only when different segments of society begin working together.
Remedial educational efforts aimed at correcting poor lifestyle habits-habits that become virtually intractable by late childhood-should begin as early as preschool and certainly by kindergarten. Moreover, state legislatures and school boards should demand a return of mandatory physical education in public schools. Likewise, they should insist on school vending machines free of junk food and high-calorie, low-nutrition beverages.
To their credit, Alabama educators already have rolled up their sleeves and gone to work.
A series of recommendations by a statewide task force convened by the state Education Superintendent, Dr. Joseph B. Morton, calls on Alabama public schools to develop an environment more conducive to healthier eating and physical fitness.
Schools are being urged to provide healthy and appealing foods through a variety of different venues, including cafeteria meals, a la carte items, vending machines and snack foods sold in cafeterias or school stores. Positive changes in cafeteria and a la carte meals are expected immediately.
Beginning June 1, Alabama Cooperative Extension System agents began conducting training aimed at all of the state's 1,400 child nutrition program managers, showing them ways that they can effectively reduce the caloric content of their meals without compromising the nutritional value.
All of these efforts must be reinforced by aggressive federal- and state-sponsored educational efforts patterned after the anti-smoking campaign begun two generations ago. Food and beverage companies, after all, are in the business of making money. They won't stop producing unhealthy fare until enlightened customers stop demanding them.
It's also time for a paradigm shift among many of the nation's community planners. In addition to green cities, why not strive for lean cities as well-cities that place greater emphasis on pedestrian needs as well as recreation centers, parks, walking tracts, playgrounds and swimming pools?
Granted, there is no quick-fix solution to childhood obesity. It's a highly complex problem that will require years of effort on a variety of fronts. One thing is certain: The sooner we begin, the better off we will be.
Keith is an Alabama Cooperative Extension System nutrition and health specialist and Auburn University professor of nutrition and food science.
---
Expert: Suburban Developments Need Wildlife Management Plans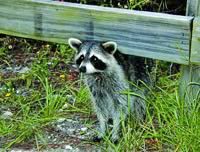 Attention suburban developers: do you have a wildlife management plan?
According to Jim Armstrong, an Extension wildlife specialist, it is a great idea for homeowners and for developers as they plan new houses.
Such a plan could include strategies either to enhance or to discourage wildlife in the neighborhood depending on the developer's-or the prospective buyers'-preferences. In many cases, it could include a combination of both.
"A developer, for example, typically would want to minimize the number of places where birds would want to roost or mammals would want to nest," Armstrong says.
Armstrong says people should understand that suburban wildlife encounters are going to happen no matter what they do.
"If you move into a subdivision at the edge of town, it will only be a matter of time before deer start appearing."
Indeed, suburban landscapes provide almost ideal living conditions for many animal species, especially deer.
Armstrong, who recently headed up an international team of wildlife biologists studying issues associated with human/animal interactions, predicts these types of challenges will emerge as one of the world's major environmental issues within the next few decades.
Armstrong questions whether animal encounters should be viewed negatively. While conceding that there are some serious problems that must be addressed-for example, the recent alligator attacks that have occurred in Florida, along with the occasional poisonous snakes and rabid raccoons-these types of encounters remain exceedingly rare. In the vast majority of cases, animal encounters pose no threat to humans.
The best thing humans can do under the circumstances is to learn more about these encounters and accept them as a normal part of life.
"Wildlife is a great educational tool and generates a lot of interest among young people. If people can capitalize on these issues and turn them into positive experiences, they will derive long-term benefits."
For those who want to provide better urban and suburban habitats for wildlife, without creating a pest problem, there are ways to do so. For more information on how to plan for wildlife in suburban areas, contact Armstrong at 334-844-9233.
---
Biofuels on the Alabama Radar Screen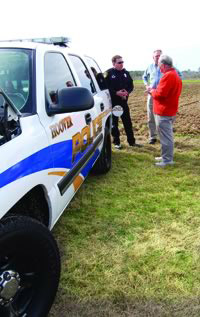 The State of Alabama has joined the biofuels revolution in a big way, recently announcing a plan to install E85 fuel tanks on its 119 FlexFuel cars.
The state motor pool aspires to become an almost exclusively Flexfuel fleet within the next few years. The move is one of several steps Alabama is taking to comply with a federal mandate requiring states to adopt alternative-fuel technologies designed to help the environment and reduce the nation's dependence on foreign oil.
In Huntsville, Mark Hall, a regional Extension agent who has statewide responsibility for Extension's renewable energy program, says this is only the beginning of a series of efforts by government, corporations and even grass-roots entrepreneurs that will spark a biofuels revolution within the next few years.
Hall cites the more than 6 million Flex-fuel vehicles already on U.S. roads capable of running on E85. While conceding that only one percent of these vehicles actually are powered by E85, he believes this percentage will change radically within the next few years. By some projections, ethanol use will increase to 7.5 billion gallons by 2012.
U.S. automotive giants Ford and General Motors already have committed to expanding ethanol-powered vehicles, Hall says.
Meanwhile, the Montgomery Advertiser newspaper reports that E85 filling stations soon will be available in the Birmingham area. Currently, the only such station is in Hoover, though the Hoover Police Department and the state are regular customers.
Grassroots efforts have and will continue to be a big factor behind ethanol growth, though much of this is not yet registering on the radar, Hall says. As a prime example, he points to a group of farmers in north Alabama and neighboring Tennessee who have formed a company to build a Decatur plant capable of producing more than 50 million gallons of ethanol each year.
Hall and others believe economic factors-high fuel and nitrogen fertilizer costs-likely will result in more U.S. farmers switching from corn to soybeans, which require less fuel and nitrogen to produce. This shift to soybeans, they believe, will be accompanied by more biodiesel production.
Soybean and corn producers can also take heart in recent developments. Hall and others note that farmers can forward-price this year's anticipated crop of soybeans and corn for about $6 and $2.75 a bushel, respectively.