Ag Heritage Park Update
By: Robert Hensarling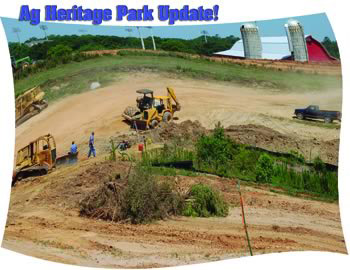 Pond construction at Ag Heritage Park
This spring and summer have brought many advances and much progress in the ongoing construction of Ag Heritage Park. We have seen the completion of the Alabama Farmers' Pavilion as well as the Red Barn. The Pavilion has hosted numerous events that ranged from the fall CoAg graduation breakfast to fundraising kickoff events for the annual campaign. The Pavilion will be available for rental this summer and throughout the year. We expect to rent this beautiful structure for meetings, receptions and educational seminars as well as reunions and tailgate activities.
With the completion of the Red Barn, we are now able to display numerous donated items, including, but not limited to, the Johnson Tool collection and several farm implements. The Barn has an office complete with ceiling fan, air conditioning (for comfort) as well as a sink and adjacent restroom facilities. Immediate plans for this space will be to host small gatherings in support of further fundraising efforts for the park.
In one of the most aggressive phases of construction, we have now initiated the building of the catfish demonstration pond. We are at the half-way point in the construction of the pond dam. June provided one of the driest stretches of weather and has been perfect for pushing this long-awaited project into its final stages.
With all of the activities that occur at the park, including fall tailgates, Ag Roundup and the farmers market, none would be possible without the tremendous staff at AAES Land and Facilities Management. This group, formerly known as Research Operations, is involved in almost every special event related to fundraising, social activities in support of the College of Agriculture and the associated colleges and schools of the Experiment Station.
The staff of Land and Facilities Management is involved in an array of activities. Glen Terrell, our manager of operations, is responsible for determining how we approach each and every job that we are requested to complete. He has a tremendous talent for seeing the details in each project and making certain we bring them to fruition and under budget. Although his major focus is overseeing field operations and construction, he is very creative to make things happen when there is very little direction or well laid plans.
Elaine Rollo constantly seeks federal excess property for departments and researchers both on campus and throughout the AAES system. Her efforts have resulted in purchases that saved more than $1 million. She is also heavily involved with the Ag Alumni Association and most of our special events presented on behalf of the College of Agriculture.
Martha Patterson has been involved with Ag Heritage Park from its inception. She is currently providing Web design and data base management including updates for the memorial brick project. Her next challenge will be to organize and document the Johnson Tool collection. This project will be the first phase of the tools display at the Red Barn.
Terri Jackson provides key support for our business operations and is our go-to person whenever we need signs, banners or detailed artwork for our special events. Terri has always delivered the most creative and wonderfully detailed design work for a wide range of needs. Whether it is a banner for promoting an event or a new sign for one of our outlying units, Terri always comes through with a professional product in record time.
Grant Bond is another person who has to juggle numerous tasks at one time in order to provide the best customer service possible. Grant is our manager of construction projects and land resources. His attention to detail is what makes our unit function with little delay. He not only manages our land resource inventory, but serves as our architectural liaison with both internal and external groups.
It goes without saying that we could not manage any of these projects without an outstanding crew. Franklin 'Buster' McGinty, Paul Gripshover, Jared Burt, Glen Davis, Henry Avery, Joe Fulford, Gerald Frazier, James Stillwell and Jeff Lowery make up one of the finest teams on campus! Each and every one of these team members is capable of leading, constructing, inventing and remodeling just about anything that comes their way. As the recent pond construction indicates, there is no job or task too large for them to tackle.
My deepest appreciation goes out to this entire group of folks for all of their continued hard work, dedication and tremendous talents in support of the College of Agriculture and the AAES. So the next time you attend Ag Roundup, The Market at Ag Heritage Park, Ag Classic, one of our fall tailgates or just take a stroll through Ag Heritage Park, please thank these team members for all of their hard work and tireless dedication!
---
Bridges Named President of ABAC
CoAg alumnus David C. Bridges has been chosen as president of Abraham Baldwin Agricultural College (ABAC) in Georgia. Bridges assumed his new post in July.
Prior to being named ABAC president, Bridges was assistant dean of the Tifton Campus of the College of Agricultural and Environmental Sciences at the University of Georgia (UGA), a position he had held since 2001.
Bridges earned his master's (1983) and bachelor's degrees (1980) in agronomy from Auburn and a Ph.D. in agronomy (weed science) from Texas A&M University in 1987. He also earned an associate's degree in agricultural science from ABAC in 1978.
---
Catch of the Day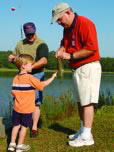 Luke Terry, son of CoAg's special projects coordinator Kelley Terry, landed the first catch of the day during the ninth annual Ag Classic fishing tournament.
Ag Classic is an annual event that offers golf, fishing and clay shooting competitions and provides an informal setting for fellowship among CoAg friends, faculty and administrators. This year's Ag Classic drew 146 golfers, 27 anglers and 47 clay shooters and raised more than $15,000 for the college.
---
Ice Cream Anyone?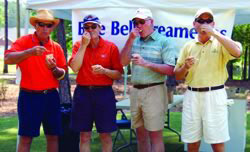 Ag Classic golfers, from left, Jim Cravey, Art Doty, Bill Frey and Herb Vanderberry took a break from their game at the ninth annual Ag Classic to taste a little ice cream. Blue Bell Creameries was among 16 businesses or groups who sponsored holes at the tournament. Others included: Federal Land Bank Association, College of Agriculture, Tiger Tire and Auto (which also sponsored breakfast for the fishing tournament), Wilton's Catering, Advantage Golf, Alabama Poultry & Egg Association, Alabama Cattlemen's Association, American Proteins, Adams Beverages, Inc., Dairy Farmers of America, Southern Pride Catfish, New Farm, First South Farm Credit, Ariccia restaurant and Universal Blanchers, LLC.