CoAg Faculty and Staff Accomplishments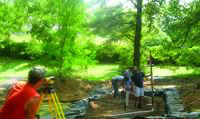 BSEN students construct rain garden
for filtering stormwater runoff in
Auburn University's Arboretum.
Charles Weaver and Peggy King, now retired from the CoAg Department of Entomology and Plant Pathology, recently received Presidential Recognition of Service and Dedication awards from the Organization of Nematologists of Tropical America (ONTA). The awards were presented to Weaver and King during ONTA's annual meeting in San Jose, Costa Rica, held in June, in appreciation for the many years that Weaver served as business manager and King served as secretary of the organization. Both Weaver and King worked in CoAg plant pathologist Rodrigo Rodriguez-Kabana's nematology program before both retired in 2003-Weaver with 27 years of service and King with 36 years of service.
The Department of Horticulture (HORT) welcomes Brian Brown as its undergraduate scheduling coordinator, replacing Carrie Williams who had held the position for the past year. Brown will help students along their academic pilgrimage, from Camp War Eagle or S.O.S to graduation. He will also be updating and managing the departmental Web site and coordinating special events such as the Hort Welcome Day in the fall and the AU Horticulture Alumni and Friends receptions at Southern Nurserymen's Association and GSHE.
Carolyn Robinson will join the Department of Horticulture faculty in August, coming to Auburn from Sam Houston State University in Texas. At Auburn, Robinson will be teaching and developing a research program involving new plant releases. She also may address issues related to invasive species. Robinson received her bachelor's degree from Auburn in 1996, a master's from the University of Florida and her Ph.D. from Texas A&M University.
HORT has been interviewing candidates for an extension and research position that is dedicated to fruit crops and hopes to have a new faculty member in place by August.
Werner Bergen, professor in the CoAg Department of Animal Sciences, was a speaker in the History of Nutrition Symposium: Impact of Research with Cattle, Pigs and Sheep on Nutritional Concepts held in April in San Francisco, Calif. His talk was entitled "Contribution of Research with Farm Animals to Protein Metabolism Concepts: A Historical Perspective." The talk was presented as part of a four-topic symposium at the Experimental Biology 2006 meeting, which is considered the premier meeting of the basic biomedical disciplines including physiology, pathology, pharmacology, biochemistry and molecular biology, nutrition and immunology.
Puneet Srivastava, assistant professor in the Department of Biosystems Engineering (BSEN), has been appointed as an associate editor of the journals published by the American Society of Agricultural and Biological Engineers (ASABE). Srivastava will coordinate the review of manuscripts covering topics in the soil, water and ecological engineering areas that are submitted to Transactions of ASABE and Applied Engineering in Agriculture.
Oladiran Fasina, also a BSEN assistant professor, was invited to speak at the recent International Bioenergy Conference and Exhibition held at the University of Northern British Columbia in Prince George, British Columbia, Canada. Fasina's presentation was entitled "Flowability of Biomass for Biorefineries."
In June, Yifen Wang, another BSEN assistant professor, visited the Hubei Academy of Agricultural Sciences in China. Wang was invited to the Institute for Irradiating and Processing to develop plans for future collaboration in food and bioprocess engineering research. The researchers at the Hubei Academy, who are looking for ways to increase the shelf life of pork products, want to expand their relationship with faculty in the AU College of Agriculture.
A research project coordinated by Mark Dougherty, assistant professor in BSEN, is evaluating the use of rain gardens to filter pollutants, such as hydrocarbons, heavy metals and other contaminants, from stormwater runoff before it enters streams and lakes. A rain garden is a human-made depression in the ground that collects and filters runoff.
As part of their senior design course in the spring of 2006, several BSEN students designed prototype rain gardens for the Auburn University Arboretum. Some of these students are constructing the gardens this summer so the researchers can assess their effectiveness at improving the water quality of the stormwater runoff coming from campus streets and parking areas. Other project leaders involved with the project are CoAg program assistant Eve Brantley; Christy Francis, director of the AU Arboretum; and Charlene LeBleu, assistant professor in the AU College of Architecture, Design, and Construction.
---
CoAg Student Accomplishments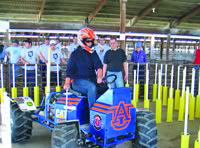 Jennifer Lofty drives the AU
quarter-scale tractor through
the maneuverability course.
Catherine Gacengo of Kenya, a doctoral candidate in CoAg's Department of Agronomy and Soils, has been awarded a $20,000 International Fellowship by the American Association of University Women (AAUW) for 2006-07. She is one of 42 women selected to receive the fellowship from among a field of 709 eligible applicants.
The AAUW awards the fellowship in part based on the need of an applicant's home country for the specialized knowledge and skills she plans to acquire in her research in the U.S. and on the applicant's commitment to the advancement of women and girls in her home country. Gacengo's research is focusing on greenhouse gas emissions-specifically, how terrain and farmers' soil management and crop production practices interact to affect the release of greenhouse gases.
The Department of Biosystems Engineering (BSEN) Quarter-Scale Tractor Team won 13th place in the ASABE International Quarter-Scale Tractor Design Competition in Peoria, Ill., this spring. This is the highest the team has finished in its four years of competition, permitting the team to meet its goal of breaking into the top 15.
In the performance pulling events, AU's tractor pulled 170 feet in the 1,300-pound weight class-much farther than they have pulled in previous competitions-and the team received high marks on their engineering design report from the judges. In fact, the team finished ahead of some of the top biosystems engineering programs in the nation.
Team members include Jennifer Lofty (team captain and expert driver), J.P. Sides (expert fabricator and welder), Brooks Butler (fund raiser and marketing coordinator), Corey Kichler (experienced designer/fabricator and expert drive belt changer), Jonathan Melton (experienced designer/fabricator), Tim McDonald (faculty adviser and mentor for the team) and Christian Brodbeck (staff adviser).
Sarah Sanders, a master's degree student in BSEN, will receive a prestigious U.S. Environmental Protection Agency (EPA) Science to Achieve Results Fellowship. These fellowships are awarded to a select group of about 100 graduate students from across the United States working in environmental research areas. This fellowship will provide stipend, travel funds and minor research expenses in the amount of $37,000 per year for two years in Sanders' case. EPA awards only 10 percent of these fellowships to students pursuing master's degrees. Sanders' major professor is BSEN Assistant Professor Puneet Srivastava and her research focuses on the fate and transport of antimicrobials in the soil. She is the daughter of Carl and Donna Sanders of Brundidge.
Mack Moncus, a senior in BSEN, is participating in the TransAtlantic Precision Agriculture Consortium funded by the Fund for the Improvement of Postsecondary Education through Auburn University. He is visiting the Technical University of Munich for the summer working with the Crop Production Engineering research group on precision agriculture projects. His project is testing and evaluating a "smart" or "intelligent" bearing capable of monitoring revolutions, loading, temperature and load angles.