AAES School and College News
The following is news from our AAES-affiliated schools and colleges. For more information on the teaching, research, outreach or development activities of any of these academic units, contact them directly at their respective phone numbers or Web sites.
---
---
Richardson Visits Harris Learning Center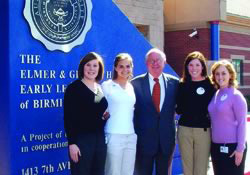 Richardson is pictured, from left, with
HDFS interns Marci Finney, Kathryn
Bludsworth, Kari Beth Brown
and Alyssa Rains.
The Harris Early Learning Center (HELC) of Birmingham, a state-of-the-art child care facility operated by CHS's Department of Human Development and Family Studies (HDFS), provides exceptional educational opportunities for young children-and college students!
The center is the product of the Birmingham Revitalization Partnership, a unique business-government-education collaboration designed to ensure Birmingham's long-term economic prosperity. HELC serves approximately 200 children ranging in age from 6 weeks to 5 years. Additionally, it plays a vital role as a research, training and outreach facility, including providing internship opportunities for AU students.
Named for Elmer and Glenda Harris, the center is a testament to what can be accomplished when business, government and higher education pool their resources to enhance the quality of life for children, families and communities. AU Interim President Ed Richardson visited the center recently.
---
CHS Students Meet Borlaug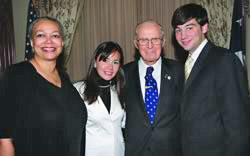 Pictured, from left, are: Dianne Dillon-Ridgley,
a member of the CHS International Board of
Advisors; CHS student Angela Montoya;
Borlaug; and CHS student David Buys.
Two incoming CHS graduate students had a chance to meet Nobel Peace Prize winner Norman Borlaug at an event held recently at the U.S. State Department announcing the 2006 World Food Prize Laureates. Borlaug, who created the World Food Prize in 1986, won the Nobel Peace Prize in 1970 in recognition of his contributions to world peace through an increased food supply, commonly known as the "green revolution."
CHS students were awarded scholarships by Bread for the World to attend the organization's annual Lobby Day in Washington on June 13. They also participated in the College of Human Sciences International Board of Advisors (IBA) meeting held in D.C. during the same week. Part of the day's agenda for the IBA was to attend the announcement of the 2006 U.S. World Food Prize Laureates at the U.S. State Department.
---
Epicurean Study Tour Held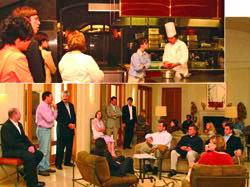 Learning out in the world-CHS students
traveled to northern California to learn
hotel and restaurant management.
Sometimes the best classrooms in the world are out in the world. Take the vineyards, wineries and restaurants of northern California, for example.
That's where 11 students in the College of Human Sciences (CHS) Hotel and Restaurant Management program recently spent five days learning about wine and gourmet tourism, which has become a booming business in the United States and abroad.
The trip, which was attended by six undergraduates and five graduate students, was the second annual tour of the northern California wine region conducted by CHS with the generous help of private sponsors. It included a tour of the San Francisco Farmer's Market, workshops and tours at numerous vineyards, wineries and restaurants in the region and a tour and seminar at the Culinary Institute of America in Napa Valley.
The group of students, led by CHS faculty members Martin O'Neill and Nicole Britton Gaillard, was also joined by members of the West Paces Hotel Group team, which manages The Hotel and Dixon Conference Center in Auburn. John Hamme, executive chef at The Hotel's Ariccia restaurant and an adjunct faculty member in CHS, attended along with Hans van der Reijden, general manager of The Hotel.
According to O'Neill, this sort of trip is an exceptional opportunity for students to get first-hand exposure to the hospitality and tourism industries.
"A large part of what we do today is special interest tourism, and wine and gourmet tourism are areas of great interest," he says. "These tours allow our students to sit down in the company of some of the nation's highest caliber wine makers, walk through their vineyards and experience first hand the passion that these people possess for their work. You can see the effect that these interactions have in the students' eyes. It's as though a light switch goes on for them."
The Hotel and Restaurant Management program has been part of CHS since 1987 and has been growing in recent years. The program currently has some 150 undergraduate students and 13 graduate students.
This annual California trip, as well as another study tour that gives students hands-on experiences abroad, are made possible in large part by donations from supporters. Among the supporters for the northern California trip are several wineries and companies that were included on the tour, including Opus One, Wente Wineyards, Quintessa, Pissoni Vineyards, Beringer Vineyards and four very special local donors, Mr. and Mrs. Roger Lethander and Mr. and Mrs. Edward Lewis.
---
---
Food Animal Barns Dedicated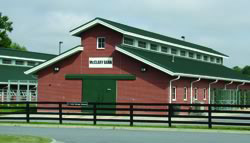 McClary Dairy Barn
The College of Veterinary Medicine (CVM) dedicated its four new food animal barns in April, marking the completion of the final phase of the John Thomas Vaughan Large Animal Teaching Hospital.
Three of these state-of-the-art facilities have been named in honor of CVM faculty members Dr. Dwight Wolfe ('77) and Dr. Bob Carson ('73) and alumnus Dr. David McClary ('74), a member of the college's alumni advisory council. A theriogenology laboratory also has been named for Dr. Allen Heath, who died in an automobile accident three years ago.
The new facilities include a beef cattle receiving barn and hospital barn, both 9,100 square feet, and a dairy milking barn and hospital barn, measuring 5,110 square feet each. Auburn veterinarians treated more than 1,200 bovine cases last year and have 75 dairy and 60 beef cattle on-site as teaching herds.
---
Distinguished Veterinary Alumni Named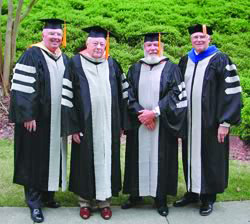 Drs. Bill Carlton and Albert Corte, Jr.,
have been named the 2006 Wilford S.
Bailey Distinguished Alumni by the
College of Veterinary Medicine. Pictured,
from left, are Dr. Timothy Boosinger,
veterinary dean; Carlton; Corte; and
commencement speaker Keith Prasse,
veterinary dean emeritus of the
University of Georgia.
The College of Veterinary Medicine has named two of its graduates as the 2006 Wilford S. Bailey Distinguished Alumni for their contributions to animal welfare, the profession and their communities. The recipients are Dr. Bill Carlton of West Lafayette, Ind., and Dr. Albert Corte, Jr., of Daphne.
Carlton is a 1960 graduate who taught veterinary pathology and toxicology for 30 years at Purdue University. In 1989, he was named the Leslie Morton Hutchings Distinguished Professor of Veterinary Pathology, one of the highest honors a professor can receive at Purdue. When he retired in 1995, he continued as emeritus professor.
Corte, a 1966 graduate, has owned Highland Animal Hospital in Daphne since 1969. He was named the 1979 Veterinarian of the Year by Alabama Veterinary Medical Association and he received its 2004 Distinguished Service Award. He has served in all of the association's leadership chairs and was president in 1978-1979.
---
CVM Gets Two $1 Million Gifts
Auburn University trustee Robert Lowder and his wife, Charlotte, of Montgomery have pledged a $1 million gift to the College of Veterinary Medicine (CVM) as part of Auburn's "It Begins at Auburn" campaign. They are providing the funds to support the Small Animal Teaching Hospital, which has treated two of their pet boxer dogs since 1992.
Auburn initially plans to purchase a three-dimensional radiation treatment planner and a flexible endoscope, and will allocate funds toward recruiting faculty. The Lowders have previously made gifts to athletics, the College of Agriculture, the School of Nursing, the Jule Collins Smith Museum of Fine Art and the College of Business.
CVM also recently received a $1 million gift from the Birmingham-based Diabetes Trust Foundation to further its studies into the disease that affects both humans and animals. Most of the gift, $900,000, will be added to the Boshell Diabetes and Metabolic Diseases Research Program Endowment that was created in 2001, bringing the account total to $1.9 million.
Interest from the account is used to support various diabetes research projects. Auburn will apply the remaining $100,000 toward research equipment and supplies. The foundation was founded in 1964 by Dr. Buris R. Boshell, who died in 1995. He was a 1947 Auburn agriculture graduate who attended the veterinary college for two years before transferring to Harvard Medical School. He served on the faculty at the University of Alabama in Birmingham Medical Center from 1959-1989.
---
Donaldson Wins El Toro Award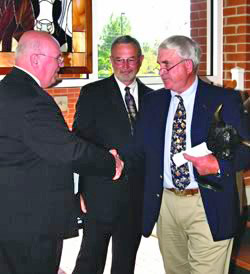 Dr. John Donaldson, right, accepts the
El Toro Award from Vet Med Dean Timothy
Boosinger and Professor Dwight Wolfe.
Dr. John Donaldson of Celina, Tenn., has been honored with the El Toro Award for excellence in food animal medicine. The award was presented during the College of Veterinary Medicine's 99th Annual Conference held in Auburn in April.
After graduating from Auburn in 1967, he pioneered the first veterinary practice in Clay County, Tenn., and has served the area for 39 years, covering seven counties in Tennessee and Kentucky. He owns a cow-calf and stocker operation and has been active in the marketing programs of Middle Tennessee feeder cattle.
---
---
Forestry Project Highlighted in D.C.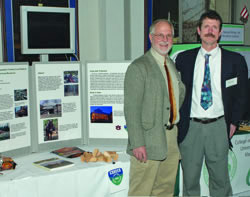 From left to right:Conner Baley and Mark Dubois
Mark Dubois, professor of forestry and wildlife sciences, participated in the 2006 Agricultural Science and Education Exhibition/Reception held on Capitol Hill in Washington, D.C., in February. He is pictured with Conner Bailey, CoAg professor of agricultural economics and rural sociology, who is co-researcher on a project that is exploring new options for the forest and timber industry in Alabama's Black Belt region. Their exhibit was entitled "Forestry and Community: Creating Local Markets for Local Resources."
---
---
Scientist's Study State's Animal and Plant Diversity
Staff from the College of Sciences and Mathematics (COSAM) Donald E. Davis Arboretum recently traveled to the Alabama/Tennessee border for the state's first "BioBlitz," a rapid assessment of the biodiversity of an area. Scientists from universities and government agencies throughout the Southeast gathered to study the Walls of Jericho because of its great diversity in animal and plant species.
Nearly 40 participants enjoyed early-morning birding, plant-collecting hikes, sifting for snails, snorkeling and panning for aquatic invertebrates and fish sampling.
Seeds of the Cahaba River lily were pledged to be donated to the Arboretum collection, and will become the centerpiece of the recently completed Bibb County Cahaba River habitat.
"The most exciting development, aside from the weekend's event, was the formation of a mutually beneficial relationship between the Arboretum and the State Lands Division Forever Wild," says Patrick Thompson of the Arboretum.
---
Research Briefs
Campylobacter: The Unsung Bug
When it comes to food poisoning, the big outbreaks are the ones that make headlines: E. coli in burgers, Listeria in hot dogs, Salmonella in poultry. But the most commonly reported bacterial cause of foodborne infection in the U.S.-close to 2.4 million estimated cases a year-rarely makes the news. The name of this low-profile bug? Campylobacter.
You don't hear about it in the media because virtually all cases of this diarrhea-causing pathogen occur as isolated, sporadic events, usually from mishandling raw poultry or eating undercooked chicken, or from consuming contaminated water or milk.
Campylobacters commonly occur in the intestinal tracts of poultry, although the birds show no signs of illness. At slaughter, though, the bacteria can be transferred from the intestines to the meat. More than half the raw chicken in the U.S. market likely has Campylobacter on it.
In his lab at Auburn University, AAES microbiologist Omar Oyarzabal is working to develop a technique for the rapid identification of the bacteria in broiler carcasses at the processing plant and at the retail level. That information will help health authorities and the industry establish realistic standards for the level at which Campylobacter could be present and the product still be safe for human consumption.
---
A New Twist for Lime: Mastitis Prevention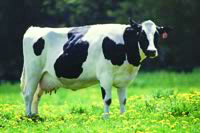 A dairy with 150 cows could add $7,000 a year to its bottom line and have a healthier herd in general by following the findings of a just-completed AAES study on mastitis prevention.
Mastitis, a bacterial inflammation of cows' udders, costs U.S. milk producers some $1.4 billion a year, in terms of lost milk production, discarded milk, veterinary and medication bills and culled cows.
Numerous bacteria-which, by the nature of the business, are present in even the cleanest of dairy barns-can cause mastitis. And while the condition usually can be treated with antibiotics, the use of antibiotics in food animals has become a hotly debated issue.
What AU animal scientist Tom McCaskey and others have found is that treating the stalls where dairy cows lie down with hydrated lime in dry powder form significantly reduces the incidence of mastitis.
According to the study, the cost to treat one stall with lime comes to about $4.02 a year; the economic benefit improves milk production by $46.53 per cow per year.
Previous AU research with beef cattle had shown that lime kills bacteria in manure.
---
How Much Mulch would a Termite Munch?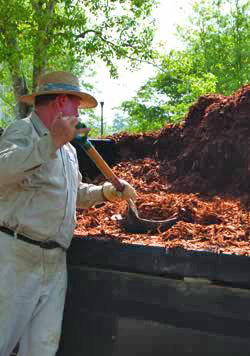 Mulch Ado About Research-An AU Facilities
employee spreads pine bark mulch on campus.
Does landscape mulch attract termites, or doesn't it? That's a decades-old question that two AAES researchers at Auburn are about to attempt to answer.
In a multi-year project, AU horticulturist Jeff Sibley, entomologist Xing Ping Hu and entomology research associate Lavanya Polana will study termites' appetite for and survival in 10 types of mulch: finely ground pine bark, composted household municipal garbage, ground fresh pine wood chips with no bark, pine wood shavings, ground pallet material, cedar shavings, cypress shavings, pine straw, rubber and a control of finely ground pine bark treated with a termiticide. They hope to determine which mulches termites find most appealing and why, and whether some mulches actually repel the pests.
They also will termite-test the first three mulches as planting media.
The goals of the study are to either dispel or confirm the myriad of mulch myths that abound; to help homeowners know how to make wise mulch decisions that will protect their homes, trees and shrubs; and to tell nursery growers whether termites find lignin-based barks, like pine bark, tasty or offensive. First results from the study are expected later this summer.
---
The Search for Super Duds
The creation of new fibers and fabrics that would protect the wearer from toxic chemicals by basically decontaminating themselves is the object of a study just under way at Auburn University.
In the project, AAES researcher and AU consumer affairs professor emeritus Lewis Slaten hopes to develop fabrics that, when activated by sunlight, would chemically destroy toxic chemicals. Apparel made from such fabrics would be invaluable for agricultural tasks involving pesticides, for cleanup of toxic organic chemicals and as protective barriers against chemical agents, thus playing a vital role in homeland security.
Slaten, an internationally recognized leader of textile and apparel evaluation and testing, was instrumental in setting the UV labeling standards for garments that the government and industry use today.
---
Around the AAES
AAES Welcomes Greg Pate to E. V. Smith Research Center
By: Jim Bannon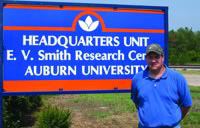 Greg Pate
Greg Pate, a native of Boaz and a CoAg alumnus, assumed the duties of superintendent II at the AAES's E. V. Smith Research Center on June 19. He will be directly responsible for the Farm Services Unit that supports maintenance operations, hay/silage production and other support functions for Beef, Dairy, Crop Sciences and Horticulture research units.
Pate joins E. V. Smith Research Center from Milstead Farm Group Cotton Gin where he has been general manager since 1999. Prior to 1999, he was employed by Delta and Pine Land Company and USDA.
Pate is an agronomist who received his bachelor's and master's degrees from Auburn University in 1991 and 1996, respectively. He earned his master's under former CoAg agronomy and soils professor Greg Mullins, focusing his research on root zone placement of potassium. He also worked under former CoAg agronomy and soils adjunct professor Wayne Reeves at the U.S. Department of Agriculture Tillage Lab where Pate's efforts focused on conservation tillage practices and tillage systems.
Pate states that he has always had a passion for field research and that working at one of Auburn's outlying units fulfills a long-term goal. He hopes to develop E. V. Smith Research Center into an exemplary field research station.
Pate and his family reside in Tallassee where his wife, Kelly, teaches high school English. His sons, Joshua, 13, and Caleb, 11, are interested in baseball, softball, hunting and fishing when they are not in the classroom. His daughter, Rachel, 9, is interested in dancing and softball.
The E.V. Smith Research Center in located in Shorter and is the main research center for the AAES.
Welcome aboard, Greg!
---
Buchanan Named Under Secretary of Agriculture
Gale Buchanan
Gale Buchanan, former CoAg dean and director of the Alabama Agricultural Experiment Station (AAES), has been named as an under secretary for the U.S. Department of Agriculture. In this role, he will lead USDA's Research, Education and Economics (REE) mission area.
A native of Madison County, Fla., where he spent his first 18 years on a general farm that produced crops and livestock, Buchanan received his bachelor's and master's degrees in agronomy from the University of Florida in 1959 and 1962, respectively, and the Ph.D. in plant physiology, with minors in botany and agronomy, from Iowa State University in 1965.
He spent the first 21 years of his professional career with Auburn in the CoAg Department of Agronomy and Soils, with primary teaching and research responsibilities in weed science. He served as CoAg dean and AAES director from 1980 to 1985. In 1986, he was appointed associate director of the Georgia Agricultural Experiment Stations and resident director of GAES Coastal Plain Experiment Station. He served as interim director of the Georgia Agricultural Experiment Stations from 1994 to 1995 and became dean and director of the UGA College of Agricultural and Environmental Sciences in 1995.
---
In the Field at Brewton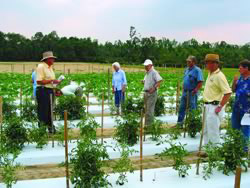 Homeowners and others were on hand recently to hear about plant selection options for the landscape and home garden at the Brewton Agricultural Research Unit (BARU) in Escambia County.
The field day featured information about ground cover and shrub roses, Indian hawthorns, dogwoods and vegetable and bedding plants. Randy Akridge, left, BARU superintendent, was one of the presenters at the event.