CoAg Student, Faculty Win Awards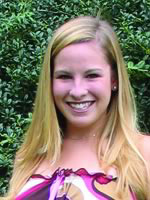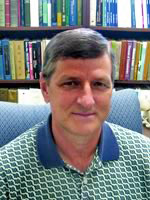 Amanda Hibbert and Walt Prevatt
Travis Hubbs, an agricultural economics major from Auburn, graduated in December and was recognized with the AU Student Government Association's Outstanding Student Award. This recognition was made in honor of his academic achievements and outstanding contributions to the CoAg and AU programs.
Hubbs was an Ag Ambassador and served AU as a head counselor for Camp War Eagle. He was selected to Mortar Board and listed in Who's Who Among Students in American Colleges and Universities. He is currently working with the Agricultural Marketing Service of the U.S. Department of Agriculture.
Four students were chosen for the Dean's Award for Academic and Professional Excellence, which was established in 2004 to recognize a student each semester who had excelled in all areas, including academic performance, professional activities and service to the college. There were so many deserving students this year that four were designated to receive the award-Sally Credille, Julie Dorough, Amanda Hibbert and Christina Jacoway.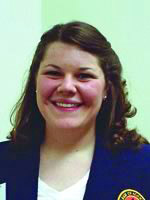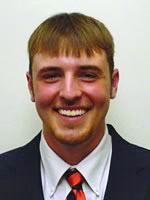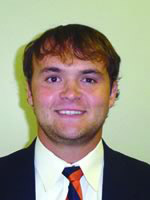 From Left, Alyson Johnson, Nick Patterson, and Travis Hubbs.
Credille is from Atlanta and graduated in agricultural communications. In addition to being a member of the varsity Equestrian Team, she served as an Ag Ambassador officer and as a member of Alpha Zeta and Block & Bridle. She was recognized as a member of Who's Who Among Students in American Colleges and Universities.
Dorough, who is from Homewood, graduated in agricultural economics. She was vice president of the Ag Ambassadors and was an active member of the National Agricultural Marketing Association, Block & Bridle, the Horseman's Club and Gamma Phi Beta. She was cofounder of Sigma Alpha, CoAg's new professional agricultural sorority.
Hibbert, from Montgomery, was an Ag Ambassador, served as a counselor for Camp War Eagle and was listed in Who's Who Among Students in American Colleges and Universities. She graduated in animal sciences pre-vet and will continue her studies in the Harrison School of Pharmacy at Auburn.
Jacoway, who is from Sand Rock, graduated with her bachelor's in horticulture where she was active in leadership roles for the Associated Landscape Contractors of America. She was an Ag Ambassador and represented the College of Agriculture on the AU Committee of 19, a campuswide group working with the United Nations World Food Programme to help raise awareness of world hunger problems.
Nick Patterson, a native of Florence, who graduated spring semester magna cum laude in animal sciences pre-vet, was selected to receive the Claude Hardee Memorial Award. This award, based on scholarship, leadership and character was established by the Hardee family to honor the memory of Claude Hardee, a 1936 Auburn graduate, who taught vocational agriculture for more than 30 years.
Patterson was an Ag Ambassador who served on the search committees for the head of the Department of Animal Sciences and for the dean of the College of Agriculture. He served as marshall, vice president and president of Block & Bridle and was a member of the AU ALFA Young Farmers, Alpha Zeta and Gamma Sigma Delta-The Honor Society of Agriculture.
J. Walter Prevatt, Extension Economist and professorof agricultural econo-mics was honored by the College of Agriculture students through his receipt of the SGA Outstanding Faculty Member Award. He came to the AU faculty in 1991 from the University of Florida Extension Service. He received his bachelor's and master's degrees from the University of Florida and his Ph.D. from Clemson University. His primary responsibilities at Auburn are in the area of livestock marketing and management.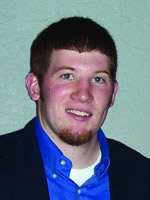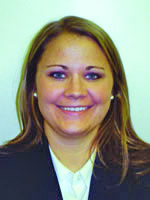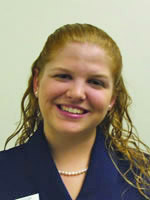 From Left, Nathan Aycock, Sally Credille, and Julie Dorough.
---
Students Receive Undergraduate Research Fellowships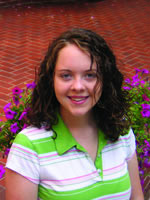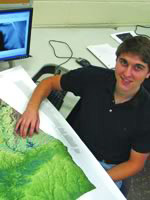 From Left, Whitney Griffin and Hunter Stone.
Two CoAg undergraduate students, Whitney Griffin in horticulture and Hunter Stone in agronomy and soils, have been selected among the group of 20 students across campus to receive Auburn University undergraduate research fellowships for the coming year.
The Auburn University Undergraduate Competitive Research Fellowship Program, which has been on the Auburn campus since 1999, offers undergraduates an opportunity to conduct research under the close supervision of a faculty mentor. Since the inception of this highly competitive program, 11 CoAg students, under the close guidance of their faculty mentors, have initiated and completed innovative research. These projects have led to the publication of refereed research articles in highly respected journals and presentations at professional meetings of the scientific community. Some of these undergraduate students have been able to continue the research that they began as undergraduates on into their advanced graduate programs.
Griffin is working under the guidance of Amy Wright, an assistant professor in the Department of Horticulture. Stone is following the leadership of Joey Shaw, a professor in the Department of Agronomy and Soils.
With this program, each of the select group of exceptional students receives a stipend from the University and funds to cover some of their work in their project. In addition, limited travel funds are provided so that the student will be able to attend the National Conference on Undergraduate Research or another regional/national meeting.
Griffin's research is designed to address the propagative capabilities of Hymenocallis coronaria, the Cahaba River lily. As a native species which is grown in two places in Alabama (the Cahaba River and the shoals of the Tennessee River), it is listed as a nominee for the Endangered Species list. The plant has been introduced into three counties of Georgia, but only by digging up existing plants. In Griffin's research, she plans to attempt propagation of the lily for introduction of new plants into the wild without disturbing established individuals.
Stone's research is directed toward the evaluation of several types of field-scale data (soil surveys, remote sensing imagery, digital elevation models, historic yield data, and climatic records, etc.) for estimating spatial and temporal crop yield variability. Multivariate analyses of these data will help in the development of predictive yield models that facilitate methods of management that farmers may use to be more efficient in chemical and energy inputs.
---
Spring Semester Dean's List
CoAg students continued to perform at a very high level academically during spring semester. A total of 63 (7.7%) achieved Dean's List recognition (a grade point average of at least 3.7 with a minimum of 14 credit hours). Thirty two of these had a perfect 4.0 grade point average and 12 of these have the distinction of a cumulative 4.0 average.
Those who made the Dean's List are:
Ag Communications
Virginia Dawson
Ag Economics
John Easterwood
Tyler Grant
Robert Herndon
Alyson Johnson
David Miller
Marlena Newton
Agronomy
Mark Doroh
Michael Gunn
Brad Kirkland
Josh Martin
Jonathan Shelnutt
Hunter Stone
Amy Weaver
Animal Sciences
Angela Barnes
Rachel Bearden
Emily Byers
Kimberly Cline
Adam Cooner
Natalie Craven
Nick De Pompa
Ashleigh DeMoll
Suzanne Free
Sarah Graham
Daniel Hines
Daniel Johns
Elizabeth Jones
Mary Krothapalli
Erin Laurie
Anna Lucy
Ashley Lynch
Emily McIntire
Sarah Merck
Nick Patterson
Megan Simpson
Rachel Smith
Patrick Sullivan
Matthew Tufts
Jill Smith Ward
Fisheries
Sara Rademaker
Horticulture
Christopher Bagents
Brandy Brown
Veronica Caswell
Tracy Cook
Kyle Creamer
Forrest Hardy
Megan Leach
Clay Mann
Amanda Maples
Katherine Simpson
Josh Smitherman
Katie Werneth
Amber Young
Poultry Science
Robyn Cannon
Jessica Chesnut
Ann Haggard
Leslie Hooie
Brad Johnson
Daniel Oakes
Josiah Roberts
Matthew Smith
Charles Thompson
Timothy Thompson