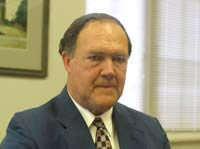 Professor Richard Guthrie
A bioenergy field day at the Plant Breeding Unit near Tallassee in mid-February attracted national attention to the switchgrass research program of David Bransby. Following President Bush's mention of switchgrass as an energy source in his State of the Union address, Sen. Jeff Sessions asked Dr. Bransby to organize the field day to highlight the rapidly emerging interest in alternative energy sources. The event drew a large crowd of exhibitors and citizens who were addressed by Sen. Sessions, Assistant Secretary of Energy Doug Faulkner, Dr. Bransby and several proponents of an alternative fuel. Among those proponents was Tony Petelos, mayor of Hoover. Production of biomass for energy is high on the priority list of Agricultural Experiment Station scientists and is becoming a legislative priority for the State of Alabama and the U.S. Congress.
Responding to changes in student curriculum interests, the College received approval for two new undergraduate study tracks that will be available for students entering in fall semester. The Department of Poultry Science received approval for an option in poultry processing and the animal sciences department received approval for a new option in equine science. We look forward to a new group of students enrolling in these options in the future.
Off campus, the growth in nature-based tourism, especially in the Gulf Coast area of Alabama, has spurred changes in the research and extension agenda of the Gulf Coast Research and Extension Center near Fairhope. Just as an Auburn link with Gulf State Park ties the two organizations together on the beach, Auburn's land and facilities in Fairhope offer an opportunity to demonstrate low impact development while continuing to conduct research and extension programs.
I expect to see more changes in programs throughout the next year as we continue to respond to the expectations of students, faculty, alumni and friends on the Auburn campus and throughout the state.
–Richard Guthrie , CoAg Dean & AAES Director