In Our Opinion. Extension System specialists have been voicing their opinions in the state's newspapers during recent months, which is helping increase awareness of issues and also Extension programs and projects. The following is an opinion piece that ran recently in several Alabama papers.
Putting Avian Flu into Perspective
By: Robert Norton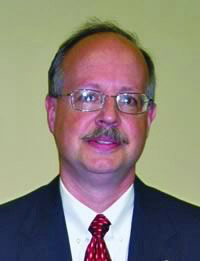 One of the questions I'm frequently asked as a veterinary bacteriologist is how long it will be before avian flu reaches the United States.
I can state with absolute certainty that I don't know-and I should stress that I'm not alone: Scientists around the world who have spent decades studying and pondering the erratic mutations associated with flu viruses have reached the same conclusion. It could be next month, next year-or never.
The important thing to remember-at least, for now-is that avian flu, while it remains a potentially serious threat, does not pose an immediate threat, especially to people in the United States.
Even in the parts of the world where it's evoked the most fear, outbreaks among humans have been exceedingly rare. Yes, in a few cases, the virus has jumped the species barrier to infect a handful of humans. In virtually all of these cases, though, the illness resulted from close human association with infected birds. Only about a hundred people around the world have actually died from exposure to infected birds. Common influenza, on the other hand, claims 30,000 lives each year in the United States alone.
Even so, it is the natural order of viruses to mutate-which is why any human exposure to the virus is a serious matter. Indeed, most virologists believe that every human infection following exposure to birds increases the likelihood that the dreaded H5N1 strain associated with avian flu could mutate into a form that could be spread readily from person to person. The result could be a regional or even worldwide flu pandemic affecting millions of people.
How likely is this mutation to occur? Again, we can't predict with any degree of certainty what will happen, though it remains a real possibility, especially in parts of Asia where people continue to maintain close contact with poultry.
However, the likelihood of a mutation occurring in the United States is remote for a number of reasons, largely because of the way poultry is grown and marketed in this country. For decades, commercially grown U.S. poultry has been raised in houses and subjected to rigorous hygienic standards aimed at minimizing human exposure to diseases and bacterial outbreaks that sometimes occur among birds.
If a human outbreak of avian flu occurs in the United States, it almost inevitably will come from outside-mostly likely from an infected international traveler passing through a crowded air terminal not from exposure to poultry.
For now, the most immediate threat from avian flu is not to humans but to the multi-billion-dollar poultry industry. The recent outbreaks of avian flu among commercially grown poultry in Turkey are a troubling reminder of what could happen in the United States should a similar outbreak occur. Loss of consumer confidence in Turkish poultry products, whether justified or not, resulted in a 70 percent drop in sales. Meanwhile, France, which boasts Europe's biggest poultry industry, is losing roughly $48 million a month, due largely to misplaced consumer concerns about poultry. The effects would be especially acute within the Alabama poultry industry, a vital sector of the state's economy with an economic impact exceeding $10 billion.
How prepared is the state's poultry industry to deal with such an emergency? We are better prepared with each passing day, though much remains to be done.
Contingency planning is at the top of the agenda. State poultry inspectors, scientists and veterinarians are working closely with the industry to determine how to react to every conceivable scenario that could follow an outbreak.
One critical concern that is being driven home to poultry growers throughout the state is a need to eliminate points of contact between commercial poultry and migratory birds, particularly ducks, which are considered major carriers of the disease. Growers also have adopted a series of biosecurity measures, including monitoring and sanitizing water sources and equipment; restricting poultry house access to essential workers and vehicles; and avoiding mixing poultry with other live species.
As an added safeguard, the National Chicken Council announced Jan. 5 that it would immediately begin testing virtually all U.S. flocks for avian flu.
The poultry industry is also working to allay a number of groundless consumer fears about poultry-concerns that already have taken a huge bite out of foreign markets. For example, a study commissioned by the nonprofit Center for Consumer Freedom and conducted by the Opinion Research Corporation revealed that 47 percent of participants-42 percent of college graduates-agreed with the false statement that eating an infected chicken could result in the transmission of bird flu.
These concerns are a far cry from reality: The fact remains that U.S. poultry products are the safest in the world and the likelihood of contracting avian flu from exposure to a commercially grown chicken or turkey is extremely remote.
Responding to avian flu concerns recently, U.S. Agriculture Secretary Mike Johanns stated unequivocally that "poultry is safe to eat. Cooking poultry will kill the virus. It is as simple as that."
He's absolutely right: It really is as simple as that.
Norton, who works closely with the Alabama Cooperative Extension System educating the public about avian flu, is a professor of veterinary bacteriology and biosecurity with Auburn University's Department of Poultry Science.
---
Study's Findings No Excuse to Forgo Responsible Eating and Exercise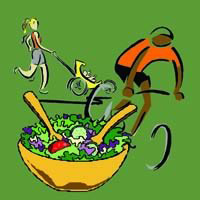 A recent study-the most far-reaching of its kind, in fact-reveals no apparent link between low-fat diets and a reduced risk of heart disease and certain forms of cancer.
Even so, that should not be interpreted as an excuse not to maintain one's ideal body weight through responsible eating and regular exercise, says Robert Keith, an Extension System nutritionist and AU professor of nutrition and food science.
The $415 million federal study, which involved nearly 49,000 women ages 50 to 79 during an eight-year period, revealed that the women who followed low-fat diets over that period faced the same rates of breast cancer, colon cancer, heart attacks and strokes as those who didn't.
Keith says the study provides the clearest insight yet on a topic that has been hotly debated in nutrition circles for years. Still, he says the findings should not detract from another key point he and other nutritionists have stressed time and again: it's not so much the types of calories you consume but how many.
"That's really where people need to be looking-controlling their calories to maintain body fat, not so much their dietary fat," Keith says.
In addition to watching your caloric intake and maintaining a regular exercise regimen, medical researchers say that, for now, the best dietary advice remains sticking with federal guidelines for healthy eating-one that recommends less saturated and trans fats, more grains and more fruits and vegetables.
---
Alabama 4-H Program Updates: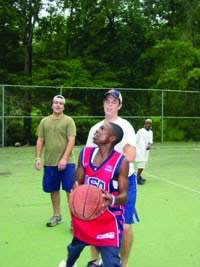 Changes Made in Alabama 4-H Programs
Alabama 4-H has moved from competitive-based to achievement-based programming. Part of this move involves reallocation of resources from academic areas to the achievement awards program.
The new 4-H achievement program establishes 14 achievement awards, each for senior level I and senior level II (28 awards total). More information on this change is available by contacting Molly Gregg at greggmh@auburn.edu or 334-844-2263.
Alabama 4-H Golf Classic Planned for June 8
The Alabama 4-H Foundation Inc. and Alabama 4-H are partnering to hold the second annual Alabama 4-H Golf Classic June 8, with FarmLinks at Pursell Farms in Sylacauga as the founding sponsor of the event.
Money raised will go directly to support Alabama 4-H programs throughout the state.
Cost, which is $175 per individual or $700 for four-person teams, includes cart, greens fees, range balls, snacks and beverages, brunch and awards reception. Sponsorships at various levels are available.
For more information or to get a registration form, go to www.aces.edu and click "More Featured Pages " on the right hand side of the page. Then click Alabama 4-H Golf Classic, June 8, 2006. For more information on FarmLinks, go to www.farmlinksgolfclub.com.
New 4-H Program, Just Move to Alabama, to Help State's Youth
A newly created education program developed by a team of Alabama Coop-erative Extension System experts will have a strong impact on the lives of Alabama 4-H'ers-making their bodies and minds healthier.
The program, Just Move Alabama, was developed to teach youth the importance of exercise and healthy eating and of accepting all body types.
The program will be incorporated into all 4-H programs and activities and the Just Move Alabama program materials will be made available statewide to any youth organization.
State 4-H Military Liaison Commended by Department of Defense
The 4-H Youth Development Program's exceptional service to children, youth and families of military personnel around the world has been recognized with a Department of Defense Certificate of Commendation signed by Secretary of Defense Donald H. Rumsfeld.
The certificate was presented to Cathann A. Kress, director of youth development, National 4-H Headquarters, Cooperative State Research, Education and Extension Service, U.S. Department of Agriculture by M.A. Lucas, director, U.S. Army Child and Youth Services during the State 4-H Military Liaison meeting in March.
Chuck Hill, state 4-H military liaison for Alabama, also was presented with a framed, personalized copy of the Department of Defense certificate of commendation.
Alabama 4-H and the Alabama Cooperative Extension System have been national leaders in support of young people whose families serve in the National Guard and Reserves. Each year, Alabama 4-H sponsors Fort Clover, a weekend "high adventure" retreat for teens whose parents are citizen soldiers. Alabama 4-H is also planning regional events for military youth and families.
Learn more about 4-H military programs at www.4-hheadquarters.gov.