AAES School and College News
The following is news from our AAES-affiliated schools and colleges. For more information on the teaching, research, outreach or development activities of any of these academic units, contact them directly at their respective phone numbers or Web sites.
---
---
CHS Researcher Conducting Groundbreaking Study on Children's Sleep Issues
Mona El-Sheikh
Landmark research about the effects of sleep issues on young children has been done by College of Human Sciences faculty member Mona El-Sheikh.
For years, researchers have known that children growing up in homes with high levels of conflict tend to have behavior and learning problems. But they didn't know why.
To help answer that question, researchers from Auburn University and Brown University in Providence, R.I., assessed children's sleep in 54 healthy 8- and 9-year-old children, along with parental conflict from both the child and parental viewpoint.
Results of the study, which were published in the January/February 2006 issue of the journal Child Development, show that parental conflict may negatively affect children by disrupting their sleep.
Researchers found that even though children in higher conflict homes went to sleep about the same time as children in lower conflict homes, they slept less and didn't sleep as well. In families where parents had more conflict, children slept less, spent less time in bed actually sleeping, and moved around—fidgeted or tossed and turned—more. Children in higher conflict homes also reported they were sleepier during the day.
"The data suggest that even in families with normal levels of conflict, parental arguments and anger can disrupt children's sleep," says El-Sheikh, alumni professor in CHS's Department of Human and Family Studies and who is lead researcher for the project. "This is significant because even mild loss of sleep can disrupt attention, alter information processing, weaken motivation, increase irritability and diminish emotion control," she says.
While conflict in families is normal and inevitable, El-Sheikh notes, "The data here has implications for how parents manage conflict and how they help their children understand and cope with it."
---
Consumer Affairs Faculty Win Honors
Paula Peek, assistant professor of consumer affairs in the College of Human Sciences (CHS), has been awarded the AU Alumni Association's Undergraduate Teaching Excellence Award. Ann Beth Presley, also an assistant professor of consumer affairs, was chosen secretary-elect to the AU Faculty Senate.
---
Auburn Hosts First War on Hunger Summit
"Auburn has started a grassroots student movement," said Lauren Bush, niece of President George W. Bush and student ambassador for the World Food Programme's War on Hunger during a landmark War on Hunger Summit held recently on the AU campus.
The summit came about after a group of dedicated AU students, faculty and staff spent more than a year developing a student-led War on Hunger campaign on the Auburn campus. Through the summit, Auburn University invited other universities to join its partnership with the World Food Programme by hosting the first-ever War on Hunger Summit in February.
Lauren Bush, a Princeton University student who is the spokesperson for the World Food Programme's War on Hunger Campaign, was one of the speakers at the summit. Other speakers included Peter McPherson, president of the National Association of State Universities and Land Grant Colleges, and Auburn University women's basketball coach Nell Fortner, the university's spokesperson for the War on Hunger.
The idea for the three-day summit came following a presentation by CHS Dean June Henton, World Food Programme Executive Director Jim Morris and two Auburn students at the annual meeting of the NASULGC in November 2005. The presentation, "Universities Fight-ing World Hunger," outlined Auburn's War on Hunger campaign and caused a swell of interest by those attending the conference. The positive reaction from that presentation motivated Henton to begin planning the War on Hunger Summit immediately.
"The timing appears right for a student movement to address world hunger," Henton says. "As the world shrinks, students are becoming more keenly aware that a quality education involves not only technical competence in one's chosen field of study, but an awareness of global issues and a commitment to making the world a better place."
In 2004 Auburn was selected by the World Food Programme, the largest humanitarian agency in the world, as its lead partner in establishing a model for a student-led War on Hunger campaign. Since then Auburn has created The Committee of 19, a group of Auburn students that addresses the pressing issues of world hunger and malnutrition. The group's name is derived from the 19 cents a day it takes the World Food Programme to feed a hungry child. The Committee of 19 has sponsored many events to draw attention to world hunger, including a banquet earlier this year where participants were served a small portion of soup in handmade bowls. The bowls were taken home by guests as a reminder of the millions of people who go to bed hungry each night.
"Hunger is not about an inadequate food supply, but about social inequities, conflict and war, political issues and other factors that prevent people from having access to food," Henton says. "For American students, it is important that they understand that hunger is interrelated with many of our own national issues such as peace and security of our nation and world, health care and the environment."
Henton hopes that Auburn's work during the last year will serve as a model for other universities to begin their own programs. Representatives from 28 universities attended the summit, including Auburn, Colorado State, Emory, Florida A&M, Georgetown College (in Kentucky), Iowa State, Kansas State, Maryland-Eastern Shore, Michigan State, Morehouse College, Ohio State, Oklahoma State, Oregon State, Princeton, Polytechnic University, Purdue, South Dakota State, Tennessee State, Texas A&M, Tuskegee University, Georgia, Idaho, Kentucky, Maryland, Missouri, South Carolina, Wisconsin and Washington State.
"I hope this summit plants a seed, so that the 29 universities represented here will return back to their schools and institutionalize similar programs," Bush added. "Our hunger summit was truly inspiring, and I can't wait to see the results of what Auburn has started."
---
---
AU veterinarian named to Alabama Livestock Hall of Fame
Auburn University veterinarian Dr. Dwight Wolfe has been named to the Alabama Cattlemen's Association Livestock Hall of Fame, and was inducted Feb. 24 in Montgomery.
Wolfe, a professor in the Department of Clinical Sciences, has worked 24 years at Auburn, teaching senior students and providing veterinary care to the state's livestock. He served as head of the food animal section for six years and another six years as head of the Department of Large Animal Surgery and Medicine.
He received a bachelor's degree in animal science from the University of Tennessee and earned his doctor of veterinary medicine degree in 1977 from Auburn. He then spent three years in private practice before joining the Auburn faculty in 1980. He earned a master's degree in large animal surgery and medicine and is board certified by the American College of Theriogenologists.
Wolfe has held offices in many professional organizations, including president of the American College of Theriogenologists; the Society for Theriogenology; and Phi Zeta, Epsilon Chapter, veterinary honor society.
He was named Veterinarian of the Year by the Alabama Veterinary Medical Association in 2004.
---
Crowe Writes Children's Book About Raptors
Auburn University eagle trainer Roy Crowe has written a children's book, Have You Seen My Bird?, that introduces children to birds of prey, such as falcons, eagles, owls and vultures.
The illustrated story is about a group of children looking for a friend's bird on the Auburn University campus, where they visit landmarks like Toomer's Corner, Samford Hall and Jordan-Hare Stadium. In the course of their search, they discover many birds of prey and learn interesting facts about each. The back of the book includes photos of the birds along with a short biography of each.
Leanne Wofford, of the College of Veterinary Medicine's Biomedical Communications department, designed and published the 48-page book, while AU alum Tish Henderson drew the illustrations, including several drawings of Tiger, Auburn's famous golden eagle. Crowe and colleague Marianne Murphy serve as education specialists for the Southeastern Raptor Center and are responsible for training Auburn's eagles for flighted programs.
Have You Seen My Bird? is designed for ages 3 to 8, but would be enjoyable for Auburn fans of any age. It is priced at $15, with $1 from each online sale going to the Southeastern Raptor Center. For more information, visit the Web site (www.haveyouseenmybird.com) or call 334-644-2854.
---
Green Named 2006 AAEP Vice President
Dr. Eleanor Green, a 1973 Auburn veterinary graduate, has been selected as the 2006 vice president of the American Association of Equine Practitioners. She was inducted into office at the AAEP's 51st Annual Convention held in December in Seattle, Wash. Green is the first female practitioner to serve on the executive committee and will ascend to the AAEP presidency in 2008.
She is a professor and chair of the Department of Large Animal Clinical Sciences at the University of Florida College of Veterinary Medicine and is chief of staff of the college's Large Animal Veterinary Medical Center. She previously served on the faculties at Mississippi State University, the University of Missouri and the University of Tennessee. She is board certified by both the American College of Veterinary Internal Medicine and the American Board of Veterinary Practitioners. She served as president of the ABVP from 1993 to 1995 as well as president of the American Association of Veterinary Clinicians from 1995 to 1996.
---
29th Annual Open House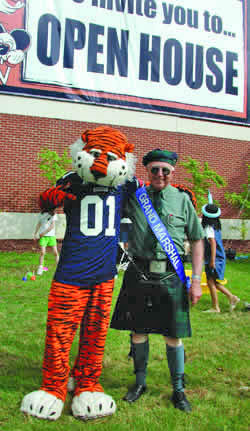 Above left, AU mascot Aubie poses with Dr. Arvle Marshall, who seved as the grand marshal of the College of Veterinary Medicine's 29th annual Open House on April 22. Dr. Marshall, who retired in September after 23 years teaching anatomy, wore an outfit to reflect his Scottish heritage.
---
---
Toomer's Corner Oak Sales Continue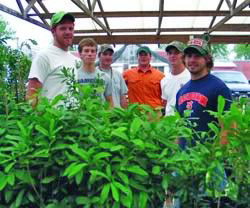 Standing by Toomer Oaks–Forestry and wildlife
students are taking care of these 1 and 2 year old
Toomers oak seedlings. From left are Tyler Tucker,
Ben Whitaker, Alex Johnson, David Heflin,
Matthew Palmer and John Abernathy.
For the past two years, the School of Forestry and Wildlife Sciences has been selling a literal piece of the Auburn tradition—a seedling grown from the Toomer's Corner oak. Happily, there are more to be had!
The seedlings, which are about 18 inches tall, can be purchased for a $50 donation per tree to SFWS. Money from the sales will be used to fund SFWS club activities and scholarships.
The idea of growing and selling the seedlings first took root when SFWS Dean Dick Brinker and other faculty and staff members were trying to find new ways to involve students and also fund student activities.
Proceeds from the trees will be used to fund scholarships and also to sponsor SFWS student organizations' involvement in national and state professional conferences. For several years, SFWS has sponsored three clubs: the Wildlife Society, Forestry Club and SFWS Student Government Association.
Another motivation for selling the oaks was the state of the current Toomer's Corner oak. The tree is old, under stress and, as is only natural, will eventually die. It is the hope of SFWS sponsors that the Toomer's oak could be replaced with one of the seedlings. In fact, they are holding several of the trees in order to grow them into larger trees for eventual planting for special purposes. And, by selling offspring of this tree, the students are helping preserve part of the history of Auburn—and make history in the process.
For more information on the Toomer's oak program or to order your own oak, visit www.sfws.auburn.edu/oaks/default.htm or www.tigerrags.com.
---
---
COSAM Dedicates Sciences Center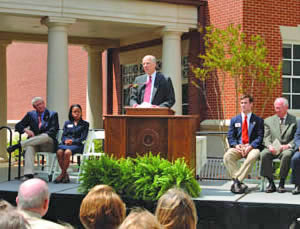 Building Dedication–Pictured, from left, at the
COSAM building dedication are: Ralph Jordan,
a COSAM Advisory Council member; Christina
Guice, a COSAM Leader; COSAM Dean Stewart
Schneller; Jeff Thompson, also a COSAM Leader;
AU Interim President Ed Richardson; and Paul
Spina, member of the AU Board of Trustees.
The College of Sciences and Mathematics held its building dedication on April 7 in the Sciences Center Quad. Those in attendance included AU Interim President Ed Richardson, Trustee Paul Spina, COSAM's Advisory Council, faculty, staff and friends.
"I think this is one of the most significant buildings in Auburn history," President Richardson said during the event.
COSAM Dean Stewart Schneller said that opening the new Sciences Center has been one of the best parts of his job and that he is excited about the facilities and the diversity of the instructional environment available to the students. "It's been a highlight of my career looking forward to this day," Schneller said.
The College of Sciences and Mathematics Sciences Center has been hailed as the Southeast's premiere sciences instructional complex. At 140,000 square feet, it is loaded with state-of-the-art features, and includes a two-story classroom/administrative building, a 300-seat auditorium and a four-story biology/chemistry instructional laboratory building.
---
Research Briefs
Sericea Lespedeza to the Rescue
Ask sheep or goat producers what's the top threat to their herds' health and survival, and they'll say it's gastrointestinal parasites.
Typically, producers rely on commercial dewormers to control parasite populations, but the most common type of parasite has developed resistance to many dewormers.
AAES scientist and AU plant breeder Jorge Mosjidis and a team of USDA, LSU and Fort Valley State University scientists have discovered a potential solution to the parasite problem.
They have found that feeding the animals on a forage legume called sericea lespedeza—specifically, the relatively new sericea lespedeza cultivar "AU Grazer," which Mosjidis developed—provides the same level of parasite control as dewormers.
And as an added bonus, the diet of sericea lespedaza tends to prevent bloating, which reduces the ruminants' methane emissions into the atmosphere.
---
That's Just Garbage
In the nursery industry, pine bark and peat moss are now the planting substrate of choice. But declining supplies of the former and soaring freight costs to ship the latter from Canada and Germany have scientists at Auburn University searching for alternatives.
They've found one, in the form of composted household garbage that otherwise would have been bound for rapidly filling landfills.
In five years of research using compost processed at a plant in Tennessee from unsorted household waste, AU horticulture professor Jeff Sibley and others have determined that flowers, shrubs and trees grown in the composted waste perform as good as or better than those grown in pine bark and peat. They're testing vegetable crops on the compost this spring.
Using garbage compost as planting material in the nursery industry would yield significant environmental and economic benefits, relieving tremendous pressures on landfills and saving cities and counties the costs of hauling garbage to landfills and landfill fees. The compost could then either be incorporated into the soils in public landscapes or sold.
---
Following Their Trail
From catfish to cattle, farm animals in today's intensive animal production operations require antibiotics.
Now, three AAES researchers are investigating what happens to these antimicrobials that are given to livestock once they leave the animal and enter the environment.
The study by AU biosystems engineer Puneet Srivastava and soil scientists Jacob Dane and Yucheng Feng is the first to look at how the antibiotics are transported in the soil and how they impact the structure of and organisms in the soil.
Beyond gathering basic data on antimicrobial movement through the soil, the research will also help scientists develop better management practices for using antibiotics so that farmers can produce livestock in the most environmentally sound manner.
---
Spicing Up the Turf
A team of AAES researchers is investigating whether certain common spices and herbs can be used to effectively and economically control root-eating nematodes in turfgrass.
Nematodes are a nemesis of sod producers, and the nematicide they have relied on for years, methyl bromide, is being banned from the market.
The beauty of this study is that, if these extracts of cinnamon, clove, almond, mustard and thyme oil prove successful in knocking out nematodes, producers won't have to wait years for government approval. That's because all the substances are already on a list of pesticides that do not require Environmental Protection Agency registration.
This project has moved from the laboratory to the field, where AU plant pathologist Rod Rodriguez-Kabana and turfgrass agronomists Beth Guertal and Harold Walker are testing combinations of the compounds to determine what works best. Bob Taylor, an AU ag economist, will look at the cost-effectiveness factor.
Auditorium Dedication at Sand Mountain—A special ceremony was held in Crossville in January to officially dedicate the Sand Mountain Research and Extension Center's (SMREC's) new auditorium. The auditorium, which already has been used for numerous events, is a 4,031-square-foot facility that will be used for various Alabama Agricultural Experiment Station, Alabama Cooperative Extension System and community functions. Pictured at the dedication are, from left: AU Trustee John Blackwell, State Sen. Lowell Barron, CoAg Dean and AAES Director Richard Guthrie, Extension Assistant Director for Agriculture and Forestry Paul Mask, AAES Director of Outlying Units Jim Bannon and SMREC Superintendent Tony Dawkins.
---
Around the AAES
Fuller Joins College, AAES as HR Specialist
The year of 2006 has already been full of moves for Leanne Fuller—first to the "big city" of Auburn and, most recently, to a new office in Comer Hall.
Fuller joined the CoAg and AAES staff in April as the new human resources specialist, replacing Janine Slick who left in November after 16 years of service to the College and AAES to become the human resources specialist for AU Provost John Heilman.
An almost life-long resident of Chambers County, Fuller (with her parents, of course) moved to Chambers County when she was 6 weeks old, where she stayed until early in 2006 when she married and moved to Auburn. However, she had been commuting to Auburn to work for quite some time.
When she first graduated from high school, Fuller worked for McClendon Trucking Company in Chambers County where she juggled a wide range of duties, including the company's human resource needs.
Because she worked fulltime, Fuller went to college at night, first at Southern Union, then at Auburn University Montgomery and eventually earned her bachelor's degree in business administration from Faulkner University in Montgomery. She came to work for AU's Human Resources division in 1999, working initially in training and development, then switching her emphasis to employment services in 2001. Meanwhile she went back to school at Faulkner to earn a master's degree in management, graduating in 2004.
For Fuller, human resource work is diverse and always full of new challenges, but it is especially rewarding because she can help people and make sure employees are treated fairly. As she notes, businesses and organizations are only as good as their work force resources, so she believes a well-run human resources division is vital to the success of Auburn.
The breadth of the CoAg and AAES human resource needs is especially exciting for Fuller, who will be working with faculty, staff and student employees both on campus and at the outlying research units across the state. One of her goals is to make sure that those at the outlying units know they have access to her at any time, even if they are far-removed from her office. "I want them to feel as though they are part of the university," she says.
"We were sorry to see Janine Slick leave the College of Agriculture after 16 years of dedicated service," says Lane Sauser, chief financial officer for the College and AAES. "She contributed to the College in many ways beyond her role as human resources specialist, but we wish her well in her promotion and we are excited to have Leanne Fuller join us as another professional on our staff."
---
Top Book Includes Chapter by Sauser
A leadership development book that includes a chapter College of Agriculture chief financial officer Lane Sauser co-authored has been named an Outstanding Academic Title for 2005 by the American Library Association's Choice magazine.
Sauser and two other Auburn administrators—associate dean for business and engineering outreach William Sauser and AU Economic Development Institute director Joe Sumners—contributed the chapter "Leadership Challenges in Local Government: Economic Development, Financial Management and Ethical Leadership" to the book Leadership: Succeeding in the Private, Public and Not-for-Profit Sectors.
In its review, Choice magazine highly recommends Leadership, praising editors Ronald R. Sims and Scott A. Quatro for producing "a cutting-edge, interesting and well-researched volume" that is the first to offer a comprehensive selection of the latest writings on leadership across various sectors.
"The contributors of these 20 original chapters are leaders, researchers, academics and consultants intent on improving leadership" at all organizational levels, the review states.
Each year in the January issue, Choice publishes its prestigious list of Outstanding Academic Titles, which is comprised of the top 10 percent of the almost 7,000 scholarly books the magazine has reviewed in the past year. Choice editors evaluate each book based on overall excellence, importance relative to other literature in the field, distinction as a first treatment of a given subject in book or electronic form, originality and value to undergraduates.
In her portion of the "Leadership Challenges" chapter, Lane Sauser focuses on financial management, offering local governments 10 tips for improving their financial health. Prior to joining the College in 1999, she conducted training for and worked as a consultant to city and county governments across the state.
For their contributions to the chapter, William Sauser covered ethical leadership and Sumners, economic development.
Leadership: Succeeding in the Private, Public and Not-for-Profit Sectors was published in 2005 by M.E. Sharpe Inc., Armonk, N.Y.