Horsin' Around Animal Sciences Gets On Track with New Equine Science Option
By: Jamie Creamer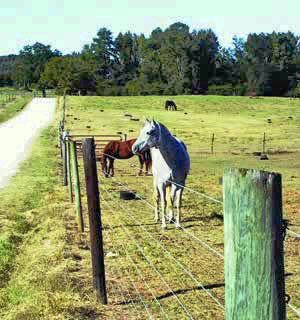 The College of Agriculture's Department of Animal Sciences is adding an equine science option to its curriculum, effective fall 2006.
It's no coincidence that that's when Caitie Ziemak intends to switch her major, too, from psychology to animal sciences.
The AU freshman already had been seriously considering making the move to pre-veterinary medicine, but when she read recently in AU's online weekly news digest for students about the new equine science track, that clinched the deal.
"I said, 'OK, that's it: I'm changing majors,'" says Ziemak, an admitted horse person. "It absolutely is so exciting that I'll be able to actually study what I know and love."
And it appears she has a lot of company.
Interest in the new track is strong, says animal sciences professor and Extension horse specialist Cindy McCall , who fields inquiries almost daily on the new offering from individuals ranging from prospective Auburn University students to students already in the animal sciences program.
"A lot of animal sciences students these days don't come 'from the farm,'" McCall says. "They come to us with a horse background. They aren't that interested in cows and swine; their interest lies in horses. This is what they've been waiting for."
Courses to be offered under the new degree option include an introduction to horse management and training as well as courses in equine nutrition, equine biomechanics and shoeing, equine marketing, equine coaching, equine reproductive management, physiology of the equine athlete and horse production.
"This won't be a series of horseback-riding classes," McCall says. "This is a strong, science-based program that will prepare students for upper-level management jobs in the horse industry."
And that is an industry that's big business and growing in the U.S. A new study by the American Horse Council shows it contributes $39 billion in direct economic impact to the nation's economy and supports 1.4 million jobs on a full-time basis.
Closer to home, a new study by McCall and AU rural sociology professor Joe Molnar indicates that the horse industry in Alabama accounts for $2.4 billion in direct and indirect impacts to the state's economy. Most of the impact is linked to care and maintenance costs for the state's 186,871 horses, says the Alabama Horse Council/Alabama Agricultural Experiment Station-sponsored study, which also shows that about one in 20 households here either owns or leases at least one horse.
Ziemak herself is from a Birmingham suburb, but she was introduced to horseback riding at a summer camp when she was 6 and fell hook, line and sinker. She now works as assistant equine director each summer at that camp.
Her eventual goal now is to graduate from the College of Veterinary Medicine, with an equine/bovine specialty.
"But if something happens and my plans change, I know that I'll have a great degree to fall back on," she says.
The equine science track brings to four the number of curriculum options offered by AU's animal sciences department. The other alternatives include the pre-vet/pre-professional option, the production/management option and the muscle foods option.
For more information on the equine science option, contact McCall at 334-844-1556 or mccala@auburn.edu.
In other equine news, the AU Board of Trustees has approved the concept of an equine center to be built on campus and has given the college permission to hire an architect to develop a design. Funding for such a teaching center is being sought.
---
CoAg Students Selected for Who's Who
Seven CoAg students were recently recognized for their exceptional over-all contributions to the university community through their being named to Who's Who among students in American Universities and Colleges.
This honors program, which has existed nationally since 1934, recognizes outstanding campus leaders for their scholastic and community achievements. Particular emphasis is given to the participation in academic and extracurricular activities, including leadership positions in student organizations and demonstrated citizenship and service to the University and surrounding community.
Among those selected are: Marianne Bailey, an animal sciences major from Dunkirk, Md., who will graduate in May; Sally Credille of Marietta, Ga., also graduating in May with a degree in agricultural communications; Devin Dotson of Red Bay, who is getting a double major in agricultural communications and Spanish and will graduate in May 2007; Travis Hubbs of Auburn, who graduated December 2005 with a degree in agricultural economics; Grace Smith of Prattville, who will graduate in August with a degree in agricultural communications; Jessica Stanford of Athens who is graduating in May with a double major in agricultural economics and accounting; and Candace Thomas, an animal sciences major from Marbury who will graduate in May.
---
Ag Ambassadors Announced
The following are the newly selected members of the CoAg's Ag Ambassadors corps, a select group of agricultural students dedicated to enhancing the image of the College of Agriculture and Auburn University. They serve as official representatives of the College, the Alabama Agricultural Experiment Station and the Ag Alumni Association.
Activities include recruiting quality high school and junior college students for the College. Applications are mailed to qualifying students in the spring of each year, and membership is based on an application/interview process.
Congratulations to our newest members!
Blakely Avery
Tara Bradford
Emily Byers
Kyle Carpenter
Kim Cline
Jeffrey DeFoor
Jeremy Green
Jenny Gvillo
Jennifer Himburg
Erin Hunter
Ashley Jones
Maggie Jordan
Amy McDaniel
Katlin Mulvaney
Caitlin O'Neal
Russell Poland
Renee Shoup
Hunter Stone
Patrick Sullivan
Zane Thompson
Jeremy Thompson
Kimberly Tidwell
Jordan Towns
Brian Watkins
Kindra Wood

---
Humanitarian Award Winner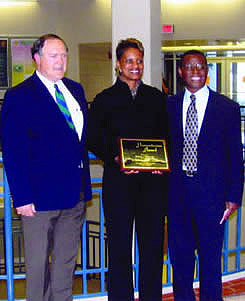 Sheila Walton, Civil engineer in the U.S. Department of Interior's Office of Surface Mining in Knoxville, Tenn., displays the 2006 Humanitarian Award the the AU College of Agriculture's Cultural Diversity Committee presented to her recently during the committee's annual Black American Legacy program. With Walton are CoAg Dean Richard Guthrie, left, and James Brown, AU horticulture professor and Cultural Diversity Committee chariman.