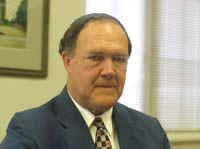 Richard Guthrie
Fall semester brings a new wave of excitement to campus every year. Sophomores, juniors and seniors return after a brief summer break, new freshmen add a special flavor to the mix and football brings alumni, friends, faculty and students together for exciting game weekends.
Here in the College of Agriculture, that excitement is especially strong. The quality and number of students enrolling in agriculture are clear barometers of our success in the college. The total number of students enrolling in the college this year is 1,124, the largest number since the college was reorganized in 1986. Yes, we continue to grow while many colleges of agriculture are declining. Both undergraduate numbers and graduate student numbers increased slightly. This year we enrolled 899 undergraduates and about 223 graduate students.
Much of the success in recruiting these students can be attributed to Bill Alverson, who retired this summer after 30-plus years of being our student recruiter. Bill and Suzanne Shaw, who has been the college's academic adviser for the past six years, have led a team of faculty and students who are highly organized and capable of organizing and motivating volunteers throughout the state. This concentrated effort has paid strong dividends.
While Bill will be greatly missed for many reasons, we are well positioned to build on his success. Suzanne remains to offer her expertise to students and we have hired Don Mulvaney, a professor of animal sciences, as the half-time coordinator of leadership and student development for the college. He will be joined by two more new faces in the student services office-Megan Ross, an administrative specialist, and Deborah Solie, our new student recruiter. We welcome these new members of the team and thank Suzanne for all her hard work and continuing involvement.
Earlier this fall a special ceremony was held that illustrates one reason our college is such a success among students-our scholarship recognition night. On that night in September, 192 students, along with many scholarship donors, were recognized. This year's scholarship program awarded some 135 scholarships totaling $566,673-one of the largest scholarship programs in all of Auburn University.
We congratulate all these students and thank the many donors who make it all possible!
–Richard Guthrie, CoAg Dean & AAES Director