Replace Exotic Invasive Species with Ornamental Alternatives
By: Kerry Smith
Popular, seemingly harmless landscaping plants-tallowtree, privet, climbing fern and even honeysuckle, to name a few-are moving beyond the home landscape into vulnerable forestland.
Once established, these plants can strangle tree canopies and crowd out the native flora on which many insects and animals depend for survival. A radically altered ecosystem often is the result.
Listed below are four of the worst forestland invasive species, along with some recommended alternatives.
Tallowtree (Popcorn Tree)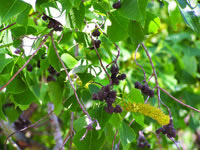 Tallowtree, prized for its leaves and vibrant fall colors, is one of the worst forestland invasive species because of its rapid spread via bird-and water-dispersed seeds.
One attractive alternative is crape myrtle, admired for its fall color. There are many different varieties and sizes of crape myrtle from which to choose.
An excellent native species is the sassafras, a small tree that displays beautiful fall color.
Also appealing are the Yoshino and Okame cherry trees, both noted for their yellow to orange fall colors and plentiful spring flowers.
The serviceberry tree, noted for its spring flowers, is available in many cultivars. A big plus is the tree's edible fruit, which attracts wildlife.
A sturdy alternative is the native fothergilla, a superior ornamental plant that should be used more on Alabama's landscapes.
Pistashe, also known for its fall color, is considered especially hardy and well suited to urban landscapes.
Rusty blackhaw and possumhaw viburnum are good native substitutes that produce dark green leaves from spring through summer and orange-red to rich purple leaves in the fall.
Chinese Privet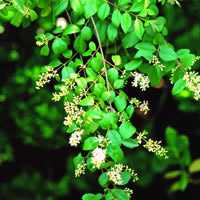 Privet, a highly invasive species, typically is used as a hedge plant. Consequently, any noninvasive, fine-textured evergreen would likely be a suitable alternative.
Several species fit that bill, particularly boxwoods, which come in various shades of green, depending on their variety. Japanese hollies, which resemble boxwoods, are another good substitute.
Dwarf yaupon, a native holly-and a tough plant-possesses small, finely textured leaves. Actually, dwarf is a somewhat misleading term because the plant can grow to as high as 5 feet, though it can be managed easily by a single annual pruning.
Podocarpus, also known as Chinese yew, is not a true yew, though it is a finely textured shrub that thrives in the southern part of Alabama. True yews grow better in the northern part of the state.
Finally, there is laurustinus, a small-leafed viburnum that attracts wildlife and produces beautiful flower clusters in the spring.
Japanese Climbing Fern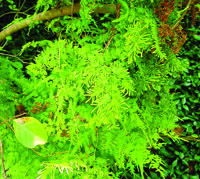 In spite of its delicate, finely divided leaves, Japanese climbing fern is fast emerging as an environmental menace. Unfortunately, the list of its noninvasive alternatives is short.
Clematis is a genus comprised of many vigorous climbers that produce attractive, sometimes fragrant flowers.
Passion vine, another viable substitute, is a native perennial species. Butterflies, especially the Gulf frittilary whose caterpillars depend on it, find them highly appealing.
Cardinal climber vine and cypress vine, native to Central and South America, are not listed as invasive species. Even so, they reseed and can become weedy. Both attract hummingbirds and butterflies. They also have attractive, finely textured leaves.
Japanese Honeysuckle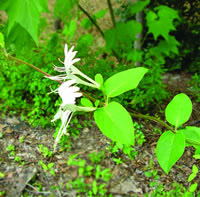 Japanese honeysuckle, while appealing to many, is one of the most common nuisance plants in southeastern forests.
It should be replaced with the native trumpet honeysuckle, one of the garden's best hummingbird attractants that bears red flowers instead of the yellow-white flowers on its Japanese counterpart.
Confederate-jasmine, also known as star-jasmine, is an evergreen vine that produces creamy white flowers-an essential addition if you desire a fragrant southern garden.
Lady Bank's Rose comes in white-flowering and yellow-flowering forms. Both Lady Bank's Roses thrive despite neglect.
American wisteria, another native alternative, is a woody, perennial climbing vine that produces a fragrant scent. While it easily climbs a trellis or tree, it is far less aggressive than its Asian counterparts, known to strangle or even topple their supports. American wisteria also produces multiple blooms during the summer.
---
Doctorates in the Family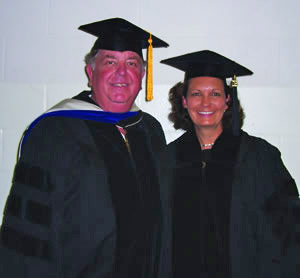 Anne Mims Adrian, a graduate in CoAg's Department of Agricultural Economics and Rural Sociology (1985 and 1987) and co-leader of the Computer Technology Unit that serves Extension, the AAES and the College of Agriculture, received her Ph.D. in management in August. Adrian has worked for the Extension System for 19 years with an emphasis in management information systems. Her dissertation research focused on the use of geographical information systems and global positioning systems in agriculture. Adrian's major professor, Kelly Rainer in the AU Department of Management, was in Africa during graduation so her husband, CoAg Professor of Agricultural Economics John Adrian, hooded her during the graduation ceremony.
---
Community Development Needs Multifaceted Approach
In the struggle to save Alabama's declining rural communities, a multifaceted approach often works better than one focused solely on industrial development.
That's the advice of Joe Sumners, director of the Economic and Community Development Institute, which is jointly sponsored by Auburn University and the Alabama Cooperative Extension System. Sumners thinks most economic development professionals should adopt strategies that build on the community's current assets.
As he sees it, industrial recruitment is only one ingredient in a complicated recipe. Even more important is building a strong community base.
"One of the first things I tell them is to play defense," he says. "Work with and support what you've got rather than going after someone new. Most new jobs will come from the existing businesses in a community.
"I believe we should build a strong civic infrastructure in addition to a strong physical infrastructure," Sumners adds. He contends that communities need three main ingredients: community linkages including farm and business leaders, civic and government leaders and rank-and-file citizens; strong leadership; and a strategic plan.
---
Super-sized Yellow Jacket Nests Under Study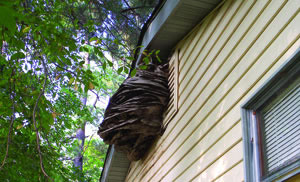 Giant yellow jacket nests have been found
through-out southern and central Alabama
This year, Alabama Cooperative Extension System entomologists have encountered something previously unimaginable-25 super-sized yellow jacket nests throughout southern and central Alabama.
The size of these nests is like nothing they've ever seen.
"The nests I've excavated in the past were no larger than a basketball," says Charles Ray, an Extension entomologist and research fellow in CoAg's Department of Entomology and Plant Pathology. The largest he's personally seen this year filled the interior of a weathered 1955 Chevrolet parked under a shed in Elmore County. One nest encountered in an abandoned barn in Barbour County was roughly the size of a Volkswagen Beetle.
Equally astonishing, Ray says, are the numbers of yellow jackets buzzing around in these nests.
"A typical nest consists of two or three thousand workers and one queen," he says. "With these large nests, we may have as many as 100,000 workers."
One other finding has intrigued Ray and other researchers: the presence of satellite nests in close proximity to the large nest. No one is sure why these smaller satellite nests occur, though Ray speculates they may be prompted by space limitations in the large nests.
Anyone encountering one of these behemoths should not attempt to treat them with a can of bug spray. A far better alternative, Ray says, is to contact a certified pest control operator.
Ray also encourages homeowners and others who encounter one of these super-sized nests to contact their local Extension office before treating it. He and his fellow researcher, Xing Ping Hu, an Extension entomologist and CoAg associate professor of entomology, are collecting data from these nests to gain a clearer picture of what is causing them and how they're best treated. Digital pictures would help too, he says.