Ag Heritage Park Update
By: Robert Hensarling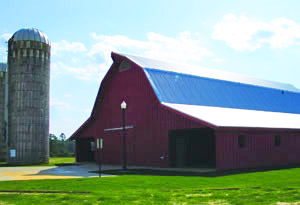 The new Red Barn is complete and
already has hosted several events.
Ag Heritage Park has now passed the halfway point in the construction phase of its development. The pond is now complete and has filled with water, providing a wonderful backdrop for the Alabama Farmers' Pavilion. This scenic element of the park will provide an urban environment for a variety of fish and fowl. We expect to have the pond stocked with bluegill, shell cracker, bass and catfish this winter. Additionally, we are working with Alabama Catfish Producers to provide fish feeders and hope to have them installed around the pond by early spring.
The new Red Barn is complete and already has hosted several events. From a retirement dinner for CoAg Assistant Dean Bill Alverson to home football game tailgate events, the "Barn" is living up to its billing as a marquee destination point for Ag Heritage Park.
Inside the barn you will find the first collection of old farm tools that were donated by Bill Johnson and other implements gifted by the Clegg/Davis/Buchanan families. These tools and implements represent some of the earliest examples of modern farming technology. The popularity of these tool displays will be enhanced by our plan to rotate new displays every three to four months. Ultimately, each tool will have a brief description of its usage as well as its potential impact on Alabama agriculture.
As we move forward in the development of this expansive collection, we also will add interpretive displays that tell the story of Auburn University's impact on agriculture in Alabama's storied past. Additionally, these displays will provide a look at the past, present and potential future of agriculture in Alabama.
Please keep the park in mind whenever you are in Auburn. If you would like to take a brief tour of our newest facilities, please contact me at 334-844-3596 or hensara@auburn.edu.
---
Aldridges Honored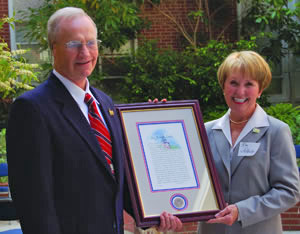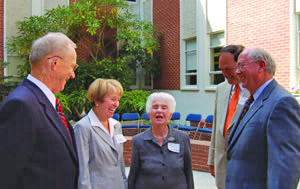 The left photo shows retired Birmingham nursery owner and nationally noted horticulturist Eddie Aldridge and his wife Kay showing off a framed copy of the Auburn Creed that was presented to them at a reception held in their honor in Funchess Hall's L.M. Ware Courtyard on a cool and cloudless September day.
In memory of Aldridge's late brother, Lauren McTyeire "Mac" Aldridge, the Aldridges have established a $1-million endowment at Auburn, to be used to create an eminent scholar chair in the Department of Horticulture. One of that individual's responsibilities will be to oversee an Auburn University internship program the couple has established at their former estate, now known as Birmingham's famed Aldridge Botanical Gardens.
The photo on the right shows the Aldridges sharing a laugh with Lucy Shackleford, Mrs. Aldridge's mother; College of Ag Dean Richard Guthrie, second from right; and AU President Ed Richardson, who, in special remarks during the reception, thanked the Aldridges for their generous donation to Auburn and said it will be invaluable in helping attract and retain another stellar faculty member who epitomizes academic excellence.
Mac Aldridge earned his bachelor's degree in horticulture from AU in 1950, but his career was cut short by a malignant brain tumor, which claimed his life in 1952-his younger brother's freshman year at Auburn.