CoAg Faculty Honored as Part of AU's 150th Birthday Celebration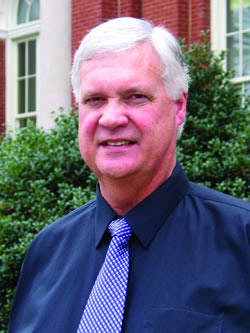 David Bransby received the 2006 AU
Award of Excellence the Faculty Outreach.
David Bransby, professor of agronomy and soils, was given the 2006 AU Award for Excellence in Faculty Outreach during a special Faculty Awards for Excellence in Instruction, Research and Outreach program held in September as part of AU's year-long Sesquicentennial Celebration.
The program marked the first time these annual awards have been given in a combined formal ceremony. The program also honored Alumni Undergraduate Teaching Excellence Award winners and Alumni Professors.
A native of South Africa who grew up on a small dairy farm, Bransby received his bachelor's and doctorate degrees in agriculture from the University of Natal, South Africa, and a master's from the University of Missouri. He served on the faculty of the University of Natal for 12 years prior to immigrating to the United States in 1987 and becoming a naturalized American citizen in 1992.
He joined the CoAg Department of Agronomy and Soils in 1987 to teach and conduct research in forage and livestock production, but was also assigned responsibilities for research in energy crops and bioenergy. Bransby has developed a national and international reputation for his work in both of these fields. As a result of the current energy crisis and implications for national security, his research and outreach activities with energy crops and bioenergy have become particularly relevant and high profile.
Current Alumni Professors from the College of Agriculture who were honored at the event include Patricia Duffy, Department of Agricultural Economics and Rural Sociology; Jeff Sibley, Department of Horticulture; and Rex Dunham and John Liu, both of the Department of Fisheries and Allied Aquacultures. Alumni professorships are awarded as five-year, nonrenewable appointments to honor faculty for outstanding work in teaching, research and outreach.
---
CoAg Faculty and Staff News
Could Alabama become the next lotus land? It can if Ken Tilt, a CoAg professor of horticulture, and his team of researchers have their way. Tilt, along with fellow AU horticulture professors Floyd Woods and Jeff Sibley, CoAg agricultural economics professor Deacue Fields and faculty at Alabama A&M University, are part of an international project looking at growing lotus for ornamental and edible purposes. The team has already gathered some 150 cultivars from China, which are now being grown in Auburn and Cullman. The goal of the project is to establish Alabama's Black Belt Region as the center for lotus production in the United States and increase economic opportunities in the Black Belt. More information on the project will be available in the next issue of Ag Illustrated.
Joe Molnar, professor in the CoAg Department Agricultural Economics and Rural Sociology, has been named the new International Agriculture program coordinator for the College of Agriculture. Molnar will split his time between these duties and his faculty position.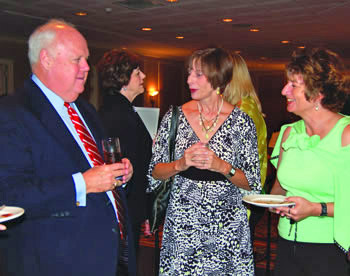 FIGHTING WORLD HUNGER-James T. Morris, executive director of the United Nations World Food Program and AU's fall 2006 E.T. York Distinguished Lecturer, visits with Harriet Giles, center, human sciences' external affairs director, and Donna Sollie, AU assistant provost for women's initiatives, before delivering to a capacity audience a thought-provoking presentation on the vast scope of global hunger. In the lecture, entitled "Auburn, Institutions of Higher Learning and the Fight against World Hunger," Morris said 850 million of the world's 6.6 billion people are malnourished-half of them children-and said if he is "consumed" with anything, it is with "the sadness, the sinfulness, the reprehensibleness of starving children." Morris commended AU for its War on Hunger campaign, saying the university's initiative to increase awareness of global hunger and poverty will have an "extraordinary impact." The WFP in 2004 selected Auburn as its lead partner in establishing a model for a student-led War on Hunger campaign to be implemented on college campuses across the U.S. At a World Hunger Summit held in Auburn in February, representatives from 28 universities nationwide attended the summit and agreed to form a loose alliance, called Universities Fighting World Hunger, which will work to build strong hunger initiatives on all campuses involved. The WFP is largest humanitarian organization in the world, last year feeding 104 million people in 81 countries. Morris has led the program since 2002.
Greg Traxler, AU professor of agricultural economics, was invited to the Vatican in October to meet with Vatican officials in discussions about biotechnology and the use of genetically modified organisms in agriculture. In the invitation to Traxler, Francis Rooney, U.S. ambassador to the Holy See, said Traxler's expertise on this subject would be extremely useful as the Vatican continues to explore its position on the use of genetic modification in foods. Church officials have deemed it a "moral imperative" to investigate the potential of biotechnology to meet global food needs and help alleviate hunger in the developing world.
Kira Bowen, professor in the CoAg Department of Entomology and Plant Pathology, has been reappointed to a five-year term as research coordinator for the College of Agriculture and Alabama Agricultural Experiment Station. Bowen has been serving in this half-time position for several years; she coordinates grant and research activities for faculty and administrators.
John Fulton, assistant professor of biosystems engineering (BSEN), and Paul Mask, associate director with the Alabama Cooperative Extension System, are participating in the Trans Atlantic Precision Agriculture Consortium (TAPAC). In the TAPAC program, three European universities and three U.S universities exchange students interested in studying precision agriculture and related subjects. The program allows Auburn students to study precision agriculture and geospatial technologies in the cooperating international institutions.
At the International Meeting of the American Society of Agricultural and Biological Engineers, technical papers were presented by BSEN assistant professors Oladiran Fasina, Fulton, Mark Dougherty and BSEN professor and department head Steve Taylor. Assistant professor Timothy McDonald also presented a paper at the International Meeting of the Council on Forest Engineering.
Fasina has received a Leadership Citation from the Food and Bioprocess Engineering Institute of the American Society of Agricultural and Biological Engineers (ASABE). Fasina served as the chair of the committee that developed a new international terminology standard for biomass energy, which is jointly published by the American National Standards Institute (ANSI), and the American Society of Agricultural and Biological Engineers.
BSEN professor Jim Donald, BSEN program assistant Jesse Campbell and Gene Simpson, CoAg professor of agricultural economics and rural sociology, were awarded a $10,000 grant for the development of a training video for poultry growers. The grant was awarded by the U.S. Poultry and Egg Association for use in development of an evaporative cooling operation and maintenance program for use in Alabama's 12,000 poultry houses. Evaporative cooling is capable of dropping the temperature15 to 20 degrees on most poultry farms during hot weather. The program will be developed and conducted during the spring and summer of 2007.
Fulton, McDonald and BSEN engineer Christian Brodbeck were instrumental in organizing and speaking at the recent Third Annual Precision Ag and Field Crops tour held at the Dee River Ranch in Aliceville. The event, which attracted more than 200 visitors, included presentations by Fulton on GPS-based land leveling systems and by McDonald on alternative fuels.
Betsy Wagner has been hired as an assistant professor in the Department of Animal Sciences (AS). She is trained in equine nutrition receiving her Ph.D. from Texas A&M University and will be teaching in the department's new equine science option and conducting research with horses.
Dr. Soren Rodning has been hired as an Extension veterinarian and assistant professor in AS. He received his DVM and MS degrees from Auburn University and will be delivering the department's animal health extension program across the state.
Carolyn Robinson has been hired as an assistant professor of horticulture, specializing in ornamental plants.
Elina Coneva has been hired as an Extension specialist and assistant professor of horticulture, specializing in fruit production issues.
Bill Deutsch, research associate in the Department of Fisheries and Allied Aquacultures (FAA), was recently awarded a $504,900 grant from the Alabama Department of Environmental Management to implement a three-year phase of the Saugahatchee Watershed Management Plan (SWaMP). The grant follows a two-year process of developing a plan for reducing nutrient and sediment pollution to the creek, which flows through portions of Lee, Chambers, Macon and Tallapoosa counties to the Tallapoosa River at Yates Lake.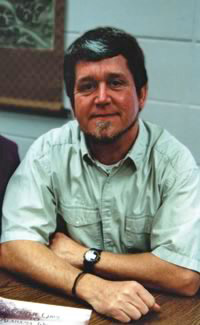 Bill Deutsch was awarded a $504,900
grant from the Alabama Department
of Environmental Management.
The SWaMP stakeholder group that developed the plan includes representatives from the cities of Auburn and Opelika, MeadWestVaco, Westpoint Home, ACES, Natural Resource Conservation Service, Save Our Saugahatchee, Alabama Water Watch and FAA. AU partners on the grant include Eric Reutebuch and Wendy Seesock, both staff members in FAA who will co-coordinate the project, and Graeme Lockaby, professor in the AU School of Forestry and Wildlife Sciences. More information on the project can be found at www.alabamawaterwatch.org/Docs/Reports-guides/Saug.pdf.
Upton Hatch, a professor in the Department of Agricultural Economics and Rural Sociology, recently retired after 20 years in the department and after serving five years as director of theAuburn University Environmental Institute (AUEI). Hatch has moved on to a new position as associate director of Water Resources Research Institute and Research Professor at North Carolina State University. Dennis Block, who served as AUEI associate director under Hatch, was named interim director.
---
CoAg Student Accomplishments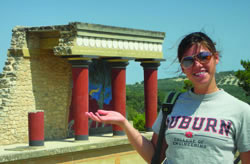 BSEN junior Sarah Nell Jones received the
Birdsong Fellowship to study and travel abroad.
William Dunnivant, a graduate student working under the direction of professor Beth Guertal, interned this summer with the U.S. Golf Association. In addition to being an exceptional student, Dunnivant also is an accomplished amateur golfer.
BSEN senior Mack Moncus spent this summer studying at the Technical University of Munich (Weihenstephan campus) in Freising, Germany. Moncus was involved in research and coursework in the Crop Production Engineering Department. He also was able to travel in Europe.
"My eyes were opened to a new world from this trip. I am very thankful for this opportunity and encourage anyone who has the chance to travel to any other country in the world to do it," Moncus says of his experience.
Auburn is also on the receiving end of the Trans Atlantic Precision Agriculture Consortium (TAPAC), an exchange program for students interested in studying precision agriculture and related subjects (see "CoAg Faculty and Staff News" story on page 6). This fall, four students are spending time on the Auburn campus learning about precision agriculture practices in the U.S. Spyros Moutrzinis is visiting from Panepistimio Thessalias located in Volos, Greece, while Markus Immerz, Josef Gross and Markus Heckmann are visiting from the Technical University of Munich in Germany. During their stay, they will participate in ongoing research and extension activities related to precision agriculture and forestry at Auburn University while visiting operations around the state to observe hardware and software being used by U.S. producers.
BSEN junior Sarah Nell Jones was the 2006 recipient of the prestigious Birdsong Fellowship in the Ginn College of Engineering. This fellowship, which is awarded to one student in the College of Engineering each year, allows students to study abroad for one term. Jones spent a month traveling with another group of students from Eastern Michigan University on a cultural history tour of Switzerland, Italy and Greece. "Indeed, this was the opportunity and experience of a lifetime. These were five weeks I'll never forget," she says.
BSEN graduate students Sarah Sanders, Tye Harbuck, Sumit Sen and Hatem Harraz recently presented technical papers at the International Meeting of the American Society of Agricultural and Biological Engineers.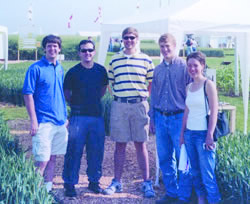 Mack Moncus (center) at agricultural exposition in Germany.
The Auburn Student Branch of the American Society of Agricultural and Biological Engineers is off to a great start for the 2006-2007 school year. Group officers include Daniel Mullenix, president; Lindsey Ihle, secretary/treasurer and Ag Council representative; Caleb Lea, vice president; Jay Ransom, Ag Council representative; Eric Hoge, Engineering Council representative. This fall they have already hosted the annual student/faculty bowling night and their fall picnic and are helping with Ag Roundup and the CoAg presence at the Sunbelt Ag Expo.
Next spring the group will host the 2007 Southeast Regional ASABE Student Rally here in Auburn. Biological and agricultural engineering students from across the Southeast will travel to Auburn for this three-day event.
The BSEN War Eagle Pullers Quarter-Scale Tractor team is off to a good start this year, too. Team Captain Jennifer Lofty has the group organized and working on the design of the tractor for the 2007 competition. To help support this student team, please contact Timothy McDonald, faculty adviser, or Steve Taylor, BSEN department head.
Yinfeng Zhang, a graduate student in the Department of Fisheries and Allied Aquacultures (FAA) working with FAA assistant professor Covadonga Arias, had a new twist in her plan of study-the birth in June of a son named Austin. She and her husband, Mingkang Jiang, a graduate student in biosystems engineering, are juggling their classwork and research with their parenting duties. Yinfeng is studying columnaris disease, one of the main pathogens for catfish and a major problem for the industry.