AAES School and College News
The following is news from our AAES-affiliated schools and colleges. For more information on the teaching, research, outreach or development activities of any of these academic units, contact them directly at their respective phone numbers or Web sites.
---
---
CHS Faculty Assuming Administrative Roles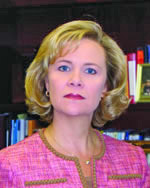 Susan Hubbard
Susan Hubbard, a professor in the College of Human Sciences (CHS) Department of Nutrition and Food Science, has been appointed the CHS associate dean for Academic Affairs. She replaces Dorothy Cavender, former CHS associate dean and professor of nutrition and food sciences, who is now serving as assistant provost for AU's undergraduate studies program.
Hubbard joined the CHS faculty 13 years ago, teaching in both the consumer affairs and nutrition and food sciences departments. In her most recent administrative position as coordinator of the Hotel and Restaurant Management (HRMT) Program, Hubbard was instrumental in the development of the educational partnership between the HRMT Program and the West Paces Hotel Group, LLC. She also is responsible for developing and implementing the master's of science degree in nutrition and food science with emphasis in hotel and restaurant management distance education program.
Hubbard currently serves as faculty adviser for Omicron Delta Kappa. Included among her many honors are: the 2004 Pamela Sheffield Award for Commitment to Auburn; 2003 recipient of the Alumni Undergraduate Teaching Excellence Award; and 2003 Emerald Management Review Citation of Excellence Award for the world's best management authors.
---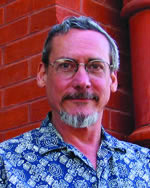 Joe Pittman
Joe Pittman, CHS professor of Human Development and Family Studies (HDFS), has been named co-interim dean of AU's Graduate School along with George Flowers, a professor in mechanical engineering. Pittman has been acting associate dean of the Graduate School for the past year and has been an HDFS professor since 1989. He will direct issues regarding curriculum and academic affairs.
---
Donna Sollie
Donna Sollie, also an HDFS professor, has been named as an assistant provost for women's initiatives. In this new position in the AU Office of Associate Provost for Diversity and Multicultural Affairs, Sollie will lead efforts to establish and foster programs that improve opportunities for women throughout Auburn University. She will coordinate women's initiatives in all of AU's schools and colleges. Sollie has been an HFS faculty member since 1986 and is a former director of the Women's Studies Program and recently served in the provost's office as a special adviser on women's leadership.
---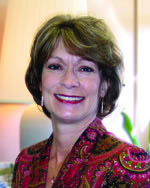 Leanne Lamke
Leanne Lamke, yet another HDFS professor, has been named head of HDFS, replacing Marilyn Bradbard who retired on Sept. 1. Lamke, who joined the CHS faculty in 1985, has built an exemplary research program and is an award-winning educator. She was one of the first winners of Gerald and Emily Leischuck Endowed Presidential Awards for Excellence in 2005 and received the Distinguished Teaching Award of the International Society for the Study of Personal Relationships, and the National Council on Family. She also has provided leadership for the AU Undergraduate Competitive Research Fellowship program.
---
Borlaug Named 2006 Quality of Life Award Recipient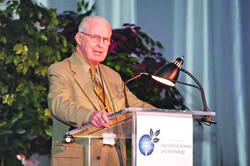 Norman Borlaug
The 2006 CHS International Quality of Life Awards, which will be held on Dec. 4 at the United Nations in New York City, will honor Norman Borlaug with the IQOL Laureate Award and golfing legend and AU mom Nancy Lopez with its Lifetime Achievement Award.
Borlaug is an American agricultural scientist, humanitarian, Nobel laureate and the father of the "Green Revolution," which is credited with greatly improving food security in Mexico, Pakistan and India in the 1960s. Through those efforts, Borlaug is often credited with saving more than a billion people from starvation. He was awarded the Nobel Peace Prize in 1970 in recognition of his contributions to world peace through increasing food supply.
More recently, he has helped apply these methods of increasing food production to Asia and Africa. In 1986, he established the World Food Prize to recognize individuals who have improved the quality, quantity or availability of food around the globe.
Lopez, the most celebrated player in women's golf, has been a star since her rookie year in 1978. Lopez was named Player of the Year by the Ladies Professional Golf Association four times (1978-79, 1985 and 1988) and was inducted into the LPGA Hall of Fame when she was only 30 years old (1987). Two of Lopez's three daughters-Ashley and Erinn-attend Auburn.
---
Women's Philanthropy Board Hosts World-Class Speakers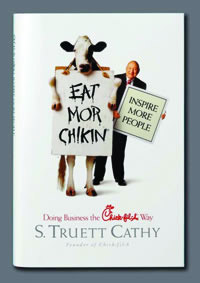 "What do the cows say?" That was the first question of the day on Oct. 13 when the College of Human Science's Women's Philanthropy Board (WPB) hosted legendary restaurant icon Truett Cathy, founder and chairman of Chick-fil-A, for its annual fall luncheon.
Cathy, who was introduced by Alabama First Lady Patsy Riley, is widely recognized for his tremendous business success and for his philanthropic impact. He shared the key values on which he built the Atlanta-based restaurant chain.
Cathy is just one example of the many world-class speakers and lecturers that the WPB sponsors. The WPB, which was founded in 2002, is led by an executive committee of outstanding female business and public service leaders. The committee's goal is to inspire, educate and enable women to develop their full leadership potential, achieve independence as financial donors and decision makers, serve as mentors for future generations of philanthropists and broaden the base of financial support for CHS.
"Women have always been philanthropic with their time and talents," says June Henton, CHS dean. "Today, women are building on this traditional humanitarian role as they become business and world leaders. They are combining that legacy of service to others with a newly discovered capacity for independent financial giving."
She notes that women already have a net worth higher than their male counterparts and, because women on average live longer than men, they will control the largest transfer of wealth from generation to generation over the next 50 years. Helping women learn how to become fully engaged in philanthropic efforts will help them use that wealth for the betterment of society.
"A new model of giving is emerging that builds on their tradition of service, current leadership roles and capacity for financial giving," says Henton. "In the 21st century, it will be women who will play the largest role in shaping the future of the world in which we want to live."
The WPB offers its members a unique opportunity to collaborate with other women to meet collective goals, connect with women of all ages to develop professional networks and personal friendships, create opportunities to develop and recognize women as leaders and role models, change lives through education, leadership and philanthropy and to celebrate the impact of philanthropy and the fulfillment it brings.
According to Sidney James Nakhjauan, who coordinates WPB activities, WPB membership is open to any woman interested in learning how to fulfill her philanthropic potential and maximize her ability to effect change in the world. Members pledge a minimum of $1,000 per year for five years and provide leadership for the governance of the organization. Anyone interested in joining WPB or seeking more information about this dynamic group of women who are truly committed to making a difference may contact the College of Human Sciences Development Office at wpbchs1@auburn.edu or 334-844-9199.
---
---
AU-Invented Microscopy Technology Wins R&D 100 Award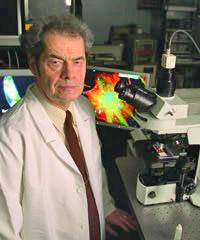 The Image of Success-Dr. Vitaly Vodyanoy
displays the new CytoViva microscopy-imaging
system, which recently won an award from
R&D Magazine. (Photo by Jeff Etheridge)
An optical microscopy-imaging system invented by the College of Veterinary Medicine's Dr. Vitaly Vodyanoy has been selected by R&D Magazine as one of the top 100 most technologically significant products introduced last year.
Vodyanoy, along with representatives of Auburn University and Aetos Technologies Inc., the commercializing company, will be honored Oct. 19 in Chicago.
The new CytoViva system enables researchers to observe unaltered, living cells in extremely fine detail and without delays or extra steps for processing, which are typical of current microscopes. It is attached to an existing research microscope, so samples are viewed directly through the microscope eyepiece and are captured using a standard microscope camera.
Vodyanoy is a professor in the College's Department of Anatomy, Physiology and Phar-macology.
---
Southeastern Raptor Center Hosting 'Football, Fans, and Feathers' on Home Game Weekends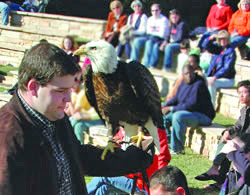 Spirit Walk-Raptor center volunteer Ross
Spafford carries bald eagle Spirit through
the amphitheater during a program last fall.
The College of Veterinary Medicine's Southeastern Raptor Center is hosting educational, birds-in-flight raptor programs each Friday this fall before home football games.
The programs, "Football, Fans and Feathers," begin at 10 a.m. and noon in the 350-seat Edgar B. Carter Educational Amphitheater on Raptor Road just off Shug Jordan Parkway. Oct. 20's presentation will have only one demonstration at noon.
Tickets are $5 and are available at the Auburn University Bookstore in Haley Center on AU's main campus. Tickets will not be sold at the amphitheater or at the raptor center. Children under three years old are admitted free. Education specialists Roy Crowe and Marianne Murphy present the programs in the new amphitheater, which has two flight towers that allow the birds to free-fly over the crowd. Crowe and Murphy also present shows across the Southeast for schools and organizations. More information is available by calling 334-844-6943.
---
CVM Professor Named AVMA Vice President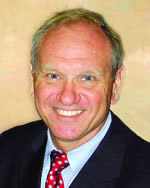 Dr. Charles Hendrix
Dr. Charles Hendrix of the College of Veterinary Medicine has been elected vice president of the American Veterinary Medical Association. The group's House of Delegates unanimously selected Hendrix, a professor of parasitology, during its annual meeting in July in Honolulu. He will serve as the liaison to the association's student chapters.
---
Boosinger Named AAVMC President-Elect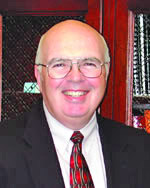 Dean Timothy Boosinger
AU College of Veterinary Medicine Dean Timothy Boosinger has been elected president-elect of the Association of American Veterinary Medical Colleges. The group coordinates the national and international affairs of all 32 veterinary medical colleges in the United States and Canada.
---
---
SFWS Welcomes New Personnel
The AU School of Forestry and Wildlife Sciences (SFWS) is starting the academic year off with several new faces.
This fall SFWS welcomed Latif Kalin, a new assistant professor, whose research interests lie in forest and watershed hydrology, erosion and sediment transport, water quality and hydrologic modeling and the impact of urbanization on hydrology and water quality. Kalin earned the Ph.D and master's degrees from Purdue University and bachelor's degree from Middle East Technical University in Ankara, Turkey.
Joel Martin, has been named the new director of our Solon Dixon Forestry Education Center in Andalusia (www.sfws.auburn.edu/Facilities/DixonCenter/), replacing Rhett Johnson who retired as center director in May after some 27 years of leading the center's programs. Martin has a bachelor's degree in biology from Wofford College in South Carolina and a master's degree in forest resources.
Originally from Central, S.C. (the town adjoining Clemson, S.C.), Martin and his family moved to the Dixon Center from a position with Cabin Bluff Land Management company in Georgia. His wife, Carmen, is a certified wildlife biologist who worked as a regional supervisor for the Georgia Department of Natural Resources before their move to Alabama. She is currently a stay-at-home mom rearing their two sons-3-year-old Ian and Eric, who will be 1 in November.
---
Zanzot to Study in South Africa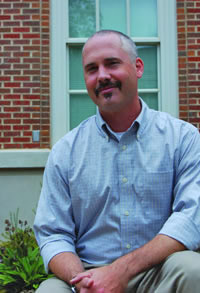 James W. W. "Djibo" Zanzot
James W. W. "Djibo" Zanzot, a Ph.D. student in forestry working with SFWS assistant professor Lori Eckhardt, has been invited to study in South Africa. Beginning in January, Zanzot will be conducting part of his doctoral research at the University of Pretoria's Forestry and Agricultural Biotechnology Institute in the Republic of South Africa. This research will form part of a collaborative research project between Eckhardt and FABI Professor Michael J. Wingfield. It will focus on the population biology of the pine root infecting fungus Leptographium serpens.
---
SFWS Reports Latest Student Numbers
This fall semester student enrollment in the School of Forestry and Wildlife Sciences (SFWS) included 311 undergraduate students-130 students majoring in forestry, 175 in wildlife science and six in the biosystems engineering forestry engineering option.
"We had a total of 38 students return this fall from our Summer Practicum program in Andalusia," says Sarah Crim, director of student services for SFWS. "These students experienced forestry practices first-hand through in-the-field exercises and lab activities. They brought back knowledge and friendships that will stay with them through the rest of their professional careers."
SFWS also expanded its graduate student ranks this fall adding three new forestry master's students, two new wildlife master's students, one new forestry Ph.D. candidate and one new forest economics Ph.D. student.
---
Toomer Oak Sales Continue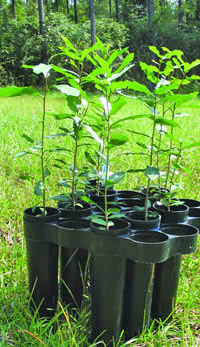 The School of Forestry and Wildlife Sciences is continuing to sell Toomer's Corner Oak trees this semester to friends and family of Auburn University.
More than 600 trees have been sold since the beginning of the project, which has proven to be a popular way for AU fans to keep the Auburn spirit in their own front yards.
Trees can be bought through either www.sfws.auburn.edu/oaks or www.tigerrags.com. Proceeds from the sale of oaks benefit student scholarships and organizations.
---
---
COSAM Scientists Publish Evidence of Ivory-billed Woodpeckers in Florida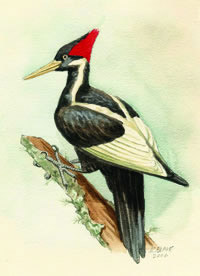 Painting of Ivorybill
woodpecker by J.C. Blake
A research team led by College of Science and Mathematics professor Geoff Hill has compiled evidence that a population of ivory-billed woodpeckers exists in a remote river basin in the panhandle of Florida, as reported in Avian Conservation & Ecology, an electronic scientific journal.
Hill, an author, professor and ornithologist in COSAM, led a kayaking expedition in May 2005 with two research assistants, Tyler Hicks and Brian Rolek, along a section of the Choctawhatchee River in the Florida panhandle.
Soon after they started their float down the Choctawhatchee, Rolek observed an ivorybill in flight and Hill heard a double knock, the signature sound of the ivorybill. Numerous large cavities in trees and places where thick, tightly adhering bark had been scaled from dead trees added impetus to the sighting.
Hill and his assistants made subsequent visits to the area, located near the town of Bruce, Fla., in an effort to better document the birds. On the weekend after their initial discovery, Hicks, an expert in bird identification, got a clear view of a female Ivory-billed Woodpecker, which has distinct plumage, including a white trailing edge on the upper wing, white stripes down the back and an all black crest.
Hill then organized a follow-up search of the area and invited Dan Mennill, an assistant professor at the University of Windsor in Ontario, to join the search team. Mennill, who is an expert at recording and analyzing animal sounds, devised a means to remotely record sounds in the swamp and erected seven listening stations in the area of the ivorybill sightings.
From May 2005 to May 2006, the Auburn/Windsor research team recorded 14 sightings of ivorybills, including two by Hill. From more than 10,000 hours of audio recordings, Mennill and his research assistant, Kyle Swiston, have identified more than 300 sounds that match descriptions of ivory-billed woodpeckers.
They located 20 cavities with entrances within the range recorded for ivory-billed woodpeckers, but larger than the entrances to the cavities typically created by other birds in this area. And they noted numerous dead trees on which thick, tightly adhering bark had been scaled cleanly away, which fits the description of ivorybill feeding marks.
The scientists encourage interested parties to listen to the recordings and view photographs taken during the expeditions at www.auburn.edu/ivorybill. Based on their evidence, Hill and Mennill will expand their search for ivory-billed woodpeckers in the Choctawhatchee River basin in the winter and spring of 2007.
The Hill/Mennill team presented its findings at the North American Ornithological Conference in Veracruz, Mexico on October.
"The ivory-billed woodpecker, so impressive it was called the Lord God Bird in some regions, was thought to be extinct for more than 50 years," says Hill. "Now, there is new hope for scientists, naturalists and birders that these birds persist in the panhandle of Florida."
---
2007 Arboretum Calendars Available
Enjoy the beautiful sights of the Donald E. Davis Arboretum throughout the year by purchasing a 2007 Arboretum calendar. The calendar features photos of the many plants, trees and wildlife through every season, capturing the hidden and not so hidden treasures of the Arboretum. The calendars are just $10 each; and proceeds support special projects and development of the Arboretum's diverse native collections. Contact the Arboretum at 334-844-5770 or e-mail the staff at arbinfo@auburn.edu to purchase your calendar.
---
Research Briefs
To Irrigate or Not to Irrigate
Estimates are that only 179,000 acres of Alabama farmland-less than 14 percent of the state's total cultivated acreage-are currently under irrigation.
Especially in drought years like 2006, you have to wonder: Why don't more Alabama farmers irrigate their cropland?
That's the question at the heart of a new four-year study that a dozen AAES scientists at AU and researchers from four other Alabama universities have undertaken.
The study will provide valuable insights into the potential that large-scale irrigation could provide to Alabama's agriculture industry.
A major thrust of the project will be to determine the feasibility of developing a statewide system of off-stream reservoirs and ponds that would capture winter rainfall which farmers could tap into during dry summer months.
Another aspect of the study will focus on Alabama's water-use policies and how they could be revised to encourage irrigation. Currently, Alabama adheres to the riparian rights water-use doctrine, which states that only the landowner adjacent to a stream has the right to the water in that stream.
Still other scientists in the study will look at the potential economic impact that increased irrigation would have on Alabama agriculture and the state as a whole.
Joining AU in the federally funded study are the University of Alabama in Huntsville, UA-Tuscaloosa and Alabama A&M and Tuskegee universities.
---
Fire Ants: Farmers Friends and Foes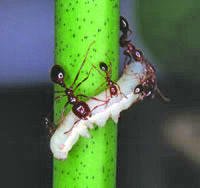 Fire ants devour a cotton-
destroying bollworm caterpillar
Like homeowners, most farmers would love to see fire ants disappear. Large fire ant mounds can severely damage farm equipment and attack farm workers, crop scouts and livestock.
But for some farmers-specifically, cotton producers-fire ants can actually be beneficial, because they prey on insects such as caterpillars that can devastate crops.
In fact, research by AAES entomologist Micky Eubanks of AU shows that fire ants in cotton fields can increase yields by as much as 15 percent, due to reduced pressures from crop-decimating pests.
The same isn't true for all crops, however. Take tomatoes, for instance. Eubanks' research indicates fire ant infestations in or near tomato fields create big problems.
Here's why. Fire ants thrive on honeydew, a sticky, sweet substance that aphids-notorious transmitters of tomato-killing viruses-secrete onto tomato plants. So, instead of attacking aphids, fire ants actually protect them against other insects. As a result, aphid populations-and, subsequently, disease outbreaks-skyrocket.
Farmers can use this information to determine whether they should invest in fire ant control measures or not.
---
Scanning Bodies for Clothes that Fit
Attempting to find clothes that fit and flatter makes shopping a highly frustrating experience for most American women. That's because clothes today are sized inconsistently and are mass-produced based on outdated measurements and body-shape standards that were formulated 60 years ago from a small sampling of women in the military.
But a major revolution in the apparel industry is taking place, reshaping how the fashion industry measures bodies and develops clothing patterns. AAES apparel product development specialists in the AU College of Human Sciences Lenda Jo Connell, Pamela Ulrich and Karla Simmons at AU have been at the forefront of the change.
At the heart of the revolution is body scanning, a digital imaging process that generates 3-D images detailing an individual's precise measurements and proportions. Auburn is one of only a handful of universities with a body scanner for use in research in this area.
Using AU-developed statistical-analysis computer software and body scans from hundreds of women-and, more recently, "tween" girls-Connell and colleagues are providing the apparel industry with new data that should help bridge the gap between what it produces and the fit and styling customers actually want.
---
AU-Developed Lure Named All-time Best
Biodegradable fishing lures that three AAES scientists at AU developed have been on the market for only three years, but they've already been dubbed one of the 50 all-time best lures by Field & Stream magazine.
The magazine says the all-natural lures, manufactured and marketed as FoodSource Lures by a Birmingham-based company, "are environmentally friendly-and they catch fish."
Credited with developing the lures are AU College of Human Sciences food scientists Jean Weese and Leonard Bell and CoAg fisheries associate professor Russell Wright.
---
Breaking Mosiquitoes' Resistance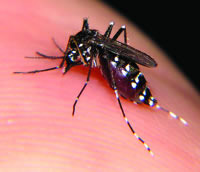 Insecticide-resistant mosquitoes
can transmit a wide range of diseases.
The global incidence of mosquito-borne diseases is projected to double to close to a billion cases annually in the next 20 years.
The main reason? Mosquitoes have developed resistance to insecticides, the most important components in the mosquito control effort worldwide.
But a pioneering study at Auburn University aims to uncover new genetic information that could lead to the development of novel strategies to bring mosquitoes under control and thereby reduce the prevalence of the diseases they transmit, including malaria, dengue fever and West Nile virus.
AAES researcher Nannan Liu, a CoAg insect molecular toxicologist, is spearheading the study, in which researchers will pinpoint the genes that are involved in resistance and identify the mechanisms through which that resistance has evolved. Those genes could then become targets for developing new, mosquito-specific insecticides that kill the bothersome pests and that are less toxic than current chemicals to humans, animals and the environment.
---
In-house Composting Offers New Options for Poultry Litter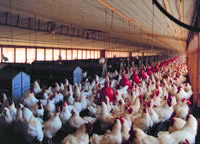 CoAg poultry scientists Ken Macklin and Joe Giambrone have found that in-house composting, a relatively simple procedure, may save poultry growers time and money in the long run.
Typically commercial broiler farmers leave litter in a poultry house for six or more consecutive growouts, then remove it from the house, compost it and often dispose of it on fields and pastures.
Because litter can harbor pathogens that affect birds and people, this practice presents a serious on-farm risk and also a biosecurity problem if insects, wild birds, animals and humans bring any of the pathogens back into the poultry houses.
In-house composting, which is done by forming windrow compost piles inside the poultry house, may be a solution to this problem. Macklin and Giambrone's studies have shown that in-house composting for five days effectively destroys a number of pathogens, including Campylobacter, Salmonella and at least two that affect bird health. Additional work has shown that ILTV, one of those that affects birds directly, can be destroyed by heating of the house to 100 degrees Fahrenheit for 48 hours and storing the litter for three months.
These unique procedures suggest that the combination of in-house composting and heating treatments can extend the useful life of poultry litter, thus reducing some financial burdens on poultry farmers. Also, safe litter reuse helps the environment because less litter will need to be spread on pastures.
---
Around the AAES
Stacy Wood Joins Ag Communications Staff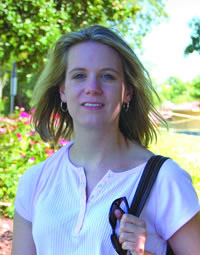 Stacy Wood
Stacy Wood joined the staff of the CoAg/AAES OfficeofAgricultural Commun-ications in October. A 1997 graduate of Huntingdon College, she has been a graphic artist at Jacksonville State University since 2003. She will be designing publications, exhibits and many other items, including future issues of Ag Illustrated, for the AAES and College of Agriculture.
She fills a position vacated by Terry Rodriguez, who retired in 2005 but has continued to design Ag Illustrated for the past year. This issue marks the final time that Rodriguez will lend her considerable talent to this publication. We will miss her graphic talents, but welcome Wood to the staff!
---
Creamer Wins Gold Award
Jamie Creamer, associate editor in the CoAg/AAES Office of Agricultural Com-munications,won a Gold Award for writing from the Association for Com-munication Excellence in Agriculture, Natural Resources and Life and Human Sciences (ACE), an international professional organization of land-grant based communicators.
The award was bestowed last summer as part of the ACE Critique and Awards program, an annual event that provides ACE members with professional critiques of their work and recognizes outstanding work among those professionals.
---
Harvesting Information from Farmers' Fields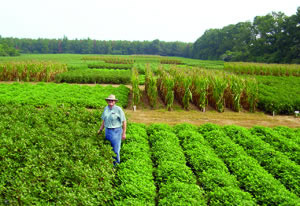 Randy Akridge, superintendent of the AAES's Brewton and Monroeville experiment fields, stands in a cotton rotation plot used to study reniform nematodes on the farm of Huxford producer Larry Ward. AAES plant pathology researcher Bill Gazaway is using Ward's nematode-infested field for on-farm studies. The field was part of a cotton tour held earlier this year for producers.