Smith, Hicks Receive Student Honors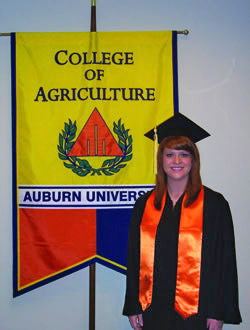 Grace Smith
Grace Smith, who graduated with her bachelor's degree in agricultural communications in August, was recognized for her outstanding contributions to the College of Agriculture and Auburn University through receipt of the CoAg Dean's Award for Academic and Professional Excellence. Smith also represented the College as the graduation marshal during summer semester commencement ceremonies.
From the time that Smith became an Auburn University student in fall 2002, she assumed a leadership role among her peers. She brought the skills and experience that she had gained through her years of FFA leadership training and her service as state president of Alabama FFA and immediately began to influence CoAg student activities. Her strength as a leader was recognized by her fellow Auburn students through her election to the position of SGA vice president of the College of Agriculture when she was a junior and as president of the College for the past year. She did an exceptional job in that position fostering numerous new activities across the College.
Smith was also involved in many other activities throughout her academic career. She was a member of the Ag Ambassadors and served as an officer in Alpha Zeta. She was a member of Block and Bridle, ALFA Young Farmers, the National Ag Marketing Association, the Collegiate FFA and the Agronomy Club. Because of her involvement in student activities and exceptionally strong leadership, she was elected to membership in Who's Who Among American Colleges and Universities, an honor received by very few students.
Smith worked in the CoAg Dean's Office during her senior year as coordinator for recruiting activities. In this capacity, she made all arrangements associated with CoAg recruiting activities throughout the year. The excellence of these activities served as a foundation for the growth in student numbers enjoyed by the college this fall.
The enthusiasm that Smith displayed throughout her four years as an Auburn University student will be missed by her fellow students and the faculty who were honored to work with her. She continues to be involved with the agricultural industry through her new position in public relations at the Alabama Farmers Cooperative main office in Decatur.
Michael Hicks, an animal sciences major from Rocky Mount, N.C., was honored through Dean's List recognition for summer semester. To qualify for this honor, a student must be taking a minimum of 14 credit hours and achieve a GPA of at least 3.70.
---
CoAg Student Services Department Adds Personnel
Don Mulvaney, a CoAg professor of animal and dairy sciences who has been coordinating student leadership programs for the college for several years, has been named the new coordinator of leadership and student development for the College. Mulvaney, who will serve in this position half time, is one of the new team members in student services, which has been reorganized following the retirement of long-time assistant dean Bill Alverson.
Other team members include Suzanne Shaw, who has been the CoAg academic adviser for six years; Deborah Solie, who is filling a newly created position of student recruiter for the college of Agriculture; and Megan Ross, who is the new CoAg student services specialist.
Solie is a 2004 graduate of Oklahoma State University with a degree in agricultural communications and minors in art history and agricultural economics. Ross is a 2001 graduate of Auburn University with a degree in human resource management.
---
Fall Semester Brings Continued Record Enrollments at AU
By: Bill Hardy, CoAg Associate Dean
Another large freshman class helped push the total enrollment at Auburn University to a new record level of 23,547 students. This number exceeds the previous record that was set last fall semester at 23,333, a 0.9 percent increase.
College of Agriculture enrollment also increased significantly, at an even larger rate of growth than for the total of Auburn University—2.8 percent. A record number of new freshmen—190—coupled with a significant number of new transfer students helped bring the total number of students in the College to 1,134, the largest level since 1983, when there were 1,183 enrolled. The total number this year includes 900 undergraduate students and 234 graduate students. The number of undergraduates is up 1.5 percent over last year and the number of graduate students is up a significant amount at 8.3 percent.
CoAg's undergraduate students are distributed over seven majors. The largest concentration of students is in animal sciences (351–increased 9.7 percent) and horticulture (221–decreased 11.2 percent). The next largest undergraduate program is in agricultural economics and rural sociology, where 175 (an 8.0 percent increase) students represent a record enrollment. Agronomy has 55 (an 8.3 percent decrease) majors, poultry science has 47 (4.4 percent increase) enrolled and the Department of Fisheries and Allied Aquacultures has 27 (a decrease of 15.6 percent) students. The smallest undergraduate program in the college is agricultural communications with 24 students, but even this program increased 26.3 percent. Limits placed on enrollment in this area of study by the AU Department of Journalism keep enrollment relatively low.
The largest CoAg graduate enrollment is held by the Department of Fisheries and Allied Aquacultures at 71. Other graduate enrollments are: agronomy, 30; horticulture, 29; entomology and plant pathology, 29; animal sciences, 28; agricultural economics, 26; and poultry science, 21.
The average ACT score for entering freshmen in the College of Agriculture this year is 23.9, slightly below the 24.3 average for all freshmen entering Auburn University. Out of the 10 AU colleges and schools, CoAg students rank fourth behind engineering (25.4), science and math (25.1) and architecture (24.4). Our students are significantly above the national average ACT of 21.1.
---
Alverson Retires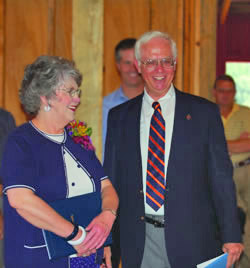 A reception was held at the new Red Barn facility in Ag Heritage Park marking the retirement of CoAg Assistant Dean Bill Alverson, who has for many years been the college's student recruiter and who is the first face that many CoAg students ever see from the college. Alverson and his wife, Snooky, are pictured here. Alverson was given emeritus status upon his retirement.
---
Student Services Faces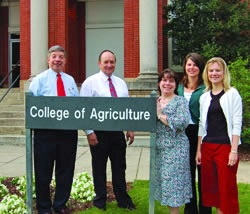 Following the recent retirement of CoAg Assistant Dean Bill Alverson, the college's student services unit has been reorganized and now includes some familiar and some new faces. Among them are, from left, Bill Hardy, CoAg associate dean for instruction who works closely with the student services team; Don Mulvaney, a long-time animal sciences professor who is now the half-time CoAg coordinator of leadership and student development; Suzanne Shaw, CoAg academic adviser who has been helping students for the past six years; Deborah Solie, who is filling the new position of CoAg student recruiter; and Megan Ross, the new student services specialist. Not pictured is Ann Gulatte, office administrator.