A primary way that CoAg and Alabama Agricultural Experiment Station expertise and information are passed on to the public is via the Alabama Cooperative Extension System. The following are just a few examples of Extension's latest efforts and accomplishments in the state, region and nation. In Our Opinion… Extension System specialists have been voicing their opinions in the state's newspapers during recent months, which is increasing awareness of issues and of Extension programs and projects. The following is an opinion piece that ran recently in publications throughout Alabama and beyond
Ecoterrorism an Increasing Threat to Alabama Agriculture
By: Robert Norton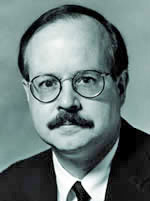 A few years ago, Earth Liberation Front (ELF) activist Craig Rosebraugh was one of countless Internet activists angrily hammering away on his keyboard, venting frustration over the paltry number of people drawn to his radical environmentalist agenda.
Somewhere along the way he changed, crossing the line from a vocal radical to one who actively espouses violence to achieve his goals. His rhetoric also changed, reflecting a more stridently Marxist, anarchic tone no longer preoccupied solely with safeguarding the planet from corporate greed. Teaming up with another disillusioned ELF activist, Leslie Pickering, Rosebraugh founded Arissa, whose primary goal, in his words, is unleashing "a social and political revolution" through acts ranging from "massive property destruction, to online sabotage, to physical occupation of buildings."
The growing number of Craig Rosebraughs underscores why the FBI now lists ecoterrorism as the nation's number one terrorism threat from inside U.S. borders. Indeed, since the Sept. 11 attacks, federal authorities have been struck by the increasingly violent and anti-American rhetoric espoused by many animal and earth liberationist groups, many of which openly embrace ecoterrorism—acts of violence in protest of harm either to animals or to the environment. Radical Islam, it seems, no longer may represent the sole or even the principal threat to domestic security.
Linked with groups such as Stop Huntingdon Animal Cruelty, Animal Liberation Front and ELF, ecoterrorism is occurring with alarming frequency in the United Kingdom and throughout the rest of Europe, particularly against corporate executives and scientists associated with genetically modified foods.
Attacks within the United States have been comparatively few and mild to date, but the number is increasing, as is the number of activists associated with radical environmentalism. Ecoterrorist groups also are becoming more sophisticated and better organized. Many are learning from and networking with other groups. Some are even joining forces with other radical organizations that share their stridently anti-American, anti-corporate agenda, including militant Islamacists.
Like many other radical groups, ecoterrorists are learning to use their small numbers to their advantage. More than 40 years ago, the federal government was able to defeat the Ku Klux Klan, a large centralized group, by penetrating its ranks with FBI agents. Ecoterrorist groups, on the other hand, understand the value of operating in very small groups for survival—a factor that makes them especially difficult to infiltrate.
Adding to this advantage is the growing affinity for "black-block" techniques developed and perfected by the underground communist movements in Italy and West Germany in the '70s—a strategy reflected in Rosebraugh's admonition to "strike again hard and fast and quickly retreat into anonymity." Much like rain clouds, these groups combine for periods of time to wreak havoc and then disperse just as quickly.
Borrowing a page from the Irish Republican Army, ecoterrorist groups not only are organizing more effectively but are building alliances with other radical groups willing to provide financial support.
Some radical environmentalists appear to be forging links with Central and South American liberationist groups funded through the narcotics trade and known to maintain links with al Qaeda-affiliated cells. These links raise all sorts of horrifying implications. In return for a steady source of funding, for example, U.S. ecoterrorist groups could assist al Qaeda-affiliated groups in smuggling people and weapons across our porous borders.
Alabama and other Southern states where poultry and cattle operations comprise key sectors of the farm economy would be especially vulnerable to a coordinated attack by ecoterrorist and al Qaeda-sponsored groups. Livestock farming, in particular, is an area where the objectives of Islamicist terrorists and ecoterrorists could converge with horrendous results. Documents obtained from al Qaeda hideouts in Afghanistan openly explore the possibility of introducing microbes and poisons into livestock and other farming operations, with the goal of crippling the $201 billion U.S. farming economy. Likewise, some radical environmentalists who condemn livestock farming as animal cruelty advocate similar attacks as the most effective means of dealing a devastating blow to livestock farming. Small wonder why: a single outbreak of foot-and-mouth disease on a U.S. cattle farm, for example, possibly could lead to the destruction of millions of cows and result in a worldwide ban on U.S. beef exports lasting for years. In spite of their professed devotion to animal rights, some radical environmentalists have condoned such attacks as acceptable costs of war.
The FBI estimates domestic ecoterrorism has cost the U.S. economy roughly $110 million since 1976. The introduction of one or more diseases into the nation's farming sector could cause tens of billions of dollars worth of damage.
Until the Sept. 11 tragedy, the U.S. government was slow to react to this risk. Now, federal authorities are becoming increasingly aware of the threat. The U.S. Department of Agriculture (USDA) is developing a rapid response network that will operate in the event of such an attack. This network and similar efforts, which will be supported by a projected $381 million in 2005, is part of an ambitious USDA plan to safeguard the nation's farms against potentially devastating terrorist attacks.
Norton is an Extension System biosecurity specialist and CoAg associate professor of poultry science. Visit his Web site at www.ag-security.com.
---
Simple Weapons Aid in Fight Against Alzheimer's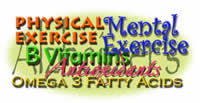 Next to cancer, Alzheimer's disease and similar forms of dementia probably strike more fear in Americans than any other diseases.
But researchers have uncovered a strong connection between Alzheimer's disease and certain lifestyle habits—exercise and nutrition, in particular—that are helping people cut these fears down to size, says Extension nutritionist Robert Keith.
The AU nutrition and food science professor and Alabama Agricultural Experiment Station researcher says millions of Americans at risk of developing these diseases could prolong and possibly even prevent their onset by incorporating the following into their lives.
Physical exercise–Studies suggest that even a moderate walking regimen of as little as two miles a day reduces one's chances of developing Alzheimer's by increasing blood flow and oxygen to the brain.
Mental exercise–Reading, working crossword puzzles, attending seminars and other forms of moderately strenuous mental activity appear to contribute to sharper brains less prone to dementia.
B vitamins–Getting the recommended daily amounts of B-12, folic acid and niacin appears to lower the risk of dementia, Keith says, noting that the vitamins reduce blood levels of homocysteine, an irritant to blood vessels that promotes free-radical damage and harms or inflames brain tissues.
Antioxidants –Studies have demonstrated that foods rich in antioxidants, particularly vitamins C and E, prevent free-radical damage to the brain. The same holds true for phytochemical antioxidants found in abundance in fruits and vegetables.
Omega 3 fatty acids –Omega 3 fatty acids, widely linked to healthier hearts, also have been found to promote healthier brains.
The bottom line, Keith says, is that people at high risk of developing dementia later in life have every reason to be heartened by these new findings.
"Instead of sitting and waiting for the disease to strike, they can attack it on several broad fronts through positive lifestyle changes," he says.
---
Pecan Crop Could Flourish in Ivan's Aftermath
Instead of wiping out Alabama's pecan industry, Hurricane Ivan actually may have reinvigorated it, Extension System horticulturist and CoAg horticulture professor Bill Goff says.
Goff says his early predictions that Ivan's destruction would lead many growers in Mobile and Baldwin counties—the state's top two pecan-producing counties—to call it quits and sell out to commercial developers was way off base, largely because of government disaster assistance that might cover as much as 75 percent of replanting costs.
"The initial 'we don't want to do this anymore' has given way to a 'can-do' attitude after the growers thought about it some more," Goff says. "A lot of the people I thought would not replant after the storm fooled me. In fact, I wouldn't be surprised if, because of this government assistance, we actually ended up with more trees."
Equally encouraging, he says, is an increasing desire among many growers with storm-damaged orchards to replace downed trees with newer pecan varieties that don't require as much spraying as older varieties. The newer varieties are associated with lower production costs and increased land values "because they fit better near residential areas," he says.
The newer varieties also will reinvigorate smaller orchards, which comprise the bulk of Alabama's pecan industry. Many of these already had fallen victim to diseases and pests and were in desperate need of renovation even before Ivan struck, Goff says.
"Ivan was a devastating storm, and I would be the last person to minimize the suffering it has caused growers," says Goff, noting that it wiped out 80 percent of 2004's crop. "But it does present us with an opportunity to transform 100-year-old orchards into something better in terms of pest resistance and possibly even ensure a brighter future for our growers."
---
Consumers Lose Pest-fighting Diazinon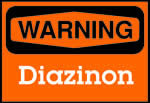 For homeowners, the ringing in of the new year sounded the death knell for diazinon.
As of Dec. 31, 2004, retailers can no longer sell outdoor diazinon home, lawn and garden products. It is illegal under the 1996 Food Quality Protection Act, which seeks to assess the safety of insecticides based on an individual's aggregate exposure to these substances from air, food, drinking water and other sources. Children are a special concern. The regulation's exacting standards already have resulted in the losses of several insecticides, and more losses are expected in the future.
While the loss of diazinon will not be tragic for consumers, it does mean they will have to be better informed when buying pesticides in the future. Diazinon is known as a broad-spectrum pesticide, meaning it traditionally has been labeled for use on a wide variety of insect pests, including fire ants and many common home- and vegetable-garden pests.
"This product has been popular among consumers for the simple reason it was broad-spectrum and didn't require much knowledge to use," says Lawrence "Fudd" Graham, an Extension System pesticide education specialist.
The good news is other insecticide alternatives are available. The bad news, Graham says, is that many of these are insect-specific, meaning they are effective only on one insect species.
"In some cases, these alternatives, while more expensive, will actually be more effective on pests," Graham says. "But the biggest challenge to consumers will be following the directions carefully and applying the product correctly."
Diazinon registrants are offering a buyback to assist with removing the product and preventing further resale. The registrants will repurchase any unopened, unused outdoor residential products from retailers or formulators. EPA is advising retailers to make all possible efforts to sell their diazinon products back to manufacturers by March 31, 2005.
Consumers may continue using any diazinon residential products they have according to label directions and precautions. However, if they opt to discontinue use, they should contact their state or local hazardous waste disposal program or local solid waste collection service for information on proper disposal.
Consumers are urged not to dispose of pesticides in sinks, toilets, storm drains or any body of water. In some cases, local governments may advise consumers to take diazinon products to household hazardous waste collection sites. For more information about the diazinon phase-out, go to www.epa.gov/pesticides/factsheets/chemicals/diazinon-factsheet.htm.
---
Herb Workshops Offered for Gardeners and Cooks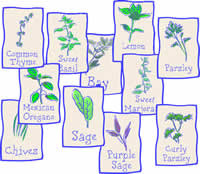 In an effort to help herb gardening enthusiasts learn to cook with herbs and herb-loving cooks to master the art of growing them, the Extension System has developed a workshop that caters to both crowds.
The first such event was held last fall at Kiesel Park in Auburn, with the goal of addressing many common culinary and gardening questions associated with herbs. The course attracted more than 60 gardeners and cooks from several Alabama counties and neighboring Georgia.
Keisel Park was chosen not only for its convenient, central location but also for its well-stocked herb garden, which has been developed and maintained by the Lee County Master Gardeners Association.
One of the strengths of the workshop was the opportunity for interaction among the participants, says Lee County Extension coordinator Chuck Browne, because "they could ask each other questions and learn from each other."
Participants also received an herbal recipe book compiled by the Russell County Extension office staff.
Organizers of the Auburn workshop vow this is only the beginning. Similar workshops are being planned for other locations throughout the state.
---
A New Alien Invader: The Asian Cockroach
The list of foreign species invading Alabama has just increased by one. The newest addition: Asian cockroaches.
These highly mobile, flying roaches were first identified in Dothan, where they already are well established in parks and homes. They also have been spotted in Abbeville.
Native to Japan, Asian cockroaches were first discovered in the U.S. in Florida in 1985. It is believed they were introduced to the United States via the Port of Tampa several years earlier. Since then, they've spread steadily into virtually every county in Florida, northward to Georgia and South Carolina and, now, Alabama, says Xing Ping Hu, an Extension System entomologist, AU assistant professor of entomology and Alabama Agricultural Experiment Station researcher.
Even though the cockroaches bear a striking resemblance to their German counterparts, they exhibit several notable behavioral differences.
German cockroaches are active only at night, run and hide when exposed to light, prefer crawling to flying and are predominantly indoor pests. Asian cockroaches, on the other hand, become most active at dusk and for a few hours thereafter, but they also can be active and take flight during the day if disturbed. They are strong fliers, and their activity at dusk and beyond is typically very frenzied, Hu says. They can survive in both indoor and outdoor habitats. Lights and other bright surfaces within homes act like beacons for the Asian roaches.
"People mistakenly believe the cockroaches are attacking them," Hu says. "But they are merely following people from room to room as they flip on light switches."
Hu fears the new arrivals will create all sorts of economic and health problems for Alabamians because their unique biology and mobility will render control efforts difficult. To minimize problems associated with Asian cockroaches, Hu recommends cleaning up debris around the home and sealing door and window screens tightly. Replacing white porch lights with yellow lights is effective, too, because Asian cockroaches can't see yellow.
If necessary, control outdoor infestations by using a solid or gel cockroach bait such as Combat®, Maxfore® granular or Niban® or by spraying with a general use insecticide, Hu says.
---
Fuel-Price Hike Hits Farmers Hard
Even as Alabama farmers harvested bountiful crops last fall, skyrocketing fuel prices, combined with low commodity prices, dealt them a costly blow.
"Almost everyone ends up getting pinched by higher fuel costs, but it's especially hard on farmers, who must pay for higher-priced fuel to run their trucks and their cotton pickers and combines as well," says Tim Reed, Extension coordinator in Franklin County.
Reed estimates that a four-row cotton picker picking 20 acres of cotton a day burns about 80 gallons of diesel fuel. Add another 10 to 20 gallons each to run the tractors and other equipment, and diesel costs ran as high as $170 a day, he says. For larger-scale cotton producers, operating three large pickers and other harvesting equipment meant fuel costs as high as $1,000 a day.
In the Tennessee Valley, many farmers needed to pick 800 pounds of cotton an acre to stay profitable in 2004, Reed says. The statewide average yield was 754 pounds.
On the corn and soybean fronts, farmers running mid-sized combines spent at least $30 more each day on fuel than in 2003.
The fuel cost spikes haven't been limited to diesel fuel, either. For many producers, there has been the added expense of propane and natural gas. Corn producers use propane to dry corn for storage to prevent molding. When propane costs are at their normal level of around $1 a gallon, it only costs 4 cents a bushel to dry them. In 2004, though, the cost was much higher, Reed says.
Broiler producers are especially vulnerable to spikes in propane and natural gas costs, he says. It's common for poultry producers to use between 3,000 and 4,000 gallons of propane annually to heat a broiler house, a sobering thought for many growers considering that propane is running 30 cents a gallon higher than a year ago.
Finally, there is nitrogen fertilizer, a farm staple derived almost entirely from natural gas. Virtually every producer will be affected if the prices remain high into this spring's planting.
"When a farmer is confronted with extremely high fertilizer and fuel prices and pitifully low prices for cotton, soybeans and corn, the chances of turning a profit are slim," Reed says.
On a more optimistic note, though, Extension ag economist Robert Goodman believes farmers will survive by doing what they've always done: keeping a level head and thinking on their feet.
"If history is any guide, they'll somehow find a way to cope and adapt to these extreme prices and continue producing the fiber we all need to survive," he says.