Agricultural Economics and Rural Sociology (AGEC)
Curtis Jolly, Interim Head
334-844-4800
www.ag.auburn.edu/agec
Faculty Accomplishments
James L. Novak, Extension economist and AEC professor, has been appointed as a shared faculty member with the Cooperative States Research Education and Extension Service in Washington, D.C. Novak will serve in the Economics and Community Systems project unit working on national policy, trade and marketing economics issues until October 2005.
Deacue Fields, AEC assistant professor, presented a program on the value of the green industry in Alabama at the Gulf States Horticultural Expo held in Mobile in January. Fields has done surveys of the horticultural industry to determine its value to Alabama.
---
Agronomy and Soils (AGRN)
Joe Touchton, Head
334-844-4100
www.ag.auburn.edu/agrn
Faculty Accomplishments
Agronomy and soils (AY) faculty are in the limelight and taking leadership roles.
Joey Shaw, associate professor of AY, is chair-elect of the Soil Science Society of America Division S-9, soil mineralogy division. Elizabeth Guertal, alumni professor of AY, is chair-elect of Crop Science Society's Division C-5, turfgrass management section.
In addition, the feature article in the flagship journal for forage ecologists and agronomists, The Journal of Range Management, was written by AY Associate Professor Mary Miller-Goodman.
---
Biosystems Engineering (BSEN)
Steve Taylor, Head
334-844-4180
www.eng.auburn.edu/programs/bsen
Fall 2004 Alumni Gathering Featured 1 / 4 -Scale Tractor Exhibition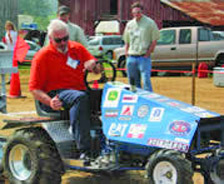 Dean Weiss tries his hand during the 1/4 scale tractor exhibhition
Alumni and friends from the Department of Biosystems Engineering (BSEN) joined other Auburn supporters during tailgating festivities on Oct. 23, 2004, prior to the Auburn-Kentucky football game at Ag Heritage Park to visit and watch mini tractors in action. A special feature of the event was an exhibition of Auburn's 1 / 4 -scale tractor design team, dubbed the War Eagle Pullers.
The Auburn–Kentucky football game provided a unique opportunity to highlight the 1 / 4 -scale tractor team's efforts because both Auburn and Kentucky have active 1 / 4 -scale tractor teams. Students from Auburn invited the Kentucky team to Auburn for the football game and to have a friendly tractor pulling exhibition during the tailgating activities.
Both teams demonstrated their respective abilities in tractor pulling on a track at Ag Heritage Park prepared with the help of AAES Facilities and Land Management Unit and AU students and faculty.
If you are interested in supporting Auburn's War Eagle Pulling team, please contact BSEN Associate Professor Tim McDonald at mcdontp@eng.auburn.edu.
BSEN alumni from as far back as the 1930s and as far away as Wisconsin were among the more than 70 alumni, faculty and students and their family members who attended.
If you are an alumnus or friend who wasn't able to attend this year's tailgating event, we are still interested in hearing from you. Contact BSEN Department Head Steve Taylor at taylost@auburn.edu with any recent news of your career or your family. We look forward to another such alumni event next fall.
---
Accreditation Activities Going Well
In November, BSEN underwent an extensive accreditation review of its undergraduate program by the Engineering Accreditation Commission of the Accrediting Board for Engineering and Technology (ABET).
All programs in engineering at Auburn were subjected to this comprehensive review that occurs on a six-year cycle. Maintaining engineering accreditation is not only an indicator that Auburn provides a first-rate BSEN program, but it is also a critical component in allowing BSEN graduates to become registered professional engineers as they progress in their careers.
The engineering accreditation process looked at how the BSEN program has established a set of educational objectives and educational outcomes for itself, if the graduates of the BSEN program were able to achieve those objectives and outcomes through the coursework and educational experiences at Auburn and if BSEN had successfully implemented a continuous quality improvement program. Also, the evaluation process looks at the quality and quantity of faculty dedicated to the program and the amount of resources devoted to it.
Although the final official results will not be available until the summer of 2005, the initial findings of the review were very good. This accreditation review, by one of the toughest accrediting bodies in the country, affirmed what we already knew: we have a great educational program and a wonderful group of staff, faculty, and students in BSEN.
---
BSEN Helped Assess Impact of Hurricane Ivan
One of the most significant events in fall of 2004 was Hurricane Ivan's visit to south Alabama. Even before Ivan made landfall in Gulf Shores, BSEN faculty were volunteering to help the Alabama Department of Agriculture and Industries in their post-hurricane assessment activities.
BSEN faculty offered their global positioning system (GPS) and geographic information systems (GIS) services to help map the damage from the hurricane. On Sept. 20, 2004, BSEN Assistant Professor John Fulton and Department Head Steve Taylor accompanied Ronnie Murphy, deputy commissioner for Agriculture and Industries, and Bob Jones, state conservationist with the Natural Resources Conservation Service, on a helicopter flight to make initial aerial assessments of agricultural damage from the hurricane. The flight, in an Alabama National Guard Blackhawk helicopter, took off from Montgomery and flew over Camden, Monroeville, Atmore, Daphne, Grand Bay, Mobile and the Gulf Shores area.
Using GPS and laptop computers running GIS software, Fulton and Taylor developed initial maps of locations with more severe damage. They observed damage to cotton and peanut crops, forestry and irrigation systems, barns and other agricultural structures. Investments in geospatial technologies are putting BSEN on the cutting edge of agricultural and natural resource management techniques.
---
International Exposure for Precision Forestry Advances
Auburn's research programs in precision forestry and precision agriculture are getting attention from around the globe. In November 2004, BSEN Professor and Department Head Steve Taylor, Graduate Research Assistant Christian Brodbeck and Auburn Forest Engineering alumnus Frank Corley were invited to give presentations on precision forestry at the Silvotecna conference in Concepción, Chile.
The conference, which is sponsored by CORMA, a Chilean forest industry group, brought together researchers from the U.S., Canada, Australia, New Zealand, Brazil and Argentina along with forest industry personnel from Chile. Taylor, Brodbeck and Corley discussed precision forestry research underway at Auburn and operational uses of precision forestry techniques. Precision forestry techniques discussed included Auburn's work in site-specific herbicide application, forest yield mapping and precision tracking of backpack spraying and tree planting operations. This international visit provided Auburn researchers and Alabama forestry practitioners the opportunity to observe foreign forestry competitors up close and learn new production techniques that may help Alabama forests become more productive.
---
Horticulture (HORT)
Charles Gilliam, Chair
334-844-4862
www.ag.auburn.edu/hort
Keever Receives Colman Award
The American Nursery and Landscape Association presented the 2004 Norman Jay Colman Award to HF Professor Gary Keever. The award is given annually to a person who has made noteworthy nursery research contributions and aims to stimulate nursery-related research work in land grant colleges and universities and other research institutions on the basic problems of horticulture as they pertain to the nursery industry.
Keever, formerly of Rock Hill, S.C., received a bachelor's degree in ornamental horticulture from Clemson University and his M.S. and Ph.D. degrees from Cornell University. In 1982 he joined the Auburn University faculty as an assistant professor, was promoted to associate professor in 1987 and earned full professor status in 1993.
---
HF Students Win Awards
HF was well represented in recent student competitions. Five students presented their research in the Bryson L. James Student Research Competition of the Southern Nursery Association Research Conference. Adam Newby of Smithville, Tenn., won second place in the master's category ("Postemergence Control of Liverwort in Container Production"); Brian Jackson of Lumberton, N.C., won third place in the master's category ("Cotton Gin Compost as a Substrate Component in Ornamental Container Production") and Josh Clark of Hartselle won third place in the bachelor's category ("Growth Regulators of Vinca minor").
Newby and Ben Richardson of Piedmont won student awards from the International Plant Propagators Society (IPPS)-Southern Region in October and were both selected to present a poster of their research at the 29th IPPS Southern Region annual meeting. Newby's poster was "Liverwort Control in Nursery Production," and Richardson's was "Postemergence Oxalis Control with Diuron: Minimizing Crop Injury with Timely Irrigation." Congratulations to these students for their hard work and accomplishments.
---
Garden Clubs of Alabama Donates House to HF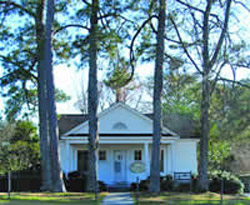 For more than 40 years, the cottage on the corner of the Paterson Greenhouse Complex has served as the state headquarters for the Garden Clubs of Alabama, Inc. (GCA). The cottage was originally one of the athletic cottages that once filled the Graves Amphitheater area. Through the years, various campus constraints and organizational changes reduced the day to day use of the cottage for the GCA. As a result, earlier this summer the Garden Clubs donated the building to the AU Department of Horticulture.
At the same time, the Alabama Nursery and Landscape Association (ALNLA) became in need of a temporary location to serve as a headquarters. For many years the ALNLA was located on the corner of Samford Avenue and South College. When relocation from that site was imminent, an agreement was reached for the ALNLA to upgrade and then occupy the Garden Clubs' cottage in exchange for scholarship support for horticulture undergraduates. The first scholarship recipients were Skyler Hays of Athens; Benjamin Berry of Loxley; Kyle Creamer of Auburn and Chappell Brown of Wetumpka.
---
Tilt Wins Prestigious Holly Award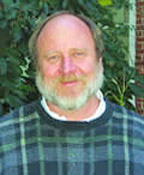 HF professor and Extension Specialist Ken Tilt was recently presented the Shiu-ying Hu Award, which is given to individuals who have made outstanding contributions to the knowledge of the genus Ilex (holly) through scholarly study and research, and who have disseminated this knowledge through teaching or publication in the Holly Society Journal or other technical or scientific media.
The Shiu-ying Hu Award was established in 1992 to honor Shiu-ying Hu of Harvard University for her lifetime study of the taxonomy of the genus Ilex and her position as an American author and authority on the hollies of China and the Far East. Hu was the first recipient of the award. Tilt was honored for his work with hollies and his Extension efforts to promote the production of hollies and to encourage their correct use in the landscape.
---
Entomology and Plant Pathology (ENTM)
Art Appel, Chair
334-844-5006
www.ag.auburn.edu/enpl
Faculty/Student Accomplishments
ENTPLP Professor Bill Moar recently received the 2004-2005 Auburn University Alumni Association's Under-graduate Teaching Excellence Award. He will be honored during a reception planned for March 4 at 4:00 p.m. in the AU Alumni Center in Auburn.
John Styrsky, a Ph.D candidate in ENTPLP, won the Gary A. Herzog Award (the first-place award) for a talk he presented during the oral presentation competition of the 2005 Beltwide Cotton Insect Research and Control Conference held in January in New Orleans. His talk was titled "Cotton aphids indirectly benefit yield by increasing fire ant suppression of caterpillar pests." He received a plaque and a cash prize.
---
AU Claims Second in National Linnaean Competition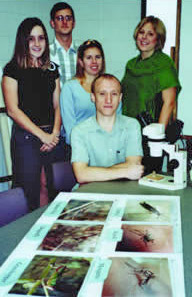 The Bug Experts–Members of the AU Linnean team include ENTPLP students Jason Forster, seated, and, from left, Elly Maxwell, Nathan Burkett, Laura Cooper(alternate) and Whitney Qualls.
In what animal—and where in that animal—would you find Dirofilaria immitis? Who discovered that malaria is transmitted by mosquitoes? What part of an insect's brain secretes the hormone that controls molting? What's the scientific name of the major parasite of the European corn borer?
Such were the questions that Auburn University's 2004 Linnaean team fielded and answered in claiming second-place honors at the Entomological Society of America (ESA) National Linnaean Games competition in Salt Lake City, Utah, in November.
The four-member team of graduate students in CoAg's Department of Entomology and Plant Pathology (ENTPLP) defeated the University of California-Davis and Virginia Tech to advance to the semifinal and final rounds in the national competition before finishing second to the University of Missouri. Other teams vying for the national championship title were Oklahoma State University, Clemson University, Cornell University and the universities of Idaho, Kentucky and New Mexico.
Members of the AU team included Jason Forster, captain, of Anneheim, Calif; Nathan Burkett of Creola, Ala.; Elly Maxwell of Freeland, Mich.; and Whitney Qualls of Etowah, Tenn. Laura Cooper of Chester, Va., was alternate. Coaching the team was ENTPLP Professor Gary Mullen. Auburn secured its spot in the nationals earlier in the year, when the team defeated North Carolina State University and the University of Florida to finish second in re-gional competition at the ESA Southeast-ern Branch meeting in Charleston, S.C.
In the national competition, the field of contenders is comprised of the first- and second-place teams from each of the five regions, or branches, of the ESA.
The Linnaean Games test teams on scientific knowledge, current events and trivia associated with insects and related organisms. Questions are drawn from nine areas of entomology, ranging from taxonomy and systematics to history and people.
The competition is named after Swedish biologist Carolus Linnaeaus, who developed the system for naming, ranking and classifying organisms that is still in wide use today.
---
Poultry Science (POUL)
Don Conner, Head
334-844-4133
www.ag.auburn.edu/poul
Moving Accomplished!
Poultry Science (PH) faculty and staff started the new year off moving into their new building, located behind the women's dorms off Lem Morrison Drive. The move actually began in December 2004, but was completed in early January.
The new 85,000-square-foot building includes laboratories, classrooms and office space and will enable program expansions that will directly support undergraduate students majoring in PH. It also represents the multi-disciplinary commitment of Auburn University because it contains laboratory and office space for researchers in the College of Human Sciences' Department of Nutrition and Food Science.
"Our research capacity will increase significantly with the type of labs we have now," says PH Department Head Don Conner. "They bring a nice complement to our capacity at the research farm to do live-bird research."
The dream of this new building began more than a decade ago when the PH Advisory Committee of the Alabama Poultry and Egg Association and AU PH faculty began to discuss the critical current and future needs of Alabama's largest agricultural industry. They realized that, while PH was rich in the desire to help the industry, it lacked high-quality facilities, and faculty and support personnel numbers were inadequate to meet the ever-increasing needs of the poultry industry.
A partnership of industry, federal and state governments and Auburn University began to work together with congressional and legislative leaders to identify sources of funding. That work helped raise $18.4 million to build the facility, which was funded from a combination of resources. Among those contributions were $5.8 million from a USDA-CSREES Building and Facilities grant, $500,000 from the Alabama Department of Agriculture and Industries, $5.5 million from the Agricultural Bond Issue, $1.1 million from the Alabama poultry industry, $5 million from the AU General Fee Board and $500,000 in Auburn University funds.
No specific date has been set to officially dedicate the building, but plans are to conduct a ceremony this spring. In the meantime, here's the new address for those who might want to visit the building in person: 260 Lem Morrison Drive, Auburn Univer-sity, AL 36849-5416.
---
Norton Earns National FBI Award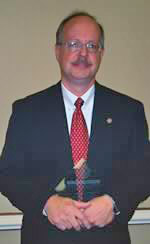 Robert Norton , associate professor of PH and research leader in the Poultry Micro-biology and Parasitology Laboratory, has been selected to receive the Federal Bu-reau of Investigation (FBI) Director's Award for Com-munity Leadership for the Mobile District in recognition of a national food security information network he has developed and maintains.

Norton's Web site, ag-security.com, was launched in 2002 and uses existing, new and developing technology to detect, identify and respond to both natural disease outbreaks and agriculture-based bioterrorist attacks.
The objective of ag-security.com is to improve the methods of protecting animal agriculture so the consumer is better assured of the continuation of a safe, readily available and economical food supply. Communication, training and outreach are key components of the program, as Norton, through his Web site, compiles data, studies trends and disseminates information throughout the U.S. to agriculture, industry, government, law enforcement and universities.
Norton, who joined the AU faculty in 1995, is a veterinary microbiologist with research interests in poultry diseases caused by bacteria and parasites and in finding non-drug solutions to these economically important diseases.
Timothy Munson, special agent in charge of the Mobile FBI field office, presented the award from FBI Director Robert S. Mueller III to Norton in ceremonies on the Auburn campus. One individual or organization from each of the FBI's 56 field offices was selected to receive the Director's Award for Community Leadership for 2004.
---
Top 10 Again!
The fourth annual Top 10 ranking of universities by Meat & Poultry , the business journal of the meat and poultry industry, included Auburn University's Department of Poultry Science (PH).
For the second year in a row, PH has been ranked in the Top Ten. This year's ranking is based on the quality and variety of workshops, conferences and short courses available at various universities through the U.S.
One shining point for Auburn was its work with the hazard analysis and critical control point (HACCP) plan mandate, which the journal says has transformed the role universities play in the education of meat and poultry industry professionals.
"Offering basic and advanced HACCP courses is the one commonality among all members of M&P's fourth annual ranking of the top 10 universities," the journal editors say.
The list, in order of ranking, of the 10 universities includes: Iowa State, Texas A&M, Arkansas, Kansas State, Georgia, Ohio State, Oklahoma State, Colorado State, Texas Tech and Auburn.
PH was cited for its exceptional programs aimed at poultry processors, and especially working with HACCP education and Online Food Law course, which has a current enrollment capacity of 70 people.
---
Fisheries and Allied Aquaculture (FISH)
David Rouse, Interim Head
334-844-4786
www.ag.auburn.edu/dept/faa/
Daniels Attends FAO Meeting
Department of Fisheries and Allied Aquacultures (FAA) Associate Professor William (Bill) Daniels recently attended the Food and Agriculture Organization (FAO) of the United Nations Expert Workshop on Cage Culture in Africa as an observer through the sponsorship of the United States Agency for International Development (USAID)-Uganda, the AU Department of Fisheries and Allied Aquacultures (FAA) and the International Center for Aquacul-ture and Aquatic Environments (ICAAE).
The workshop was conducted by FAO in collaboration with the Uganda Department of Fisheries and the Lake Victoria Fisheries Organization (LVFO) and the financial support of USAID. The workshop was held in Entebbe, Uganda, Oct. 20-23, 2004, and included experts from around the world. The objective of the workshop was "to promote a rational development of cage culture in the Africa region by elaborating a framework of good management practices based on practical cage-growing experiences from Africa and other regions of the world."
This was the second visit for Daniels to Uganda in 2004. The first was in March when he was accompanied by FFA Associate Professor D. Allen Davis to evaluate aquaculture development in Uganda and to specifically look at feed development through Davis' expertise. The first visit provided an opportunity to meet with faculty and administrators at Makerere University in Kampala to discuss the possibility of an International Academic Interchange Agreement between Makerere and Auburn University.
Prior to the workshop, Daniels personally delivered a signed agreement to the University Secretary at Makerere University to begin the newly established relationship between institutions. In addition to this agreement, Daniels furthered FAA's relationship with the Uganda Fish Farmers Association and the Ugandan Fisheries Resources Research Institute (FIRRI). Currently, plans are to provide training for two FIRRI technicians in aquatic animal breeding and fish disease diagnostics and to send an Auburn graduate student to Uganda for an international experience and research project.
---
Alabama River Guide Series Completed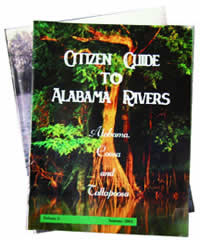 A Citizen Guide to Alabama Rivers on the Escatawpa, Mobile and Tombigbee river basins was recently edited by FAA staff members Wendi Hartup and Bill Deutsch and published by the Alabama Water Watch program. This completes the five-volume series of these reports on all major river basins of the state, which are available free of charge in hardcopy or pdf version from the Media section of www.alabamawaterwatch.org.
All five Citizen Guides publications are being distributed statewide through the Alabama Clean Water Partnerships. They are also being used in several classrooms and by the new ADEM Weatherman Project, where environmental information is included in television weather reports of stations in Montgomery (wsfa.iewatershed.com/index.php) and Mobile (wkrg.iewatershed.com/index.php).
---
Boyd Honored by USDA
FAA's Butler-Cunningham Eminent Scholar for Agriculture and the Environ-ment Claude Boyd recently received an appreciation award from the U.S. Department of Agriculture for work on the Joint Subcommittee for Aquaculture Effluent Task Force. This task force provided data and advice to USEPA related to the recent aquaculture effluent rule-making process.
---
Animal Sciences
Wayne Greene, Head
334-844-4160
www.ag.auburn.edu/ansc
Greene Named New Department Head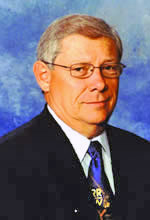 L. Wayne Greene, a professor of animal science in the Texas A&M University Sy-stem and a Faculty Fellow for the Texas Agricultural Experiment Station (TAES), has been tapped as the new head of the Auburn University Dept. of Animal Sciences. He will assume the duties on March 1. Greene, who has some 23 years of experience in the land-grant system, is a native of North Carolina who received his bachelor's and master's degrees from North Carolina State University in 1977 and 1979, respectively.
He earned the Ph.D. from Virginia Polytechnic Institute and State University in 1981 and joined the faculty at Texas A&M that same year as an assistant professor, working on the main A&M campus in College Station, Tex. He was promoted to associate professor in 1987 and to full professor in 1993.
In 1997 he was named Beef Cattle Program leader for the state and moved his research program to the Texas Agricultural Research and Extension Center in Amarillo, Tex. At that time he also joined the faculty of West Texas A&M University in Canyon, Tex., and became an adjunct professor at Texas Tech University. In 2003, he was honored with the title of Faculty Fellow, one of the highest academic honors bestowed on TAES faculty.
Through the years he has been involved in all aspects of the land-grant mission—as a teacher for both undergraduate and graduate classes, as a research scientist and as an Extension specialist.
"I am excited about working with the livestock industry in Alabama and I am looking forward to leading the Dept. of Animal Sciences at Auburn University to serve animal agriculture and science needs of the state and nation," he said of his new appointment.
---
Swine Project to Begin Soon
The AU Board of Trustees recently approved a resolution to increase the swine renovation project budget from $2.7 million to $3.5 million. Bids were received and opened on Nov. 11, 2004. The low bid will allow for construction of the office/laboratory building, breeding/gestation barn, farrowing/nursery unit, grow/finish unit and the feed mill. In addition, funds are available to purchase the equipment for the buildings. Construction should begin in the near future.
---
Faculty/Staff Accomplishments
Robert Ebert, Extension youth specialist in AS, has been selected to chair the National 4-H Livestock Judging Contest Management Committee. The committee is responsible for the overall management and operation of the 4-H livestock judging held annually during the North American International Livestock Expo. In addition, Ebert will serve as chair of the National 4-H Livestock Skillathon contest.
Frank (Skip) Bartol, professor of AS, will present an invited lecture, "Neonatal Uterine Development and Endometrial Programming," at the 7th International Conference on Pig Reproduction. The conference will be held in ROLDUC Abbery, Kerkrade, The Netherlands, June 12-15, 2005.