Ag Heritage Park Update
By: Robert Hensarling, Ag Heritage Park Director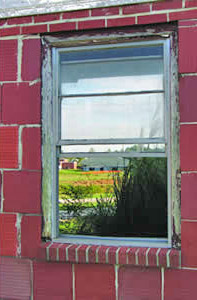 Looking to the Future–The site of the new pond viewed through the window of the Dairy Barn at Ag Heritage Park.
As we start a new year of work at Ag Heritage Park, it is time to reflect on the wonderful advancements we experienced throughout 2004. The fall tailgate season not only brought a 13-0 season for our beloved Tigers, but also introduced more than 5,000 guests to the future plans for Ag Heritage Park.
Each season the popularity and size of the "largest tailgate on campus" continues to exceed our greatest expectations. Our average visitation per tailgate was approximately 250 people, compared to 125 during the 2003 season. If you have not experienced this game-day tradition, I encourage you to do so during the 2005 season, when we will have five home games in a row!
As the plans for Ag Heritage Park move forward, we are constantly reevaluating our expectations for the expanded utility of this wonderful green space. In light of this process, we were very fortunate to host the Alabama Turfgrass Association's (ATA's) 43rd Annual Turfgrass Conference and Trade show. The three-day conference allowed turfgrass professionals from across the state to collect both education and recertification points while they also were able to "meet and greet" their peers and Auburn's turfgrass experts. During the meetings, attendees participated in a fund-raising event in which all proceeds went to support the operations at Ag Heritage Park. More than $6,300 dollars was raised in support of the park! I would like to thank all of the ATA board members, staff and members for their participation in support of this event.
One of the most significant points of progress for the park this year was the remodeled Herdsman's House. With contributions by Farmer and Betty Meadows and Kay and Tom Beaty, we were able to renovate the kitchen, upgrade the restroom and improve ADA accessibility to the house. When all of the expected renovations are complete, the Herdsmans' House will be a wonderful place for meetings and small events.
With the wet winter season almost behind us, construction operations will soon kick into high gear. We expect to make significant strides towards the completion of the pond, Pavilion and Red Barn by the fall of 2005. Please stop by the park and check on the status of our progress!
---
First-ever CoAg Workhorse Awards Presented
Bill Alverson gives high praise to Charlie Wilton and Tony Silva, recipients of the Dean's Workhorse Award.
The College of Agriculture is blessed with the presence of some special people—volunteers who work extra hard for the College without a nickel of pay. In 2004, for the first time ever, the College recognized a few of those volunteers with a new award called the Dean's Workhorse Awards.
This year's winners included Ray Hilburn, Shannon Vinyard and a team of exceptional cooks.
Hilburn, who is from Crenshaw County, served as president of Auburn's Ag Alumni Association in 1997 and 1998, and he continues to work diligently for the college. In June 2004, Hilburn was invaluable when the college hosted more than 200 people for the National Agricultural Alumni and Development Association's national conference in Mobile.
In addition, for the tenth year in a row, Hilburn coordinated the November Crenshaw County Ag Career Day finding sponsors and facilities and cooking the barbequed chicken for this major student recruitment event. And last year Hilburn continued his tireless efforts to support Ag Heritage Park and helped implement a new Family Farm Brick Program while also serving as a volunteer to the CoAg tailgates and Ag Roundup events.
Vinyard, who is from Geneva County, also devoted countless hours this year to serving the College of Agriculture, especially the biosystems engineering and fisheries and allied aquaculture departments. He volunteered to teach portions of mechanical power systems courses and laboratory exercises on alternative fuels, helped biosystems engineering students design their 1/4-scale tractor for competition and served as a resource person for the department's 1905 steam tractor, "Old Nancy." He also worked with faculty on new technology concepts for recirculating aquaculture systems.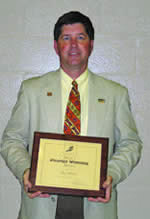 Ray Hilburn, another Workhorse Award winner, has worked diligently on behalf of the college for many years
Last spring, Vinyard was the keynote speaker for CoAg's Contemporary Ag Program, and in April, he conducted alternative fuel generator demonstrations to attendees at the Wiregrass Area Ag Career Day student recruiting event.
The final Workhorse Award for 2004 went to a group of people who really know how to put on a feed—Charlie and Carol Wilton and Tony and Dianne Silva.
Under Charlie Wilton's leadership, these four individuals prepared and served food to more than 2,600 people attending the six CoAg tailgates, Ag Roundup and graduation breakfasts this year. Their delicious food provided the perfect backdrop for CoAg's fundraising, networking and fellowship opportunities. Many thanks to all these award winners, who are so deserving of our praise and gratitude.
---
CoAg's 7th Annual Ag Classic Happening Soon
Spring is here and that means the CoAg's Seventh Annual Ag Classic is fast approaching! Plans are in place for an exciting event on May 5-6 that will include a wide range of events.
Ag Classic provides an informal setting for CoAg friends to return to Auburn for fun and fellowship with other alums, faculty and administrators. The central mission remains to strengthen support for the College and continue to build comradery.
---
Honorees Named for AU Ag Alumni Association's Hall of Honor Awards
Five outstanding Alabama agriculturalists will be honored on Feb. 15 when the Auburn University (AU) Agricultural Alumni Association holds its 2005 Annual Meeting and Hall of Honor Banquet in Auburn.
This year's inductees into the Hall of Honor, which pays tribute to living Alabamians for their contributions to Alabama agriculture, are Gerald Bailey of Cullman, Ann Barr of Auburn and James Cook of Evergreen. Ms. Barr is the former state 4-H program leader for girls who retired from the Alabama Cooperative Extension System in 1984 after 33 years of service to Alabama's youth. Bailey is the former live production manager for Gold Kist Inc. who retired in 2001 and is a prominent leader in the state's poultry industry. Cook is a dairyman from Evergreen who has been involved for more than 50 years in the dairy industry's development on the state and national levels.
Hoyt Adair, who operated Classical Fruits orchard in Moulton, and Henry Orr, a beloved AU horticulture professor who lived in Opelika, will be added to the list of Pioneer Award winners, who are honored posthumously for their contributions to the state's agricultural sector.
The awards will be presented during the banquet, which will be held on Feb. 15 at the AU Hotel and Dixon Conference Center in Auburn. Registration for the banquet begins at 5:30 p.m. and the banquet will begin at 6:30 p.m.
Tickets to the banquet and awards ceremony are $40 per person and must be purchased by Feb. 10. For the first time, the association is offering corporate sponsorships that help fund the banquet. Gold Corporate sponsorships are available for $500. Gold sponsors receive two complimentary tickets, a commemorative plaque and recognition in the banquet program. Silver Corporate sponsorships also are available for $250. Contributors at this level will be recognized in the banquet program.
Prior to the banquet, the Ag Alumni Association will hold its annual meeting and board of directors meeting in Room 109 of Comer Hall on the AU campus beginning at 1:30 p.m. All interested Ag Alumni members are invited to attend.
For more information about the banquet or meetings, contact Elaine Rollo at 334-844-3204 or at rollome@auburn.edu.