AAES School and College News
The following is news from our AAES-affiliated schools and colleges. For more information on the teaching, research, outreach or development activities of any of these academic units, contact them directly at their respective phone numbers or Web sites.
---
---
Quality of Life Awards Honor Committee of 19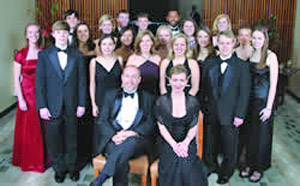 Nineteen students representing each school & college at Auburn University were honored at the Quality of Life Awards at the United Nations in New York for their work in the World Food Programme.
More than 300 people were on hand last December for the College of Human Sciences' (CHS's) 11th Annual International Quality of Life Awards at the United Nations in New York City.
Highlighting the event was the special tribute to the AU Committee of 19, a group of Auburn students representing each school, college and major campus organizations that is helping run the Auburn University/World Food Programme (WFP) "War on Hunger" student campaign.
As WFP's lead university partner, AU's goal is to create a hunger model that can be replicated by other universities across the nation and around the globe. Trevor Rowe, WFP spokesperson for North America, presented the World Food Programme Student Humanitarian Award to the Committee of 19.
Bradford Boney, president of Auburn's Student Government Association and chairman of the Committee of 19, accepted on behalf of the group. Members of the Committee of 19 received a standing ovation for their humanitarian contributions and the recognition they are bringing to Auburn University.
Also honored during the evening was Jim Rogers , a native of Demopolis, who received CHS's Lifetime Achievement Award. Rogers is a global investor and the author of Investment Biker: Around the World with Jim Rogers and Adventure Capitalist . He is a Wall Street legend whom Time magazine calls the "Indiana Jones of the financial world."
---
Logan Becomes First Inductee in CHS Hall of Honor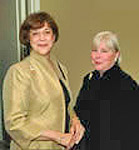 Sandra Logan, right, with Dean June Henton at CHS awards ceremony.
Birmingham resident Sandra Logan became the first Honorary Alumna of the College of Human Sciences (CHS) in a ceremony at Auburn University last October.
This Hall of Honor recognition is reserved for a very select group of individuals. These honorees are not graduates of Auburn University, but they have demonstrated a deep commitment to the Auburn Creed and to the CHS belief system in their personal and professional lives.
In bestowing this award on Logan, CHS Dean June Henton remarked, "Sandy Logan has truly been an outstanding friend of the College. She manifests all of the characteristics that I would be extremely proud to see in our Class of 2004. Her personal integrity and ethical behavior are traits that we would like to clone in our students today. Sandy is a classic example of what it means to turn practical experiences and a thirst for knowledge into a pattern of lifelong learning. She reads, she travels and she opens her mind and heart to people wherever she goes."
Logan was lauded as a person of conviction, seeing something that needs to be done and stepping up to the plate. She was the co-founder and first president of CHS's Women's Philanthropy Board. The board is made up of women who are committed to educating and inspiring current and future generations of philanthropists. Under Logan's dynamic leadership, the board has tripled in membership in its first two years of existence and generated more than $300,000 in pledges to benefit CHS.
She has further shown her dedication to Auburn through her support of numerous programs including the International Quality of Life Awards, CHS@AU in Italy study abroad program and the Jule Collins Smith Museum of Fine Art. She is also a lifetime member of the Auburn Alumni Association. She is a board member of the Greater Birmingham Humane Society, and she created the Choco Logan Children's Learning Center for that same society.
---
Forsythe Elected President of the American Collegiate Retailing Association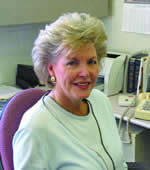 Sandra Forsythe
Sandra Forsythe, Wrangler professor of consumer affairs in the College of Human Sciences, recently was elected president of the American Collegiate Retailing Association (ACRA).
ACRA is a professional organization with a commitment to foster quality retail education at four-year colleges and graduate schools. Membership is composed of retail educators from four-year academic institutions.
Forsythe has been active in ACRA for nearly two decades, serving as vice president, secretary, development chair and ACRA newsletter editor. As president of ACRA, she hopes to enhance industry and academic collaboration.
In addition to teaching and professional service, Forsythe has conducted extensive consumer behavior and market research, publishing her work in numerous top-tier academic journals including Journal of Retailing, Journal of Business Research, Journal of Applied Psychology, Clothing and Textiles Research Journal and Journal of Shopping Center Research .
Forsythe, who has an AAES appointment, is internationally recognized for her research, having presented her work at numerous conferences in the United States, Europe, Central and South America and East Asia. She received the 2003 Outstanding Paper Award at the Seventh Triennial AMS/ACRA Retailing Conference and the 2002 Best Research Paper Award for the Journal of Consumer Marketing.
She has served as a reviewer for several funding agencies including the National Science Foundation, and as an industry consultant. She was editor of the Clothing and Textiles Research Journal , the leading academic journal in her discipline, from 1996 to 2000. Forsythe has received numerous competitive research awards from both academic and industry sources, totaling well over $1 million, to conduct both domestic and international consumer research.
She directed the research of three Ph.D. graduates, all funded with industry and/or academic grants and two receiving national awards for research excellence, and is currently working with additional Ph.D. candidates. Her principal research interests are consumers' brand and product perceptions, brand image development and online consumer behavior.
---
Auburn Professor Honored for Contributions to Improving Family Life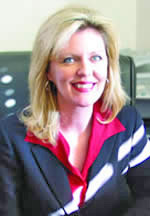 Francesca Adler-Baeder
Francesca Adler-Baeder, assistant professor and Extension specialist at Auburn University, recently was awarded the Family Life Early Career Achievement Award for the development of educational programs for stepfamilies.
The award was made during the annual meeting of the National Council on Family Relations held last year in Orlando, Fla.
Adler-Baeder was recognized for her creation of programs that help children and adults learn how to develop positive roles and relationships in step-families.
This program titled Smart Steps for Stepfamilies, is taught widely in Alabama and many states across the country. Smart Steps is a 12-hour course that provides remarried parents and their children with skills, behaviors and understandings necessary to create successful stepfamilies. Children/adolescents and parents meet in parallel groups. Parents learn simple strategies for facing hurdles and finding areas of enjoyment for the family.
Adler-Baeder has also been actively involved in the use of the Internet to provide current research information for professionals who work with families.
The Family Life Early Career Achievement Award is given on an annual basis to a family life educator who has made significant contributions to the engagement of the public in the areas of child development and family life. Recipients of the award must provide documentation of the scientific effectiveness of their educational programs.
---
---
Birmingham Zoo Gorilla Recovering Well with New Cardiac Device
A 24-year-old gorilla with cardiac disease is on the mend thanks to a College of Veterinary Medicine (CVM) graduate.
The gorilla, known as Babec, continues to progress at the Birmingham Zoo after being the world's first gorilla to receive a cardiac resynchronization therapy (CRT) device, a small pacemaker-size device that improves pumping of the heart.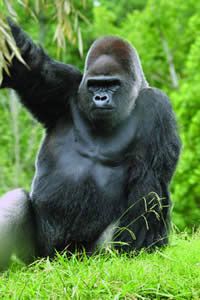 Babec benefits from CRT device.
Marie Rush , a 1998 CVM graduate, brought together a team on Sept. 25 to perform the six-hour operation on Babec, a 400-pound western lowland gorilla, in the zoo's hospital. The 14-person team consisted of veterinarians from the zoo and the CVM, medical doctors from the University of Alabama at Birmingham and private practice and representatives of the Guidant Corporation and Philips Medical systems.
Auburn's veterinary team members included Ray Dillon, the Jack O. Rash chair of medicine, and Jeff Hall, of Guidant Corporation and an adjunct professor for the college.
---
Bellah Named Director of Southeastern Raptor Center
Jamie Bellah of the College of Veterinary Medicine's (CVM's) Clinical Sciences division has been named director of the Southeastern Raptor Center.
A small animal surgeon, he joined Auburn in 2003 after serving five years in private practice and 14 years at the University of Florida, where he was chief of small animal surgery. His specialty is general and soft-tissue surgery and his experience includes surgery on a range of animals, such as crocodiles, panthers and exotic birds for the University of Florida's zoological medicine service. At Auburn he is also working with the CVM's oncology service.
Bellah replaces Ron Montgomery who served 16 months as interim director of the Raptor Center. Montgomery, an orthopedic surgeon, will return full time to the veterinary college where he has established a new physical therapy service for animals.
---
Boosinger Honored by Alma Mater Purdue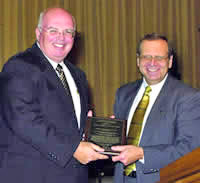 CVM Dean Timothy Boosinger (left) accepts the Distinguished Alumnus Award from Dean Alan Rebar of the Purdue University School of Veterinary Medicine.
The College of Veterinary Medicine (CVM) will host its first annual J.T. Vaughan Equine Medical Conference for the Practitioner on Nov. 5-7. More than 18 continuing education credit hours will be available for veterinarians in the study of equine neurology and lameness.
Tommy Divers of Cornell University, an internationally renowned equine internist, will be the guest speaker. Auburn University speakers will include AU veterinary faculty members Earl Gaughan, Reid Hanson, Joel Lugo, John Schumacher, Allison Stewart and Bryan Waldridge.
The College of Veterinary Medicine (CVM) will host its first annual J.T. Vaughan Equine Medical Conference for the Practitioner on Nov. 5-7. More than 18 continuing education credit hours will be available for veterinarians in the study of equine neurology and lameness.
Tommy Divers of Cornell University, an internationally renowned equine internist, will be the guest speaker. Auburn University speakers will include AU veterinary faculty members Earl Gaughan, Reid Hanson, Joel Lugo, John Schumacher, Allison Stewart and Bryan Waldridge.
The format will be four sessions over the weekend, each with two hours of lectures followed by two hours of wet labs. Individual lectures will be 20 minutes followed by 10 minutes of discussion.
The conference is named for Tom Vaughan, former CVM dean and an internationally recognized equine surgeon. He will kick off the conference on Nov. 5 with his lecture, "History of the Horse."
For more information, call 1-800-483-8633 or 334-844-3699.
---
New Mobile Equine CT Table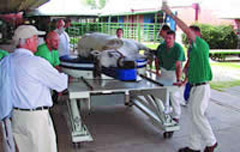 Ram Purohit, left, and John Hathcock, background, guide Auburn veterinary students as they roll a horse from the prep room to the CT-scan room.
CVM has purchased the nation's first equine mobile CT table, a laser-guided system that tracks the movement of a regular CT-scan table—allowing scanning for leg injuries and abnormalities of the brain, skull and nasal passages.
After being rolled above the regular CT-scan table, the new table uses a built-in laser tracking system to mimic the minute movements of the CT-scan table without any electrical or mechanical connections. A carousel platform lets the animal be rotated for placing an extremity into the CT-scan unit.
Another feature is that the 4,000-pound table is strong enough to transport a large animal. Veterinarians and students can lower the table almost to the floor, use a hoist to load an anesthetized horse, raise the table, and roll it from the prep room to the college's Ware Imaging Center.
Electrical engineer Art Gaines of Artec Imaging designed and built the patent-pending device after Auburn veterinarians expressed the need for moving large animals to the CT-scan unit. His company specializes in radiology equipment and supplied the new Large Animal Teaching Hospital.
---
CVM Hosting AU's Largest Annual Conference
CVM will host its 98th Annual Conference April 7-10 with more than 2,000 veterinarians, technicians and spouses in attendance. It will be held at the college's Wire Road campus and the Auburn University Hotel and Dixon Conference Center and will feature seminars, entertainment and class reunions.
"It's the largest educational conference held each year in Auburn," says Gary Beard , assistant CVM dean. "Guests can earn up to 22 credit hours of continuing education and gain valuable insight from a wide variety of experts."
Guest speakers include Jan Bellow, dentistry, Weston, Fla.; Randy Fitch, surgery, Colorado State University; Dru Forrester, internal medicine, Western University; Dee Griffin, beef cattle medicine, University of Nebraska; Holly L. Hamilton, ophthalmology, Denver, Colo.; David Pugh, nutrition, Fort Dodge Animal Health; Marie Rush, zoological medicine, Birmingham Zoo; and Steve Swaim, wound management, Auburn University. For more information, call 334-844-3699.
---
---
School to Help Host Urban-Rural Interface Conference
Faculty and staff in the School of Forestry and Wildlife Sciences are helping organize a meeting that will address the urban-rural interface.
Emerging Issues Along Urban-Rural Interfaces: Linking Science and Society is the title of the meeting, which will be held March 13-16 in Atlanta, Ga. The meeting will feature 220 paper/poster presentations, contributors from 28 countries and 31 states and diverse perspectives including forestry, ecology, urban planning and design, landscape architecture, environmental/ecosystem studies, wildlife management, economics and biology.
Keynote speakers will include Joseph Chamie, director of the United Nations Population Division; Jianguo (Jack) Liu, professor at Michigan State University; Peter M. Groffman with the Institute of Ecosystem Studies; Clifford S. Duke, director of Science Programs with Ecological Society of America; and David Wear with the U.S. Department of Agriculture's Forest Service.
For more information, go tohttp://www.sfws.auburn.edu/urbanruralinterfaces/.
---
---
Arboretum Offers Free Nature Experience
On Saturday mornings before Auburn University home football games, students in grades K-8 gathered at the College of Sciences and Mathematics Donald E. Davis Arboretum to participate in a program called Arboretum Days.
"We love the program," said Cate Giustino, whose son Christopher Parsons participated in Arboretum Days. "The instructors were really good at presenting the material on a level that was easy for children to understand."
Ginger Vedder, mother of participant Lauren Vedder, said of the program, "I can see our walks in the woods will never be the same."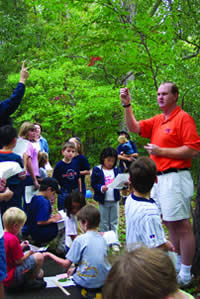 Rick Oates of the Alabama Forestry Association teaches young Arboretum Days participants how to identify different types of trees.
Arboretum Days, which offered a free pre-game nature experience to participants, began at 8:30 a.m. and lasted approximately one hour. A different topic was covered each week as students learned about insects and wildlife and also about the trees and plants that inhabit the 13-acre gardens.
"The program provided an activity for the younger crowd tailgating before each home game," said Arboretum Curator Christy Hartsfield . "I first got the idea when I noticed groups of children with little to do on Saturday mornings before the game. I thought this program would be a good opportunity to share with them some of the interesting things that happen in the Arboretum."
The program, which was sponsored by AU's College of Sciences and Mathematics, School of Forestry and Wildlife Sciences and the Alabama Forests Forever Program, benefits students in more ways than one, said Chris Erwin, Education Coordinator for the Alabama Forestry Association.
"First, the program reinforced, in a more natural environment, content that students receive from textbooks. Second, students begin to develop an appreciation for the environment and an understanding of the use of natural resources," he said. "Finally, by involving students in community programs, they develop a sense of ownership in places like the Donald E. Davis Arboretum and become more likely to support future programs and help take care of the property."
In addition to receiving a lesson in nature, participants also received a gift bag at the end of each program, which coordinated with the week's theme. The Arboretum is located at the corner of South College and Garden Street just south of the AU president's house.
---
Research Briefs
New Name for Old Friends Research Operations Becomes Land and Facilities Management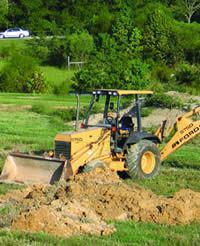 AAES Land and Facilities Management broadens the scope of Research Operations
For many years, AAES and CoAg researchers who needed help installing research plots or developing a unique tractor attachment specially suited for their research simply called on a group known as Research Operations.
Today, that same support help is still available. The difference is that the scope of that help has broadened, and the name of that group has changed.
Beginning in January, Research Operations officially changed its name to the AAES Land and Facilities Management unit.
According to Robert Hensarling, who is director of Ag Heritage Park and the Land and Facilities Management group, Research Operations was organized as a support team to help AAES and College of Ag researchers and to help with early-phase construction on facilities, buildings and roads on College and AAES land.
"We still serve as a quasi-service unit and do all those things, but we are even more involved in helping manage AAES and CoAg lands," says Hensarling. For example, Land and Facilities Management provides assistance with the maintenance routines for the AU beef teaching unit, poultry science's research facilities, the AU equestrian center and the North Auburn Fisheries Research Unit.
"We keep the basic functions going, such as building fences and taking care of pasture maintenance and fertilization. But we also help coordinate land use needs so we can keep everyone on the same page. And we serve as a liaison to the AU Facilities Division on CoAg and AAES construction projects," Hensarling adds. In addition to all that, the group also manages Ag Heritage Park.
"In other words, we're still doing all the things we've always done, and much, much more," he says. "We feel this name change better reflects what we do."
Anyone interested in learning more about the name change or the services provided by Land and Facilities Management can contact Hensarling at 334-844-3596 or at hensara@auburn.edu.
---
LEADERS Program is Changing Attitudes and Lives
"A life-changing experience," is how Randy Akridge, superintendent of the AAES's Brewton and Monroeville research units, describes a program that is changing the lives of Alabama agriculturalists from all across the state.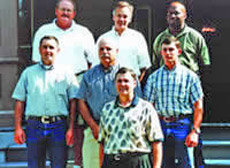 Dennis Evans (front) poses with other AAES, Extension and CoAg LEADERS participants. Pictured, from left, are (back row), Randy Akridge, Jeff Sibley and James Miles; (middle row), Kent Stanford, Larry Wells and Jamie Yeager.
Akridge is one of several AAES, Alabama Cooperative Extension System and College of Agriculture employees who are currently enrolled in the Alabama Agriculture and Forestry Leaders program—known by most as LEADERS. This two-year educational experience involves some 50 days of interaction, including seven in-state study institutes and national and international study tours aimed at helping up-and-coming individuals working in the agriculture and natural resources industries become leaders in their communities and states.
The class, which includes 27 people, will be together until August of 2006. In addition to Akridge other Auburn-affiliated class members include: Jeff Sibley, alumni professor of horticulture; Larry Wells, superintendent of the Wiregrass Research and Extension Center in Headland; James Miles, regional extension agent-horticulture in Mobile; Kent Stanford, regional extension agent-animal science in Pell City; and Jamie Yeager, farm business analysis fieldman from Prattville.
Administered by the Extension System in conjunction with AU's College of Agriculture and School of Forestry and Wildlife Sciences, LEADERS is coordinated by Dennis Evans, who views LEADERS as a way to take participants beyond the farm gate to the real—and sometimes rugged—world of public policy.
LEADERS began in 1984 and the current class represents the eighth group to go through the program. When the current class graduates, the LEADERS program will have produced 218 alumni. Many of those alumni are now in top leadership positions in state agricultural associations, corporate and government offices and in a variety of local organizations, boards and groups actively making a difference in their own communities.
For Akridge, the program has been eye-opening. "We've heard from and had interaction with many very successful, very driven leaders in agriculture," he says.
"We've heard the plight of the Alabama shrimp harvesters in Bayou La Batre with the illegal dumping of imported shrimp into the United States and how they are fighting this. We visited Buddy Martin of Semmes and toured his nursery, as he and his son-in-law, Bill Turk, who is president of Alabama Nurserymen's Association, explained the changes necessary over the years to continue to be successful in their ever-changing business. We visited the Alabama State Docks and got a firsthand look at the products being exported and imported and how they are affecting our economy.
"This program has really opened my eyes about the diversity of agriculture and forestry of the state," he continues. "All these proven leaders have told us, in their own words, what it takes to be successful and the qualities of a leader."
"I would certainly recommend the program to any one who is willing to be taken out of their comfort zone and challenged to think outside their farm gate or office door,' he says. "You will be introduced to the not-so-friendly environment of public policy and politics."
That, says Evans, is a primary goal of the program—to help agricultural and forestry leaders understand the challenges they are facing outside their immediate environment.
Evans cites one incident at a recent LEADERS study institute in Huntsville where LEADERS' students were discussing land-use planning.
"As it turned out, a Harvard University student intern happened to be working in the building where we held the discussion and asked to sit in and listen to the discussion," Evans recalls. "However, in an evaluation of the discussion later in the day, some LEADERS participants expressed a deep resentment over an 'outsider' being let into the meeting."
In an age of increasing globalization, Evans says, it is a type of narrow thinking that will have to change.
Evans nonetheless remains hopeful. Now in its 20th year, LEADERS already has turned out 191 graduates who are active in their professions throughout the state. He's been especially impressed recently by the sense of realism reflected in the 27 students who were selected to be in this year's program. And Akridge is just as impressed with the program.
"Right now, I really can't begin to imagine the impact of the total program, but there is no doubt it truly will be life changing."
For more information about the LEADERS program, contact Evans at 334-844-5552 or evansda@auburn.edu.
---
The Future of Agriculture in Alabama: Reinventing E.V. Smith Research Center, Part II
Issued in December 2004, a report on the reinvention of the E.V. Smith Research Center at Shorter, proposes a Center for Sustainable Rural Living and Learning (CSRLL) at the 3,200-acre facility. Located on Interstate 85, E.V. Smith Research Center is the most visible Auburn agricultural facility in Alabama.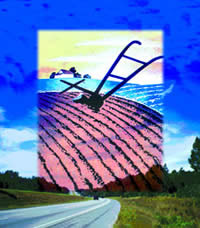 According to the report, titled Center for Sustainable Rural Living and Learning: Perspective, Values, and Strategy , the mission of the CSRLL is to serve as a research, education, extension and demonstration center for sustainable and environmentally sensitive rural living systems. It also will provide a means for anchoring teaching activities to the research station as well as providing common ground for institutions and groups working in the East Alabama I-85 Corridor.
The CSRLL is intended to have several impacts. One set of consequences bears on the research program and activities conducted by the AAES on the site. Another set of impacts relates to the broader role of the CSRLL in connecting agricultural and environmental science to the public at large through programs, experiences and events, and providing a gateway to East Alabama and Macon County. A third set of consequences pertains to the broader region of East Alabama and the I-85 Corridor, where the CSRLL will serve as a means for crystallizing and connecting a myriad set of initiatives and efforts currently under way.
A full version of the report and opportunities for feedback can be found on the Web at http://frontpage.auburn.edu/guyifon/csr11/index.htm. Rural Sociology professor Joe Molnar, co-chair of the committee, which issued the report, invites comments and reactions via the Internet. "The committee hopes that a number of people will view the report and send us their feedback." Molnar says, "We look forward to suggestions that can be submitted through the comment box facility on the Web page."