Academic Excellence! CoAg Students Rank High in Academics
By: Bill Hardy, Associate Dean of Agriculture
CoAg students have had among the highest college entrance exams scores at Auburn, and this year's crop of students is no exception.
The standardized test scores (primarily ACT) for the 169 freshmen who began their study in programs of the College of Agriculture (CoAg)last fall continued to be very strong. The average ACT of 24.0 placed our College fourth out of the 10 schools and colleges on the Auburn campus.
Students enrolling in the College of Sciences and Mathematics and in the College of Engineering were at the top. Those entering study in the College of Architecture, Design and Construction also had an average score that was slightly higher than those who entered the College of Agriculture.
In CoAg, the highest average ACT (25.6) was held by those students beginning their study in the Department of Poultry Science. Students entering the Department of Animal Sciences were second highest at 24.8. The average for students entering all departments was significantly higher than the national average ACT of 20.9.
Eleven of these outstanding freshmen demonstrated their academic excellence by making the Dean's List upon completion of their first semester at Auburn. Three accomplished a feat that many college students never see—a perfect "straight A" average! To be listed on the CoAg Dean's List, a student must be enrolled in 14 or more credit hours and achieve at least a 3.70 grade point average.
Many continuing students also performed well fall semester. A total of 63 (7.2 percent of all CoAg students) were listed on the Dean's List. Almost half of these students (29) had a perfect 4.0 grade point average. These high-achieving students came from all majors in the College.
Amanda Hibbert, left, and Suzanne Free
find firm ground in the CoAg learning community.
Students on the Dean's List for fall semester, by major, are:
Agricultural Communications
Devin Dotson
Kiley Harper
Agricultural Economics
Rebecca Chambliss
Mary Frances
Childree Will Sanford
Agronomy and Soils
Mark Doroh
John Frazier
Daniel O'Brien
Justin Roberts
Richard Smith
Justin Stuber
Jeremy Waldrop
Brad Young
Animal Sciences
Cheryl Auch
Marianne Bailey
Rachel Bearden
Alexandra Brasher
Holly Cauthen
Sara Choquette
Katie Cobb
Olivia Glover
Jarod Grantland
Amy Gravlee
Nicole Kennedy
Katie Krothapalli
Patrick Odenweller
Melissa Page
Katie Pehler
Robin Pumphrey
Jenniver Saunders
Steven Sirmon
Josh Smart
Jill Smith
Adam Tanner
Crystal Terrill
Kimberly Tidwell
Karyn Watts
Fisheries
Nathan Aycock
Lauren Littleton
Sara Rademaker
Horticulture
Christopher Bagents
Benjamin Berry
Zack Casey
Kyle Creamer
Charlie Goldman
Sarah Haldeman
Brandon Hall
Jane Hoehaver
Jacob Humphries
Alex King
Alexander Kocher
Myers Lacy
Rita McCutcheon
Alexander Moore
Danielle Parrott
Zach Randle
Robert Senn
Will Sherrer
Josh Smitherman
Chris Szymberski
Stephen Tompkins
Zoe Williamson
Poultry Science
Ashley Sanders
---
Graduation: A Time of Celebration and Recognition
By: Bill Hardy
Last December at least 58 people rejoiced. That's how many College of Agriculture (CoAg) students matriculated at the fall semester graduation, and it was truly a time of celebration for these students, their families and friends.
Two CoAg graduates were singled out for special awards–Sara Choquette and Trent Wilkes. The exceptional academic performance displayed by these two students and the contributions that they both made to their college and university made them worthy of special recognition.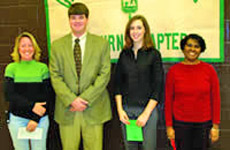 Among new Gamma Sigma Delta initiates
are, from the left, Jane Hoehaver, Stan Usery,
Danielle Parrott and Rasanthi Wijesinghe.
Choquette, a native of Anniston who graduated in animal sciences-pre-veterinary medicine, was chosen as CoAg's marshal for the graduation ceremony. In this capacity, she carried the CoAg banner in the processional that led all dignitaries into the ceremony. In addition, she was given special recognition when CoAg Dean Michael Weiss called the names of each of the graduates.
While in school, Choquette was an active Ag Ambassador and was a member of the Pre Vet Club, Alpha Zeta, Alpha Lambda Delta and Golden Key. She was honored by membership in Phi Kappa Phi, Auburn University's most prestigious academic honorary, and by Gamma Sigma Delta-The Honor Society of Agriculture.
Her education was supported by the W.F. Ward Scholarship, the James H. Hall Scholarship and the AU Trustee Scholarship. As a freshman, she was recognized by Gamma Sigma Delta as the outstanding freshman. She is currently working at a veterinary clinic and plans to enter the Auburn College of Veterinary Medicine this fall.
Wilkes graduated with a degree from the Department of Fisheries and Allied Aquacultures. He received the first Dean's Award for Academic and Professional Excellence. This new award, which will be given to an outstanding graduating senior each semester, recognizes students who excel in academic achievement and contributions to their college and university.
Wilkes, who is from Crossville, was an Ag Ambassador and active in the Auburn Wesley Foundation, participating in mission work of the organization. He, like Choquette, was inducted into Phi Kappa Phi and Gamma Sigma Delta. He received the Don Sands GoldKist Scholarship, the Alabama Catfish Producers Scholarship, the ALFA Scholarship, the Ag Alumni/Ag Ambassador Scholarship and the AU Trustee Scholarship. He will work with the Auburn Wesley Foundation in the area of missions until he enters graduate school this fall.
Several other graduating seniors also were inducted into Phi Kappa Phi including Carrie Lee Bateman-Baxley of Kissimmee, Fl., Jane Hoehaver of Auburn and Danielle Parrott of Madison. Other Gamma Sigma Delta inductees from this class included undergraduate inductees Hoehaver and Parrott along with Kimberly Greene of Hoover and Alica Varner of Union Springs. Patrick Carter-North of Ramah, N. M. and Rasanthi Wijesinghe of Sri Lanka and Stan Usery of Athens were initiated as graduate student members.

---
Top AG Faculty and Staff Earn Honors
Four outstanding faculty members in Auburn University's College of Agriculture (CoAg) earned top honors for 2004.
At end-of-the-year recognition ceremonies, CoAg Dean Michael Weiss presented the Dean's Award for Teaching Excellence to Don Mulvaney, professor of animal sciences and developer of the college's new minor in leadership studies, and the Dean's Award for Advising Excellence to Joe Eakes, a horticulture professor who regularly takes his role as adviser beyond class schedules and the classroom to helping prepare students for productive careers and lives.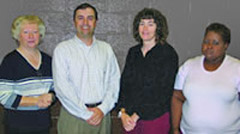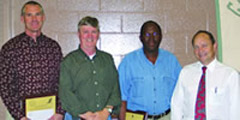 Left: Mary Lou Smith, Scott Parsons, Patty Tyler
and Nancy Heard. Right: Joe Eakes, Ed Cupp,
Oladiran Fasina and Don Mulvaney.
On the research side, Ed Cupp, an AU entomologist known internationally for his innovative research on medically important insects, earned the Alabama Agricultural Experiment Station Director's Research Award for senior faculty, while the Director's Research Award for junior faculty went to Oladiran Fasina, a biosystems engineering assistant professor whose research focuses on food and bioprocess engineering, with emphasis on adding value to biological products.
Also during the ceremonies, several staff members and administrative personnel were recognized for their exceptional performance during the year. Dean's Awards for Outstanding Technical Staff went to Amy Segrest, a lab technician in poultry science, and Jackson Corbin, agricultural technician at the Wiregrass Research and Extension Center in Headland, while Nancy Heard, associate office administrator in horticulture, earned the Dean's Award for Outstanding Administrative Staff. Earning Dean's Awards for Outstanding Administrative Professional were Scott Parsons, an accountant in the Department of Entomology and Plant Pathology; Mary Lou Smith, long-time fisheries administrative assistant; and Patty Tyler, research associate in animal sciences.
The faculty winners received cash awards of $2,000 each; the staff and administrative winners received $500 each.