In Our Opinion. Extension System specialists have been voicing their opinions in the state's newspapers during recent months, which is helping increase awareness of issues and also Extension programs and projects. The following is an opinion piece that ran recently in several Alabama papers.
Obesity Epidemic Costs Years of Life
By: Evelyn Crayton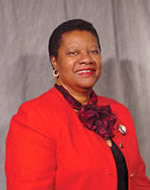 Evelyn Crayton
Alabama is in the midst of a health epidemic, one that is taking a slow but relentless toll on the lives of tens of thousands of Alabamians of all ages and races. The culprit is obesity. Nearly two out of every three Alabamians—64 percent—are overweight or obese, which accounts for why Alabama now ranks No. 1 in the number of obese and overweight citizens.
Obesity is also exacting a heavy economic toll, costing the state more than $1.3 billion in medical costs alone. It is associated with 39 million lost work days, 239 million restricted activity days, 90 million bed days and 63 million physician visits. Small wonder why: obesity places Alabamians at an increased risk of chronic illnesses such as diabetes, heart disease, hypertension, stroke, musculoskeletal conditions, various types of cancer and a host of other medical problems. Moreover, for every two-pound increase in weight, the risk of developing arthritis in increased by 9 to 13 percent.
Most significant of all, though, obesity is robbing us of precious years. Data compiled from several U.S. mortality records by a Johns Hopkins University Medical School study revealed, for example, that obese men in their 20s would lose 13 years of life-20 years for obese smokers in their 20s. A similar study conducted in Holland shows that people who become obese in their 40s lose about seven years of life.
The growing problems associated with obesity already are being reflected in the alarming rates of adult-onset diabetes among young adults and even teenagers-something that was virtually unheard of only a few decades ago.
The good news is that all levels of government-federal, state and local-increasingly are targeting obesity as a No. 1 health priority.
The U.S. Department of Agriculture's new dietary recommendations, for example, reflect a federal government that is more committed than ever before to encouraging Americans to take charge of protruding waistlines.
One notable change is the new emphasis placed on regular exercise. To maintain one's weight or shed extra pounds, the new recommendations urge Americans to get 60 to 90 minutes a day of moderate exercise.
Many of the nation's state legislatures and school boards also are getting into the act. An increasing number of state education boards are recommending, and in some cases requiring, schools to limit the amount of saturated fats and sugars served to school-age children, particularly elementary and middle-school students. Vending machine snacks high in saturated fats and sugars are increasingly being replaced with more nutritious fare.
Educational agencies such as the Alabama Cooperative Extension System are also designing programs to help consumers make healthier lifestyle choices.
Reversing poor lifestyle habits remains the most effective way to address Alabama's obesity epidemic. It would also go a long way toward solving other chronic health problems such as diabetes, another serious health problem for which Alabama is ranked near the top nationally. However, the longer we wait, the less effective these lifestyle changes will be.
So why not start now?
Evelyn Crayton is assistant director for Family and Community Programs for the Alabama Cooperative Extension System.
---
Bedbugs Back After Long Hiatus-Or Are They?
Until recently, the old saying, "Don't let the bedbugs bite," was entirely that -an old saying. Yet, it seems bedbugs, those quaint reminders of a rustic era, are returning with a vengeance, not only in American homes but, in some cases, even five-star hotels.
Xing Ping Hu, an Extension System entomologist and CoAg associate professor of entomology, gained firsthand experience with bedbugs growing up in mainland China. While she's intrigued with the growing public alarm over what is widely viewed as the return of the pests in the United States, she's not especially surprised by it.
Bedbugs, a worldwide pest in the early 20th century, seemed to have disappeared following the introduction of vacuum cleaners and powerful pesticides, such as DDT. Yet, as the bugs became more resilient and less toxic pesticides were introduced, their numbers began to grow-factors complicated by increased international travel.
Still, it's more complicated than that, she believes.
"So far, the bedbug problem seems generally confined to tourist accommo-dations and rental properties, which have contributed to this heightened concern," says Hu.
The good news is that bedbugs are not human disease carriers. Yes, they cause unsightly welts, along with irritating itching and burning sensations, but they're not life-threatening.
Bedbugs also can be effectively controlled with applications of multi-purpose synthetic pyrethroids, though Hu stresses that "treatment should not be considered a one-time event."
---
Supplements? Buyer Beware!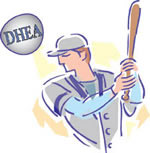 As Congress speaks out about steroid abuse in sports and even among adolescent girls, many health and nutrition experts find it ironic that one steroid product is still widely available as an over-the-counter product.
The steroid product is DHEA, or dehy-droepiandrosterone, one that advertisements brazenly state can "alter body composition" by converting to steroids in the bloodstream.
The widespread availability of this potentially harmful product across the country serves as a tawdry reminder of the inadequacy of federal regulations governing the marketing and sale of supplement products, says Robert Keith, an Extension System nutritionist and AU professor of nutrition and food science.
"It's interesting. On one hand, you have Congress in a fight with Major League baseball concerning steroid use among players, and similar concerns have been raised about steroid use in the NFL," he says.
"Yet, here is a product that can be easily purchased off supermarket, drugstore or nutrition center shelves all over the country." Yet, DHEA is not going away-at least, not any time soon. For now, he says, the operative phrase among consumers should be "buyer beware." In the meantime, he offers some rules of thumb that should be followed when purchasing supplement products.
Search the label for USP, shorthand for U.S. Pharmacopoeia, which discloses the product's content.
Stick with major brand names-the sorts of names one typically finds on the shelves of major retail drugstores.
Stay away from any product that contains a large number of different ingredients, claims to boost how you feel or offers easy weight loss or claims to enhance physical performance.
Avoid any products making outlandish claims.
Strive to become more knowledgeable about supplement products you want to buy.
---
Glyphosate Resistance: A Concern but Not a Calamity, Expert Says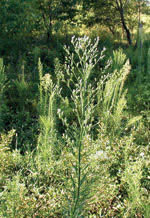 Horseweed has developed a tolerance for glyphosate.
Weed control experts are increasingly running up against weeds that can with-stand repeated applications of glyphosate, one of the most potent weed killers on the market. The biggest bugbear is horseweed, an unusually prolific, persistent weed widely found in the eastern United States. One biotype of horseweed appears to have developed tolerance to glyphosate, the herbicide of choice for the vast majority of southern cotton producers and a mainstay of the agricultural industry in general.
Some weed experts believe this resistance signals a serious wakeup call to farmers concerning the growing threat of herbicide resistance. Other weed scientists are less pessimistic, including Mike Patterson, an Alabama Cooperative Extension System weed scientist and CoAg professor of agronomy.
"As weed scientists, we like to say, 'Spray the weeds when they're the smallest because that's when they're the easiest to kill.'"
It's a simple but valuable maxim that was put to the test while Patterson and a fellow agronomist were working in north Alabama to address a persistent horseweed problem.
Working with Charles Burmester, a regional agronomist based at the Tennessee Valley Research and Extension Center in Belle Mina, Patterson set up a field trial in a farmer's field in March 2004.
Patterson and Burmester confirmed that glyphosate works on horseweed most effectively when enough of the chemical is brought to bear at the appropriate time.
In the future, Patterson says farmers may find it more economically feasible to begin adding other herbicides to their arsenal to control specific resistant weeds.
Some producers already are opting for 2,4-D, under several trade names, or small amounts of dicamba, sold under the name Clarity® when used in cotton fields as a burn-down product.
---
Tragedy Underscores Petting Zoo Risks
Life-threatening kidney infections that have affected nine children in Florida under-score the risks associated with petting zoos.
All of the children in Florida developed a condition known as hemolytic uremic syndrome, commonly known as HUS, after exposure to petting zoo animals in central Florida. The culprit is believed to be e.coli O157:H7, a pathogen found in the fecal material of animals.
Symptoms associated with HUS include bloody diarrhea, lethargy, anemia and decreased urine output.
While taking a child to a petting zoo strikes most people as a safe pastime, the risks are real-so real that many state health departments throughout the country either require or strongly urge petting zoos to include clean washing stations, says Jean Weese, an Alabama Cooperative Extension System food safety specialist and Auburn University professor of nutrition and food science.
She says parents and other adults visiting petting zoos with children should follow a series of steps to protect them from e.coli exposure.
The first rule of thumb-one that applies as much to adults as to children-is to wash your hands immediately after a visit to a petting zoo.
When washing stations aren't available, Weese advises using sanitizing lotion or moist towelettes immediately after children finish playing with the animals. Running water and soap are still the most effective safeguards, she stresses.
Caution older children to avoid putting their hands to their mouths or eyes until their hands are washed.