A-Number-One Volunteer Alum Devotes Time, Energy to Serving and Promoting College of Agriculture
By: Jamie Creamer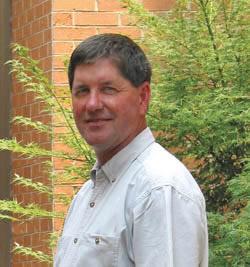 Ray Hilburn
Ray Hilburn is one of those people who gets by on four, maybe five, hours of sleep a night.
It's a good thing, too. That's all he's got time for.
Hilburn is a man on the move, a man in perpetual overdrive and one who, at a year shy of half a century, honestly has never known the meaning of the word burnout.
"People ask me how do I fight burnout, and the only answer I can give them is that I really and truly enjoy what I do," the AU Ag alumnus says. "I mean it when I say, I have never been bored a day in my life."
If he isn't at work in his job as poultry programs director with the Alabama Department of Agriculture and Industries, he's out somewhere, doing something, volunteering his time and his absolutely endless energy to some cause he believes in.
Foremost among those: the College of Agriculture at Auburn University.
His volunteer efforts earned him the college's first Dean's Workhorse Award in 2004 and, on a national scale, the 2005 Volunteer Service Award from the National Agricultural Alumni and Development Association.
That latter award has some tough criteria. To qualify, a nominee should have given freely of his or her time to further the goals of their institution, have demonstrated the ability to lead and organize and have demonstrated the desire to inspire and encourage others to support the institution.
That's Ray Hilburn in a nutshell.
Says CoAg Assistant Dean Bill Alverson, "Ray comes as close as anybody ever could to being the perfect volunteer."
He is an extremely active member of and leader in the AU Agricultural Alumni Association. Since serving as president in the late 1990s, he has remained an at-large member and has chaired probably every committee the association has.
You'll often find him at the CoAg graduation breakfasts, promoting membership in the Ag Alumni Association. And at the College's annual Fall Roundup and Taste of Alabama, he's everything from a traffic cop to emcee of the scholarship-fund-raising auction.
He's also one of the college's best student recruiters, particularly in his native Crenshaw County. For the past 11 years, he has personally arranged, cooked for and hosted Ag Career Days in Luverne, where he has introduced hundreds of high school juniors and seniors to Auburn University's College of Agriculture.
"Four years ago, we got the valedictorian, the salutatorian and the top two honor graduates at Luverne to enroll in the college," Hilburn proudly says. And if he happens to put a little extra emphasis on poultry science in his recruiting, don't hold that against him. That's where his strongest loyalties lie. That was his major.
It wasn't what he had planned. In fact, when Hilburn enrolled in AU in the fall of 1974, he wanted as far away from agriculture-and, specifically, poultry-as he could get. He'd spent his whole life already working at his daddy's poultry hatchery just outside of Luverne, and that was enough of that.
Throughout high school, he'd been heavy into sports, a near obsession that created more than a little conflict with his dad.
"Playing sports meant staying after school to practice, and that rubbed my daddy the wrong way," Hilburn says. "He wanted me at home, working."
On more than one occasion, Hilburn told anyone who was listening that, once he got out of Luverne, "if I never see another chicken again, it'll be too soon."
So it was that, when he came to Auburn, he didn't so much as glance at Ag Hill. His goal was to major in health and physical education and coach sports for a living.
Before that first quarter was over, though, Hilburn began to have second thoughts about spending his life as a physical education teacher, so he switched to accounting. Says Hilburn, "I'd always been good with numbers."
He lasted all of one quarter in accounting. The problem there was that Hilburn was then, is now and forever will be a "people" person. ("People are my hobby," he says.) He admitted that he couldn't see himself sitting at a desk crunching numbers all day.
He wound up in poultry science by default.
"I needed a job, and the only place where I knew anybody to ask about one was the poultry (research) farm," says Hilburn, who had three older brothers who had worked at the farm when they were at Auburn in the 1960s and early '70s. But when he went to apply, he was told that only poultry science majors were eligible to work there.
"Heck, I needed a job, and I needed a major, so I switched to poultry science," Hilburn says.
Immediately, Hilburn felt at home, not only because of his poultry background but also because of the people in the department and the college.
"It was like family," says Hilburn, who was one of only 12 undergraduates in poultry science at the time. "It was the kind of thing where, I had Dr. (J.G.) Cottier, and if you missed class, he'd call you at home and want to know why."
After earning his bachelor's degree in 1978, Hilburn went to work with ConAgra for three years as a broiler and breeder technician, then hired on with the state agriculture department in Montgomery, where he's remained for 23-plus years now.
There, he manages the National Poultry Improvement Plan, a federal-state-industry program designed to prevent and control egg-transmitted, hatchery-disseminated poultry diseases.
And, by the way, Mr. I-Don't-Want-To-See-Another-Chicken and his four brothers also farm in a partnership, Hilburn Farms, which includes 100 head of brood cattle-and four broiler houses.
He still lives in Luverne-or, specifically, in the Luverne suburb of Rutledge-and that means an hour-and-five-minute commute to and from work every day, but Hilburn doesn't mind the drive.
"I travel all over the state with my job, so on the days when I'm in the office, I consider that one of my 'light' traveling days," he says.
The father of three sons-22, 21 and 16-would just rather be near his family in Crenshaw County, where you'll find him active in everything from his church to the county industrial development board to Dixie Youth baseball.
"I don't hunt, I don't fish, I don't play golf," Hilburn says. "My hobby is people. I just love being around people. Other people are what life's about."
---
Presidential Ponderings
By: Jeff Helms, President of the AU Agricultural Alumni Association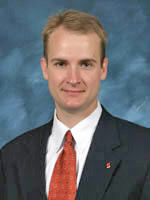 Jeff Helms
Anyone who's paced the hallways in Comer Hall, or crouched near the stairs for some last-minute studying, has no doubt stopped to gaze upon the faces of the leaders who've nurtured the growth of Alabama agriculture.
These men and women who make up the Alabama Agriculture Hall of Honor include innovative farmers, pioneering scientists, inspirational educators and champions of agribusiness. They are the visionaries who laid the foundation on which our agricultural economy has been built.
That's why I considered it a privilege to meet the latest inductees into the Hall of Honor: James Cook, Ann Barr and Gerald Bailey.
Individually, these inductees represent the best of their respective commodities and organizations, and collectively, they embody the enthusiasm, wisdom and innovation that make Alabama great. Perhaps more important, their careers have transcended time and distance-inspiring thousands of future leaders and shaping the face of agriculture both here in Alabama and across the country.
Within the dairy industry, few have contributed more to the success of farmers than James Cook of Conecuh County. His service in state and national dairy organizations led to programs that not only stabilized the milk market, but also increased the price farmers receive for their products.
Meanwhile, Ann Barr's legacy as the state 4-H leader for girls for 33 years continues to grow as the thousands of 4-Hers she inspired have gone on to mentor other Alabama leaders.
Gerald Bailey also continues to give back to the agricultural community. A native of Winston County, Bailey rose through the ranks of Gold Kist, eventually becoming field operations manager for the poultry company. Today, students at Auburn University enjoy the fruits of his labor each time they attend classes or labs in the new poultry science building or at the poultry research farm, for which Mr. Bailey helped secure funding.
This year's recipients of the Pioneer Award were equally deserving of recognition. Lawrence County farmer Hoyt Adair was a leader in preserving antique apple varieties and in introducing new and exotic fruits to Alabama. And, Dr. Henry P. Orr inspired thousands of students during his 34 years at Auburn University while earning national recognition as a leader in floriculture, flower arranging and the use of ornamental plants for erosion control.
Your Ag Alumni Association is proud to add these leaders to the Hall of Honor. While our association is involved in many activities throughout the year-from hosting Ag Roundup to awarding more than $20,000 in scholarships to deserving CoAg students-none is more important than honoring the men and women who've made Alabama agriculture strong.
---
Ag Heritage Park Update
By: Robert Hensarling
What a difference a few months make! We are excited to announce that the Pavilion at Ag Heritage Park is well on its way to becoming a reality. To date, we have completed the slab work and the walls for the restroom and kitchen. The next phase will include the installation of the super-structure for the beams and installation of the roof decking. Our plans are still on track to complete this project by the middle of November.
In addition, we have awarded the contract for building the Red Barn to Calhoun Construction of Columbus, Ga. We should see movement on this project by the middle of summer with a potential completion date of December 2005.
Seasonal rains delayed the pond construction. However, equipment and supplies are on-site and ready to continue the work. This project will take three or four months and should be completed by the end of December 2005.
Ag Heritage Park continues to be the gathering place for all of our friends in agriculture. This summer is no exception. The addition of The Market at Ag Heritage Park began on June 30 and will continue throughout the summer. Each Thursday, from 4:00 to 7:00 p.m. fruit and vegetable growers from around Alabama will offer their produce for sale at the Park. Please stop by and help support this new tradition! See page 1 for more details.
Keep your fall football date calendars open because we will again host the Fall Tailgates at Ag Heritage Park. Information about the schedule of events for the fall will be mailed out during July and appears in this issue's Calendar of Events.
As always, please stop by the Park and check on our progress!
---
Ag Classic Event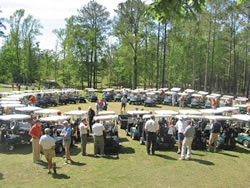 Golfers listen to the rules of play before hitting the trail at Auburn Links golf course May 4 during the AU College of Agriculture's eighth annual Ag Classic. Some 134 golfers participated in this event, while the Ag Classic fishing tournament on May 5 drew 13 anglers and the shooting clay competition featured 47 marksmen.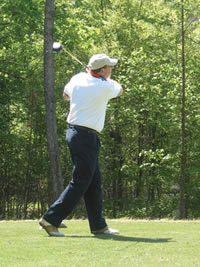 AU Agronomy Professor David
Teem takes a swing on Hole 1.
Between the tournaments and the annual Ag Classic auction, the two-day classic netted $16,642, to be used for scholarships and to support Ag Heritage Park.
---
Just Horsin' Around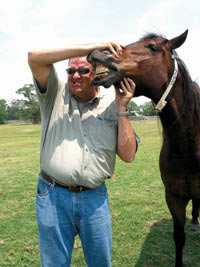 College of Agriculture alumnus Chris Alexander shares a smile with a horse at the AU Horse Unit. Alexander, who earned an animal sciences degree from Auburn in 1986, is now business development manager for Cargill Animal Nutrition's Southeast division and has been instrumental in establishing Cargill as a strong supporter of AU's equestrian team. In addition to sponsoring many equestrian team events, Cargill annually donates a year's worth of feed for the team's horses, a contribution worth more than $20,000 a year.
---
Thanks to our Donors!
The following is a list of donors who have given $200 or more to the AU College of Agriculture from January through July 2005. Many, many thanks to those who have contributed to the College and its affiliated projects. To learn more about how to give, contact the College's Development Office at 334-844-1475. When applicable, the donor's class year is listed beside the name.
ALCA
Advanced Microbial Solutions UC
Alabama Cattlemen's Association
Alabama Farm Analysis Association, Inc.
Alabama Lawns, Inc.
Alabama Turfgrass Research Foundation, Inc.
Christopher H. Alexander '86
Alltech Biotechnology Centre
William Alverson, Jr. '65
American Pacific Corporation
Amvac Chemical Corporation
Col. George Morris Anderson '55
Ariccia Partners, LLC
Ball Horticultural Company
Marcus Lee Bankston '95
James S. Bannon '69
BASF Agricultural Products
Bayer CropScience LP
Bayer CropScience
Thomas A. Beaty '62
Ralph R. Beauchamp '76
Zenon Bednarski
John Glasgow Blackwell '64
Robert O. Bugg '55
Cargill Cotton
Carolina Egg Development Corporation
Thomas Earl Casaday
Cole Properties, LLC
The Community Foundation of the Texas Hill Country, Inc.
Donald E. Conner
Willis Floyd Cook, Jr. '73
Danny F. Crawford
Dairy Farmers of America
Rodger Charles Daniel '83
Danisco Animal Nutrition
Dormex Company USA, LLC
Spencer George Douglas '65
Kevin Michael Downs '00
E I DuPont De Nemours & Company
Donald Eberly
Environmental Dynamics, Inc.
L. Cliff Evans '71
Donna Crabtree Fare '81
First South Farm Credit
John A. Floyd, Jr. '70
Givaudan Fragrances Corp
K. Galen Grace '73
Warren O. Haggard '78
Claude J. Hardee '01
Katharine Cunningham Hardy '99
William E. Hardy, Jr.
Sherry Hartz
B. James Harwell, III '72
Samuel B. Hay, Jr. '55
Hayes Investments, LLC
HighGrove Partners, LLC
D. Steven Hill '74
Tommy L. Hillard '63
Thoman Byrne Huddleston '72
William Joseph Hussey '99
John Blakely Isbell '75
Val Trawick Ivy '71
John W. Jensen '77
Johnson Daniel Drilling Company
Johnson Lake Management Service
Ralph R. Jones, Jr. '62
Johnny Wayne Jordan '69
Edward Henry Kane, III '93
Keystone Foods, LLC
Lester Killebrew, Sr. '68
Larry Greely Lee '66
R. Wayne McElrath '52
Corliss Meadows
Micrology Laboratories, LLC
Mark Lyle Miller '87
Charles C. Mitchell, Jr. '73
Jacquelyne E. Moore '90
Fred Moultrie '48
Clarence M. Murphy, Jr. '53
Robert Murphy '53
Vayden L. Murphy, Jr. '74
Naturize BioSciences, Inc.
Nitragin
ORGANICAM
Mario M. Pamatmat '58
John F. Parker, Jr. '66
Martha Peters Parrish '68
Peco Foods, Inc.
Frederick A. Pehler, Jr. '77
Perdue Farms, Inc.
Phyton Corporation
Hannah Simmons Pickworth
Plant Development Services, Inc.
Camp Powers
Paul McWhorter Pruitt '41
R. W. Donaldson
Ernest Douglas Rigney '58
Riverport Sales, Inc.
Robert Michael Rowe '78
Sakata Seed America, Inc.
Edzard van Santen
Lane D. Sauser '83
Ann K. Scully '86
Janine M. Slick
J. Randolph Snell '46
Southeast Greenhouse Conference
Staplcotn
State Farm Companies Foundation
Eugene Steele '80
Katherine Stephens
Stoller USA, Inc.
Syngenta Seeds, Inc.