AAES School and College News
The following is news from our AAES-affiliated schools and colleges. For more information on the teaching, research, outreach or development activities of any of these academic units, contact them directly at their respective phone numbers or Web sites.
---
---
HRMT Students Participate in Study Tour of Napa Valley
Twenty competitively selected students from the College of Human Sciences' Hotel and Restaurant Management (HRMT) program spent the week of June 5-11 participating in an Epicurean Tour of Northern California. The purpose of the study/travel course was to expose students to the emerging tourism sector and the gourmet tourism experience within the Napa and Sonoma Valley wine regions of California.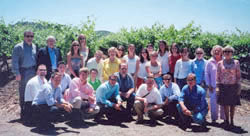 HRMT students at Regusci Vineyards
As part of the educational experience, students were exposed to growers, vintners and culinary artisans who combine cutting-edge science with traditional techniques to pair the very best food with world-class wines. In addition to on-site tours, students were afforded the opportunity to learn first hand about the intricacies of developing, operating and marketing a world-class gourmet tourism product.
Major benefactors for the Epicurean Tour included Leonard Peterson & Co., Inc., of Auburn whose financial generosity allowed for full development of the program. Additional sponsorships included the following: Wente Vineyards, E. & J. Gallo Winery, Allied Domecq, Rosenthal, The Ritz-Carlton San Francisco, Quintessa, Rodney Strong Vineyards, Pisoni Vineyards and Winery, Regusci Winery, Muira, Domaine Chandon, Seguin Moreau, Opus One and Hepp Germany.
According to Susan Hubbard, director of the HRMT program, the Epicurean Tour was a truly unique hospitality learning experience for our students. Not only did this study/travel course afford participants the opportunity to enhance their knowledge of gourmet product development and marketing strategies, it also contributed greatly to their overall professional growth.
"We are tremendously grateful to Roger and Joyce Lethander of Leonard Peterson & Co. who provided major financial support and to all the California-based industries whose sponsorships helped bring this experience to full fruition," Hubbard adds.
---
El Sheikh Named Alumni Professor
Mona El Sheikh, professor of Human Development in the College of Human Sciences, was recently named an alumni professor by the Auburn University Alumni Association. El Sheikh's primary area of research interest is developmental psychopathology with a focus on associations among family conflict, parental alcoholism and children's adjustment, physical health and cognitive functioning.
---
---
CVM Names Distinguished Alumni
The College of Veterinary Medicine (CVM) recently named Drs. Gregg Boring (Class of 1970) and Marcus Martin (Class of 1958) as the 2005 Wilford S. Bailey Distinguished Alumni.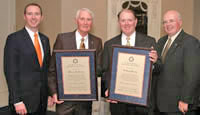 Shown (left to right) are Dr. Mark Pelham,
chair of the Veterinary Alumni Advisory Council;
Dr. Marcus Martin; Dr. Gregg Boring; and
CVM Dean Timothy Boosinger
Boring is interim dean of the Mississippi State University College of Veterinary Medicine, where he is a professor of radiology in the Department of Clinical Science and director of the Biomedical Research Center. He has taught 35 years at three universities and has been the principal investigator on 87 projects totaling more than $15 million.
Martin, of Birmingham, retired in 2002 after practicing 44 years, including 41 years at his Centerpoint Animal Clinic. He has been a member of the Alabama Veterinary Medical Association since 1960, serving as its president in 1974-1975 and receiving its 1979 Veterinarian of the Year Award.
---
Palpation Team Wins First Place Nationally
The College of Veterinary Medicine's (CVM's) Palpation Team won first place in March at the national symposium of the Student Chapter of the American Veterinary Medical Association.
Junior students Marc Caldwell, Madeline Ross, Seth Taylor and Nick Weldon won the event held at Texas A&M University. Individually, Weldon won first place, Caldwell third and Taylor fourth. Teams from Auburn have won the competition five out of the last six years, with the only non-winning year being when the team did not compete due to airline problems.
CVM professors Gatz Riddell and Julie Waldrop are the team advisers.
Veterinarians use palpation exams for artificial insemination, non-surgical recovery of embryos for embryo transfer, pregnancy diagnosis, breeding soundness and diagnosis of cystic ovarian disease and uterine infections.
---
Britt Wins El Toro Award
Dr. Jenks Britt of Bowling Green, Ky., recently won the El Toro Award for excellence in food animal medicine from the College of Veterinary Medicine (CVM).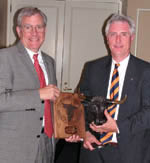 Jenks Britt (left) accepts the
El Toro Award from Dr. David
McClary, the 2004 recipient and
a member of the Veterinary
Alumni Advisory Council.
Britt, who earned his veterinary degree in 1970, is an associate professor in Western Kentucky University's Department of Agriculture, where he served as department head from 1998-2004. For the last 11 years, he has also worked with six large dairies, with 550 to 1,500 cows each, in Mexico.
---
Vodyanoy Honored by Auburn University
Vitaly Vodyanoy of the College of Veterinary Medicine has been honored as Auburn University's 2005 Distinguished Graduate Faculty Lecturer and as the 2005 Creative Research Award recipient.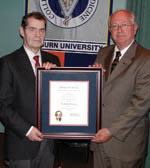 Vitaly Vodyanoy (left) accepts
the Distinguished Graduate
Faculty Lecturer Award from
President Ed Richardson.
His primary research interests include sensory physiology, receptors, biosensors and optics. Most recently, his new optical microscope has led to the development of a new company, AETOS Technologies Inc. that is working with Auburn to commercially market his research.
---
---
Forestry and Wildlife Sciences Building Complete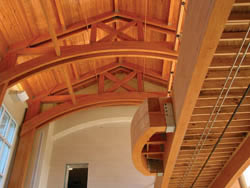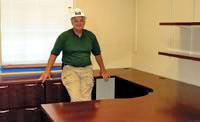 On the left, Beautiful wood detailing graces the entrance to
the new forestry building. On the right, Glenn Glover, SFWS Building Committee chair, shows off new office space.
The long awaited new School of Forestry and Wildlife Sciences (SFWS) building is officially open after almost a decade of planning and fund raising, and two years of construction. Dedication of the building is set for Aug. 26, 2005.
The 110,000 square-foot facility is located on Duncan Drive adjacent to the oldest forested area remaining on campus. The facility was designed with several tenants in mind: to treat the forested area as a "sacred space" by linking the building's interior and exterior environs; create a pedestrian-friendly environment; provide a main entry that features forest products and wildlife resources; offer a space and flow that promotes interaction among faculty, staff and students in both formal and informal settings; provide flexibility and expandability; create zones that support classroom, administration and research functions; and incorporate sustainable design principles of energy conservation, recycling, resource management and preservation.
The $24.5 million, four-story structure will provide state-of-the-art teaching facilities, modern and spacious research laboratories and project rooms (for non-wet lab faculty) and appropriate facilities for administration, extension and outreach activities. It has a 150-seat Conference Hall that will be used internally by faculty and students and will attract professional, association and landowner meetings. Undergraduate students will again have a lounge to call their own, with a separate lounge and library for faculty, staff and graduate students. There will be several conference rooms to support faculty needs and adequate storage space for research, teaching and support equipment. The new facility will help attract and retain quality faculty and students and facilitate the teaching, research, and extension and outreach activities and responsibilities of the School for many years to come.
This building marks a bright future for one of Alabama's biggest industries. For more than 50 years, Auburn's forestry program has provided well-prepared graduates for the workforce, practical and forward-thinking solutions to industry challenges and a continuous flow of resources and information for landowners, practicing foresters, industry professionals, government representatives and the general public. In addition, Auburn's wildlife science program has conducted significant research resulting in the restoration and proper management of a diverse array of wildlife populations throughout the state and has educated hundreds of wildlife biologists. The merger of these two programs, forming the SFWS, is dedicated to nurturing an era of sustainable natural resource management that will ensure future generations of Alabamians abundant supplies of forest products, diverse wildlife populations and clean air and water.
A building that mirrors the technological advancements of the 21st century was desperately needed if the SFWS was to strive toward the top tier of programs nationally for forestry and wildlife science education, research, extension and outreach. The new School of Forestry and Wildlife Sciences Building will provide ample space for the SFWS's existing forestry and wildlife science programs and is designed to be flexible enough to accommodate additional growth over the coming decades.
Funding for the building was provided primarily by non-University sources. A $10 million federal grant through the U.S. Forest Service provided the initial funds; followed by $7 million from the Agricultural Bond Issue passed by the Alabama voters in 1998. There was an allocation of $500,000 from Auburn University with the remaining funds coming from 42 private donors that included individuals, families, foundations and companies. These donors will be recognized in a prominently displayed Donor Wall in the main entrance and plaques will be placed at each named room or space.
The dedication ceremony will be held on the afternoon of Aug. 26 in the new building and is open to the public.
Visit www.sfws.auburn.edu then click on the building to see a live webcam and regularly updated images and reports of the building's progress. For more information about the building contact Glenn Glover, SFWS Building Committee chair at glovegr@auburn.edu or 334-844-1019.
---
The Longleaf Alliance Wins Prestigious Awards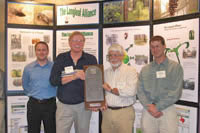 Pictured, from left, are John McGuire,
outreach coordinator of LLA; Dean
Gjerstad, LLA co-director and professor
of forestry; Rhett Johnson, LLA co-director
and director of the Solon Dixon Forestry
Education Center in Covington County;
and Mark Hainds, LLA research coordinator.
The plaque is made from a roof slate from
Grey Towers located in Milford, Penn., the
ancestral home of Gifford Pinchot, founder
and first chief of the U.S. Forest Service.
Longleaf pine was once ubiquitous in Alabama and the South, but years of cutting and conversion to other land uses has severely reduced longleaf pine ecosystems. A decade ago a passionate pair of men decided to take action to restore this tree and the ecosystems it supports, and now this work is helping to bring back this icon of the South and also winning awards in the process.
The Longleaf Alliance was established in 1995 by AU's Dean Gjerstad and Rhett Johnson with a mission to promote the economic, ecological and social values of longleaf pine ecosystems and restore functioning ecosystems as a significant component of the southeastern US forest landscape across its natural range.
According to Gjerstad, the strategy has been to develop social, economic and ecological arguments for longleaf pine to appeal to a variety of private landowners and public agencies. Over the nearly 10-year period of its existence, the LLA has organized, conducted or made presentations at nearly 600 workshops and conferences in 15 states.
This remarkable effort has been due to the work of Gjerstad, Johnson, Mark Hainds and John McGuire, the other two members of the LLA Staff. By providing the necessary information for landowners, the LLA has helped to halt the decline in acreage by retaining and restoring longleaf pine and reestablishing the tree and accompanying suite of plants and animals in areas where longleaf pine occurred in the past.
Longleaf offers landowners superior wood products that provide greater economic returns and risk aversion due to its resistance to fire, disease, insects and other damaging agents common to other southern pines. In addition, its open stands promote a diverse ground cover plant community that provides habitat to a multitude of insects, birds and animals. Johnson reasons that longleaf forests are ideal for landowners because they provide excellent economic returns from timber, pine straw and wildlife amenities while benefiting the environment through enhanced water quality and ecological restoration.
Today there are more than 700 active LLA members, some renewing their membership for the ninth time. These members range from individuals to agencies. The LLA has become the clearinghouse for information on "all things longleaf" and the catalyst for longleaf activities among its partners. These partners include state and federal natural resource agencies, the forest industry, environmental groups, natural resource consultants, nurserymen and private forest landowners. The LLA Web site has had more than 25,500 hits in the last two years.
Since 1996 approximately 600 million longleaf pine seedlings have been sold and planted on about 1 million acres, a seven-fold increase over 1984 seedling production.
One quality measure of the LLA's work is the recognition it has received from other local, regional and national agencies and organizations. The LLA has received more than 40 research and outreach grants since 1995 totaling more than $2.4 million. In addition, the LLA has received eight major awards since 1999.
Most recently those awards include the Centennial Congress Award, which is given in recognition of the LLA's leadership and dedication to the restoration of the South's longleaf pine forest and the many plants and animal species dependent on this majestic southern tree, and the Multi-State/Regional Project Award from the Southern Forest Resource Specialists.
---
---
COSAM Moves Into Sciences Center
The College of Sciences and Mathematics recently moved into the $40 million Sciences Center complex. The complex, located adjacent to Parker Hall on Roosevelt Drive, consists of a four-story biology/chemistry laboratory building, a 300-seat auditorium and a two-story classroom/office building.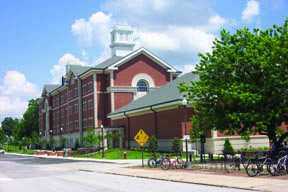 The $40 million Sciences Center
is the new home of COSAM.
One of the most modern university teaching facilities in the southeastern United States, the complex is intended to match the expectations of the 21st century student by complementing and supplementing the traditional professor-focused lecture environment with space-age technology including: flat-panel plasma screens for sharp instructional imaging, wireless PDAs (personal digital assistants) for real-time classroom participation and virtual laboratories for 3-D simulations.
In addition, the combination of chemistry and biology laboratories within the four-story building will seed interdisciplinary teaching on the AU campus and enhance the students' knowledge of the biological, physical and mathematical sciences.
---
Research Briefs
MaterDirt Hits the Market
Jeff Sibley remembers how, every spring and summer, folks would come in his family's retail garden center in Muscle Shoals, looking to buy "another sack or two of that 'mater dirt" that they knew from years past yielded some mighty fine tomatoes.
"What they were asking for, basically, was a bag of cow manure," Sibley says. "They knew it was a key to growing good tomatoes."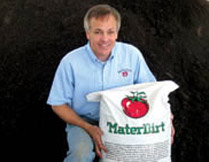 Jeff Sibley holds a bag
of his 'MaterDirt.
Now, after eight years of research into finding sustainable uses for composted agricultural wastes, Sibley has developed a manure alternative for tomatoes.
The AU horticulture associate professor and AAES research calls his product 'MaterDirt ®, and it's being sold this summer at farmer cooperatives around the state.
In addition to a high organic content, 'MaterDirt improves soil structure, offers excellent nutrient- and water-holding capacities and is free of pathogenic diseases, weed seed and insects.
Each bag contains 1.5 cubic feet of 'MaterDirt. Although it's ideal as compost in the garden, MaterDirt has a special feature especially for patio gardeners: it's designed so that tomatoes can be planted directly into it. Each bag even has a zip-lock top, so when the season's over, you can reseal it and use it again next year.
And incidentally, it may be called 'MaterDirt, but it can be used for so much more. So far, Sibley's graduate students have found the product to be ideal for growing shrubs, such as azaleas, crapemyrtles and roses, and numerous other plants and bedding plants, including weeping fig, lantana and coleus.
---
Federal Project Will Help Fuel Work on Catfish Genome
Auburn University fish geneticists' long-running quest to identify the genes responsible for the most economically important traits in catfish got a phenomenal boost earlier this summer when a federal genetics institute agreed to generate hundreds of thousands of gene sequences for two catfish species.
Accepting a proposal submitted by AU fisheries professor John Liu, the U.S. Department of Energy's Joint Genome Institute (JGI)-which played a key role in the federally funded Human Genome Project-said it will utilize its cutting-edge technology and network of scientists to generate some 300,000 DNA sequences, known as expressed sequence tags, in both the channel catfish and the blue catfish.
Liu's was one of 44 of the 122 genome sequencing proposals submitted that the JGI selected for its 2006 Community Sequencing Program portfolio. The institute said its decision to sequence catfish was based on the fish's economic importance-it's a $2-billion industry in the U.S.-and its significance in the broader context of basic and applied science. The catfish is unique among fish for the depth of knowledge of its immune system, and it has become the premier species for the study of fish immune functions.
---
River of Words Winners Announced
Winners of the second annual Alabama River of Words contest have been named and one is even a national finalist.
River of Words is an international program that encourages students in grades K through 12 to explore the natural and cultural history of their local waters and express those facts and ideas through art and poetry.
Alabama's River of Words project is sponsored by the Alabama Center for the Book, in collaboration with the AU College of Agriculture, AU Environmental Institute, AU Libraries and the Jule Collins Smith Museum of Fine Art.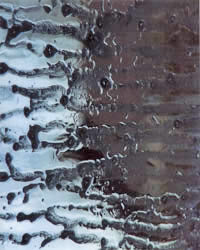 This photograph by Morgan Pier
of Bradshaw High School in Florence
who won first place in the Alabama
grades 10-12 River of Words (ROW)
category and also was a finalist in
the national ROW competition.
According to organizers, the 2004-2005 contest had a significant jump in the number of entries from its first year and included new schools such as Pizitz Middle School in Vestavia Hills and Straughn Elementary in Andalusia.
Birmingham photographer Beth Maynor Young, who is documenting Alabama's rivers through her photographs, served as spokesperson for the River of Words. She helped promote the program in her speaking engagements and delivered a lecture at Jule Collins Smith Museum in Auburn during Earth Day celebrations in April.
The students' submissions were judged on both the state and national levels and evaluated on artistic ability and creative expression of watersheds. Morgan Pier of Bradshaw High School in Florence, who won first place in the Alabama grades 10-12 category, was also a finalist in the national competition.
The Alabama winners are as follows:
Poetry
Level 1 (Grades K-2):

Hannah McNutt, Eva School, Eva (First Place)

Level 2 (Grades 3-6):

Clare Taylor, Advent Episcopal Day School, Birmingham (First)
Sophie Howard, Gordon Bibb Elementary, Decatur (Second)
Katherine Lorino, Wrights Mill Road Elementary, Auburn (Third)
Janine Smith, Wrights Mill Road Elementary, Auburn (Honorable Mention [HM])
Raymond Thompson, Brown Elementary, Birmingham (HM)
Cheyenne McLemore, Eva School, Eva (HM)

Level 3 (Grades 7-9):

Johnny Wei, Pizitz Middle, Vestavia Hills (First)
DeTerrence Deon Allen, Drake Middle, Auburn (Second)
Jing Cao, Pizitz Middle, Vestavia Hills (Third)
Joycelyn Pettway, Camden School of Arts and Technology, Camden (HM)
Brian Wood, Pizitz Middle, Vestavia Hills (HM)

Level 4 (Grades 10-12):

Todd Surette, Three Springs of Courtland (First)
Visual Art
Level 2 (Grades 3-6):

Diamond Jewell, Straughn Elementary, Andalusia (First)
Beth Givens, Home school, Auburn (Second)
Beverly Ceasar, Tallapoosa Co. 4H, Dadeville (Third)
John Tidwell, Home school, Auburn (HM)

Level 3 (Grades 7-9):

Jackson Bewley, Pizitz Middle, Vestavia Hills (First)
Erin Hopcroft, Pizitz Middle, Vestavia Hills (Second)
Dustin McGinty, Tallapoosa County 4H, Dadeville (Third)
DeEdward Blackmon, Camden School of Arts & Technology, Camden (HM)
Raymond Chillura, Tallapoosa County 4-H, Dadeville (HM)
Zac Whaley, Pizitz Middle, Vestavia Hills (HM)

Level 4 (Grades 10-12):

Morgan Pier, Bradshaw High School, Florence, (First)
Planning is under way for the 2005-2006 River of Words competition. To learn more about it, contact the Alabama Center for the Book at 334-844-4646.
---
State's Green Industry Grows to $1.9 Billion
Alabama's green industry, often overlooked as part of the state's agricultural scene, could finally get the recognition it deserves in light of a new Auburn University study that shows it is the largest cash crop in the state, contributes $1.9 billion annually to Alabama's economy and provides jobs for almost 31,000 Alabamians.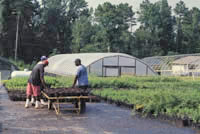 The state's green industry includes
nursery and greenhouse, turfgrass
and sod and lawn and landscaping
operations as well as retail businesses.
The study-a joint effort by AU, the Alabama Nursery and Landscape Association, the Alabama Turfgrass Association and the U.S. Department of Agriculture-is the first-ever comprehensive economic analysis of the state's green industry, which includes nursery and greenhouse, turfgrass and sod and lawn and landscaping operations as well as retail businesses that sell plant materials and related products.
"Talk about the largest crop in the state, and most people think of cotton," says AU agricultural economist and study coordinator Deacue Fields. "This study, which was long overdue, clearly illustrates the tremendous and far-reaching impact of the green industry to Alabama."
A breakdown of the different sectors of Alabama's green industry shows that:
767 nurseries and commercial greenhouses in Alabama contribute almost $306 million to the economy and employ 4,319 workers; the state's 69 turfgrass and sod operations employ 1,030 workers and represent $99 million in total output impact
the lawn and landscape sector, which includes only the 1,029 state-licensed operators and not those operating without a license, gives more than 8,500 people jobs and boasts an economic impact of $645.4 million
some 727 retail establishments selling plants, shrubs and related products employ just under 7,000 Alabamians and have an total output impact of $855.6 million annually.
Output impact includes the direct impact from industry sales, indirect impacts from allied firms that supply inputs to the industry and induced effects when the industry's employees spend their paychecks.
In addition to the $1.9 billion, the industry's impact is felt through the payment of $269.4 million in state and local taxes.
Nationally, the U.S. Department of Agriculture has identified the green industry as one of the largest and fastest-growing segments of U.S. agriculture. The AU study indicates the same holds true in Alabama.
"This study is extremely important because it establishes a benchmark by which we can monitor future growth and progress in the industry," says Ken Tilt, a CoAg horticulture professor and Alabama Agricultural Experiment Station researcher who assisted with the study. "Another important point is that it's one of the few crops that has exhibited consistent growth over the past 10 years in the state and shows continued promise for the future. When funds are allocated by government and granting agencies for research and extension, hopefully these supporting figures will give these agencies reason to look more closely at our industry"
Data from the study show Alabama ranks third in the nation in turfgrass and sod production and sixteenth in nursery and greenhouse production.
"All of this confirms the state, regional and national significance of Alabama's green industry," Fields says.