Take Our Advice: CoAg Advisers Make All the Difference for Students
When agronomy and soils professor David Weaver greets his students on the first day of class, one of the first questions he asks them is: "Do you know who your adviser is?" As a rule, only the College of Agriculture students can tell him their advisers' names.

With its eight departments, and with students from all over the world, the College of Agriculture considers its faculty advisers a vital part of the education process. CoAg advisers are the cream of the crop, known across campus for their commitment and quality. In fact, the Auburn student senate has recognized the CoAg for an outstanding quality of academic advising.
One reason for this is that the College of Agriculture's advising team has a different structure than most of Auburn University's other colleges and schools. Faculty members, rather than staff, advise the students on their academic programs. Since many advisers are also teaching their advisees, this provides plenty of interaction between the advisers and students.
"This is one way that the faculty can interact with students for their whole academic careers. I think it's just as beneficial to the faculty as it is to the students," Weaver, himself an adviser, says. "If a student comes in with a problem, I try to help them solve it, I don't try to send them somewhere else."
David Williams, horticulture professor and adviser, said the faculty is willing and proud to invest time and energy in the students.
"This is a pivotal time in the lives of our students-leaving home, not with mom and dad anymore, it's a transition time, where they're finding their own way in life," Williams says. "To be a part of that is huge in my mind. I find personal value in that."
He says every student is important and every student is an individual. For that reason, no matter how trivial a problem may seem, if it's important to the student, it's important for Williams to fix.
For Donald Mulvaney, an adviser in the animal sciences department, being an adviser is a blessing. It gives him an opportunity to make a difference in the lives of students one at a time, while thinking about the student as someone's son or daughter. He deals with them in a manner that he would want an adviser to use for his own child.
Many students become overwhelmed and stressed once they have reached the college level. John Adrian, an adviser in the agricultural economics and rural sociology department, tells students two main things: to work and prioritize.
"You can be in college, do well academically and have a good time too," Adrian says.
Roger Lien, an adviser in the Department of Poultry Science, says he looks at academics as being not just academics, but life.
Each CoAg adviser has a unique, personal philosophy to go by when advising a student. Since some students are more organized than others, and some are laid back and want everything done for them, advisers have developed their own ways of handling these future Auburn alumni.
"My philosophy is to tailor my efforts to meet each student's needs," Weaver says. "You have to approach each student as an individual. It's hard to develop a blanket philosophy that covers every student who walks through your door because they are all so different."
Adrian says that meeting the needs and interests of the students while still meeting the requirements of the curriculum is part of his philosophy.
Other advisers' philosophies may be different, but in the end all the advisers are there for the students when they have problems with their academic schedules, and even problems outside of school.
Robert Voitle, another poultry science adviser, thinks each adviser should be a complete adviser. "I do believe that advisers ought to be advisers, not dictators," Voitle says. "We should do a good job at explaining why we suggest certain courses be taken at certain times so that the students will logically adopt that."
Robert Nelson, another agricultural economics and rural sociology adviser, tells students that their investment in a college education is one of life's most important, and expensive, decisions.
"The thing that I emphasize when I meet with prospective students, transfer students and Camp War Eagle students is how the system of advising works," he says. "I try to emphasize that they should take responsibility for their academic progress."
Animal sciences professor and adviser Dale Coleman says the dean's office does a great job of initial orientation for incoming students.
"It gives you one of those 'warm fuzzy' feelings to know that other academic units across campus see our advising program as a model to emulate," Coleman says. "It's an even bigger 'warm fuzzy' to think that our students are getting the kind of advising help that all Auburn students deserve, but unfortunately may not all be getting."
"I do think that we, as a department, have set our degree up so that our students can get a job when they graduate," Nelson says.
Finding a job after graduation is significant, but so are the relationships built along the way while earning a degree. Many CoAg advisers stay in touch with students long after they have graduated. Adrian even taught a student who was the child of a former student he knew many years ago. He says building a relationship is important and is part of what he contributes to the success of the CoAg advising program.
"Keep in touch with them and learn what their interests are, so as they progress through the program you can maybe match up their career interest with the jobs that are becoming available," Adrian says.
Adrian says he never really knows what influence he has on a person, but he thinks there is probably a little speck somewhere from him influencing somebody in some way.
David Williams is a prime example of that very concept. Before he became a faculty member and adviser, he was influenced by Bill Alverson, assistant dean for instruction in the college, who was in the College of Agriculture when Williams was a student. Williams says Alverson helped him get his feet on the ground. Harry Ponder, an adviser in the horticulture department, was also Williams' adviser as an undergrad and left a huge impression on him. He and other advisers are carrying on that tradition.
---
Advice for the Book-Lorn: Nuggets of Wisdom from CoAg Advisers
Communicating with advisers and teachers, going to class and developing good study habits are among the nuggets of wisdom College of Agriculture advisers regularly give their students.
David Williams, an adviser in the horticulture department, says the most important advice he gives a student is don't be afraid to ask questions of your adviser and professors.
Yolanda Brady, an adviser in the fisheries department, urges students to go to their professors and advisers for help as soon as they start having difficulties, not after the grades are posted. She encourages her freshmen and sophomore students to find ways to get involved in the department early, since they won't take their first fisheries class until the summer before their junior year.
A common word of advice for students from David Weaver, an agronomy and soils adviser, is to go to class and stay on track. Students usually figure out what they can and cannot get away with from their professors. Sometimes attending class is what they try and skip out on, but in the end it hurts the student, not the teacher.
He also discourages students from putting difficult classes off until their senior year. Stay on track and take the classes as they come, and in the end it will pay off, he says.
Robert Voitle, an adviser in the Department of Poultry Science, prompts his students to develop good study habits and to use tutors. He says students will almost always be successful if they will spend 40-50 hours a week on school, including studying, preparing papers, reviewing notes and going to class. He also emphasizes that effective study time should be set aside every day.
"I tell students that they should look at the university as a full-time job," Voitle says.
---
The College of Agriculture's Web site has a new look. And it's all because of you!
The new design is based on responses from those of you who filled out our on-line survey mentioned in the spring 2005 issue of Ag Illustrated . Many thanks to all who responded!
From your responses we found out that visitors to the College of Agriculture site are interested primarily in information about events, information for future students or information about faculty or staff. We also found out that people who visit our site are primarily prospective students, home gardeners or alumni.
Based on these data, we beefed up the future student section of the site, added a calendar, created an "Ag Answers" section and provided centralized access to departmental faculty and staff directories.
From the home page you can quickly link to a calendar with information about upcoming College and departmental events, to news stories and to Ag Illustrated online.
The "Ag Answers" section, which is available from the home page, offers links to publications, faculty and staff directories, Extension experts, diagnostic and testing services and commodity Web sites.
Future improvements to the CoAg Web site will include refining the search feature and developing a searchable faculty and staff directory.
If you have suggestions about other information you'd like to find on the College of Agriculture's Web site, send your comments to AgComm@auburn.edu.
Special thanks to the Web team that created the new site: Terry Rodriguez, graphic designer; Troy Hahn, IT developer; Leigh Hinton, project coordinator; and Jeremy Cushen, IT assistant.
---
Jackson Wins Graduate Teaching Award
Brian Jackson, a graduate student in CoAg's Department of Horticulture, has been selected to receive the North American Colleges and Teachers of Agriculture's 2005 NACTA Graduate Student Teaching Award.
The national award recognizes and rewards a graduate student who excels as a teacher in the agricultural disciplines. Jackson is the first Auburn student ever to receive the honor.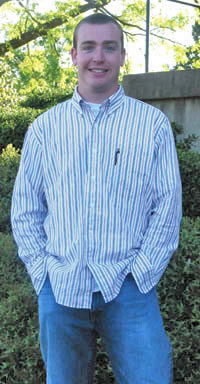 Brian Jackson
A native of Lumberton, N.C., Jackson came to Auburn in 2003 with the promise that he would be given an active role in the classroom, and that pledge has been fulfilled. Since arriving on campus, he has taught six different classes and has been responsible for at least two lab sections and one class per semester.
Jackson, whose master's research is focusing on the utilization of cotton gin compost and other agricultural waste products as compost for horticultural crop production, said that while he enjoys the research, teaching is what drives him.
"As a teacher, I feel it is essential that a classroom environment foster independent thought, reward creativity and be relevant, meaningful and fun," Jackson said. "I truly believe that students do not learn effectively by merely sitting in class listening to teachers, memorizing assignments and spit-ting out answers. Instead, learning should be interesting, interactive, involving and spontaneous."
Horticulture assistant professor Amy Wright, Jackson's major professor, nominated him for the award.
Jackson earned his bachelor's degree in horticulture from North Carolina State University and will receive his master's in horticulture from Auburn in August. He will pursue his doctorate at Virginia Polytechnic Institute and State University.
His career goal: "I want a classroom of my own."
---
Ag Week Activities
The first official Auburn Agriculture Week was held on the Auburn campus in April to raise awareness of the College among Auburn University students, faculty and staff.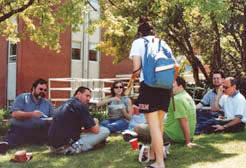 Activities during the week included special speakers, the annual Ag Hill picnic held on the steps of Comer Hall, an Ag Hill blood drive, a barn dance social and the Block & Bridle Club's annual Little International Showmanship Competition.