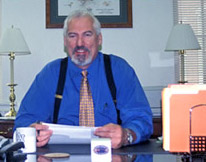 Professor Mike Weiss
I hope everyone's new year is off to a great start. It certainly is at Auburn. Thanks to the work of many people, but especially Interim Auburn University (AU) President Ed Richardson, Auburn University is off Southern Association of Colleges and Schools (SACS) probation. In addition, we're starting the new year as winners. Not only did Auburn's football team finish the 2004 season with a 13-and-0 record, but those of us on Ag Hill began 2005 with a truly winning series of reporting sessions that were jointly sponsored across the state by the Alabama Agricultural Experiment Station (AAES) and the Alabama Cooperative Extension System. I am so pleased with the turnout at these reporting sessions and the level of engagement from so many people.
President Richardson has laid out an aggressive legislative agenda for the year with four key overarching focus areas—fully funding the Public Education Employees Health Insurance Program (PEEHIP), fully funding increases in the Teachers' Retirement System, acquiring a salary adjustment for AU employees and initiating a new bond issue for AU facilities. The level of the salary increase has not been defined, nor has the level of funding for the bond issue, but if the PEEHIP and Retirement System requests are funded, we may be able to retain more than $800,000 in our budget that can be used for other vital expenses.
During this legislative session, we are putting forward a request to complete the funding for two initiatives funded in 2004—one that focuses on poultry litter management and another on inland aquaculture for the Black Belt region. Last year we obtained $700,000 total for these initiatives. We are seeking an additional $1.3 million to complete our request. These dollars are for joint programs between the AAES and the Extension System.
Another winning event in January was the groundbreaking on a new auditorium at our Sand Mountain Research and Extension Center in Crossville. This much-needed facility will greatly improve our ability to deliver educational programs to northeast Alabama. We hope to be in the building by late summer.
Though we are excited about the coming year, 2004 did end on one very sad note. We lost one of our treasures just before Christmas when Department of Agricultural Economics and Rural Sociology Professor George Young passed away. George had just accepted a temporary assignment as acting chair of his department. His contributions to the state and the world are highlighted in an article on page 14 of this publication. He will be sorely missed.
–Mike Weiss, CoAg Dean & AAES Director