A primary way that CoAg and Alabama Agricultural Experiment Station expertise and information are passed on to the public is via the Alabama Cooperative Extension System. The following are just a few examples of Extension's latest efforts and accomplishments in the state, region and nation. In Our Opinion… Extension System specialists have been voicing their opinions in the state's newspapers during recent months, which is increasing awareness of issues and of Extension programs and projects. The following is an opinion piece that ran recently in publications throughout Alabama and beyond
Consumer Freedom May Be the Price for a Risk-Free Food Supply
By Jean Weese
Dr. Jean Weese
Stunning advances in food technology are drawing consumers ever closer to what has traditionally been considered the Holy Grail of food safety—a virtually risk-free food supply.
It is a quantum leap that, in recent years, has been driven in large part by breakthroughs in genetic research. Recently, for example, scientists with the USDA's Agricultural Research Service announced the decoding of a particularly pernicious organism, Campylobacter jejuni, one of the deadliest pathogens associated with food.
This is only the beginning. Even bigger advances lie ahead, bringing us closer to a future in which food-borne illnesses associated with pathogens, such as Campylobacter and Salmonella, will become faint memories, much as we think of polio and smallpox.
Or will they?
Scientific advances, after all, often open as many challenges as they do solutions, and food safety is likely to be no exception. No doubt about it, breakthroughs in food technology have benefited countless millions of people throughout the planet, but the price of this advance could be an approach that increasingly shifts the burden of food safety away from individuals and onto the backs of food processors—not necessarily a good thing.
What we will get is a food supply in which more and more products are precooked and packaged before they reach us, the consumers. We increasingly will have little to do other than unwrapping these products and placing them into the microwave or oven before serving.
Granted, it's a prospect that may initially appeal to the countless overworked, overscheduled among us who have precious little time to invest in the intricacies of food planning and preparation. Over time, though, the novelty may begin wearing off as more of us understand the implications of this approach.
Food preparation, after all, is a lot like gardening or home decorating—one of those unsung pleasures in life that allow us, in our small way, to shape the world according to our own personal whims.
If zero-tolerance, risk-free food means giving up this freedom, how many of us will be willing to pay the price? Are we really prepared to forego the small delight of making our child's birthday cake from scratch or whipping up a round of yuletide eggnog for friends and family merely to avoid the remote risk of tainted egg yolks?
This raises another question: In our zeal to develop a virtually foolproof food supply, could it be that we're simply setting ourselves up for an even bigger fall years down the road? One of the ironies associated with this emerging food safety system is that while it is infinitely safer from the standpoint of consumers, it is much more vulnerable to the risks of human error during processing. Even as the overall risks of food-borne illness decline, there will still be those rare instances when one mistake during processing could lead to the sickening of hundreds of thousands of consumers.
Granted, in exchange for a far safer food supply, many experts, not to mention consumers, would gladly accept these risks. They may be justified. Still, the price could be high: a virtually risk-free food supply in exchange for a system over which individual consumers have far less control. It is yet another reminder of the fact that new technology, while liberating in many respects, nonetheless comes with a price.
Weese is an Alabama Cooperative Extension System food scientist and Auburn University professor of nutrition and food science.
This editorial first ran in the March 2005 edition of Beef Magazine .
---
4-H'ers Offered Outdoor Sport Programs
Two programs, 4-H Sportfishing and 4-H Shooting Sports, are getting Alabama's youth out of the house and into the world of nature.
The 4-H Sportfishing program is a new program open to all youth ages 9 to 19, and to younger children if accompanied by a parent. The program teaches youth about fishing and field safety, tackle crafting, aquatic ecology, which lure to use and many other skills to help them become good anglers and environmental stewards. It also helps youth learn and develop life skills, such as decision making, discipline, leadership, communication, organization and planning all in a fun, recreational setting.
Goals for the 4-H Sportfishing program include strengthening families through recreational activities; exposing participants to the broad array of lifelong activities related to sportfishing; developing caring relationships and an appreciation for sportfishing; understanding the ecological and social basics of fisheries management; learning about a variety of fish species and using a variety of sportfishing equipment; making and repairing fishing tackle; and developing and building life skills that will help youth become better communicators and leaders in their communities.
The program is sponsored by the Extension System, Alabama Division of Wildlife and Freshwater Fisheries and the Auburn University Department of Fisheries and Allied Aquacultures.
Shooting sports enthusiasts have been able to get outdoors for several years now through the 4-H Shooting Sports program. A training workshop for adult volunteers interested in working with the Shooting Sports program was held in February at the Alabama 4-H Center in Columbiana.
The purpose of the workshop was to provide adults who will be instructing youth shooting sports programs with safe and proper instruction techniques. Volunteer leaders learned how to plan and manage a local 4-H club; ways to promote the highest standards of safety, sportsmanship and ethical behavior among volunteers and youth; and ways to enhance existing hunter education and 4-H Shooting Sports program training.
Participants signed up for one of the following disciplines: rifle, archery, muzzleloading or shotgun. This program was supported in part by a grant from the Alabama Chapter of the National Wild Turkey Federation.
Emily Kling, an Extension System 4-H environmental program specialist, coordinates both programs and encourages more and more young people and adults to become involved in the programs. To sign up, contact your county Extension office. Contact information for those offices can be found on the Extension System Web site at www.aces.edu.
---
Alabama Horse Fair Draws Thousands to Montgomery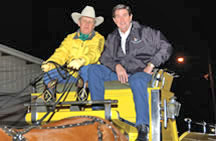 Alabama Gov. Bob Riley (right) takes
a ride on the Eight-Mule Hitch at the
Alabama Horse Fair held earlier this
year in Montgomery. (Photo by Don Breland)
Horses, horses and more horses were the topics of discussion during the Alabama Horse Fair, which was held earlier this year at Garrett Coliseum in Montgomery and drew an estimated 4,000 to 5,000 visitors.
During the two-day event, horse enthusiasts attended clinics by nationally known equestrians, heard experts discuss the latest improvements in horse health care and management and viewed more than 40 breeds of horses.
Cindy McCall, an Extension System equine specialist and CoAg professor of animal sciences, says the event offers something for horse lovers of all ages and experience levels.
"The Alabama Horse Fair is one of the best educational and entertainment events in the Southeast," says McCall. This year it featured equestrian greats and a ranch rodeo contest in which rider teams from area ranches competed in traditional ranch activities. Veterinarians and scientists were also on the program and performed how-to demonstrations on subjects such as horse health care, breeding management, nutrition, prevention of horse theft and fitness for horse and rider.
Horse farm owners also garnered advice on a wide range of subjects, from successful business management techniques to control of unwanted pests on their farms. And participants toured the breed and stallion barns. For more information about the fair and future events, visit the Alabama Horse Council Web site, www.alabamahorsecouncil.org, or call their toll-free number, 800-945-8033. The Alabama Horse Council is an organization dedicated to impartially representing and promoting the entire horse industry in Alabama.
---
Alabama 4-H'ers Attend National 4-H Poultry & Egg Conference
For the fourth consecutive year, Ala-bama 4-H'ers placed in every event they entered (Chicken Que, Turkey Que, Egg Cookery and Avian Bowl) at the National 4-H Poultry and Egg Conference held recently at the Kentucky Fair and Expo-sition Center in Louisville, Ky. At the conference, 4-H'ers from all over the country competed in educational events that helped them learn to make and defend decisions, speak publicly, and gain skills in poultry-related subject matter.
Alabama 4-H'ers Ruth Garrett, Shelby County, and Anna-Marie Adcock, Ran-dolph County, competed in the chicken barbeque demonstration. Kaitlin Crenshaw, St. Clair County, and Rachel Voss, Etowah County, competed in the egg demonstration.
Alabama's Avian Bowl Team placed seventh. The team was made up of Corey Rudolph, Randolph County; Robert Slaton, Morgan County; Nicholas Murphy, Lamar County; and Rob Coe, Randolph County. Coe is also an Alabama Poultry and Egg Ambassador.
The conference included five separate events. In the poultry and egg judging contest, 4-H'ers judged ready-to-cook poultry, live production hens and market eggs. In the chicken and turkey barbecuing contests, the 4-H'ers prepared barbecued chicken or turkey and gave oral presentations on the broiler or turkey industries. The egg preparation demonstrations involved preparing an egg dish and giving an oral presentation on the nutritional value of eggs. In addition to these events, was the Avian Bowl. The Avian Bowl is a round-robin tournament where contestants answer questions regarding poultry science, poultry production, meat duck, gamebird and waterfowl production and information about the poultry industries.
---
Midwinter Teen Leadership Retreat Draws 94 Youths
"4-H Outside the Box," a Midwinter Teen Leadership Retreat hosted by the Alabama 4-H State Council in February at the 4-H Center in Columbiana, drew some 94 youths from 29 different Alabama counties.
According to Molly Gregg, 4-H youth development specialist, goals of the midwinter retreat, which is held annually, are to help young people ages 14 to 18 learn to respond positively to change, to meet new people and learn to work as a team, to learn valuable leadership skills and to learn to respond creatively to new challenges.
Young people attended classroom programs on such topics as "Avoiding the Pitfalls of Group Think" as well as participating in outdoor team-building activities using the 4-H Center's popular zip line, climbing wall and low ropes course.
As with all 4-H teen programs, the event placed considerable emphasis on community service, leadership and communications.
The State 4-H Council consists of Brittany Bivens, Chilton County; Luke Brymer, Jefferson County; Deborah Garrett, Shelby County; Beth Ingram, Chilton County; Erika Lewis, Coffee County; Heather Partin, Morgan County; Derek Thacker, Morgan County; Carrie Todd, Mobile County; Jackie Wilson, Mobile County; and Kari Freeman, Pike County. For more information contact Gregg at greggmh@auburn.edu or 334-844-2263.
---
Federal Government Offers Urban Forestry Assistance to Storm-Ravaged Communities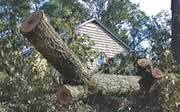 Communities may soon benefit from emergency supplemental funding provided by Congress to mitigate the effects of Ivan and other similar natural disasters.
The almost $1.7 million appropriation for Alabama's Urban and Community For-estry Financial Assistance Program comprises part of this funding. Auburn University has a three-year contract with the U.S. Forest Service to serve as a pass-through entity for the program in Alabama. The program is administered through the Extension System.
Program coordinator Neil Letson at the state Forestry Commission in Montgomery launched the program in mid-May. Local officials will have two months to assess their needs and submit an application for assistance. A committee will review the requests to make recommendations to Extension System Director Gaines Smith.
The deadline for applications for the tree money is July 15.
"We want to have everything reviewed to start the projects Oct. 1, and complete them by Sept. 30, 2007," Letson says.
"The appropriation is part of a larger package of money Congress awarded to Alabama and Florida as part of the response to the extraordinary impact of the hurricanes last year," he says.
The provisions, Letson says, underscore the damage these hurricanes caused not only to forestland throughout the most heavily affected areas but to many of these communities' urban forestry resources.
Communities will be able to submit projects that address specific storm-related mitigation needs such as urban tree assessments, tree inventories and tree remediation, Letson says. Assistance can also include informational and educational needs, tree mitigation and replacements of downed trees.
Repairing or removing these trees can be a major financial burden for many small communities that already were saddled with the initial burden of cleanup in the immediate aftermath of the hurricane. Letson believes that the program will go a long way toward repairing and, when the need arises, replacing trees that were structurally damaged during the storms.
The primary focus—and the bulk of the funding—for the program will be on the 12 counties that suffered moderate to severe damage to their urban forest resources. These counties include Baldwin, Butler, Clarke, Coffee, Conecuh, Covington, Crenshaw, Escambia, Geneva, Mobile, Monroe and Wilcox.
Letson says the assistance will include replacement of trees lost on public and private property.
"They can also apply for funds to do assessments of standing trees," says Letson.
According to Letson, many cities have already taken care of priority needs in making storm repairs.
"We have a lot of residual damage left to urban trees," he adds.
He said the Extension System will work to help communities deal with more serious tree problems and pinpoint critical needs.
AU will use some of the federal money to hire a person full time to monitor the program for compliance and be a contact with cities that need assistance, Letson says.
Letson said landowners had other sources for hurricane disaster assistance to cover timber losses, but this program is unique in targeting urban forests.
For more information, contact Letson at Letson@forestry.state.al.us or 334-240-9360.
Letson also has been appointed to the National Urban and Community Forestry Advisory Council. Established under the Cooperative Forestry Assistance Act of 1978, the council advises the secretary of agriculture on the care and management of trees, forests and related natural resources in urban and community settings throughout the nation. In addition, the council makes recommendations to the USDA Forest Service's Urban and Community Forestry Program on competitive cost-share grants that advance the science and practice of urban forestry. Members of the council serve without compensation and dedicate approximately 100 hours each year.
Letson will also serve as a liaison between the federal government and officials in the 50 states.
In addition, Letson has just authored a new booklet, Homeowner's Guide to Safer Trees , which is available through county Extension offices. Ask for it by name or its official number—ANR-1255.