Presidential Ponderings
By: Jeff Helms, President, AU Agricultural Alumni Association
Anyone who's paced the hallways in Comer Hall, or crouched near the stairs for some last-minute studying, has no doubt stopped to gaze upon the faces of the leaders who've nurtured the growth of Alabama agriculture.
These men and women who make up the Alabama Agriculture Hall of Honor include innovative farmers, pioneering scientists, inspirational educators and champions of agribusiness. They are the visionaries who laid the foundation on which our agricultural economy has been built.
That's why I considered it a privilege to meet the latest inductees into the Hall of Honor when the AU Ag Alumni Association held its annual meeting and banquet earlier this year. More than 200 alumni and friends of the College turned out to honor James Cook, Ann Barr and Gerald Bailey as well as the late Hoyt Adair and Henry P. Orr.
Individually, these inductees represent the best of their respective commodities and organizations, and collectively, they embody the enthusiasm, wisdom and innovation that make Alabama great. Perhaps more importantly, their careers have transcended time and distance—inspiring thousands of future leaders and shaping the face of agriculture both here in Alabama and across the country.
Within the dairy industry, few have contributed more to the success of farmers than James Cook of Conecuh County. His service in state and national dairy organizations led to programs that not only stabilized the milk market but also increased the price farmers receive for their products.
Meanwhile, Ann Barr's legacy continues to grow as the thousands of 4-H'ers she inspired have gone on to mentor other Alabama leaders. As the state 4-H leader for girls for 33 years, Ms. Barr's name became synonymous with 4-H, and even today, dozens of business and government leaders count Ms. Barr among the greatest influences in their lives.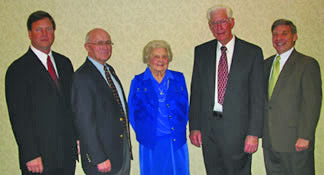 Pictured at the ceremony, from left, are: Tim Wood,
immediate past president of the Ag Alumni Association;
HOH inductees Gerald Bailey of Cullman, Ann Barr of
Auburn and James Cook of Evergreen; and Associate
CoAg Dean Bill Hardy. Also honored at the banquet
were two Pioneer Award winners, the late Hoyt Adair
of Moulton and the late Henry Orr of Opelika, who
were honored posthumously for their contributions
to the state's agricultural sector.
Gerald Bailey also continues to give back to the agricultural community. A native of Winston County, Bailey rose through the ranks of Gold Kist, eventually becoming field operations manager for the poultry company. Today, students at Auburn University enjoy the fruits of his labor each time they attend classes or labs in the new poultry science building or at the poultry research farm, for which Mr. Bailey helped secure funding.
This year's recipients of the Pioneer Award were equally deserving of recognition. Lawrence County farmer Hoyt Adair was a leader in preserving antique apple varieties and in introducing new and exotic fruits to Alabama. And Dr. Henry P. Orr inspired thousands of students during his 34 years at Auburn University while earning national recognition as a leader in floriculture, flower arranging and the use of ornamental plants for erosion control.
Your Ag Alumni Association is proud to add these leaders to the Hall of Honor. While our association is involved in many activities throughout the year—from hosting Ag Roundup to awarding more than $20,000 in scholarships to deserving CoAg student —none is more important than honoring the men and women who've made Alabama agriculture strong.
Helms is a 1992 CoAg graduate with a degree in agricultural journalism. He was recently named director of the Department of Communications for the Alabama Farmers Federation, where he has worked for the past seven years as editor of Neighbors magazine.
---
Outstanding Service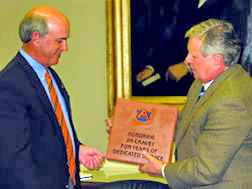 John Jensen, right, special assistant for agriculture to AU interim President Ed Richardson, presents a commemorative Ag Heritage Park brick paver to CoAg alum Jim Cravey in recognition of Cravey's three-plus decades of dedicated service in working for the betterment of Alabama agriculture and of ag at Auburn. In March, the college held a reception honoring Cravey on his retirement from a 34-year career with the Alabama Farmers Federation, but Jensen and others stressed they will continue to rely on Cravey's outstanding leadership abilities and his willingness to remain active and involved as a mover and shaker for Auburn ag in Alabama agriculture. Cravey began working with the Federation in 1970 as Young Farmers Program director, but the bulk of his career with the state's largest farm organization was as director of the Commodity Department.
---
Ag Heritage Park Update
At long last we have received some terrific news! The ALFA Pavilion at Ag Heritage Park has received the final reviews, and notice to proceed on the construction was issued for March 30. The successful bidder was J.A. Lett Construction. The pavilion construction is done through a gift from ALFA.
With recent rainfall this spring, our initial site preparation, which will be handled by AAES Land and Facilities Management, will be a bit delayed, but we hope to have the Pavilion completed by the middle of October 2005.
In addition to this project, we are working on getting bids for the Red Barn. If all goes well, we should begin construction by the end of May.
In addition to these two wonderful structures, as soon as the weather cooperates, we will begin the pond construction. Most of the materials that will be used in this project are already onsite at the Park. This phase of our overall master plan should be completed by August.
Please drop by the Park as we begin this new phase of advancement!
---
Alumni updates
Jodi Winkler, a 2000 CoAg graduate, has passed her exams to be a certified general appraiser with the MidAtlantic Farm Credit Association.
Winkler, a native of Felton, Del., earned a degree in agricultural economics from Auburn and has been employed at Farm Credit since 2001. To become a certified general appraiser, Winkler completed 180 hours of classroom education and 3,000 hours of appraisal training, which had to be completed in fewer than 30 months. The certified general appraiser title is the highest level of appraisal certification available. Now that she has passed the exam, she must pursue continuing education classes that maintain and increase her skills, knowledge and competency in real estate appraising.
MidAtlantic Farm Credit is one of the largest agricultural lenders on the East Coast.
Randall Huffman , a 1986 CoAg graduate, was honored last year by the American Meat Science Association (AMSA). Huffman graduated in animal sciences from Auburn and went on to earn his master's and the Ph.D. in animal sciences (specializing in meat science) from the University of Florida, Gainesville. He is vice president of scientific affairs for the American Meat Institute Foundation.
He was given the AMSA's 2004 Achievement Award, which is presented to young AMSA members who have demonstrated significant scientific skills in muscle foods research and technology, which contribute to the animal products industry and the AMSA. The award was given during the 57th annual meeting of the Reciprocal Meat Conference (RMC) held last June in Kentucky.
Huffman also was recently elected to the AMSA's board of directors and was on the RMC program delivering an update on BSE (mad cow disease) for the conference.
James F. Moore, IV graduated from the College of Veterinary Medicine at Auburn University in May 2004. He married Kelly Hatcher on Dec. 18, 2004, and he is practicing at Woodstock Veterinary Hospital in Woodstock, Ga., and lives in Canton, Ga. Moore was an Ag Ambassador and graduated cum laude in June 2000 in Animal Science/Pre-vet, entering the College of Veterinary Medicine in August, 2000.
---
Campus Club Endows Horticulture Scholarship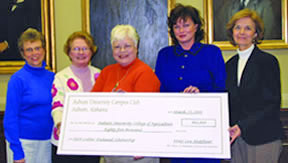 The Auburn University Campus Club recently donated $85,000 toward a $450,000 scholarship endowment in horticulture to honor AU's first ladies. Campus Club has for several years provided two or three horticulture scholarships on a year-by-year basis from revenue generated from their annual plant sale and other projects. This new endowment will fund the Campus Club First Ladies Awards in Horticulture, which will provide numerous scholarships for horticulture students. Eventually the endowment, which is set to be fully funded in five years or less, will make scholarship awards to students named in honor of each of AU's 18 first ladies. This is the largest immediate endowment to date for horticulture, and one of largest in the College of Agriculture. Pictured at a recent check presentation ceremony are, from left Shirley Bartels, immediate past president of Campus Club; Trudy Baker, another past president who initiated the endowment project; Mary Lou Matthews, Campus Club scholarship chairwoman; Cindy Boyd, Campus Club president; and Carolyn Neal, incoming Campus Club president.