Back from the Front: CoAg Student Will Hurd Returns from Iraq
By: Lesley Bebeau, Spring Semester Intern
When Will Hurd, a senior in agriculture economics, went overseas to war for 11 months, he kept up with what a true Auburn fan always keeps in mind--Auburn football.
The Grand Bay native took with him his original songs, his innate charm and the courage to have experiences that few people will encounter.
Hurd was part of the Reserve Officer Training Corps (ROTC) and the National Guard at the same time when his unit in the National Guard was called to war. He took a leave of absence from the ROTC, where he was waiting to finish his degree after completing the training in 2003, so he could be with his unit.
Though Hurd was not required to go to Iraq because he was still considered a soldier in training without his degree, he couldn't imagine staying behind. Hurd says he had been a member of his Guard unit for about four years when the call came to deploy. If they were getting called, he wanted to go with them.
Though he was in Iraq for almost a year (returning in January of 2005), Hurd didn't lose touch with Auburn. He kept in contact with the CoAg Asso-ciate Dean Bill Hardy, who Hurd says was behind him 100 percent when he decided to go to Iraq.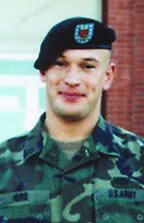 Will Hurd
Former student council president of the CoAg, Hurd worked the graduation breakfast right before he went off to war, where Hardy presented him with an Auburn flag and told him he could take it to Iraq.
"I told him I'd take it with me and I'd fly it," Hurd says.
The flag made it safely to the Middle East and flew on a camouflage pole, but not for long. The first night it was up a rule was made that flags must be taken down because the enemy was shooting at them.
Hurd moved from base to base in Iraq. Sometimes it was to pick up supplies, other times it was to move locations. From the Iranian border to Baghdad, he saw more than he ever expected.
"What really hurts you is when going from one base to another you go through a city where you see little kids running around no shoes on their feet it's just like you see on TV," Hurd says.
He explained that soldiers are told not to throw food at the kids. If the food doesn't make it all the way to the kids and lands in the street, the kids will still run to get it and could be hit by a car.
"You're really not supposed to throw them food, but you want to," Hurd says.
Hurd is not only a dedicated soldier, but he is a songwriter, too. His guitar was shipped to him once he was settled at his base, and the first infantry that he was attached to had members who formed a band and had their equipment shipped as well. Hurd joined the band, totaling five soldiers, and ended up playing for thousands of troops and opening up for a rock group known as Puddle of Mud.
After Hurd joined the band he composed his own song titled "I'm Coming Home."One night in Kuwait his unit was talking about reasons why they joined the National Guard and why they thought they were overseas serving our country.
"What we all realized we had in common was that we all wanted to get back home and see our families. That really inspired me right there to write that song," Hurd says. "It hit real well with the troops."
Hurd ran into a delay on his journey back to the States. The night he was supposed to depart for home was the night of the Nokia Sugar Bowl Auburn versus Virginia Tech. He decided to miss his flight so he could watch his home team play ball. Flights were hard to get and Hurd says people looked at him like he was crazy once they found out he was staying just to watch football.
"You don't understand," Hurd says was his response to his fellow soldiers.
He regularly had access to the Internet, checking out Auburn's perfect season. Hurd was also able to watch the Auburn versus Georgia game and says football was probably the biggest thing he kept up with while overseas.
The first thing Hurd did when he returned to the States was kiss the ground. He says it was good not to see sand anymore, and it was also good to be back in familiar territory.
"Any time you go to a foreign country for a lengthy amount of time, it's just a big change," Hurd says. "It gives you a greater respect on the freedoms that we hold over here that a lot of times we take for granted everyday. It makes you view things a lot differently."
Almost as soon as Hurd returned to the States, he started being as productive as he was before he left Auburn. He is currently involved with a joint operation between the United Service Organization (USO), which supports the troops, and the College of Agriculture. Their purpose is to raise money and donate it to the USO
"When I was in Iraq, we received care packages from people we didn't even know," Hurd says. "This will be something good that I can get the CoAg involved in and give me a chance to give backÑbeing on the giving end instead of the receiving end."
When Hurd gets free time he likes to use it for relaxing. The hardest thing Hurd had to deal with when he got home was to get back in the swing of things, especially jumping right back into school.
"Before I left I was always a fast-paced person and I stayed involved, always going 90 to nothing," Hurd says. When I got over there (Iraq) things kind of slowed down a lot. So I get back over here, I'm use to the slow pace, and it's like everything picked up where I left off. Whenever I get a chance I just want to relax.
Hurd became familiar with his surroundings while being at war for almost a year. Going across the world can change someone's views on just about anything.
We need to step back and take a look at everything that we have and cherish it. There are so many people in so many countries who don't have the luxuries we have, that we take for granted every single day, Hurd says.
---
USO
Will Hurd, a CoAg senior majoring in agricultural economics who returned recently from Iraq, is leading a new charge these days. He is heading Operation Auburn Cares, an effort to raise money for the United Service Organization (USO).
Hurd and other CoAg students and clubs are conducting a variety of projects to raise the money.
The main goal for the campaign is to help the troops," says Hurd. "We have been sending out letters over the past few weeks to try and get people's support and donations". In addition, Hurd and others have been soliciting donations on AU's Haley Center Concourse and at local businesses.
"The USO meant a lot to me while I was over there," he says."They really did a lot to make us feel a little closer to home. Whether it was from care packages sent to us or some of the entertainment that came and performed for the us, it made all of us feel appreciated."
The goal is to raise at least $1,000. Seventy percent of the money raised will go directly to the USO and 30 percent will be used for local community service projects. Donations of any amount are welcome. Donors giving $200 or more will receive a commemorative plaque. To contribute to the CoAg USO campaign, contact Hurd at 334-524-7703 or hurdwil@auburn.edu. Donations also can be mailed to Bill Alverson, assistant CoAg dean, at 107 Comer Hall, Auburn University, AL 36849.
---
CoAg's Devin Dotson Wins Student Employee of the Year
Devin Dotson, a CoAg senior majoring in agricultural communications, was named the Student Employee of the Year by Auburn University and the Southeastern Association of Student Employment Administrators.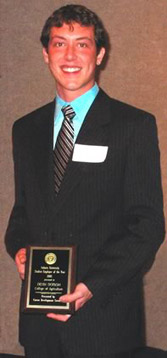 Auburn University Student
Employee of the Year Devin Dotson
Dotson was one of seven CoAg student employees who were nominated for the awards. The nominees included Chris Bagents and Lori Bice, who are employed in the Department of Agronomy and Soils; Anna Carmack and Simon Snyder, who are employed in the Department of Entomology and Plant Pathology; Clay Jones and Dotson, who work in the CoAg administrative offices; and James Vance, who works in the Computer Technology Unit.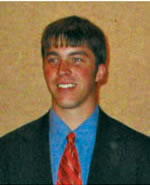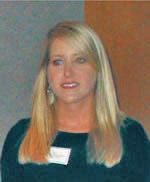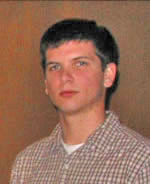 Top, from left: Also nominated in CoAg were, Clay Jones, Christopher Bagents, Lori Bice and James Vance.
The AU Student Employee of the Year program encourages student supervisors to nominate one student employee or work-study student who not only balances work and academics but also exceeds expectations in their contributions to university offices and departments. Students are scored on their reliability, quality of work, attitude, longevity in the position, adaptability and uniqueness of contribution.
---
President Richardson Proclaims Ag Week at Auburn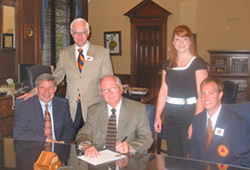 AU Interim President Ed Richardson recently signed a proclamation making April 18-22 Agriculture Week at Auburn University. Pictured at the signing are from left (seated), CoAg Associate Dean Bill Hardy, Richardson and current CoAg Student Council President Barret Stephenson; (standing) CoAg Assistant Dean Bill Alverson and incoming CoAg Student Council President Grace Smith. Photos of Ag Week festivities will be featured in the summer issue of Ag Illustrated.
---
Award Winners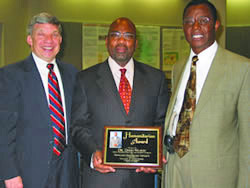 David Wilson, center, AU associate provost and vice president for Outreach, displays the 2005 Humanitarian Award that the AU College of Agriculture's Cultural Diversity Committee presented to him recently during the annual committee-sponsored African American Legacy program. The program that followed the award presentation featured seven successful African Americans who recounted how they achieved their professional successes. Wilson, the first African American to hold a vice presidency at AU, received the Humanitarian Award in recognition of his contributions to community and his example as a role model for other African Americans. Among his leadership roles, Wilson, a native of Marengo County in Alabama's Black Belt region, currently serves on Alabama Gov. Bob Riley's Commission for Action in the Black Belt. With Wilson are (left) Bill Hardy, CoAg associate dean, and James Brown, horticulture professor and Cultural Diversity Committee chairman.
---
Studying Abroad: Horticulture, Animal Sciences Students Gear Up for England
By: Jamie Creamer
Two departments in the College of Agriculture will blaze new trails this summer when they launch the college's first-ever study-abroad programs for undergraduates.
Both the Department of Horticulture and the Department of Animal Sciences' study-abroad opportunities will be based at Myerscough Agricultural College in Bilsborrow, England. But the similarities in the two programs basically end there.
In the horticulture program, which will run from June 1 through July 15, a dozen rising juniors and seniors will pack 13 hours' worth of required courses or professional electives into an intensive six-week stint that will include class time and lectures; hands-on experience and training in British landscape garden design, care and maintenance; and weekend travel throughout England and parts of Europe.
"The academic aspect of this program will deliver the same course content a student would receive in the corresponding courses at Auburn," AU horticulture professor and program organizer Jeff Sibley says. "But the cultural experience and the historical aspects of this will be unparalleled."
In addition to numerous tours of public and private gardens that the principles of modern landscape design were built upon, the experience will give students a concise overview of Great Britain's political systems, agricultural and horticultural industries, natural resources and growers' associations.
Over the six-week period, five AU horticulture faculty—including Sibley, Amy Wright, Dave Williams, Raymond Kessler and Luther Waters, who did the preliminary groundwork that made the venture possible—will participate, with one faculty member at a time residing at the college.
"That's another objective of the program: enhancing the teaching program in the Department of Horticulture," Sibley says. "The faculty who participate will be able to bring home their experiences and incorporate them into their classroom lectures, so that they can share them with all of their students."
The animal sciences study-abroad offering, meanwhile, is for students interested specifically in expanding their experiences in equine science. The month-long program, which begins July 1, will include class time and lectures, with afternoons that will be filled with hands-on experience and training in British-style riding and handling. Weekends will be open to allow students to experience British culture in other venues or to travel to other places of interest in the surrounding area. Students can earn 10 elective academic credits for the trip.
Sibley says study-abroad programs such as these are crucial because they enhance the opportunities for future employment.
"This experience will increase the competitiveness of our graduates in a job market in which more and more companies are looking for graduates who comprehend today's global economy," Sibley says.
---
AU Horticulture Students Make Solid Showing in National Competition
By: David Williams, HF Professor
It is the landscape horticulture version of college basketball's March Madness.
Twenty-eight horticulture Auburn University (AU) Tigers joined nearly 800 students representing 53 other colleges and universities in fierce competition on the door step of our nation's capital when the University of Maryland in College Park hosted in March the Professional Landcare Network (PLANET) 29th annual Student Career Days.
The Student Career Days event is the largest of its kind and includes three days of competition, fellowship, educational workshops and job interviews. Formerly the Associated Contractors of America (ALCA), PLANET represents the merger of that association with the Professional Landcare Association. Representatives from more than 100 companies were busy setting up events, judging competition and recruiting some of the best landscape students in the country. Our students are among the most highly regarded, and this year's group represented us well.
AU has participated in the Student Career Days since 1991 and each year the field of competition has become larger and stronger. This year, our Tigers qualified for all 24 events ranging from Annual and Perennial Identification to Wood Construction. In the end Auburn University placed 17th overall. That standing represented 10th place among the comprehensive universities. That finish was good enough to place second only to Mississippi State University among the five Southeastern Conference schools that were represented.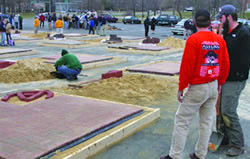 Nelson Rains and Adam Barbe debrief after
completing a patio in the Paver Construction event.
Final standings of SEC schools at PLANET Student Career days were: Mississippi State University, 7th; Auburn University, 17th; University of Georgia, 20th; University of Kentucky, 22nd; University of Tennessee, 31st; and University of Florida, 44th.
These A.U. students finished in the top 20 in the following events:
Arboriculture Techniques, 6th place, Josh Clark and Richard Ogle; Compact Utility Loader, 14th place, Bo Jones; Maintenance Cost Estimation, 16th place, Matt Nielson; Irrigation Assembly, 9th place, Myers Lacy and Tom Warren; Irrigation Design, 20th place, Tom Warren; Irrigation Trouble-shooting, 18th place, Tom Warren; Landscape Installation, 20th place, Myers Lacy, Richard Sluznis and Zeb Stewart; Paver Installation, 5th place, Adam Barbe and Nelson Rains; and Sales Presentation, 15th place, Matt Nielson.
Our students' interaction with industry was outstanding. All the students were required to interview for intern or career positions at the career fair, and many were sought by industry personnel later for follow-up interviews. While the competitive events are always fun and exciting, it is through opportunities for industry interaction such as that offered at the Career Days that the students and industry invest in their future.
Thanks to the following who contributed to the students' travel to the event this year:Advanced Mowers
Alabama Nurserymen's Association
Blackjack Gardens
Brickman Group, Ltd.
Davey Tree Company
Dixie Green, Inc.
Dodd and Dodd Nursery
Flowerwood Nursery, Inc.
Greene Hill Nursery, Inc.
Green Thumb Nursery
Greenway Plants
High Grove Partners
Hunter Industries
Kinney Nursery
Lott Nurseries
McCorkle Nurseries
Minus Vinus Nursery
Moore and Davis Nursery
Pike Family Nursery
Plant World Nursery
Shore Acres Plant Farm
TruGreen
Valley Crest Landscape Development
Pursell Technologies, Inc.
Wright's Nursery and Greenhouse