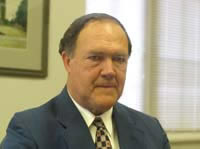 Professor Richard Guthrie
In the summer issue of Ag Illustrated, AU Interim President Ed Richardson wrote a guest column about his agricultural initiative for Auburn University. He began the column with the words, "The face of agriculture is changing." Presto! Here is a new face writing this column for the first time as dean of the College of Agriculture and director of the Alabama Agricultural Experiment Station (AAES). I'm excited about having a role in the changes that are taking place and also about the challenges and opportunities of being associated with our students, alumni and constituents.
More changes are in the works as we begin to implement the president's special initiatives. Auburn University must be relevant to Alabamians who financially support our programs, including parents, alumni and legislators. But with most Alabamians now living in urban areas, our agricultural programs often are perceived as outdated and therefore not deserving of taxpayer money. As AU continues to increase tuition and limit enrollment, taxpayers and legislators need to feel connected to these programs. By choosing agriculture as one of his major initiatives for Auburn, Dr. Richardson hopes to show that agriculture and related programs are relevant to all Alabamians, which will help ensure that Auburn remains a funding priority. I think we can expect some exciting changes as plans for this agricultural initiative are finalized and implemented.
The beginning of fall semester brought a new crop of students. Enrollment in the college has increased slightly over last year, from 1,081 in 2004 to 1,103 this fall. A steady flow of students in and out of the dean's office helps create a bright, energetic work environment. Several students help us with projects as part-time workers, while others are busy in leadership positions with student club and Ag Ambassador activities.
Our Agricultural Heritage Park continues to develop, with construction financed mostly by contributions from several major donors and many alumni and friends. The Farmers' Pavilion, funded by a special gift from the Alabama Farmers Federation, nears completion and should be available for activities by winter. Reconstruction of the Red Barn, funded by a generous contribution from the Lowder family, is also progressing and should be complete before winter. A third project, pond construction, was delayed due to unusually high rainfall this summer, but dam construction should be in progress before winter.
In addition to the usual stories featuring students, faculty, staff and donors, this Ag Illustrated features stories on two excellent new buildings—the Poultry Science Building and School of Forestry and Wildlife Sciences building. The Poultry Science Building is a beautiful three-story brick building on Mell Street that houses state-of-the-art teaching, research and extension offices, laboratories and classrooms. The new Forestry and Wildlife Sciences Building is an equally beautiful structure located on Duncan Drive, featuring four wings of offices, laboratories and classrooms.
Also in this issue, read about a $604,000 award for precision agriculture in the Tennessee Valley, presented to the Tennessee Valley Research and Extension Center by U.S. Congressman Bud Cramer. Farmers, researchers and Extension agents have gained significant benefits from the project funded by this grant, and their work will continue thanks to these grant monies.
I appreciate the many notes, phone calls and other messages from numerous alumni and friends who have congratulated me on my appointment as dean and director. It's a marvelous experience to work for the College and the AAES and to work alongside you in agriculture!
–Richard Guthrie CoAg Dean and AAES Director