In Our Opinion. Extension System specialists have been voicing their opinions in the state's newspapers during recent months, which is helping increase awareness of issues and also Extension programs and projects. The following is an opinion piece that ran recently in several Alabama papers.
Still No Proven Link between Mad Cow Disease and Its Human Counterpart
By: Jean Weese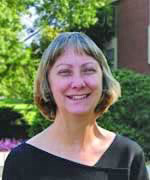 I'm a Kentucky native, but on the question of whether bovine spongiform encephalopathy, so-called mad cow disease, is related to a similar brain-wasting disease in humans known as variant Cruetzfeldt-Jakob disease, I'm from Missoui — show me.
A year and a half ago, following the detection of the first U.S. case of BSE, I expressed my doubts regarding a link between these two diseases. Almost two years later and despite the recent detection of a second U.S. case of BSE, I still harbor serious doubts. For that matter, so do a lot of other scientists, not only in the United States but throughout the world.
The conventional view on BSE goes something like this: The huge spike in BSE cases that occurred in cattle in Britain in the 1990s corresponded with a modest increase in variant Cruetzfelt-Jakob disease among young Britons. British medical authorities, anxious to craft a strategy for putting public fears to rest, began hammering out a consensus opinion based on the premise that there had to be some kind of connection between these two diseases. Otherwise, what accounted for the strange coincidence?
The culprit behind both of these diseases, they contend, is an aberrant protein, or prion, which could be ingested by cattle from tainted feed and passed along to humans who ate beef from infected animals.
Even if, like Joe Friday, we ignore all of the extraneous noise from media and self-appointed consumer watchdogs and stick only with the facts, we still come up considerably empty-handed in the evidence department.
One of the first skeptics to weigh into this dubious evidence was Dr. George Venters, a British health consultant, whose controversial arguments, printed in the British Medical Journal , ignited a firestorm of debate.
One factor that simply can't be ignored, Venters contended, is the "robust species barrier" between humans and other animalsÑunderscored by the fact that prions produced in ungulates, or hoofed mammals, have "different sequences of amino acids" than those associated with humans.
Besides, just because a rise in BSE cases among cattle happened to occur about the same time as a rise in similar cases among humans does not necessarily mean the two are related. For a time, British health authorities even speculated that the spike in BSE among cattle would be accompanied by a similar increase among humans who had been exposed to the diseases. Yet, the spike never occurred.
A number of other inconsistencies challenge the prevailing view. What, for example, accounts for the fact that one of the victims was a vegetarianÑor that similar cases have turned up in France where possible human exposure to the prions is much less likely?
Other experts have stepped forward with equally tantalizing clues. Danny Matthews, an internationally renowned BSE expert with the Veterinary Laboratories Agency in Weybridge, England, has even speculated that some cases of BSE may occur spontaneously in cattle, much as a certain form of Cruetzfeldt-Jakob disease, known as classic CJD, occurs in humans. Such a finding not only would constitute a major breakthrough in BSE research but would seriously challenge the longstanding view that the disease is spread among cattle exclusively through tainted feed.
Granted, it remains little more than a hunch for now. Still, it's a compelling hunch shared by several other internationally recognized BSE authorities, including Dr. Bob Church, a Canadian beef expert, who is working to help Canadian policymakers and livestock producers better understand the risks associated with BSE.
Church, whose views were published in the March 2004 edition of Alberta Beef Magazine, concedes that the almost 40,000 BSE cases in Britain can be traced to the now banned practice of feeding animal proteins, notably in the form of milk replacements, to dairy cattle.
Nevertheless, he agrees with Venters that this link cannot be carried over to the variant form of CJD associated with humans.
Church even believes the first and second cases of BSE that were detected in Canada occurred spontaneously in the animals and were not caused from tainted feed.
Lots of questions remain. For now, BSE and its human counterpart to a great extent remain mystery diseases, much like yellow fever, pellagra and polio within the previous two centuries. It may be years or even decades before science finally manages to cut through the dense web of confusion surrounding these diseases.
What we ultimately learn about them may surprise all of us.
Weese is an Alabama Cooperative Extension System food scientist and Auburn University professor of nutrition and food science.
---
Formosan Termite Problem Made Worse by Ivan
Formosan termite damage to window
at Renfro Opera House in Opelika
Last fall Hurricane Ivan wreaked havoc on home l andscapes and forests throughout the Gulf Coast region. One expert fears the storm's aftereffects also have contributed to the spread of a highly destructive imported termite.
Xing Ping Hu, an Extension entomologist and CoAg associate professor of entomology and plant pathology who has been monitoring the pest's spread, has been receiving reports of more Formosan termite infestations throughout the state.
Several factors have contributed to the termites' spread, Hu says.
"First, termite-infested trees that were downed by Ivan may have been removed and discarded somewhere else—anywhere, for that matter—which enables the termites to spread and establish new colonies," she says.
Also, in some cases, infested stumps may have been left in the ground without being ground down or treated with a termiticide. While a required practice in some states, including Louisiana, treatment and grinding of forestland stumps are not mandated by Alabama law.
Another concern, Hu says, is urban tree plantings where recently downed trees have been replaced with new ones. In some cases, new colonies turn up in the replacement trees plantings.
Of particular concern is the use of mulch around tree bases, which sometimes provides ideal habitats for termite swarmers to start new colonies.
A handful of termiticides have been labeled for use on landscape trees, though it's proven impossible to eliminate Formosan termites completely once they've become established. On the other hand, termiticides have proven effective in reducing numbers.
Hu recently noted one other disturbing trend associated with the pests: For the first time in almost a decade, people in one east Alabama community have begun noticing nightly termite swarms—a behavior associated exclusively with Formosan termites and one that almost invariably means trouble.
One of the biggest challenges remains educating people about how easily they can contribute to the spread of these destructive pests—knowledge that eludes even some pest control operators, Hu says.
Alabama homeowners can help Hu and other entomologists do a better job combating the pests' spread by actively looking for signs of the Formosan termites and submitting any suspicious samples to their local Extension office for identification.
The good news is that a number of new control technologies are available for combating the termites in the home. Even so, Hu says it's essential to work only with a reputable pest control operator in assessing termite damage and determining what control strategies are best suited to your particular situation.
---
Waterborne Illnesses Almost Inevitable after Flooding, Experts Say
Areas ravaged by floods from Katrina
are threatend by waterborne bacteria.
In New Orleans and the rest of the flood ravaged Gulf Coast, putrid flood waters and high humidity have combined to create a potentially deadly witch's brew of harmful waterborne organisms. "People in flooded areas often make the mistake that they're only dealing with property damage," says James Hairston, an Extension water quality scientist and CoAg professor of agronomy and soils.
As he observes, "People begin getting sick and start wondering what's happening." They don't realize that the filthy water swirling around them is the likely culprit.
Some of the most common waterborne pathogens associated with flooding include E. coli, Salmonella, Shigella, Campylobacter, Cryptosporidium, and Hepatitis A virus.
Even so, the most recent concern has been a handful of outbreaks traced to Vibrio vulnificus, a pathogen typically associated with eating tainted shellfish, particularly oysters and clams.
Vibrio vulnificus is rarely deadly for healthy people, though for people with liver disease, blood disorders or compromised immune systems, the results can be deadly, according to Jean Weese, an Extension food scientist and Auburn University professor of nutrition and food science.
People with open wounds that come into contact with contaminated flood water are particularly prone to exposure to the pathogen—the reason why every effort should be made to limit skin contact with contaminated flood water, she says.
"Anyone who suspects they've had cuts or other wounds exposed to flood waters should seek medical help immediately," Weese stresses.
Experts warn that there may be no relief for the Gulf Coast survivors even as flood waters recede. Of particular concern are toxic molds and mildew.
Much like bacteria, our bodies are equipped to handle them under normal conditions. Flooding, on the other hand, opens up an entirely new set of challenges.
"Molds and mildew will kill you if you get enough," Hairston says. "In this case, we're dealing with a menagerie of potentially harmful microorganisms.
Health authorities are also warning about other substances in the water besides bacteria and spores, including farm chemicals, metals, toxins and even radioactive materials.
---
Goff Initiated into Louisiana Hall of Fame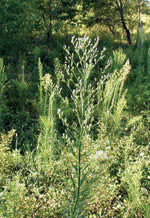 Louisiana pecan growers recently presented William D. "Bill" Goff with their highest honor. Goff, an Extension pecan specialist and CoAg professor of horticulture, is on ly the second non-Louisianan to be initiated into the Louisiana Pecan Growers Hall of Fame.
Goff is only the 19th individual initiated into the hall of fame in its 79-year history. Other inductees include two of the pecan industry's most notable pioneers: Bob Williams, widely considered the father of the Louisiana pecan industry, and the late Travis Jenkins, the acknowledged father of Mississippi's pecan industry.
"An Extension professional should never be speechless, but I initially couldn't say anything because it was a total shock and surprise to receive this award," Goff recalls.
Pecan industry leaders throughout the Southeast credit Goff with building a regional network among growers that has helped foster valuable information exchanges within the industry—exchanges that otherwise would not have been possible on such a scale.
Much of Goff's efforts have focused on developing regional tours enabling pecan growers to interact with their counterparts from other states. The pecan industry credits these tours with helping growers adopt radically new practices that, in many cases, have resulted in dramatic yield increases.
One notable example is the now widespread practice of thinning orchards in cases where too many trees have resulted in a crowding out of sunlight—a practice many growers once regarded with suspicion until the tours enabled growers to see the practical benefits for themselves.
"If you can get them out on these tours, growers who have adopted these practices can vouch for their credibility," Goff says. "They have to see it for themselves."
The hall of fame induction represents only one of two major awards Goff received this year. He was also honored by the Southeast Pecan Grower's Association with the "Excellence in Extension" award attesting to the work he has done on behalf of growers throughout the region.
A Mississippi native, Goff holds his bachelor's degree in animal science and master's degree in plant pathology from Mississippi State University. He earned his doctorate in plant pathology from Clemson University.
He joined the Alabama Cooperative Extension System as a horticulturist specializing in pecans in 1982.
---
Talladega: The Biggest Agricultural Demonstration Project in History?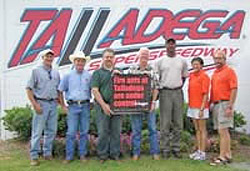 From Left, Anthony Wiggins, Henry Dorough,
Tom Perkins, Don Murray, Willie Datcher,
Vicky Bertagnolli and Fudd Lawrence.
With the possible exception of football and boll weevils, few other topics stir up as much primal passion among southerners as NASCAR and fire ants.
If that's the case, one pest control expert reasoned, why not combine the two?
In one of the most unique shotgun marriages ever, Henry Dorough, a regional Extension agent in north central Alabama has undertaken a massive effort to control fire ants throughout the 1,400-acre campground and infield at Talladega Super Speedway. He and other organizers believe it may prove to be the most effective method yet devised to educate the largest number of southerners about one of the region's most irritating pests.
Dorough has persuaded the distributors of Extinguish Plus, a major fire ant bait product, to provide enough of the material to do the job. Moreover, he has enlisted the help of regional Extension agents from throughout the state who will be on hand in Talladega during the first week of August training the racetrack's maintenance crews on how to calibrate and distribute the bait with spreaders.
"It quite possibly will turn out to be the largest agricultural demonstration ever attempted in the state's history," says Lawrence C. "Fudd" Graham, coordinator of the Alabama Fire Ant Management Project, who will assist with the demonstration. "I can't think of one any bigger."
Before applying the bait, Graham and the regional Extension agents will first undertake a series of pretreatment surveys of the ant populations throughout the Speedway to determine just how serious the problem is, followed several weeks later by post-treatment surveys.
Shortly before the UAW-Ford 500, Dorough and other project participants also will interview campers to see if they've noticed any difference and to pass along information about effective fire ant control strategies.
Speedway operators already know the fire-ant problem is serious based on the persistent complaints of campers who have contended time after time with the pests. Problems arise when campers try to deal with the ants on their own—a problem Dorough has encountered time and again.
"In far too many cases, we have campers going to the nearest store, buying liquid applications and emptying the bottle on the mound without checking the directions—which is not good for the environment."
That's one reason why Dorough is so excited about the current effort.
"It's going to be a real education for all of us—not to mention, an excellent opportunity to educate a large number of people in a short amount of time," Dorough says. "It's a way to help the speedway and, in the process, a way to show homeowners how to handle fire ant control the right way."