Ag Heritage Park Update
By: Robert Hensarling
Ag Heritage Park continues to become a hub of social activity on the Auburn campus. Earlier this fall we hosted five tailgates in a row at the Park and each event built enthusiasm for the completion of the Park. Visitors are greeted at each tailgate with a smile and a day filled with fun, food and wonderful networking with old and new friends alike. If you have not had the opportunity to attend one of our tailgates, please join us on one of the remaining home football game Saturdays (Oct. 29 and Nov. 19; see calendar for details)!
In addition to the tailgates, which always draw our faithful CoAg friends and alumni, the Park also has become part of the Auburn community at-large thanks to a highly successful farmers' market that was held there from June through the end of September. Though the official market season ended in September, a special Fall Harvest Market day is scheduled for the Park on Oct. 27 from 3:30 to 6:30 p.m. that will feature pumpkins and other fall crops. The Market is open to the entire community, so come on out and celebrate the end of the harvest season on the 27th and plan to attend market days each week when it reopens in June of 2006.
Construction projects within the Park are still moving forward. The new Pavilion should be completed in October and features some beautiful details. The interior ceiling of this structure offers a sweeping laminated arch system backed by a soft pine tongue-and-groove decking. The contrast between these materials offers a visual and aesthetic element that will appeal to a wide variety of user groups.
Reconstruction of the Red Barn was delayed due to weather; however, slab work began in September and the major construction will be on schedule for a December completion date.
Watch for the official dedication dates for these structures some time in the spring of 2006. When completed, these buildings will host numerous events and gatherings in the years to come.
And as always, if you are in Auburn, please stop by and check out the Park. We still need a lot of the elements funded that are major components of the future of Ag Heritage Park. If you are interested in supporting the ongoing development of Ag Heritage Park, contact either Mark Wilton or Chris Gary at 334-844-1475.
---
Ag Roundup is Grand!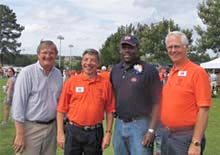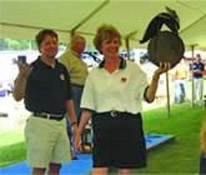 Left Photo: Candidates for the 'Kiss the Pig' fundraiser: Dale Coleman, Bill Hardy, Deacue Fields, and Bill Alverson. Right Photo: Ag Alum Paul Pinyan and Elaine Rollo at the auction.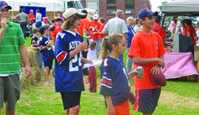 Left Photo: A great crown turnout at the Ag Roundup Event. Right Photo: The star of the 'Kiss the Pig' fundraiser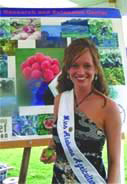 Miss Alabama Agriculture
---
2006 Ag Classic Dates Set
If you like to fish, shoot clays, play golf or generally enjoy the company of other CoAg alumni and friends, you won't want to miss the Ninth Annual 2006 Ag Classic tournament, to be held May 24-25, 2006.
Ag Classic provides an informal setting for friends of the College to return to Auburn for fun and fellowship. Our central mission remains strengthening support for the College and Ag Heritage Park while building lifelong relationships with our many friends and supporters.
Look for more information on this event in the winter issue of Ag Illustrated .