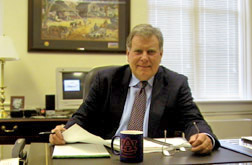 John Jensen
This issue of Ag Illustrated features articles about the international programs within our college and the Alabama Agricultural Experiment Station (AAES). Most of our readers are probably not as familiar with our international work as they are with our teaching, research and extension efforts in Alabama. However, our international efforts are highly visible and successful. You can go almost anywhere in South America, Asia and Africa and find evidence of Auburn's work.
I personally worked three years for the College in Brazil trying to improve the lives of people through aquaculture. Many faculty have had similar experiences in short- and long-term international work. In addition to the positive impact they have made on people's lives, faculty, staff and students have accrued great benefits from their international experiences. They become more technically competent, and they almost always think bigger and more globally following the experience. Learning new languages and cultures are valuable as the world becomes "smaller." We're proud of our international work and hope you will enjoy learning more about it in this issue.
The AAES is currently in the middle of a strategic planning process. During the next few months we will develop a plan that includes new AAES and Alabama Cooperative Extension System initiatives to be carried out through our six research and extension center regions and E.V. Smith Research Center as funding becomes available.
Some of you may have attended the listening sessions we held throughout the state in January and early February. These sessions were meant to get the public involved in the development of the strategic plan and initiatives, but if you missed those sessions it's not too late to make your wishes known. The plan can be accessed on the Web at www.auburnag.org until the end of the month. Type in "auburnag" for log in and "pride" for password. Your involvement in our future is the only way that we can be as relevant as possible to the needs of our Alabama citizenry.
I want to thank all of you who congratulated our communications staff on the first issue of Ag Illustrated. I was pleasantly surprised at the positive feedback so many of you gave us for our Ag Illustrated endeavor. Thank you for your support and for telling us what you need and enjoy. We felt like we may have hit a home run…or at least a triple…with Ag Illustrated, so we have decided to publish it quarterly rather than biannually and include AAES information as a separate section. This will help us tell our great story better. Ag Illustrated, the College and the AAES all expect a great year in 2004 and we are happy that you are part of it!
John Jensen, Interim Dean and Director