The following is information about CoAg international progrmas for students, faculty, alumni and the public. For more information about CoAg's international efforts, contact Richard Guthrie, CoAg associate dean (retired), at 334-8944-3211 or guthrrl@auburn.edu
CoAg Scientists Win Honors in Chinese Provinces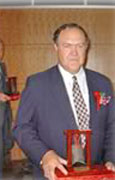 Richard Guthrie receives the Chime Bell Award.
Two provinces of the People's Republic of China have recognized two CoAg scientists for their exceptional international outreach efforts, naming them their 2003 most outstanding foreign experts.
In separate ceremonies held in China in fall 2003 as part of a weeklong national celebration of the People's Republic of China's 54th anniversary, Hubei province presented its prestigious 2003 Chime Bell Award to Richard Guthrie, now retired associate CoAg dean and head of CoAg's Office of International Agriculture, while the neighboring Sichuan province presented its highest honor, the 2003 Golden Summit Award, to John Liu, a CoAg fisheries and allied aquacultures professor.
The Chime Bell Award in Hubei is given annually to individuals from other countries who have made exceptional contributions to and improved the lives of the people of Hubei. While presenting the award to Guthrie during a ceremony in Wuhan, the province's capital city, Hubei Governor Luo Qinquan cited the strong and mutually beneficial research, education and outreach partnership Guthrie has established between AU and the Hubei Academy of Agricultural Sciences over the past 15 years.
That partnership provides a remarkable and productive exchange of valuable ideas, science and technology between the two institutions.
In Sichuan province, Liu received the Golden Summit Award from the province's governor, Zhang Zhongwei, in a ceremony in the capital city of Chengdu. The governor praised Liu's "enthusiastic support to economic construction and social progress in Sichuan province and prominent contributions to international exchange and friendly cooperation between Sichuan and foreign countries."
Liu, internationally recognized for his groundbreaking research in catfish genetics, is an adviser and international expert for Sichuan's transgenic fish program and an adjunct professor of molecular biology at Sichuan Agricultural University. He has been instrumental in helping Sichuan researchers secure grants from the Chinese government and has presented numerous lectures and seminars on catfish genomics to scientists in Sichuan and to Sichuan delegations visiting AU.
---
Spanish Microbiologist Makes CoAg Home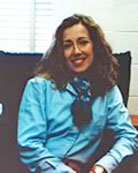 Cova Aris
The holiday break went far too fast for Covadonga Arias. It seemed she had no more than landed in her hometown of Valencia, Spain, before she was boarding another plane for the 10-hour flight back to the States, back to a life 5,000 miles away from her family, her closest friends, her culture.
The goodbyes are always painful. After five years, she still sorely misses her native Spain.
This life that she has in the U.S., in Auburn, Ala., at Auburn University–is this really where she wants to be?
Oh, but yes, Arias says.
"Coming to the United States was one of the best decisions of my life," the associate professor of microbial genomics in CoAg's Department of Fisheries and Allied Aquacultures says. "Professionally, right now, I have everything I wanted but could never have dreamed of having had I not come here."
Arias received her doctorate in microbiology from the University of Valencia in 1998, with an emphasis on fish disease–specifically, a disease outbreak on an eel farm. So impressive was her dissertation that she earned the university's Extraordinary Doctorate Award for the best Ph.D. thesis in microbiology.
Despite her exemplary scholarly work, employment opportunities in Spain were virtually nonexistent.
"In Europe, before you can be appreciated in science and find good positions, you must work on your postdoctoral, preferably abroad, for at least two years," Arias says.
She chose a position with the University of Florida's Citrus Research and Education Center to study microbes that cause citrus juice to spoil.
As the third year of the Florida contract began winding down, Arias began looking at two options: to return home, or to stay in the United States. She chose the latter–in part because more opportunities would be available, and in part because of a romantic interest that had developed in Florida.
She began searching for openings for microbiologists, preferably in the field of fisheries research, and that search brought her to Auburn University. She came to Auburn for an interview, and she and the search committee were mutually impressed.
"I could tell from the interview that this was obviously a very good department, and I knew it was recognized worldwide as one of the best," she says. "To get this position was all I could have hoped for."
Arias joined the AU faculty in April 2002 with an appointment that is 90 percent research and 10 percent teaching. Her research focuses on identifying disease pathogens of major economic significance to the catfish industry. The goal: to improve disease detection methods and produce vaccines.
"It is the work I love," she says. "And here, I get financial support for my research until I can obtain grant funding. In Spain, that would be much more difficult."
As one bringing a European perspective to the table, Arias doesn't take for granted what many American professors might tend to: the abundance of opportunity to work at a rewarding job.
"Here, you know that if you try hard, and give it your best, you can get a good job, and one that you truly enjoy," she says. "In Europe, there is so much competition, you either have to know someone or be lucky."
---
See the World! CoAg's 2004 Agricultural Study Tours Announced
Alabama producers and other agricultural professionals will have the opportunity to take part in a variety of agricultural tours in 2004.
The tours, sponsored by the Auburn University College of Agriculture's Office of International Agriculture, have already taken a group to India, Argentina and Brazil and will visit the following sites later this year: the Peoples Republic of China; Hungary, the Czech Republic and Germany; and Guatemala. Details and tentative dates for the remaining tours are listed below. Organizers also are discussing a possible two-week study tour of Australia and New Zealand.
For more information about these tours, contact George Young, Extension coordinator of international programs, at 334-844-3513.
People's Republic of China > Target dates: two-week tour during June 2004
While the target audience for this two-week tour includes farmers, agricultural professionals and other interested individuals, it also has been tailored to schoolteachers, who will be eligible to receive graduate credit. The Chinese tour will include stopovers in Beijing, Xian and Yangling, Chengdu and Wuhan as well as a riverboat ride through the Three Gorges. Projected cost: $2,800
Hungary, Czech Republic and Germany > Target dates: July 15-30, 2004
In Hungary, visitors will be greeted at a reception by the agricultural dean at the University of West Hungary in Mosonmagyarovar, the oldest agricultural university in the world, followed by a reception given by the town's mayor. Other stops will include Babolna, site of a huge agribusiness and the active but ancient Abbey of Pannonhalma, one of the oldest sites of Christendom. Stopovers also are planned for Lake Balaton, Herend, site of a world-famous porcelain factory, and Sopron, where the first free crossings of the Iron Curtain began in 1989. During their stay in Budapest, participants will visit all of the major landmarks of this ancient capital city as well as St. Stephens University's agricultural campus near Godollo. Visits planned for the Czech facet of the tour include Chesky Chumlow, with streets and a castle dating back to the Middle Ages, and the capital city of Prague. The pace will slow down considerably during the tour of Germany. Staying in one country inn throughout the entire German visit, participants will visit nearby Berlin, Potsdam and other sites and farms in Brandenburg state. Projected cost: $2,800
Guatemala > Target dates: Twelve days sometime after mid-September 2004
Visits will include Guatemala City, Antigua, Panajacel and Flores, the site of Tikal, where the ancient Mayan temples are located. The agricultural facet of the tour will focus on forestry and reforestation, large-scale asparagus and avocado production, and coffee, peach and citrus production. Visits also will include cotton, peanut and cattle operations. Participants will visit the Guatemalan Ministry of Agriculture and meet with officials of the Partnership of the Americas. Projected cost: comparable to other tours.
---
Highly Distinguished Lecturer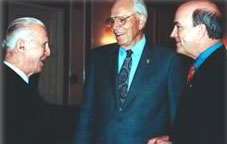 Nobel Laureate Norman Borlaug, left, talks with E.T. York, center, and CoAg alum and Alfa Farmers Commodity Director Jim Cravey shortly before Borlaug's lecture to a standing-room-only crowd in Auburn Jan. 22.
Borlaug–known worldwide as the father of the Green Revolution and winner of the 1970 Nobel Peace Prize for his work in developing high-yielding, disease-resistant wheat plants and then putting those new cereal strains into extensive production in more than 20 nations in order to feed the world's starving–was in Auburn as a highly esteemed guest lecturer in AU's E.T. York Distinguished Lecture Series. In his presentation, "From the Green Revolution to the Gene Revolution: Our 21st-century Challenge, "Borlaug stressed the crucial role of biotechnology in keeping a growing world population fed. The lecture series was established in 1981 from an endowment set up by York and his wife, Vam.
York received his bachelor's and master's degrees from AU, then Alabama Polytechnic Institute, in 1942 and 1946, respectively, served as Alabama Cooperative Extension Service director early in his career before being named chancellor of the State University System of Florida. At the January lecture, York introduced the 90-year-old Borlaug, who currently serves as distinguished professor of international agriculture and professor of soil and crop sciences at Texas A&M University. Borlaug, noting that all future growth in food production must come from existing farmland, said his top "biotechnology dream" is that scientists will discover how to transfer rice's immunity to rust diseases to wheat, maize and other cereals.