These stories offer the latest news on CoAg alumni and development efforts. For more information on the AU Agricultural Alumni Association or Agricultural Heritage Park events or news, contact Robert Hensarling, director of AAES Land and Facilities Management, at 334-844-3596 (hensara@auburn.edu), or Martha Patterson, special projects coordinator for Ag Heritage Park/Alumni Relations, at 334-844-3595 (patterms@auburn.edu). For more information on development opportunities and news, contact the CoAg Deevlopment Directors Chris Gary (334-844-3194; garychr@auburn.edu) or Mark Wilton (334-844-1198; wiltomt@auburn.edu), or Development Coordinator Katie Hardy at 334-844-1475 (hardykc@auburn.edu).
---
Ag Heritage Park Already a Visitor Destination
Though it is still far from being completed, AU's Agricultural Heritage Park is already a hub for visitors.
According to Robert Hensarling, director of AAES Land and Facilities Management, more than 3,100 people visited the park in the past year or so for a variety of events.
"For the second year in a row we hosted at the Park the annual Fall Roundup and Taste of Alabama Agriculture event and all the Ag Tailgate parties, which were held during each home football game," says Hensarling.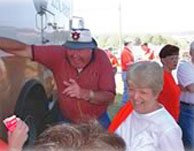 More than 3,100 alumni and friends have already visited Ag Heritage Park.
"Friends of agriculture, members of the AU Agricultural Alumni Association and corporate CoAg supporters participated in tailgate events that were, without a doubt, the best tailgates on campus!"
Hensarling notes that the tailgate meals ranged from hot dogs and hamburgers to 240 pounds of BBQ ribs, and each event drew some 250-350 people to enjoy the festivities. This tailgate exposure alone brought to the park some $9,000 through corporate sponsorships.
Tailgate 2003 sponsoring organizations and businesses included the following:
Alabama Catfish Producers (AU vs. USC)
AU Agricultural Alumni Association and CoAg's Ag 21 Club (AU vs. Tennessee)
Agriliance-AFC, LLC (AU vs. Mississippi State)
Alfa Services (AU vs. Ole Miss)
Agrilabs, Ltd., and T.K. Farms (AU vs. UA)
Amidst all the fun, work has steadily continued on the park's facilities. Hensarling notes that approval has been granted to begin constructing a Catfish Demonstration Pond. Hensarling says it will take approximately three to four months to complete and will serve as the cornerstone for the rest of the park. The construction will include a roadway across the dam that will link both sides of the park.
In addition, the design for the ALFA pavilion, a semi-outdoor meeting area, has received final approval from the AU Board of Trustees, and Hensarling expects to have complete design and construction documents ready by May, with construction beginning in fall of 2004.
"We will begin the process to replicate the Red Barn early this spring," he continues. "After careful consideration and review of the structural integrity of the barn, we determined that our best opportunity for success is to replicate this structure to preserve the architectural flare of the past."
The old herdsman's house located on the site also has received a major facelift. Most of this work was completed by the crew of the Alabama Agricultural Experiment Station's Research Operations unit.
"The most significant changes for the herdsman's house were made possible through the receipt of two major gifts," says Hensarling. "In 2003, we received $5,000 dollars from Kay and Tom Beatty for remodeling the kitchen as well as $50,000 from Farmer and Betty Meadows for major construction support for the house."
The Meadows, whose son Rocky is currently a student in the CoAg Department of Horticulture, own Meadows Farms in Virginia, a nursery and landscaping business with more than 20 outlets located in Virginia and Maryland near the Washington, D.C. area.
For more information on the Park or how you can help support the project, contact Hensarling.
---
Join the Fun, Join Ag 21!
Does sitting in on a live edition of AU Football Coach Tommy Tuberville's "Tiger Talk" radio show sound like fun? How about feasting on Brazilian seafood gumbo made by some of CoAg's finest cooks? And does the idea of having this kind of fun while also helping support CoAg programs seem extra appealing?
If you answered "yes" to any of these questions, you should be a member of Ag 21, the College's "Dean's Club."
All it takes to be an active Ag 21 member is to make a $1,000 annual donation to an unrestricted fund that can be used for CoAg needs at the Dean's discretion. In the past, the funds have supported promotion of CoAg programs, student recruitment, Ag Am-bassadors, media equipment, image enhancement and other areas that improve the image and workings of the College of Agriculture. What's more, the contribution is tax deductible.
Want to join? Contact Mark Wilton or Chris Gary.
---
Novus Establishes Graduate Research Award
Novus International Inc., a global leader in the animal agriculture industry, is a privately held corporation with a mission to help provide the world affordable, wholesome food by supplying goods and services to the leading commercial food producers worldwide. These days Novus's mission also includes helping CoAg graduate students.
Novus is providing $100,000 toward funding an endowment for an annual cash award to a CoAg graduate student interested in animal agriculture who has demonstrated research excellence in their work. But another $100,000 is needed to make this a reality.
The award, called the Novus International Graduate Research Award, will be given annually to one graduate student who has demonstrated cutting-edge research in one or more of the areas of animal nutrition, metabolism, growth and development or health and disease. One award will be given annually and the recipient will be chosen by a committee comprised of the chairperson of the CoAg Awards Committee, two CoAg faculty members and an ex-officio representative from Novus International Inc. Selection of the recipient will be based upon a written nomination to the awards committee by a student and/or his or her major professor.
According to Chris Gary, development officer for the College, the check for the initial $100,000 from Novus was presented in late January at the International Poultry Expo in Atlanta. But he adds that the gift is contingent on raising an additional $100,000 in matching funds. Anyone interested in contributing to that fund is encouraged to contact Gary or Mark Wilton.
---
Be a Scholarship Supporter
If you're looking to make a difference in people's lives and in the future of agriculture, consider establishing a CoAg scholarship. In the 2003-04 academic year more than $500,000 in scholarship money is helping 227 CoAg students finance their educations.
You can create an endowed scholarship fund with a minimum $25,000 commitment that must be fully funded within five years. The principle is invested; the scholarship is awarded from the interest. A scholarship endowment of $25,000 would result in a scholarship award of about $1,000 annually.
For more information on endowing a scholarship, contact Mark Wilton or Chris Gary.
---
2003 Fall Roundup/Taste of Alabama Agriculture Drew Happy Crowds
More than 1,000 people had a joyful day in November–even before Auburn's football team played their homecoming game. Those happy celebrants were all on hand for the annual Fall Roundup and Taste of Alabama Agriculture day to enjoy great food and lots of socializing and to experience firsthand the charms of the new AU Agricultural Heritage Park (AHP) site located on Samford Avenue, just up the street and around the corner from AU's Jordan-Hare Stadium.
Martha Patterson, Round-up and Taste chairperson, notes that this was the second year that this annual Homecoming event was held at AHP, which provides plenty of room for displays and socializing.
The annual auction, which funds many CoAg scholarships, raised more than $4,000 toward those scholarships, which are given to deserving CoAg students.
Two new exhibitors were added this year–the Alabama Turfgrass Association and the Southern Antique Iron Association, an antique tractor group. Both exhibitors drew lots of interest from the crowd and organizers look forward to both groups returning next year.
Another change in 2003 was a special area for children's activities. "A number of options are being considered to expand this section so we can offer more agricultural education opportunities for kids," says Patterson.
Plans also are under way to greatly expand Roundup for next year, Patterson adds. "We hope to have a number of agribusinesses participate with informational displays and possibly even highlight employment opportunities for CoAg students," she says.
---
Planning Under Way for Ag Classic 2004
Mark your calendar now for May 12-13, 2004, for CoAg's super spring event–Ag Classic. There is shooting, fishing, golfing and plenty of fun at the annual spring Ag Classic. Not only do people have a good time and get to reminisce with friends, but thousands of dollars are generated for CoAg scholarships. Information on this year's event will be available soon, but you can learn more by calling the Ag Alumni Association.
---
A Gift of Membership
Each semester, a number of new CoAg graduates receive a special gift in recognition of their graduation from Auburn University. New Graduate Life Membership in the AU Agricultural Alumni Association continues to be a meaningful way for parents or others to mark this momentous occasion.
Here's how it works. A reduced life membership rate is available to graduates for up to one year after graduation. All life membership dues are placed in an endowment pool that helps fund scholarships for deserving students. Annual memberships also are available. These dues help fund the day-to-day operations of the Association.
And don't forget, membership in the Association is not limited to CoAg graduates. Anyone interested in supporting the College and the Association is encouraged to join. A membership application is included in this newsletter on page 4 for your convenience. If you have questions or comments, please contact the Ag Alumni Association.